Robots…A ''Butter'' Way to Palletize: A Robot Case Study
POSTED 03/19/2007
 | By: Mary Kay Morel, Staff Writer/Editor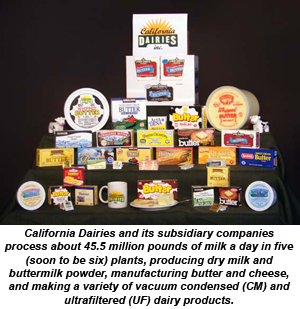 California Dairies, Inc. is the number one dairy cooperative in California and the second-largest in the United States. It is owned by more than 650 California dairies that ship nearly 17 billion pounds of milk to be sold and processed annually by one of its five (soon to be 6) processing plants. This equates to 45.5 million pounds of milk a day, and that number will soon increase to more than 50 million a day when the new Visalia plant begins production. In addition to fluid milk processing, California Dairies and its subsidiary companies produce dry milk and buttermilk powder, manufacture butter and cheese, and make a variety of vacuum condensed (CM) and ultrafiltered (UF) dairy products. Their plant in Turlock, California, processes up to 5.7 million pounds of milk a day. Two evaporator dryer systems at Turlock produce 170 million pounds of powdered milk product a year, and three churns produce over 110 million lbs of butter a year, which is about 275,000 lbs of butter a day. To help keep so much product ''moo-ving'' through their plants, California Dairies is implementing more and more automation, including a new robotic palletizing system at their Turlock plant.
''The cows don't take time off for weekends or holidays, so the plant operates 24 hours a day, seven days a week, year around,'' says Eric Snoke, Vice President of Operations of both the Turlock and Los Banos, California, plants.
''California Dairies produces over 170 different SKUs of butter in case sizes ranging from 8-55 lbs,'' Snoke noted. ''Whole milk contains approximately 3.5 percent butterfat. The cream portion separated and concentrated to 40-42 percent butterfat content. This cream is then churned into butter, which by definition contains at least 80 percent butterfat. Salt and/or food coloring can be added to produce a multitude of varieties. Dedicated machines form, wrap and pack the butter into cases.''
''Formerly, all the palletizing was done manually. Palletizing the butter manually at the rate we produce it (three cases per minute on eight lines, for a total of 24 cases a minute) was back-breaking work. When operators got tired, it would slow the packaging room down, which would slow down the line. We'd have to shut a few machines down until they could catch up. We knew that we needed to automate the operation to improve productivity and reduce costly worker compensation claims from back injuries,'' Snoke said.
In addition to fully automating the packaging line, project goals included creating more consistent and stable loads; and maximizing system throughput by eliminating down time.
''We calculated that the payback for the system would be two years or less, based on direct labor savings alone, and that does not take into account the reduction in workmen compensation claims,'' Snoke said. ''We haven't had any back injuries in that department since we put the robots in. Strains and back injuries in general are our biggest concern. When lifting 55-lb boxes, one slip can cause you to throw your back out. Claims in the past were costly.''
''We need eight or nine fewer direct labor people per day now that we have the robots. Once we knew we were going to put in the robots, we let normal attrition reduce the headcount and we covered with overtime. We didn't give anybody pink slips because of the robots,'' Snoke explained.
''Our people like the robots a lot. This is a union shop and the robot operator jobs were bid. We had quite a bit of competition for the jobs to run these robots. Machine operators have a higher pay scale, so our people like that, too,'' Snoke said.
Acceptance
''We had no doubt that the robot system would work, but it was surprising how smoothly everything went in. Within a couple of days of bringing up the first line, the production crew's skepticism about getting it all to work was replaced with excitement about getting it all on line,'' he continued.
''The robot system has improved our ability to run in a consistent manner. Our packaging department has tried to push the limits – but the robots don't even break a sweat. We wanted to over-engineer the system by at least 20 percent. If every machine in the plant was running at maximum capacity – we could still have 20 percent robot capacity to do catch up. For example, if a line went down for some reason – due to slip sheet or bad pallet – we always have a little capacity to do catch up.''
Challenges
Adding robotic automation to the butter palletizing line at Turlock was a challenging proposition. ''When this project was first proposed, I thought it was crazy. With so many different products and the high level of complexity involved, I never thought it would be possible,'' said Keith Gomes, California Dairies' Senior Vice President and Chief Operations Officer. ''But the success of this robotic palletizing system at Turlock made a believer out of me, and it has had a major impact on how California Dairies will operate in the future,'' he continued.
''Traditionally our industry has been fairly labor-intensive. We still have some jobs that cannot be automated due to antiquated and outdated United States Department of Agriculture (USDA) requirements and regulations,'' Gomes explained. ''Wash down requirements, the wet environment, and corrosive chemicals in our butter production room are other barriers to automation. For example, the salt that is added to many types of butter is excessively corrosive to machinery.''
''However, due to safety concerns, productivity requirements and reliability considerations, we will be trying to automate as much of our process as possible as we move forward. Both case packing and palletizing will be fully automated in our new Visalia plant,'' Gomes added.
Overview/Challenges
The robots stack product onto four-way GMA wooden grocery pallets that are 48.0''L x 40''W x 5'' H and weigh 50 lbs each using a multitude of different patterns. The robots also handle tier sheet and top sheets, which are also 48''L x 40''W. The corrugated tier sheets are only 0.16'' thick and weigh 8 oz. each, while the chip board top sheets are 0.08'' thick and weigh one lb each. Not all case patterns require tier sheets between layers. However, every pallet has a tier sheet on the bare pallet and a top sheet on the last layer. Only one major customer requires tier sheets on every layer.
''Pallet loads can be up to 60'' high, excluding the pallet. Stacks need to be tight and labels need to be facing out whenever possible to facilitate bar code reading,'' Snoke explained. ''Having the labels facing out is especially important for the display pallets used by the 'Big Box' stores,'' Snoke said.
''Reliability is also extremely important for us. Any down time is incredibly problematic for our plant. We have to keep running and we have to have contingencies in place. One of our design criteria for the robot system was to have the ability to go back to manual palletizing in a dire emergency.''
''We also wanted one party responsible for all aspects of the entire automation project, including the robots, controls, sortation systems, scanning systems, and conveyors -- all the way through to the printer that labels the stretch-wrapped pallets,'' he said.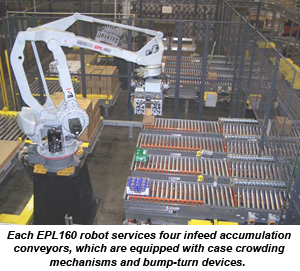 ''We automated palletizing of the entire butter line with a system that includes two four-axis Motoman EPL160 'Expert Palletizing' robots. Motoman Inc. also provided the overall systems integration, working in close partnership with Prime Conveyor, Inc., the company that supplied the conveyors and some of the controls work per Motoman's design,'' Snoke continued. Snoke was discussing the project with several robot companies when Doug Hill, President of Hill Packaging Systems, suggested that he call Motoman. ''It turns out that Motoman had the best system for us,'' Snoke says.
''Butter has some unique properties that make palletizing it uniquely challenging,'' Snoke added. ''When it is first made, butter is soft. Motoman developed custom end-of-arm tooling just for us. This paddle type gripper is very gentle on the product. The robot gripper adjusts the air setting automatically for each type of box, so each one gets just the right amount of pressure.''
''The paddle gripper is equipped with vacuum cups used to assist in handling some products. When picking slip sheets, the robot gripper drops down onto a stack of slip sheets, arms rotate out of the sides and it looks kind of like a space ship coming in to land. After it picks up the slip sheet and drops it off, the arms fold back up and the robot goes back to palletizing product,'' Snoke explained. ''It is a very active system, particularly when we are running all eight lines and the robots don't have to stop and wait for product to accumulate. They are fascinating to watch. We sometimes have to shoo people away because they like to stand around and watch everything work,'' he continued.
''We sell large amounts of butter to 'Big Box' stores that use display cases that are open at the top. We needed a gripper with jaws that handle the boxes from the sides,'' Snoke said. ''We have some seasonal products as well. Peak butter season starts the first part of August and goes through just before the end of the year. We sell a lot of butter in 55-lb blocks for industry and sell huge amounts of 1-lb solids that people use for baking, particularly around Thanksgiving and Christmas. Year round, people use ¼-lb sticks. We make 1-lb packages with four ¼-lb sticks, ½-lb packages with two ¼-lb sticks, etc. We also make 3- or 4-lb bricks.''
System Description/Operation Sequence
Cases of product, from up to eight production lines, are combined onto two trunk lines that convey the cases to top and bottom flap detection stations. Bar code scanners at these stations validate the bar code's readability and identify the case's assigned conveyor lane destination prior to flap detection.
Cases that do not pass due to unreadable bar codes or unglued boxes with bad flaps are rejected down a manual line, keeping ''problem'' cases within the cold room. Cases that pass the check points travel up an incline belt and overhead through the wall that separates the cold box from the palletizing room. Cases travel down a decline belt and are inducted onto a belt sortation system. Product makes a 180-degree turn, then another bar code scan again reads which of eight down-line conveyors used to queue product for robotic pickup has been designated as the destination for that particular case.
If the barcode on a particular case is not readable or its designated down-line conveyor destination is full, the system allows the case to pass onto a recirculation conveyor. Cases on this conveyor are accumulated, reintroduced into the sortation process and then either rediverted to the previously full down-line or diverted onto the manual ''no read'' line.
Normally, cases travel to their designated one of eight down-line accumulation conveyors. The two Motoman EPL160 robots each service four of these infeed accumulation conveyors, which are equipped with case crowding mechanisms and bump-turn devices.
Once enough cases of a particular SKU have accumulated for a pick cycle, the system signals the appropriate robot that product is present. As soon as the robot is available, it will move to that line and start palletizing the load according to the pre-programmed stacking pattern.
The robots generally grasp two cases per pick cycle. The custom paddle-style gripper is designed with two separate zones, providing asynchronous placement capability. (For example, the robot could be programmed to pick up two cases [one in each zone], then release the one case facing in one direction before reorienting and releasing the remaining case.) ''Right now, though, cycle times are such that we will just have the robot pick up a single case and place it individually, as needed,'' Snoke continued.
The robot palletizes cases of product onto one of four designated pallet load build conveyors, and also adds the slip sheets and tier sheets from dunnage carts, as required. These dunnage carts are loaded by an operator and locked into place within the palletizing cell. Spare dunnage carts allow the operator to have the appropriate stack of sheets available, reducing down time during the replenishment process.
A common dual conveyor bed T-Car (transfer car) system shuttles empty pallets, singulated from an automatic pallet dispenser, into the robot palletizing cell. Once the robot loads the pallets, the T-Car system transports full pallets to the stretch wrapper infeed conveyor that leads to the Lantech S1501-SC00165 stretch wrapper. ''We need to have a no-wrap function available for partial cases,'' Snoke said.
Newly stretch-wrapped loaded pallets are automatically labeled with multiple copies listing the contents, then conveyed back through the wall into the cold box. There loads accumulate and are removed by forklift truck for shipment or storage. Whenever a load is moved, a portion of the label is torn off. These ticket labels provide a simple way to track the movement of each pallet. One or two are always left on the load, so the customer has a receipt. The T-cars, conveyors and automated pallet dispenser were supplied by Prime Conveyor, Inc. Hill Packaging Systems installed the robots, as well as all of the equipment supplied by Prime Conveyor. Industrial Electric Co. did the electrical and control wiring for this project.
Controls
System controls include a two-door control panel in the cold box and a three-door panel in the palletizing room containing the Allen-Bradley CompactLogix PLC. Two MotoHMIs™ provide operator interfaces in both rooms. Each HMI includes an industrial PC running RSView ME software on the 15'' color touch screens.
The overall system utilizes DeviceNet as the communication protocol between devices as well as for communication with the two Motoman NX100 robot controllers. The MotoHMIs contain an EtherNet interface with the California Dairies' server that allows for the introduction of new products as well as tracking the status of the system.
Safety
Motoman also provided all cell guarding, including wire safety fencing, four dunnage access gates with positive-break safety switches; two light curtains separating the T-Car from each of the two robot cells and one set of self-muted light curtains at the stretch wrapper infeed conveyor. Dual-channel safety hardware for access gates and light curtains meets the ANSI/RIA R15.06-1999 safety standard.
Clean-Up/Inspection
''Every 24 to 30 hours the production room goes down for a clean-up which includes a complete wash of the whole room. During that time, the robot palletizing room gets swept and everything gets cleaned up and put away,'' Snoke said.
''Turlock is a shielded plant, which means that we have a resident USDA inspector. The production room is always under close USDA scrutiny and the robot room is also inspected regularly.''
''A lot of our butter is USDA rated,'' Snoke explained. ''The USDA inspector grades the butter. As part of the grading and inspection process, randomly selected samples of butter undergo a series of tests. First, the inspector visually checks the product, looking for any irregularities such as mottling that can occur when products from two different churns comes together. Leaky butter or any kind of water drip might also indicate a problem. Taste tests check for rancidity or off-flavors. Part of each product sample is sent to an on-site laboratory where it is analyzed to make sure it meets all specifications,'' he continued.
''California Dairies is very serious about bio-security and lot traceability. The robot system allows us to track product by time and date stamp so we can trace the production of each lot and sub-lot in great detail. Each operator has a code, so we can tell who was running the machinery at any given time,'' Snoke said.
''We actually do six mock recalls a year which involves tracing back through every aspect of production, where the lot originated, and where it was sent – all the way up through the distributor.''
''All product is 'Hold and Ship.' The microbe count must come back clear (within specifications) before the butter can be shipped,'' Snoke added.
Summary
''I've been involved in building entire plants from the ground up, and have been involved in a lot of automation projects, but I've enjoyed this one more than any I've ever done. I'm as proud of it as I've been of any installation,'' Snoke said.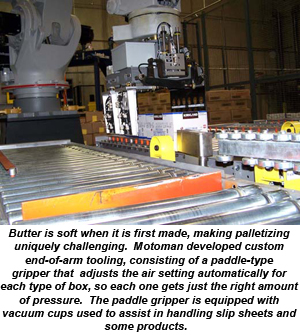 We work as a team here at California Dairies, so it was important for us to have all areas of the plant involved in the project,'' he added. ''For example, Glen Dortch, our warehouse manager, put together all the information Motoman needed on the multitude of different boxes the robot system needs to handle. Tom Baldwin, our butter production manager, provided critical information about product consistencies, packaging, etc. that Motoman needed for gripper and system design. Jon Sylvia, our plant maintenance manager, was directly in charge of the system installation. John Bos, plant manager, was key to getting workforce buy-in and in streamlining all of the organizational elements,'' Snoke explained.
''Motoman is the most professional group we've ever worked with. They really impressed us right from the start when they sent a group of eight extremely talented and dedicated people here to investigate every single avenue of the project. Right off the bat, we got a good feeling about what we could expect from them,'' Snoke said.
''Every aspect of the project, from concept through installation, programming, and training, went extremely well and so we've been incredibly happy. Motoman did the initial robot programming and still provides support whenever we need it. For example, Motoman's regional support specialist, has been invaluable in super-fine tuning the programs. If we need something, we just call and he's right there.''
Future Automation Projects
Looking ahead, we're considering replacing an existing (non-Motoman) robot we have at Turlock -- a 4-axis model used to palletize two sizes (25-kg and 50-lb bags) of powdered milk -- with a new Motoman palletizing robot that is smarter and much more user-friendly. The old robot was here in 1996 when we built the plant,'' Snoke said.
''Additionally, we're talking about things that we're trying to automate at all of our facilities. Our new Visalia plant, Plant 6, will be THE most automated plant in our system. It will also be a bulk butter/powder plant and undoubtedly will use robots. Anywhere in the process where people potentially could get hurt, we're looking at using robots and automation.''
Editor's Note:
The article's author, Mary Kay Morel, Staff Writer/Editor, Motoman Inc., welcomes questions and comments at 937-847-3242 or e-mail to marykay.morel@motoman.com. For more material handling and palletizing-related information and content, visit Robotics Online, Technical Papers or visit the Websites below.
California Dairies, Inc.
www.californiadairies.com
Robots, systems integration:
Motoman Inc., West Carrollton, OH
www.motoman.com
Conveyors, T-cars, and Prime Conveyor, Inc., Merrillville, IN
Automated Pallet Dispenser
www.primeconveyor.com
Installers of Robots, Conveyors
Hill Packaging Systems
www.hillpackagingsystems.com
Motor Control and Network
Industrial Electric Co.
Wiring Installation
www.i-e-c.net
Stretch Wrapper:
Lantech Inc.
www.lantech.com
PLC
Allen-Bradley (Rockwell Automation)
www.ab.com