Robotics Partner with AGVs to Increase Production Flexibility and Speed
POSTED 06/06/2006
 | By: Jan Rupnick, Public Relations Coordinator, (Reprinted by permission from Robotics World Magazine)
Manufacturers in the United States, in attempting to remain competitive in a global economy, often reach for technology to help improve production efficiency and reduce labor costs. For many companies, that technological boost comes in the form of robotics. And one area that is paying the most dividends for robotics is in palletizing.
The use of robotics is one of the ways in which palletizing has evolved over the years. During the 1950s, palletizing was performed by a process called row forming, where rows of cartons or cases were built and then pushed forward, allowing for another row until the pallet was complete. In the 1970s, the speed of palletizing was increased by means of the in-line palletizing process. Using hard automation, this process involves continuous motion to stack cartons or cases on a pallet. Although faster than row forming, hard automation and in-line palletizing is hard pressed to meet today's production demands.
"There's definitely been a demand within the industry to change from hard automation to the flexibility of robots," says Tom Doyle, P.E., president of QComp Technologies, Inc. (Appleton, WI), an ABB integrator. "Customers want the ability to palletize more than one line at a time and you can't do that with hard automation," he added.
As palletizing began to shift from hard automation to robotics, flexibility is often cited as a major reason for making the decision. "The opportunity to make modifications in the future is one of the main reasons that a company chooses to incorporate robotics into its manufacturing process," says Doyle.
With the constant change in packaging design and size, coupled with the need for multiple cell applications, there are more benefits to robots, such as their ability to be transitioned to other areas of the plant and to palletize varying load sizes in both weight and dimension. "In many cases, products change or manufacturers need to repurpose their robots in a different application," says Doyle.
Adding to their flexibility, robots are also designed to handle the need to change pallet loading patterns. "With hard automation, it can be a huge undertaking to change a pallet pattern, but with a robot, it's simply a matter of adjusting the programming," says Doyle
Traditionally used in European manufacturing processes, the partnering of AGVs and robot-based systems in specific manufacturing areas is something relatively new to manufacturers in the US. This paradigm shift for US manufacturers of pairing robots and AGVs in a cell for a particular purpose, such as palletizing, creates a whole new set of efficiencies. "By adding an AGV to their palletizing processes, manufacturers can eliminate the use of pallet conveyors, reduce labor costs, increase plant floor safety, and eliminate product and conveyor damage caused by human error," says Doyle.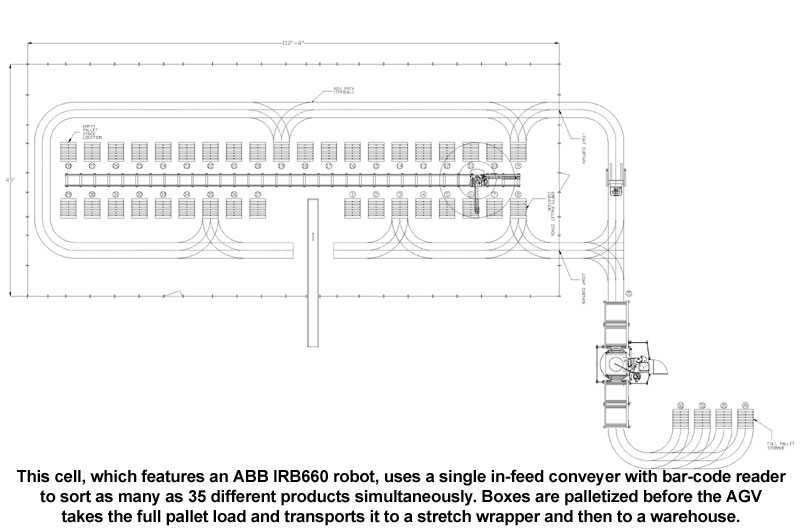 Having recently introduced a new AGV designed specifically for palletizing applications, QComp Technologies Inc., is one of the first US companies to design and manufacture a cost-competitive AGV to compete domestically with overseas alternatives.
With the addition of an AGV to the palletizing line, manufacturers have been able to further increase their palletizing flexibility. According to Doyle, without the need for pallet conveyors, manufacturers aren't tied down, making it easier to change product flow: "In cell design, by adding an AGV to the mix, you can start with a real simple palletizer where the manufacturer can palletize essentially on the floor, reducing the space needed, and in manufacturing, less real estate is always better."
With the simple cell design, the palletizer is basically taking a pallet from the stack, placing on the floor and filling it, and then the AGV would come in and remove the pallet. The palletizer would then start the process over again. "In this case, there are really no conveyors in the system and the palletizer could be programmed to palletize up to four different products at once, improving production," says Doyle.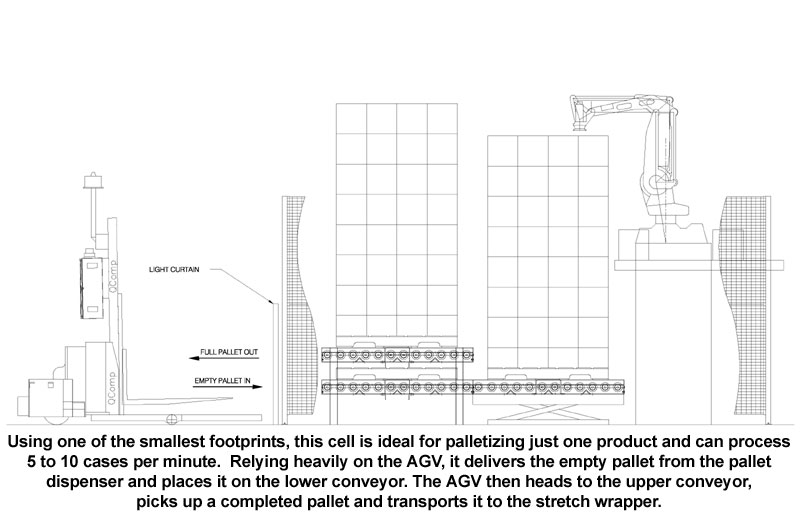 The use of robotics for palletizing is not simply a matter of saving on labor costs by eliminating full-time positions, but of reducing the amount of risk associated with lifting heavy boxes and driving forklifts. According to OSHA, in terms of the amount of lost work time, back strain comes in a close second to the common cold for missed workdays. "Unlike humans, robots don't experience aches, pains and strains from lifting heavy loads," says Doyle. "With robots, the possibility for injury from lifting is eliminated."
In addition to reduced workplace injury risk, manufacturers can save on labor in traditional areas as well. Because of the physical demands, palletizing can be a difficult area to find employees to work in. By incorporating robotics and AGVs, with many of the cell layouts only one person is needed, as opposed to three or more in the past.
With technology advancing on a daily basis, it's up to the manufacturer — with the help of integrators like QComp Technologies, Inc. — to determine how that technology can be adapted to help them remain competitive in the global marketplace. Properly applied, robotics technology can dramatically improve a manufacturer's production efficiency and greatly benefit their financial bottom line.
Jan Rupnick is Public Relations Coordinator for QComp Technologies, Inc., Appleton, WI; (920) 722-4014