ROBOTICS: Looming Ever Larger in Smaller Businesses
POSTED 06/17/2005
 | By: John F. Neal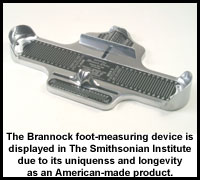 Increasingly, automation is strengthening smaller businesses and providing a much-needed competitive edge. Time was, the notion of ''robotics and automation'' fell on the deaf, often skeptical ears of smaller manufacturing firm owners throughout the country. ''Too expensive for my little operation.'' ''Robots are only used by the big guys.'' ''No robot could ever handle my application!'' ''How could I trust a robot to hold the extreme tolerances my customer demands?'' ''My employees would start an uprising!'' Such exclamations and reactions from smaller manufacturers were typical when questioned about the possibility of utilizing robotics on their manufacturing floors.
That was then.
Today, smaller businesses are singing a different tune regarding robotics. As famed folksinger Bob Dylan lyrically proclaimed, ''The Times They Are A Changin.'' Indeed, they are. The prescription for the daily war room dramas, and sleepless nights experienced by owners of small manufacturing firms, has become a new openness, acceptance and appreciation of robotics. The fretting over increased productivity, the strategies of how best to compete, and the ever-present fear of remaining afloat amidst the rising tide of outsourcing are now being met head-on through the implementation of robotics. And the ''little guys'' are seeing their businesses strengthened in terms of increased productivity, lower operating costs and healthier bottom lines.
Regaining a Foothold in the Marketplace…
Since 1927, The Brannock Device Company, Inc., Liverpool, NewYork, has been manufacturing that familiar silver and black (also available in green, purple and red!) metal foot-measuring device found on the floor of every shoe retailer in America.
Created in 1927, the Brannock Device has endured the test of time and remains a staple of the shoe seller. However, the appearance of cheaply manufactured ''knock-offs'' from China and other foreign ports was making it much tougher for The Brannock Device Company to compete. Sal Leonardi, President of the company, decided to do something about it. Seven years ago, he had the vision to implement robotics and automation. Sal, and his eleven employees, all understood if they did nothing, the company would be remembered only by its display at The Smithsonian. Eleven employees…a small company… and an owner pro-actively took on this challenge and did something to increase productivity, retain quality, and strengthen business. The result?
''Robots have become a valuable tool in our arsenal to compete,'' says Leonardi. ''If we were to stay in business, we had to do something radically different. The manufacturing process of the die-cast metal foot-measuring device is very repetitive and quite simple. So, we talked to an integrator and decided on a FANUC robot with a 12-kg payload. We designed the vacuum gripper and the table ourselves making it even easier for our own folks to handle repairs if something should go wrong. We have only been dow n once in seven years and that was a ''human error'' problem having to do with battery back-up.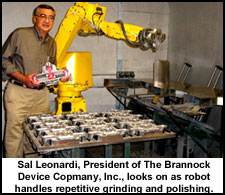 ''Our robots handle the grinding and polishing of the device which was previously done by hand. The robots have helped us compete more effectively by increasing productivity and throughput with no sacrifice in product quality,'' Leonardi said. ''Some retailers, who switched to the foreign-made product, found out all too quickly that the cheaper version just couldn't stand up to the Brannock device.''
When asked about employee reaction to implementing robotics?
''At first, the employees were skeptical,'' Leonardi admitted. ''But all of us understood that we had to do something to help us compete, or none of us would even have jobs. We have not eliminated any employees since introducing the robots into our manufacturing process. The robots do their work freeing up our employees to handle other more important tasks involved in the manufacturing process. We all peacefully co-exist. We have a quality product. We have jobs and the company is more productive than ever. My advice is, if you are a smaller company, don't shy away from robotics and automation. In this day and age, it makes a huge difference when it comes to productivity and the bottom line. And if you think you can't afford robotics, think again. You can't afford not to have robotics.''
Sal Leonardi was right. With the implementation of robotics, the Brannock Device Company has regained its foothold in the marketplace, strengthened its business, and helped to ensure its own future.
Integrators Seeing Smaller Companies Embracing Robotics
Not only are the robot manufacturers and distributors of smaller payload, less expensive robots seeing a new acceptance of robotics in the smaller manufacturing sector, so too are integrators.
Automated Concepts Inc. (ACI), a robotic systems integrator, has built and just moved into a new 65,000 square foot facility in Council Bluffs, Iowa. The facility provides 60% more space in which to design, manufacture and program complete turnkey robotic applications. John Burg, President of ACI, said: ''As we move forward with our goal of doubling ACI's business volume in the next few years, we see a very real growth opportunity as more and more smaller businesses and manufacturing firms are turning to us to integrate robotics and automation into their plants.''
Brian Turner, Special Services Manager of ACI, commented that, ''the last three quarters have shown that the market is growing. We are ahead of our previous years' sales and we see that trend continuing. As a result of our current growth, ACI made the commitment to expand our manufacturing facilities due in part to meet the fast-growing robotics and automation demands of smaller manufacturing firms.''
I Am Woman (with a robot)…Hear Me Roar!
At five feet four inches tall, Penny Rosso is ''living larger'' these days as Owner and Founder of Pen Steel, Inc., Omaha, Nebraska and she credits much of that to robotics. As she describes it, ''I had two strikes against me entering into the steel business 21 years ago -- I was a woman and I was young.'' Coming through the ranks at several different companies as a sales rep and then into purchasing, Rosso found a niche in the steel business, becoming a ''value-added service business within the contract manufacturing business'' which she began in 1998. Today, Pen Steel, Inc., and its five (yes five!) employees, supplies American-made steel components and materials to the steel manufacturing industry, and the growth just keeps on coming.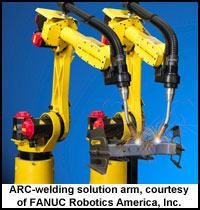 In February of this year, she purchased a FANUC Robotics welding cell which was integrated by ACI. As steel prices continued to escalate Rosso knew, if her fledgling yet successful company was to survive, she had to do something to remain competitive.
That something was to integrate the robotic welding function into her current process and she did it without hesitation. ''We already had the work in house, we just needed a way to get it done faster, retain quality and make on-time deliveries without having to rely on sub-vendors,'' Rosso explained. ''These days, with all of the overhead costs of running a small business, manufacturers have to use every means out there to stay competitive -- to stay alive!''
''Rather than complaining about work going to China, India and Mexico, we, as small manufacturers, have to rely on ourselves to remain competitive. For me, robotics was the answer.''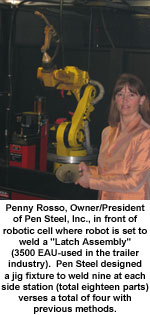 ''Prior to implementing robotics, we were welding five- and six-inch component fixtures about four at a time. Now, our robot, which handles nine of these same fixtures on each side, does the welding of eighteen components in the same time or faster than we did four. That's the result of robotics -- a huge increase in productivity. We even developed and designed our own jig fixtures to fit the robot.''
Additionally, Rosso said, ''I really believe that the smaller manufacturer has a much greater potential and opportunity to grow and compete. The big corporate world has seemed to slip away from the old 'customer first' adage. They seem to be too focused on making money. I am interested in satisfying the customer. Our customers have the confidence in us that we will do whatever it takes to make sure their needs are met. And if that means utilizing robotics to become more productive, provide better quality and on-time deliveries, then we have made the right decision.''
As far as employee reaction, Rosso commented, ''Implementing robotics has increased productivity so much that it has actually allowed us to hire more employees. And it frees up the employees from previous unproductive tasks as well as helps them learn a new skill set in addition to welding. I guess you could say they have gone from a position of being 'welders' to being 'computer welders' by learning computer and automation skills to help them do their job better and faster, which also gives a greater feeling of self-worth and confidence.''
''For our company, robots are the answer,'' Rosso said. She also passionately exclaimed, ''smaller manufacturers need to embrace the idea of robotics and automation, no matter how small you are. Small companies always have been and will continue to be the backbone of American business. You can't afford not to invest in robotics.''
Wired for Productivity…
Founded in 1968, Marlin Steel Wire Products LLC is a USA-based (and owned) manufacturer of industrial wire baskets, hooks, wire forms and numerous other related products.
This past April, Drew Greenblatt, owner since 1998 of the Maryland company with 30 employees, appeared before the Regulatory Reform and Oversight Subcommittee of the House Committee on Small Business representing the views of the National Association of Manufacturers (NAM). The National Association of Manufacturers is the nation's largest industrial trade association, representing small and large manufacturers in every industrial sector and in all 50 states. Three-quarters of NAM's members are manufacturers with small- to medium-sized operations. Greenblatt summed up the concerns of small business in an eloquent testimony that highlights the case for robotics:
''We are an example of the American job growth machine. We make 100% of our products in Baltimore and we import nothing. We do not outsource our employees overseas. Established in 1968, we have nearly 30 employees. Growing my company in a profitable manner is my goal. As I grow, I will need to hire more smart people and buy more equipment. But there are government-caused obstacles to my growth. For me and many of my peers, it is not just one or two regulations that are troublesome. Rather, it is the cumulative effect of many. We follow the regulations. Some are good. But the bad ones need to go. We, like all small and medium-sized businesses, are burdened with high expenses to fill out federal paperwork and file taxes. For example, my company has to pay over $17,000 per year to payroll services and accountants to figure out my payroll, 401k and income tax properly, plus $30,000 in internal bookkeeping costs. This makes no sense. That money could be redeployed to more productive purposes like purchasing robots like this.

We bought one of these two months ago, so now we can weld as fast as Ford welds its Mustangs. If we bought a second one, which I would love to do, we could reduce our costs (narrowing the price difference between me and China), make higher-quality parts (improving the quality difference between me and China), and ship faster (thereby winning more jobs). I assure you a Chinese factory my size does not spend $47,000 annually for paperwork like this. This improvement will increase my revenue, which will prompt me to hire more well-paid people. This is a win-win situation.

I will need to hire more people to run machines, not hire accountants to work out optimal depreciation strategies to minimize taxes. Accountants do not help my company be more productive or run faster or make higher quality.

Mr. Chairman, speaking on behalf of small manufacturers in particular, we try our best to follow the requirements that we need to. Sometimes, regulations are helpful in meeting these goals. But to the extent that they either don't make sense or unreasonably take time away from productive activity, they become a hindrance.''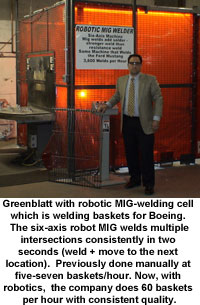 Greenblatt bought his first robot in 1999. He now has a total of four. ''Our mainstay is our six-axis Motoman MIG-welding robot which works with our other three robots. The robots have improved our quality, greatly improved throughput, provided more safety for our employees over previous methods, and are much more efficient. We are winning more jobs because of robotics and automation, which also allow us to meet many of today's unrealistic delivery dates.''
As far as employee acceptance, Greenblatt proudly added, ''With robotics, our employees are freed up to do more 'brainwork.' Since we are winning more jobs, delivering a quality product and doing it faster, it has resulted in our employees getting more hours and overtime! Robotics is a win-win formula for our company.''
Robot manufacturers have heard the needs of small businesses and are responding.
According to Carl Traynor, Motoman Inc.'s Senior Director of Marketing, ''Small companies are finding that -- just like large, multinational companies -- they must fight to compete in a global market. Clearly, with the advancements in PC technology, price and usability of robots has reached a point at which small companies now can afford to compete with low-cost labor and, at the same time, not have to fear complexity of a robot system.''

Traynor also said, ''The key to successful robotic automation investment is education.
Small companies that don't have extensive engineering teams must be as self-sufficient as possible. They have to make sure that they are maximizing their use of 'the' robot in their shop. 95% of Motoman's customers have five robots or less, so Motoman has committed more than 80 robots for training purposes and has achieved IACET accreditation for more than 37 courses.''
Robotics In Small Businesses…Coming of Age
The North American robotics industry had its best opening quarter ever, with new robot orders up 30%, according to new statistics released by Robotic Industries Association (RIA), the industry's trade group. ''It was an outstanding quarter, one of the best since we started tracking robot sales in 1983,'' said Donald A.Vincent, Executive Vice President of RIA. ''The strong first quarter results, continuing the double-digit gains of the past two years, show that North American companies increasingly recognize the benefits robots provide in terms of quality improvement, productivity, and cost savings.''
Perhaps, Drew Greenblatt, owner of Marlin Steel Wire, summed it up best when he stated, ''In order for smaller companies to survive, it is imperative that they initiate an aggressive pursuit of robotics and automation technologies. If you want to remain a company and compete with the 'big guys' as well as against foreign manufacturers, implementing robotics is the solution.''