Robotics Industry Strives to Diversify in 2007
POSTED 01/03/2007
 | By: Bennett Brumson, Contributing Editor (with contributions from RIA staff)
Despite a slowdown in the automotive sector, the robotics industry as a whole is still relatively healthy. That is the consensus of executives in the robotics industry.

'My feeling is that 2007 will be an okay year for the robotics industry. I do not see 2007 competing with the record-setting year of 2005,'' says Trevor Jones, President of the Robotic Industries Association (RIA), Ann Arbor, Michigan. He does, however, think 2007 will be better than 2006. Jones is Vice President and Business Unit Manager at Thermo Fisher Scientific Inc., Burlington, Ontario, Canada.

Non-automotive Customers Bolster the Robotics Industry
There is no denying the importance of the automotive sector to the robotics industry. It accounts for more than half of all robot orders. But makers of robots now have many other customers and continue to turn to other opportunities while the auto industry heals.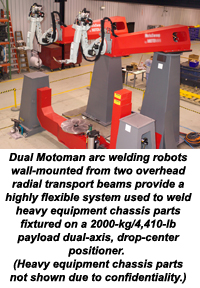 This broader customer base is one reason why many in the industry share Jones' sentiment on the outlook for a strong robotics industry in 2007. One to concur is Craig Jennings, President of Motoman Inc., West Carrollton, Ohio. ''I do not anticipate 2007 to be a great year for the robotics industry, but it will be up slightly over 2006 as some new programs are launched by automotive OEM's,'' says Jennings.
Gary Zywiol, Vice President of Product Development at FANUC Robotics America, Inc., Rochester Hills, Michigan, agrees with Jones and Jennings on the prognosis of the robotics industry. ''I believe that 2007 will be comparable or a slight increase over 2006. In 2006, the market was down from 2005, but 2005 was a record year,'' he says. ''The drop during 2006 has not been a disaster, but to recover to 2005 levels is a stretch.''
Zywiol went on to say, ''Some of the technical introductions that are coming in 2007 will help spur new sales and get FANUC into areas that may not have even been robotic-type solutions in the past. I'm bullish from a technical perspective.''
Industry trends for non-automotive growth are likely to hold strong in 2007, according to many industry leaders. From drug discovery to toy making, more users are finding robots can solve their manufacturing needs.
''I see a steady growth of non-automotive applications in 2007,'' Trevor Jones points out. ''Over the past five years, the annual growth in non-automotive applications averaged about six percent.'' Jones concludes by saying that 2007 will be a year of stabilization for the robotics industry while 2006 was a year of change.
Other major players in the robotics industry are optimistic about 2007. Roberta Nelson Shea, General Manager at Pilz Automation Safety, L.P., Canton, Michigan, asserts that 2007 promises to be good for the robotics industry.
''I think 2007 will be a good year for robotics because I do not see a downturn for the industry. 2006 may have been a year in which there was some decrease in activity in one sector but increase for others. The down cycle in automotive has been more than picked up in other sectors.'' Shea says. ''In 2006, the automotive sector was down, but other markets were up. We will continue to see that in 2007. Robotics is moving more into the mainstream.''
According to Shea, ''Companies such as Pilz look for other avenues that are likely targets for increased business opportunities. The forecast in automotive for 2006 was not very good, so those companies that do a lot of automotive business turned their eye to other market segments.'' 2006 was a good year regardless of how well automotive was doing, Shea notes, and she believes 2007 will continue in that vein.
Like many industry executives, Shea and others turn to Robotic Industries Association for information about industry trends based on statistics provided directly from the leading robot suppliers. Established in 1974, RIA is the only trade group in North America organized exclusively to promote the use of robotics. The Association collects and reports market statistics each quarter based on actual totals provided by RIA member companies.
''Pent up demand from automakers helped push the industry into record territory in 2005 which simply couldn't be sustained in 2006,'' says Donald A. Vincent, Executive Vice President of RIA. ''Orders from the automotive sector are down 49 percent over last year. But the customer base for robots is expanding, and we expect to see more gains in all sectors in 2007.''
Robert Little, Product Manager at ATI Industrial Automation, Apex, North Carolina, predicts that domestic auto companies will bump along, but the need for robots will not be stopped. ''Automotive has been the driving force of robotics, but is in trouble in North America. Both General Motors and Ford will have to install more robots in their facilities to increase their flexibility.''
Little's assessment is shared by Ted S. Wodoslawsky, Vice President of Marketing at the Robotics Division at ABB, Inc., Auburn Hills, Michigan. Wodoslawsky says, ''While the automotive sales are in decline, the industry is by no means dead. ABB continues to do good business with our automotive customers, but with lower volumes. The effect is that the industry will be focusing more efforts on the non-automotive sectors, where opportunities for robotic automation are very good.''
Booming in General?
Many experts believe that most growth for the robotics industry will take place outside of automotive – in general industry – in 2007. Roberta Nelson Shea listed those applications that she anticipates will do well:
''I see packaging, assembly and machine tending going up in 2007. The automotive market will not be down more than 2006. Safety services have greatly increased its business. Interest in getting outside expert help in safety has been increasing in 2006.'' (For example, Pilz does validations and management system reviews.) Nelson Shea concludes by predicting that this trend will continue into 2007.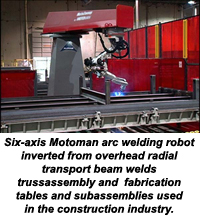 Motoman's Craig Jennings sees general industry as a driver for growth in robotics in 2007 while the automotive sector gets back on track. ''In general industry, there does not seem to be too much of a downturn,'' Jennings says. ''Motoman is seeing strong orders from the construction and mining markets. Those markets are serving us quite well. Consumer markets are still percolating, with no impact from the downturn in automotive.''
Jennings continues by saying, ''Going into 2007, the robotics industry is still going to have problems with the Big Three Automotive makers because they are still not going to be growing at their potential capacity.'' He believes the automotive sector will be finishing their downsizing in 2007 and will be poised to invest in robotics more in 2008.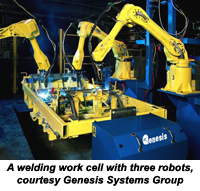 Likewise, Richard O. Litt, President and Chief Executive Officer of Genesis Systems Group, Davenport, Iowa, is also cautiously optimistic on the outlook of the robotics industry in 2007. ''On the automotive side, there are some cash flow problems that manufacturers have. They have a lot of programs that are being postponed,'' Litt says.
Litt's views are balanced by bright prospects in general industry. ''Genesis is experiencing an explosion in the broad-based industrial market. That includes consumer products, logistics equipment manufacturing, agricultural products, forestry products, health and fitness manufacturing, and medical devices.'' Litt adds that there has been an increase in capital equipment spending, lead by small- and medium-size job shops.
The situation in Europe is similar to that of North America, but there are some differences. Bernd Liepert, Chief Executive Officer at KUKA Roboter GmbH, Augsburg, Germany elaborates:
''2006 has already turned out to be a very good year for the robotics industry. General industry is set to continue its positive development. The robotics market in general industry was twice as large in 2005 as in the automotive sector. The demand for robots continues to rise steadily, particularly in industrial sectors such as logistics, foodstuffs, plastics, and medical technology. However, demand in the automotive industry also remains at a high level.''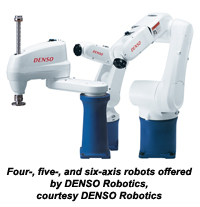 The litany of optimism for 2007 continues with Brian Jones, Section Manager of Robotics at DENSO Robotics, Long Beach California. He says, ''DENSO's sales forecast for 2007 is up by 30 percent over 2006. DENSO has had tremendous growth and the market has been expanding. I have every reason to believe that DENSO will have an increase next year.''
Brian Jones is particularly optimistic about medical applications. ''DENSO has seen dramatic increases in medical manufacturing, which includes drug discovery and the pharmaceutical manufacturing markets,'' Jones says. ''DENSO is offering a new line of Underwriters Laboratories listed robots, so there is a lot of excitement for end users in the medical and pharmaceutical sectors.''
Jones also has an upbeat outlook for robotic food industry applications in 2007. ''Food-related applications will continue to grow. There are a lot of Food and Drug Administration (FDA) standards and regulations that manufacturers have to comply with. DENSO is working on an FDA-approved robot that will be introduced in 2007.''
On a similar note, ATI's Robert Little is sanguine about the coming year in non-automotive applications, specifically for foods and pharmaceuticals: ''Non-automotive sectors have the largest increase in investment in robotics, especially food packaging. Food manufactures are not moving overseas but have been increasing their investment in robotics because it is so cost-effective to do so.''
''Medical applications, such as pharmaceutical manufacturing, laboratory automation and packaging will increase investment in robotics,'' continues Little. He adds that material handling in general and packaging in particular did well in 2006 and will continue to do so in 2007.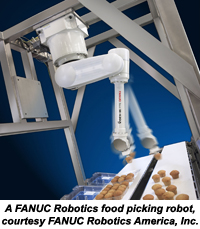 Food applications are also on the mind of Gary Zywiol of FANUC Robotics. ''There is a lot of expansion of the robot business outside of automotive, such as in the food industry. FANUC recently introduced a food-grade robot that can be washed down and sanitized,'' Zywiol says. ''This is an extremely fast robot, capable of one-half second cycle times, making it ideal for food handling and packaging applications. New investments in these areas help the entire robot business to grow in new areas.''
New Markets, New Robots
So as the automotive market gets on the road to recovery, new opportunities are gaining traction in other industries. This drive for variation is best summed up by the RIA's Donald Vincent, who says, ''Robotic suppliers are working hard to develop new customers and new business in non-automotive industries. To stay successful, robot companies have to develop new customers in industries such as aerospace, beverage, woodworking, and textiles. RIA has always said that for the robotics industry to be successful there needs to be diversification and that we have to be in more industries.''
If all these ''predictions'' are right, the robotics industry is well on its way to a stable future and robotics investment will continue to flourish in automotive and non-automotive sectors.

Editor's Note:
For more information, you may contact any of the experts listed in this article or visit Robotics Online, Tech Papers .
Ted Wodoslawsky, Vice President, Marketing, Robotics Division, ABB Inc. 248-391-8507, ted.s.wodoslawsky@us.abb.com
Robert Little, Product Manager, ATI Industrial Automation, 919-772-0115, rlittle@ati-ia.com
Brian Jones, Section Manager, Robotics, DENSO Robotics, 310-513-8550 brian_jones@denso-diam.com
Gary Zywiol, Vice President of Product Development, FANUC Robotics America, Inc., 248-377-7001, Gary.Zywiol@fanucrobotics.com
Richard O. Litt, President & CEO, Genesis Systems Group, 563-445-5600, rlitt@genesis-systems.com
Bernd Liepert, CEO, KUKA Roboter GmbH, 586-569-2082, bernfliepert@kuka-roboter.de
Craig Jennings, President, Motoman Inc., 937-847-3206, craig.jennings@motoman.com
Roberta Nelson Shea, General Manager, Pilz Automation Safety L.P., 734-354-0272, r.nelsonshea@pilzusa.com
Donald A. Vincent, Executive Vice President, Robotic Industries Association, 734-994-6088, dvincent@robotics.org
Trevor Jones, Vice President of the Business Unit Manager-OEM, Thermo Fisher Scientific Inc., 905-332-2000, trevor.jones@thermofisher.com