Robotics Industry Poised for Another Banner Year in 2012
POSTED 01/06/2012
 | By: Bennett Brumson, Contributing Editor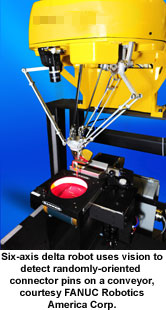 "2012 will be a great year for the robotics industry. All industries are up and new market areas are growing. Food, assembly, and automotive took off during 2010 and continued into 2011. Expect to see the momentum of 2011 to carry over into 2012." This optimistic view of the robotics industry's 2012 outlook by Mick Estes, General Manager of Distribution, Sales, and System Integration with FANUC Robotics America Corporation (Rochester Hills, Michigan) is the consensus perspective of many industry leaders.
In most applications and regions around the globe, the robotics industry can look forward to a prosperous 2012.
Continued Growth
Led by the automotive sector, robot orders in 2012 have the potential to surpass the mark set in 2011 which marked the beginning of a major rebound in the industry. "I see continued growth in the robotics industry. With the freeing up of pent-up demand, and more automotive programs being retooled, the automotive sector continues to lead the charge in general industry recovery," says Dean Elkins, a Senior General Manager at Yaskawa America Inc.'s Motoman Robotics Division (Miamisburg, Ohio). "I see continued growth in food and beverage, pharmaceutical, and laboratory applications."
Elkins does not see any sectors declining in 2012. "I am watching solar with great interest because of the political ensnarements. I see steady growth in most applications."
Echoing Elkins, Estes says, "The automotive industry will continue to be the hub that will thrive in 2012. Offshoots of the automotive industry such as battery assembly applications for electric cars and hybrids will help grow the robotics industry. With the new fuel efficiency standards, expect to see more carbon fiber lay-up processes to help reduce vehicle weight."
Estes goes on to add, "We have seen tremendous growth in the automotive market and expanding into new segments such as battery assembly and carbon fiber. Those areas continue to be where all robot companies will see growth."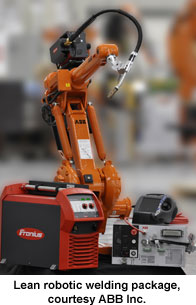 Elkins and Estes' sentiments are shared by Joseph Campbell, Vice President of ABB's Robots and Applications Group (Auburn Hills, Michigan), who says, "2012 will be a good year for the robotics industry, better than 2011. We see growth in many automotive programs, from new domestics in the Big Three to tier-one suppliers. New models are coming on-line and car makers need to invest in the robotics needed to build them." Campbell also anticipates growth in the general industry sector as well as seeing increases in aerospace applications.
Likewise, John Burg, President of Ellison Technologies Automation (Council Bluffs, Iowa) says, "I think the robotics industry will have a good year in 2012. The aerospace sector is very good and getting better and I hear picking, packaging, and palletizing end-users are busy as is our customer base." Ellison's customer base includes makers of agricultural implements. "Agriculture equipment manufacturers are on fire right now and cannot build fast enough. Prices to their customers are going through the roof but farmers are still buying their equipment."
Continuing, Burg says, "Construction equipment is extremely positive, but could be affected by another slow-down in construction. The Bobcat Company (Bismarck, North Dakota) is very busy and cannot fulfill customer orders fast enough. Bobcat is one of Ellison's biggest customers, making skid-steer loaders." The construction sector is driven by housing starts, which is not very active, adds Burg.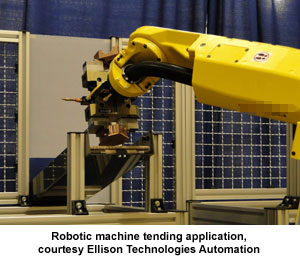 Through the grapevine, Ellison's John Burg hears that robotics in food applications are on the rise globally. "An agricultural implement maker told me that people in the Third World recently had their first taste of really good food and want more of it. World-wide demand for good food is growing very briskly and farm equipment manufacturers are getting orders from all over the world so that people in Third World countries can grow their own good food." Burg sees continued proliferation of food-related robotic applications in 2012 and beyond.
Burg agrees that the automotive sector will shine in 2012. "Automotive is extremely brisk, with new models of cars and other vehicles planned, with new engines and transmissions."
Palletizing applications within warehouses promises healthy growth in 2012, says Nino LaDuca. "We will see more business focusing on end-of-line palletizing. We go after that application because we see huge growth in those processes. Tech-Con recently provided integrated palletizing systems for food and beverage companies in Ontario. Two were first-time buyers of robots." LaDuca is Tech-Con's General Manager, located in Burlington, Ontario, Canada. "Based on what I saw from our robotic suppliers and our customers in 2011, 2012 will be a strong year," LaDuca concludes.
Meeting the robotic needs of warehouses and similar applications in 2012 was on the mind of John Dulchinos, President and Chief Executive Officer of Adept Technology Inc. (Pleasanton, California). "We see exciting programs for mobile robotics to intelligently move goods to and from production lines. In warehouses, robots are moving product from docks to shelves. In hospitals, robotics move goods from and around laboratories, such as medicines from pharmacies to nursing stations."
Dulchinos says possibilities for mobile robotics in warehouse logistics will increase in 2012. "Logistics within warehouses have not been largely automated yet. Opportunities for robots in warehouses, clean-rooms, hospitals and laboratories, where goods must be moved dynamically, with traceability and predictability, will increase in 2012. Robots are a very good solution to applications in warehouses and laboratories."
Elkins shares Dulchinos' excitement of robotics potential in warehouses and distribution centers in 2012. "I am excited about robots in warehouse and distribution applications, where three-dimensional vision can find randomly arrayed boxes and cases on pallets. The countless number of distribution centers in the world can benefit by implementing robotics." Elkins says tactile feedback, force-sensing technology and vision enables the placement of robots into applications not successfully done until now.
Related to warehouse distribution are food and beverage applications. "The food market for robotics has taken off in recent years. Robots are handling raw food, doing high-speed picking of product and doing secondary packaging as well as palletizing," says Estes. Similarly, Campbell says, "In 2012, we see continued growth in food applications which have solid market motivators. The food market has labor availability issues and food processors continually drive to remove the human touch from food processing."
Robots.edu
The push to increase the awareness of robotics in education will continue into 2012 say several leaders in the robot industry. "Robotics are growing in education. The Robotic Industries Association (RIA, Ann Arbor, Michigan) pushes to get robots into university classrooms," says Estes. "We see educating young people as an area with growth potential. As we look to grow the robot industry, educating engineering students about new and emerging robot sectors is important."
LaDuca has a similar take on the importance of education to the robotics industry. "Education is a big thing and robot companies donate robots to technical schools, universities, and local colleges as part of their training curriculum. Our customers go with what they know and if students are taught with a particular make of robot, they will stick to that brand when moving onto the shop floor."
ABB's Campbell concurs. "At Vincennes University (Vincennes, Indiana), I see students programing welding robots, learning how to make parts. Vincennes' robot laboratory has students lined up learning how to program the two dozen robots." According to Campbell, "Vincennes has a fantastic robot education program." In fact, ABB, FANUC Robotics America Corporation and several other RIA member companies have stepped forward to further robotics education by sponsoring educational institutions through membership in the association (program details: www.robotics.org/EduSponsor).
Robots Going Global
The robotics market in Japan, Western Europe, and North America has been mature for several years. Markets in less developed countries will see significant growth over the course of 2012, says Robert Little, Chief Operating Officer of ATI Industrial Automation (Apex, North Carolina). "The automotive sector is very big in the United States and internationally. Growth of robotics in Brazil, China and India, are heavily tied to automotive growth and these countries see exponential growth in their automotive markets."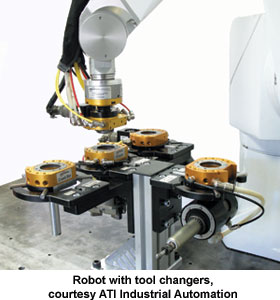 Little focuses on China. "2012 will be a good year for Brazil but I am a little worried that China's automotive market might be a bit of a bubble that could burst."
Little does see interest in non-automotive applications picking up in China. "Non-automotive applications will become more popular in China, which is interesting because labor is so inexpensive there. I did not expect growth in non-automotive applications in countries with low-cost labor, but interestingly the trend is towards more non-automotive robotic applications in China." 2012 could be a record year for non-automotive robots in China, added Little.
Dulchinos also sees opportunities continuing for the robotics market in China during 2012. "China is the fastest growing robotics market and I am confident China will emerge as the largest robot market in the next year or two. The robot market in China will become larger than the robotics market in Brazil, India, and Eastern Europe combined."
The robotics market in China, Eastern Europe and Latin America, largely driven by Brazil, will flourish in 2012 for similar reasons robots spread through Japan, Western Europe and North America, says Dulchinos. "Robotic applications will increase in China, Eastern Europe and Latin America as wages go up. Labor shortages and quality issues drive the mechanization of China."
Campbell agrees with Dulchinos' analysis. "The robotics market in China is explosive. Five years ago, I would not have said China will be a big robot market because of its huge labor pool. That paradigm is starting to change because China's labor pool is stressed, has a very high job turnover rate and sees high wage growth." Campbell cited a recent article that predicts wage parity between the United States and China in a matter of years. (http://www.bcg.com/media/PressReleaseDetails.aspx?id=tcm:12-75973)
"The robotics market in Latin America is on fire," says John Burg. "The growth in those markets as a percentage will outstrip the very sophisticated North American market. I see huge growth for the robotics industry in Latin America over the next five years."
Re-Shoring
Despite expansion of manufacturing into Eastern Europe, India, Latin America and China, businesses see robotics as a means to keep production at home or even bring industry back in 2012. "I see more on-shoring, production processes coming back to the United States from offshore. On-shoring only works through robotics," says Campbell.
Like Campbell, Burg thinks robotics enable bringing production back home. "Many manufacturers found the answer was not to send production offshore. Off-shoring production has pitfalls such as quality and consistency."
Motoman's Dean Elkins brings numbers to justify investing in robotics rather than moving production offshore. "Operating a medium or small robot cost about 15 cents an hour, compared to the labor rate in China of $3 per hour."
Notes of Caution
The rapid expansion of the robotics industry could have its own pitfalls, says Little. "The robotics industry has doubled its output of units since 2009. I cannot expect that level of growth to continue into 2012 but a growth rate of 15 percent in 2012 is likely. A high growth rate makes some nervous because a bubble might be created. I have concluded that the large run the robotics industry is going through now is not completed."
Dulchinos also expresses a hint of wariness. "My only caveat is that robots are a capital asset. 2012 could be negatively affected by the economic environment due to factors outside the control of the robotics industry. Aside from that, 2012 will be a very strong year for the robotics industry."
Prognosis: Good
2012 looks like another banner year for the robotics industry across all sectors. Joe Campbell sums up the opinions of his peers in the industry. "I do not see any place where robotics fails to gain a foothold. Robotics will have traction in all markets in 2012."