Robotics Industry Is Optimistic in 2011
POSTED 01/11/2011
 | By: Bennett Brumson, Contributing Editor
As the global economy emerges from the Great Recession of 2008-2009, business activity is slowly picking up. The rate of increase is uneven, varying from industry to industry and is reflected within the robotics industry itself. While the automotive sector has not entirely recovered, food and pharmaceutical applications appear to be thriving.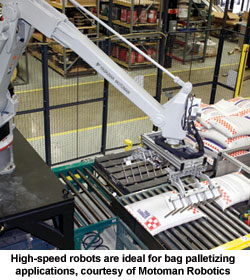 The robotics industry has reason to believe that 2011 will be a good year for robot makers, integrators and end-users. "Judging from attendance at trade shows this past fall such as IMTS, PACK EXPO and FABTECH, you would never know that the country has economic problems. All the shows were well attended," declares Dean Elkins, Senior General Manager with the Motoman Robotics Division of Yaskawa America Inc. (West Carrollton, Ohio) Elkins also serves as Chair of the Robotic Industries Association (RIA, Ann Arbor, Michigan).
"The buzz in the robotics industry is about a real sense of urgency in projects that have been put on hold for the past 18 months. Indications show that activity in 2011 will be more than just business as usual."
Elkins' view is representative of executives and managers in the robotics industry.
What Goes Down Must Come Up
According to RIA statistics, orders for new robots increased a healthy 34 percent in North America and an eye-popping 143 percent outside of North America over the first nine months of 2010 when compared to the equivalent period in 2009. Complete 2010 statistics will be available in February 2011.
RIA members can login to the Member Control Panel to access the current complete RIA Deluxe Statistics Report along with previous reports. For more information about the RIA statistics and the robotics industry, or about membership to access the full report, visit: www.robotics.org or contact RIA Headquarters at 734-994-6088.
"The robotics industry had a major improvement in 2010 compared to 2009. The second and third quarters of 2010 were about the same. The increase has stabilized at second quarter levels," says Åke Lindqvist, Vice President of ABB Robotics (Auburn Hills, Michigan). "The robotics industry went down so dramatically in 2009 but manufacturers still need to automate to maintain competitiveness. I am not worried about the robotics industry in 2011."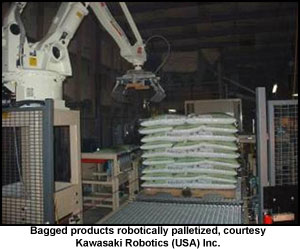 Echoing Lindqvist, Robert Rochelle, North American Sales Manager at Kawasaki Robotics (USA) Inc. (Wixom, Michigan) says, "2011 is looking strong for Kawasaki, a nice change after 2009. We are busy outside of the automotive sector and Kawasaki is expanding in food and beverage applications, as well as packaging and palletizing applications."
Likewise, "FANUC has seen tremendous recovery from 2009 to 2010 and the outlook for 2011 looks extremely positive. We see a big uptick in automotive compared with 2009," points out Michael Cicco, FANUC Robotics America's (Rochester Hills, Michigan) Material Handling General Manager. "Across the board from tier suppliers to the body shop, the paint shop, and power train groups, automotive seems to have come back pretty strong, fueled by government spending."
The notion that 2011 portends good news for the robotics industry is shared by others in the supply chain, not just robot manufacturers. Catherine Morris, Senior Account Manager with ATI Industrial Automation (Apex, North Carolina) and RIA's First Vice Chair, asserts "ATI is almost back to pre-recession levels and we have a record number of individual customers. Record sales have been achieved without any huge automotive programs." Continuing, Morris says, "A majority of ATI's sales are less than $20,000. Small shops invest in one or two robots to handle several different applications."
Morris' colleague at ATI, Chief Operating Officer Robert Little adds, "2010 has been a huge recovery for ATI because we had record sales although not record profits. 2010 was pretty good for us and we see a 10 percent improvement in 2011."
Ellison Technologies Automation, an integrator based in Council Bluffs, Iowa, has a similar take on 2011's outlook. "Unquestionably Ellison is getting more orders for our equipment and we have seen increased activity. Other integrators say the same thing," reports John Burg, Ellison's president. "Our customer base manufactures off-road equipment and these companies are busy or their business is picking up. The automotive sector is active and we see more activity in the non-metal side of our business."
Caveats
While the prospects for the robotics industry are looking up in 2011, optimism is tempered by a note of caution among small and medium businesses (SMB's). Examples can be found in the aerospace industry where SMB's are often found in the supply chain.
"Indicators show the economy is on an upswing but companies are being cautious and small businesses are hesitant to make large investments," observes Curtis Richardson, Associate Technical Fellow at Spirit AeroSystems Inc. (Wichita, Kansas) "Numbers show an upswing in robot sales and people are gaining confidence that the economy is recovering."
Similarly, Stuart Shepherd, President of KUKA Robotics Corp. (Clinton Township, Michigan) states "During 2011, the economy will continue to be volatile. Markets outside of the automotive sector and some core traditional metals markets will do well and show signs of recovery." Shepherd goes on to say, "Those organizations in the robotics industry most closely tied to automotive will continue to struggle due to excessive capacity. Companies outside of automotive will do pretty well, perhaps having their best year ever. Housing-related companies will still be weak."
Some in the robotics industry see the limited availability of capital as a hindrance for investing in new robots. Michael Jacobs, Chief Executive Officer at Applied Manufacturing Technologies Inc. (AMT, Orion, Michigan) says, "Availability of capital is an issue. With retrenchment of markets over the last couple of years, capital is not as available. Companies are cautious where they spend their capital resources."
Jacobs sees the capital shortage beginning to ebb. "No one was putting capital into their plants in 2009. Manufacturers have capital budgets in 2011 and are willing to commit capital into robotics to remain competitive."
John Burg's sentiments match those of Jacobs. "Some companies went through the downturn better than others. No one was spending capital in 2009 like they were in 2007 or early 2008. Now, we are seeing most of those companies back in the market for new capital equipment."
The robotics market dipped in 2009 due to the fact capital was less available and business required less for additional capacity, says John Dulchinos, President and Chief Executive Officer of Adept Technology Inc. (Pleasanton, California) "A portion of investing in robotics came back in 2010. After dropping 50 percent in 2009, about 25 to 30 percent of that investment returned in 2010. Expect that trend continuing into 2011 but at a slower pace."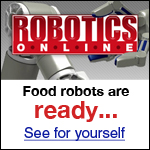 Hot Apps
Which robotic applications will be growing in 2011? "Machine-loading and metal-forming will remain strong, while arc welding seems to be growing again. The agriculture and construction sector seem to be engaging in new programs again. These programs are replacing worn and old capital equipment," says Elkins. "Food and beverage and pharmaceutical applications will continue to grow at a dramatic pace. Also case packing and palletizing will shine."

Elkins predicts growth in life science applications such as high volume blood screening, genetic and DNA testing.
Lindqvist foresees several bright spots in 2011. "Consumer applications like food and beverage and pharmaceuticals have increased steadily and I expect that to continue. The volumes are still comparatively low compared to automotive, but the percentage increases have been high in 2010." According to RIA's latest statistics, life science, medical device manufacturing and pharmaceutical applications increased by 54 percent in the first nine months of 2010.
Nevertheless, Lindqvist believes high-volume automotive applications will remain the biggest driver of the robotics industry for the time being. "Welding and material handling applications are still 70 percent of robots sold globally. I do not see that changing soon."
Kawasaki looks to go beyond the automotive sector in 2011. "Outside of automotive has been strong in 2010 and Kawasaki will expand there. We have several non-automotive projects and the food and beverage business is growing," notes Rochelle.
Robotic food work cells are primarily tasked with picking, packing, packaging, and palletizing applications. These applications show great promise, says Cicco. "The high-speed picking, packing, and palletizing markets have been very positive. Those applications grew through the recession and we see them continue growing through 2011."
ATI is bullish on packaging applications in 2011. "Packaging looks to be trending upwards. After dropping in 2009 and partially recovering in 2010, I see packaging doing better in 2011," forecasts Little.
Kawasaki's Rochelle concurs. "Packaging and palletizing are old applications for robotics because
not having people pick up bags and boxes and put them onto pallets makes ergonomic sense."
Dulchinos agrees with Little and Rochelle. "Adept concentrates on food, medical devices, pharmaceuticals, and consumer goods applications. Applications in these industries grow because robots are now better able to handle them. We expect these markets to expand in 2011."
Discussion of "non-traditional" robot applications sometimes brings to mind robots for personal use. Service robots, for instance, are gaining notice from RIA members such as Adil Shafi, President of Advenovation (Brighton, Michigan). He comments: "The emerging service and consumer robotics market offers tremendous opportunities for experienced providers in industrial robotics and machine vision. Although the applications are different, the underlying technologies, skill sets and project experience are very applicable, and can provide a competitive edge to traditional providers in new markets. I believe that the service and consumer robotics market will outpace industrial robotics in the next few years due to sheer volume of market."
RIA does not officially track service robots but has been encouraged by the interest in proven industrial technology for robots in other sectors. From dairy farms to space stations there are many drivers that bode well for an expanding market.
Adil Shafi will speak on the topic of service robots at the upcoming Robotics Industry Forum, January 19-21,2011 (Disney's Boardwalk Resort Orlando, Florida). His presentation, "Opportunities for Vision in the Service Robotics Field," takes place on Thursday, January 20. The RIA Forum is a members-only event and is co-located with the Automated Imaging Association and Motion Control Association Business Conferences. For the complete Forum agenda and registration details, click: 18th Annual Robotics Industry Forum.


The upcoming Automate 2011 Show, March 21-24, 2011, (McCormick Place, Chicago, Illinois) presents another opportunity to see some of these new applications in motion and up close at the Emerging Robotics Pavilion on the show floor. The show addresses the automation needs of attendees by providing solutions that encompass robotics, machine vision, motion control and more. A full conference, featuring an outstanding lineup of automation-related topics, accompanies the show. For show details, conference agenda and registration information, visit: www.automate2011.com.

Hot Spots
Outside of Japan, Western Europe and North America, the robotics industry can look forward to fertile ground for growth in 2011.
"Brazil's economy is on fire right now and companies are automating at a fantastic pace. India is enjoying great growth as is China. All three countries are shining economic stars," contends Elkins. "Robot companies doing business in South America and Asia are increasing sales in these regions."

Echoing Elkins, Jacobs describes Brazil's economy as "Fantastically churning and firing on all cylinders. Brazil has a need for additional robots and many international companies servicing the Brazilian market have located there."
Rochelle also sees possibilities in fast-growing economies. "I see many opportunities in Brazil. Several North American and Western European robot companies have set up shop in Brazil because of so much activity. The Honda plant near São Paulo was similar to a 1960s US automotive plant where everything is done manually," Rochelle recalls. "Kawasaki is building a robotics facility in India because of its growing market."
China's automotive assembly plants are similar to Brazil, explains Dulchinos. "Many car factories
still produce without robotics in China. We expect emerging markets like China's will be like North America and Western Europe 20 years ago. Process applications such as welding will be automated first, then move toward more sophisticated applications."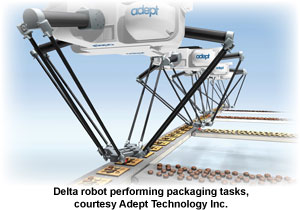 Big and Fast
While flexibility is inherent in industrial robotics, some have design features for one or a selected group of applications. Delta robots, designed for packaging and assembly tasks, function at higher speeds than conventional robots. "Delta robots operate at a new level of performance, enabling high-speed applications that can be solved with robots that used to require an army of people or many fixed platforms of hard automation. Delta robots can run at rates of 100 to 150 cycles a minute, twice that of conventional robots," Dulchinos claims.
Dulchinos sees the proliferation of mobile robots in 2011, for use in warehouses and factories, eventually supplanting conveyors.
Cicco has a similar assessment as Dulchinos. "Delta-style robots do well in the electronics industry and in high speed picking and assembly applications." Look to see more delta robots deployed in 2011.
At the other end of the application scale, a mini-trend has given rise to robots with enormous payload capacities. "I see robots that handle payloads up to a ton. While these robots are not integrated at high volumes, they can solve problems with off-the-shelf equipment. End-users find that inviting because the robot can be redeployed for other applications," says John Burg. "Very high-payload applications were traditionally done with specially built robots."
Cicco finds end-users are receptive to high payload robots. "Robots with a payload capacity of 1,200 kilograms are the next new thing. End-users say they did not know a six-axis robot could pick up and move huge castings, vehicle parts, or machine tool parts."
Optimism and Confidence for 2011
"I am glad to hear such optimism for 2011," said Jeff Burnstein, President of RIA. "I think the companies that survived the Great Recession have every reason to be confident going forward. Robotics hold tremendous promise for companies in every industry and in every country and we should see continued progress in getting this message out in 2011."