Robotics Industry Forum Turns Networking into Connectioneering!
POSTED 08/08/2008
 | By: Brian Huse, Director, Marketing & Public Relations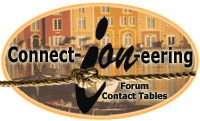 Are you ready for a unique kind of networking that leads to new and improved business? On November 6, 2008, your RIA membership unlocks the door to Connectioneering at the Robotics Industry Forum in Orlando, Florida. Business consultations are offered by RIA members, and new this year is the invitation-only participation of industry leaders from the Motion Control Association.
Some companies have made an early and strategic decision to lock in spots for Connectioneering tables before they are gone. If you want to meet and consult with them, you can get on their calendars now. Your own table can be reserved for only $225 when you register for the Forum. In one short trip to Orlando, Florida, you will gain insight into the state of the industry and bolster your business with connections made with seasoned industry leaders at the highest levels.
Connectioneering Appointments with Industry Leaders
Request an appointment with the companies listed below and visit Robotics Online for an updated list of Connectioneers. Appointments are offered in increments of 20 minutes and are available from 1:30 p.m. to 5 p.m. on Thursday, November 6. You must be registered for the Forum.

Applied Manufacturing Technologies
ATI Industrial Automation
KUKA Robotics Corporation
Schmalz
SICK
The Technology Collaborative
Motoman
Forum Registration Open Now – Connectioneers Welcome!
Make your Forum registration now and sign up for a Connectioneering table if you want to take appointments. Click here for the online form. Hurry – Early Bird rates end October 6. (Robotics Industry Forum is a member's only event – contact Melissa Alderton for membership details.)
About Connectioneering
Connectioneering is an exclusive setting for personal consultations and not a trade fair. Whether you look to forge new partnerships or find new customers, it is networking at the highest level and a unique members-only benefit. Small bits of literature or product are welcome but space is confined to a six-foot table and two chairs (more chairs available upon request).
More Information
Contact Brian Huse at 734/994-6088. Hurry – space is limited.