Robotics Industry Expected to Thrive in 2013
POSTED 01/03/2013
 | By: Bennett Brumon, Contributing Editor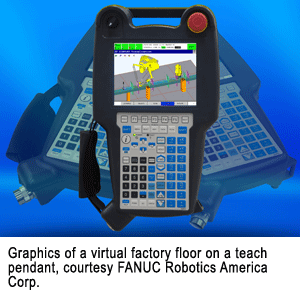 As the American economy, and that of the world, continues its recovery from the Great Recession, the robotics industry is reaping the benefits. Robot users, integrators and manufacturers have an optimistic outlook for the robotics industry in 2013.
"2013 will be a good year for the robotics industry but not as good as 2011 and 2012. The robotics market has been on a serious growth trend since 2009," says Robert Little, Chief Executive Officer of ATI Industrial Automation (Apex, North Carolina). "Growth will continue through 2013 but not at the same rate of 20 percent seen in 2012. I hope to see 10 to 15 percent growth in 2013."
Little's analysis is typical of his peers in the robotics industry. Across applications and regions of the world, the robotics industry can look forward to a robust 2013.
Ample Apps
Most players in the robotics industry are sanguine on the prospects of nearly all applications in 2013. "I think 2013 will be awesome. General industry is historically two years behind the rebound of the automotive industry, following an economic downturn. The automotive industry did not buy anything for a few years then came on strong," says Edward Minch, Automotive Group Director of Sales and Engineering at Kawasaki Robotics (USA) Inc. (Wixom, Michigan). "General industry is taking care of capital investment it ignored during the recession."
Likewise, Mick Estes, General Manager at FANUC Robotics America Corp. (Rochester Hills, Michigan) says, "I expect to see continued growth in the automotive industry with increasing investment of robotics in the power train sector. Tier Two suppliers continue to invest in robotics to remain competitive on the world market."
Estes also anticipates strong growth in general industry. "Packaging and palletizing applications as well as assembly for the general industrial market will increase."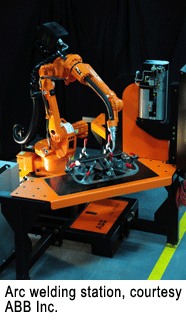 John Bubnikovich, Executive Director of Marketing and Business Development at ABB Inc. (Auburn Hills, Michigan) speaks of the continuing role of the automotive sector within the robotics industry. "The automotive sector still accounts for 65 percent of the North American robotics market. Automotive's revitalization has been very influential in the great bounce-back the robotics industry has seen recently."
Bubnikovich goes on to say, "Robotic laser cutting is emerging as an optimal means to cut and trim hot-stamped steel, a light weight, high strength material increasingly used in the automotive industry to reduce the overall cost and weight of cars while improving passenger safety and fuel economy."
Bin picking is one application several leaders in the robotics industry have high hopes for in 2013. "I see rapid expansion of three-dimensional bin picking, the ability to retrieve randomly arranged products from a bin," says John Burg, President of Ellison Technologies Automation (Council Bluffs, Iowa).
Terry Zarnowski, Director of Sales and Marketing with Schneider Packaging Equipment Co. Inc. (Brewerton, New York) has a similar outlook for the prospects of bin picking in 2013. "Bin picking is now a viable reality."
Minch sees advancements in vision technology combined with improved force sensing, as one of numerous bright spots for the robotics industry. "These advancements will help the robotics industry penetrate into new markets, such as consumer electronic equipment and automotive component assembly and random bin picking. Robots can 'see' and have a sense of touch. Force sensors use feedback from servomotors to tell how hard the robot is pushing on a part during assembly processes such as driving a screw."
Random bin picking is high on Estes' to-do list in 2013. "Bin picking applications will become more robust due to better sensor technology. End-users want automated bin picking but did not have the tools to get there until now. Bin picking will continue to grow in 2013." Estes adds, "Because of the flexibility robotics offer, improvements to vision systems and bin picking, a batch of one is close to becoming a reality."
More on Bin Picking



View the Robotic Industries Association's (RIA, Ann Arbor, Michigan) archived webinar, Robots: Vision Guidance (3D: Bin Picking), on Robotics Online. Webinar examines bin picking and what the application can do for manufacturers.
The food and beverage side of the robotics industry has a favorable outlook in 2013, particularly those relating to packaging and palletizing, says, Stuart Cooper, Vice President of Sales with Flexicell Inc. (Ashland, Virginia). "2013 will be a good year for the robotics industry. The return on investment in packing and palletizing applications is favorable. I anticipate accelerated growth in 2013 and do not see any markets within the robotics industry declining."
Regarding the IP69 standard, which relates to the ability of equipment to withstand high pressure wash-down procedures with hot water, Cooper says, "I see advances in vision and speed as well as more IP69K-rated robots deployable in areas other than the dry side of the robotics business. To move into other sectors, the robotics industry must find strong integrators that know that sector to meet its needs."
Look to see more robots with the IP69 rating in 2013.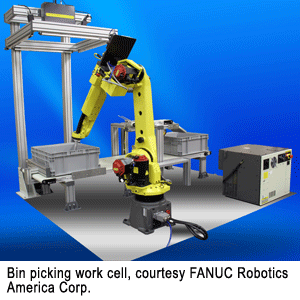 Bubnikovich also sees more robotics in the food and beverage sector in 2013. "The food and beverage industry has adopted robotics over the last few years and is still a high growth sector. Advancements in high sanitation robots will continue to move robots up the production line into handling raw or unpackaged food. Robots can quickly and gently handle food products, increasing productivity while taking the human element out of handling some disease-sensitive foods like meats and produce."
Zarnowski says, "Robotics have become mainstream in the packaging industry. As a result, customers explicitly ask for robotic solutions rather than conventional automation. In the packaging industry, we see a greater use of vision-guided robotics for carton and case-loading applications, especially for flexible packaging such as bags and pouches."
Little agrees with his colleagues that packaging applications will grow within the robotics industry in 2013. "Pack Expo 2012 saw record levels of attendance, an indication of more interest in robotic packaging applications."
Good Prognoses?
While leaders believe 2013 looks very promising for the robotics industry, they diverge somewhat on the outlook for medical applications.
"We see continued interest in medical research-dependent applications, although government funding is still an unknown for 2013. Assuming this funding will continue, medical applications will continue to rise and be strong in 2013," says Little.
The ATI chief gives some examples of recent medical uses of robotics. "Accuray Inc. (Sunnyvale, California) uses a KUKA (Shelby Township, Michigan) robot with better end-effectors to improve radiation treatment. Another company received Food and Drug Administration (FDA) approval to use robotic technology for hair transplant procedures."
Burg analyzes medical applications, "Medical and medical components like replacement hips and knees will not see much interest in 2013. The medical industry awaits clarification of the new Patient Protection and Affordable Care Act in the United States and the implications for the medical industry."
Burg adds, "The long term outlook for medical applications is very positive for the robotics industry."
Re-shoring
"Emigrate, Automate or Evaporate" was an adage for manufacturers. With rising costs in previously low-cost countries, the "emigrate" option has reached its limits. Robots are increasingly seen by manufacturers as a way to keep production at home or even bring some manufacturing back while controlling costs.
"A while ago, we saw a big push to build facilities in China and off-shoring production was very popular. Now we see the re-shoring of many manufacturing jobs and products back to the United States. Most automotive plants in North America are at or close to capacity," says Minch. "Moving production to China is no longer the money-saving investment as was thought. Manufacturers found out off-shoring was not saving very much in the long run."
Schneider's end-users are also looking at robotics as a means to bring production back home. "We see a growing interest from manufacturers to re-shore operations previously moved to Mexico, China or elsewhere. Re-shoring is due to rising labor and shipping costs as well as concerns over quality," says Zarnowski.
Little has a similar take on re-shoring as Minch and Zarnowski. "Robots give a chance for higher cost countries to compete with lower cost nations such as Mexico or China. Robotics help keep manufacturing in the higher cost country and closer to its base of core customers."
Continuing, Little says, "Robotics help to increase employment in North America by allowing manufacturers to stay rather than move to low cost countries. Employment will continue to improve as more manufacturers remain local rather than going overseas."
Little concludes by saying, "The re-shoring trend will continue through 2013."
Despite sustained levels of unemployment, some manufacturers have difficulty recruiting skilled labor. "Training workers is expensive but you do not need to train a robot. Finding people to run production lines is not easy," says Cooper. "People do not want to do that type of work. Robots provide efficiency, performance, higher quality products."
Mick Estes says, "Manufacturers cannot find enough skilled workers and that drives the need to use robotics. I do not see a jobless recovery for skilled labor. Companies invest in robotics because they do not have the people needed to handle the work they have and robots allow end-users to control costs, do more with less and increase flexibility. Robots do not replace workers but add value in repetitive operations."
Minch concurs, saying, "Teaching someone who already knows how to paint a car to program a robot is easier than teaching a robot programmer how to paint a car."
Turning the Tide


Robotics is a key element in the current wave of re-shoring manufacturing to North America. View RIA's Robotics Online archived Featured article,
How Robots Create Jobs
, for more information.
Automating
Manufacturers new to robotics and those with experience in flexible automation have a chance to network, see the latest and greatest robotic wares and plan future capital investment at Automate 2013 in Chicago January 21-24. Co-located with the ProMat material handling and logistics show, the Automate conference and trade show offers attendees an opportunity to learn new skills, enhance old ones and to rub shoulders with leading automation professionals. Tutorials ranging from "Fundamentals of Robotics" to "Advanced Vision Guided Robotics," provide attendees an opportunity to learn useful information.
Bubnikovich previews ABB's display at Automate. "ABB will exhibit a wide cross section of pre-engineered, plug-and-play robotic systems for a variety of industrial applications with the latest advancements in ease-of-use programming and operational software."
John Burg says Ellison will, "Exhibit an automated machining system that will manufacture a product. We will also demonstrate bin picking at Automate."
FANUC will also demonstrate bin picking at Automate. "We will show small robots and sensors for bin picking applications. We will show off recently introduced robots, software and our 'four-dimension' graphics with the ability to bring a virtual manufacturing floor onto a teach pendant," says Estes.
At Automate, Zarnowski says, "We will look for those applications where Schneider can best apply our core capabilities, especially in packaging and palletizing. We will also look at trends in other areas where Schneider can capitalize on our robotics expertise."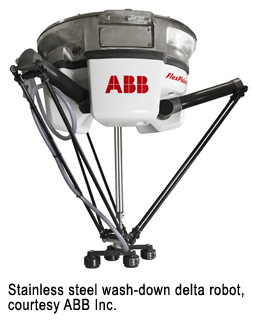 ATI's goals at Automate are similar, says Little. "ATI will go to Automate to see and learn what other companies are doing and to look at end-users' interests." ATI's exhibit will demonstrate force sensor technology and wash-down resistant tool changers for delta robots in food-handling and packaging applications, says Little.
Kawasaki will show a high payload robot to Automate attendees, previews Minch. "Kawasaki will bring a 200-kilogram capacity robot to Automate. The robot has a hollow arm so cables and hoses will not snag when working in spot welding applications." Kawasaki will also include new off-line programing products to speed work cell installation.
Flexicell's Automate booth will include a demonstration of high-speed picking, packing and palletizing offerings geared for vision-enabled delta robots.
More Apps, More Robots
As demand for robotics increase, robot makers are poised to increase their output. Estes sums up the consensus of those in the robotics industry. "I see a robust demand for robotics on all levels in 2013."