Robotics and the Big Trends
POSTED 09/21/2009
 | By: Jeff Burnstein, President, Robotic Industries Association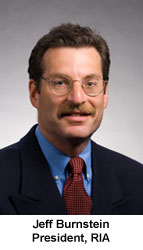 I've been thinking and reading quite a bit lately about how robotics ties in with the big trends impacting our society. If the robotics industry is to fully reach its potential, we'll have to find new applications, new users, and new ways of helping society achieve important goals.
While there are many important trends, I'll discuss just three in this article that I believe create significant opportunities for robotics in the decades ahead.
Globalization
In the early days of robotics, the opportunities primarily could be found in Japan, the United States and Western Europe. Today, as products are being manufactured and assembled in every corner of the globe, China, India, Korea, Eastern Europe, Latin America, and many other regions present enormous growth potential for robotics.
Plus, as robotics researchers and technology developers spring up everywhere, we find new innovations as well as new opportunities outside the factory. Korea, for instance, is taking the lead in promoting the use of robots for service applications such as elder care. The United States is taking the lead in using robots to protect soldiers on the battlefield. European companies are taking the lead in using robots in the manufacture of solar panels. There is so much global activity occurring in robotics that one can't help but be excited about the long term potential, despite the current global economic crisis.
Energy
The growth of China, India, Brazil and other once developing countries has placed a huge demand on energy resources. Having consistent and reliable access to electricity is a huge concern, one that we became especially aware of when RIA led a group of members to India in the fall of 2008. Companies can't count on having power all day every day, which makes manufacturing a challenge.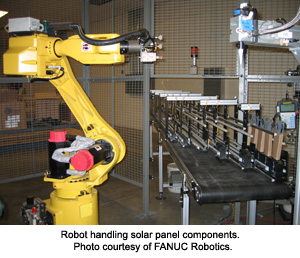 Additionally, there is concern that the world is running low on oil and the prices will continue to rise. So, we're seeing an explosion in demand for alternative energy sources, such as solar power, wind, fuel cells and more.
Robots already play a key role in making solar panels. Research shows that robots can be instrumental in making fuel cells and wind turbines. We know these will be growing markets and the use of robots should grow along with them.
Hybrid and electric cars will play a much more prominent role in the future of the auto industry. Assembling these new cars requires new and often complex processes that robots are ideally suited for. As a result, new opportunities will emerge in the automotive and transportation industries, not just in North America, but throughout the world.
Environmental and Health Issues
A closely related trend to the need for alternative energy resources is the need for manufacturing processes and technologies that are good for the environment. Whether or not you or I believe in global warming as a consequence of man's actions, the fact is that nations and companies are moving in the direction of "green" at a rapid pace, one that is likely to accelerate in the decades ahead. Just think about the images you remember from the Olympic Games in Beijing last summer. As spectacular as the Olympics were, the smog and haze from the polluted air cannot be ignored. The same is true in major cities around the world, such as Los Angeles, Mexico City, and Mumbai.
Health care and related issues will be at the top of everyone's mind in the remainder of this century. I've already mentioned how Korea and others are interested in using robots for elder care. And, we've all seen the great developments taking place in using industrial robotics for surgical procedures. One you may not have thought about is how robots are used to make our food supplies safer, which is especially timely as I write this due to a salmonella outbreak related to tainted peanut butter products.
Many food-borne illnesses are caused by people coming into contact with the food. The fact is that robots are cleaner than people. As a result, we're seeing more of them used in the production and packaging of food. And, going forward, we're likely to see robots handling food in restaurants (we've already seen examples of robotic sushi-makers!).
In moving toward a greener world, demand will increase for cars that pollute less, product packaging that is recyclable, and foods that are safer. Again, these are all areas that present enormous growth opportunities for robots.
There are many other trends I could discuss such as miniaturization and mass customization that create new opportunities for robotics. Suffice it to say that there's good reason that most people predict robotics will be one of the most important technologies of the 21st Century!
At RIA, our goal is to help our members take advantage of the many new opportunities that are arising. And, we want to make sure that everyone in the world working in or interested in robotics has access to the important information needed to make sure that robots are used effectively to better our global society.
I invite you to find out what RIA has to offer you. Visit our comprehensive Robotics Online website (www.robotics.org). Call our headquarters at 734/994-6088. We'll do our best to serve you!