Robotics 2015 and Beyond: Collaboration, Connectivity, Convergence
POSTED 01/19/2015
 | By: Tanya M. Anandan, Contributing Editor
Blurred lines. One of the most transformative periods in the robotics industry is upon us. It will be a period of collaboration, connectivity and convergence that will catapult us into a world teeming with automation in every aspect of our lives. It's already here in many forms. Our smartphones, our smart appliances, all the sensors in our cars. We just take them for granted.

Someday, we'll take for granted our Smart Homes and Smart Offices, too.

Much the way desktop PCs bowed to the laptop, and now tablets, blurring our work with our home lives, and vice versa. Robots will become just as ubiquitous, all-purpose and adaptable. Automation will do what it has always done. Make things faster, easier, better.

Industrial, meets Collaborative, meets Service Robotics. The differences will become inconsequential, indistinguishable. The best technologies from each will converge to create robots that just get the job done. Collaboration will be the common denominator.

Collaboration will transcend species, from human-robot, to robot-robot and robot-machine. It will seamlessly integrate advanced technologies that give robots their intelligence – sensing, perception, learning, communication, grasping. Collaboration will bring together robotics suppliers, integrators, researchers, trade and standards organizations, start-ups, accelerators, investors, and end users for the mutual benefit of all.

Connectivity will come in the form of the Internet of Things. In a connected enterprise, robots, machines, all forms of automation will communicate with each other free of the cables that bind, sharing insightful data with their human collaborators.

The barriers will fade away. Collaboration will become second nature. Automation will become ingrained in our lives, so omnipresent as to become virtually invisible.

Angels and Accelerators
The robot space is populated by passionate advocates, evangelists if you will. Some self-proclaimed. They nurture those all-important collaborations. Robot evangelists like Andra Keay are on the forefront of a powerful force.

Keay is Managing Director of Silicon Valley Robotics (SVR) in Pleasanton, California, a nonprofit industry group launched in 2010 by an alliance of Bay Area robotics companies, including founding members Adept Technology, Bosch, SRI International, and Willow Garage.

"Silicon Valley Robotics is very diverse," says Keay. "We're spread out across so many different verticals, and the companies range in size incredibly. We have one of the largest robotics companies in the world with Intuitive Surgical and we have many small start-ups."

"There is so much that has happened in the last 10 years in terms of developing an ecosystem for start-ups," she says. "We're seeing more accelerators open with a focus on hardware and even specifically on robotics. Qualcomm and Techstars have just opened a robotics accelerator and it's not the first one to focus on robotics. Back in 2012, there were only two hardware accelerators, and in two years approximately 15 others have opened. That's huge!"

She credits this phenomenon to small-batch manufacturing, rapid prototyping, crowdfunding, and angel investors, all making it easier to launch a robotics start-up.

Keay wears many hats. She is Director of Industry & Start-up Relations at Robohub.org, a global site for news and views on robotics; founder of Robot Launchpad, a global robotics start-up competition; and cofounder of Robot Garden, a family-friendly community workshop promoting robotics and STEAM (science, technology, engineering, arts and math). Growing up in Australia, she says her fascination with technology began early in childhood.

"I'm excited by the changes that are happening. It's that evolution of our technology and how we as a society are dealing with it. It became clear to me that robotics was going to be the next wave of world-changing technology."

Sensors, Software and EOAT
Other than new collaborative robots and dual-arms turning heads on the exhibit floor, robots by themselves have not made any huge technological leaps of late, at least not in the industrial arena. Even the traditional robot manufacturers will tell you that the big game changers today are sensors, software and end-of-arm tooling (EOAT). This is where the biggest advancements have been made recently and where the most leaps are expected in the next five years.


Keay agrees. "The thing that most excites me is what's happening with end effectors. I look at that as completely game-changing."

She notes start-ups for your watchlist. (Keay serves an advisory and investor role with some of the companies she cites in this article.)

"I really like the Universal Gripper (referring to Empire Robotics jamming transition technology first developed at Cornell University. We covered the VERSABALL® last spring in this article, Take My Hand, Behold the Future of Robot End Effectors). But I'm really excited by what's happening with soft robotics," says Keay.

She cites start-ups Soft Robotics Inc. and Pneubotics. "They're both working on pneumatic, soft, compliant, safe, cheap end effectors that can handle an incredibly diverse range of objects. Pneubotics is a spin-off from Otherlab in San Francisco. Soft Robotics is a spin-off from the Whitesides Research Group at Harvard University. This is research we've all been aware of for quite a long time, but it's out of the research lab now. It's being commercialized."

"There are also companies like RightHand Robotics," she adds. "There are a lot of interesting and new lower-cost, sensitive grippers coming out, and each of them can have quite different applications."

Keay says soft robotics end effectors will extend automation into new areas. "They will be able to work with food, with soft packaging, with textiles. That's a lot of processes that have the potential to be robotic."

Soft Robotics Grippers
We touched upon soft robotics, its early DARPA-funded research (ChemBot), and the important role it will play especially in the service robotics area in this article, Our Autonomous Future with Service Robots.
Soft Robotics, the company, was founded in 2013 by Harvard professor George Whitesides and longtime collaborator Carmichael Roberts, along with their academic collaborator Dr. Conor Walsh of the Wyss Institute for Biologically Inspired Engineering at Harvard. Their gentle, compliant gripper made its first public debut last fall.
We're talking to some very large companies right now and demonstrating our technology," says Carl Vause, Chief Executive Officer of Soft Robotics Inc. in Cambridge, Massachusetts. "The greatest interest has been in unstructured pick-and-pack applications that feature prominently in many e-commerce and retail logistics operations."

This video shows the gripper handling a variety of e-commerce items from office supplies, and books and cartons of various sizes, to deformable objects like packaged dress shirts and bags of rice, even a 10-lb kettlebell to demonstrate the gripper's might. Soft robotics doesn't mean weak.

Vause says they are currently working on the fifth generation of the gripper. The pictured end effector is the third generation.

"What's changing is that we're better at converging on the right size and force profile for the kinds of e-commerce objects that we're targeting, and getting closer to the point where we have maximum versatility across all possible e-commerce objects. The most coverage that we can in a single device."

"Traditional logistics focused on moving pallets of a thousand t-shirts," he says. "Now, it's go get me one t-shirt, a soccer ball, and a salad strainer."

"Our technology is focused on the soft actuator," explains Vause, distinguishing the mechanism from balloon-like grippers. "We make devices that do physical work when you pressurize them, either hydraulically or pneumatically, so you can get a finger-like action or a conformable grasp."

"If we're making a large device to pick up pumpkins, or making a small device to pick up ink pens or credit cards, it's the geometry that's important. That's both the size of the object, the specific shape of the pneumatic networks, and how they are distributed within the device. The second important component after geometry is the material. We want something very compliant for picking up tomatoes, or something more rigid to pick up bags of rice or kettlebells."

Strong, but Compliant
Vause says the materials they use in making the actuators are all elastomeric and it's this design choice that makes them inherently safe. The end effector runs on available power and is plug-and-play ready with any of the robotic arms on the market.

"What's very disruptive about soft robotics is the prototyping cycle," explains Vause. "Where a traditional robotic manipulator may take months or years to develop a prototype, debug and market, our prototyping cycle right now can be as short as three days. The feedback we get from other robotics companies is, 'this is unbelievable, we've never seen a company do it this fast!' It's because of rapid manufacturing. We do all of our first-run prototypes in-house using 3D printing."

"We're currently working with potential partners to really nail down their application needs. That will lead to funding, hopefully this year. Right now, we're targeting logistics, warehousing and advanced manufacturing."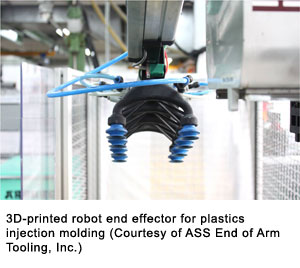 3D-Printed EOAT
Other end effector manufacturers are also using 3D printing to speed up the design and build cycle. We're hearing the rumble of disruptive technology all throughout the robotics industry.

ASS End of Arm Tooling, Inc. uses 3D printing technology to manufacture vacuum end effectors for plastics molding applications. Juergen Kortberg, Vice President of the German-based EOAT manufacturer's North American operations in Plymouth, Michigan, says the pictured 3D-printed end effector's lightweight design is crucial due to the low-payload Cartesian robots often deployed in plastic injection molding.

He says a unique feature of the EOAT is its hollow internal channel for the air and vacuum supply. No air hoses are needed.

"We also manufacture standard off-the-shelf grippers using 3D printers," says Kortberg.

The company's IPG grippers are made with a selective laser sintering (SLS) printer and are used to grip parts by expanding within the inner diameter of a small opening in the part. Additional information is available here along with a video showing the 3D-printed gripper in action.

3D-Printing Robots
Articulated robots are being used for 3D printing raw parts, or adding to existing molds or parts needing repair or buildup.

"We have customers that are using six-axis robots for 3D printing," says Chahe Bakmazjian, President of Jabez Technologies in Montreal, Canada. His company's Robotmaster® software for offline robot programming was featured in a previous article on robotic material removal.

Bakmazjian says several of his existing customers are either already offering robotic 3D printing applications, or in the R&D phase of developing processes for 3D printing a variety of materials, including resin-based furniture, ice sculptures, components for ice hotels, and metal parts. He says some are for military applications where they are building up a powder alloy part that will be sintered. He also says 3D printing is being used to create a rough stock part from metal using plasma or laser welding processes and then the final part is milled to size.

"Some customers are performing mold repair by using 3D printing to add material to worn or damaged sections," he adds. Robotmaster software is being used in many of these applications to automatically calculate and optimize robot trajectories for 3D print programming.

In other 3D printing applications, robot systems integrators are reportedly using 3D printers to create parts to validate their own system designs and concepts. This is often necessary because their customers don't yet have the parts to provide for system run-off. With the cost of 3D printers coming down, this activity is only expected to increase.

Sensors Everywhere
While 3D printing is shaking up the EOAT area, sensor technology is seeing new players enter the fray in record numbers. This is all good news for robots.

"Sensors are one of the biggest pain points and yet it's one of the areas where we've seen the most rapid improvement," says SVR's Keay. "The price of sensors is coming down. The ubiquity, especially in other devices, is spreading and we're getting better and better sensors."

"Most robotics companies I know are calling out for better, smaller, cheaper sensors, and embedded sensors," she says. "People want LIDAR. I'm running into LIDAR start-ups everywhere I turn in the last six months. Three that spring to mind are US LADAR, SCANable, and Ocular Robotics."

On the collaborative front, sensors play a pivotal role. The future is bright for human-robot collaboration enabled by smart sensors.

"People want to have more interaction," says Erik Nieves, Technology Director for Yaskawa Motoman in Miamisburg, Ohio. "And they want to do it safely. I think the next big step is in sensors, where the people meters become even better at determining the number, location, and someday, the intent of people in a robot workspace."

"Right now, you have a safety-rated sensor, for example a light curtain," he says. "I step into it, I break that barrier, and then you come in next to me. There are two of us in there now, but the robot doesn't really know that. Not that it matters right now, because it's not going to do anything while either of us is in there. You and I both leave and then maybe the robot moves on to its next operation."

"But as robots and operations become more sophisticated, you have to stop dealing in two dimensions," says Nieves. "We need to deal in volumes. That's really the next big thing. Somebody is going to come up with a safety-rated volumetric sensor. Think of a safety-rated Kinect sensor. In the future, collaboration will be more natural, which means it's got to be smarter than it is now."

One example of smarter technology is the Leap Motion sensor. Your index finger becomes very powerful when you can direct a robot's movements from across the room. Check out this video.

Now apply that technology to a mobile robot. Get a load of this video from KUKA Laboratories. Combine Leap Motion with virtual reality technology, wearables, robotics – imagine the possibilities. Simply mind-blowing!

Smarter Software
Smarter sensors require really smart software. Robots are better with both.

MoveIt! is open-source software for mobile manipulation. According to the developer's site, the software incorporates the latest advances in motion planning, manipulation, 3D perception, kinematics, control and navigation. It's in alpha testing on a wide variety of traditional, collaborative, and mobile robots.

This video shows a montage of different robots and applications using the software.

Yaskawa's Nieves says this type of technology will play an important role in more sophisticated interactions between humans and robots.

"Even now, if it's collaborative, it's primitive," he says. "The robot keeps doing what it was programmed to do and if I get in its way, it stops. Whether it stops before it hits me or after it hits me, it doesn't matter. It did not change its behavior because I was there. MoveIt! software is smarter than that. It says oh, somebody is in the way, let me re-plan my motions so I can work my way around them."

This video* shows a Yaskawa dual-arm robot using the software for coordinated linear motion and trajectory planning. The robot self-checks for collisions between its two arms and other objects. *Warning: Turn down your volume, or the boss will think you're running a club out of your cubicle.

Intelligent Automation
As sensor prices continue to fall, and software designed to handle all the data they collect becomes more robust, we'll see this technology permeate the robotics industry.

"Better sensors are great for robots, but they're needed in a whole range of other applications," says SVR's Keay. "If we make the world much easier for machines to navigate and read, then we have far more capable machines without the machine itself having to become fully capable. I think we're heading into a machine readable world in the next five years."

"You can see how this will be possible if we look at the widespread use of smartphones," she says. "We will have that sort of technology in a lot more places. I'm seeing some really interesting industrial Internet start-up companies, where they are looking at not just the Internet of Things in our home, but in large scale in industry, where having a lot of sensors and a lot of data can make
everything work better. Those are companies like Sight Machine and Nightingale Analytics."

"This is really important for robots. We're now looking at big data and analytics at every stage of the automation process, and that's probably one of the biggest trends of the next five years. I think it's already upon us. It's about intelligent automation."

Industrial Internet of Things
Intelligent automation, machine-to-machine (M2M) communication, cloud computing, the Internet of Things (IoT) – It's about connectivity. The cyber highway is fueling this latest industrial revolution. Manufacturers will need to augment their information architectures, secure their networks from human error and malice, standardize data systems, and assemble actionable insights to be competitive in the global economy. The focus will be on Smart Manufacturing.

"The Internet of Things technologies are going to help drive and transform operations, especially in manufacturing," says Mike Hannah, Market Development–Connected Enterprise for Rockwell Automation Inc. in Milwaukee, Wisconsin. "The newer technologies and the kinds of devices connected to the network are really going to help accelerate the value that customers can get from what we're calling the Industrial Internet of Things (IIOT)."

"Cisco Systems did a study in 2013 around a value at stake for what they refer to as the Internet of Everything," he explains. "When you boil it down, they see over the next 10 years about a $19-trillion value at stake. The manufacturing sector is the largest and it's about a $4-trillion market opportunity."

Hannah notes primary areas where manufacturers can begin leveraging the value of the Internet of Things: asset utilization, employee productivity, horizontal integration, customer experience, and innovation cycle.

George Schuster, Functional Safety Specialist for Rockwell, identifies integration and safety as key enablers for widespread adoption of both robots and the IIoT.

"Our ability to simplify the user experience and standardize the tools that we use to design, commission, and operate these more complex and flexible manufacturing systems, of which robots are a critical part, is very effective in improving the adoption rate," says Schuster. "We see the complexity of integration as a barrier to entry for a lot of mom-and-pop shops or smaller manufacturers that maybe don't have that long-term competency and exposure to these robotics technologies. We'll see those adoption rates drive up dramatically as we remove the integration complexity."

"The improvement and technology evolution on the safety side of robotics is another key enabler," he says. "One of the technologies is collaborative robotics. Synchronized robotics is another one. Collaborative robotics, where the safety function is allowing people and robots to work in closer cooperation, is enabling applications that were unheard of in the past. We can utilize the tirelessness and the repeatability of the machine with the intelligence, adaptability, and flexibility of the human, and leverage the strengths of both working together in a manufacturing process."

Schuster sees the biggest growth and rising adoption rates in the packaging industry, followed by general metal cutting, aerospace, and general assembly operations.

Network Convergence
Rockwell's Hannah says the process starts with network convergence and a common standard.

"When you take a broader view of the whole Industrial IoT vision, one of the key pieces is network convergence. You have to make this a real critical part of the entire infrastructure of your plant or operation. We have to move away from these proprietary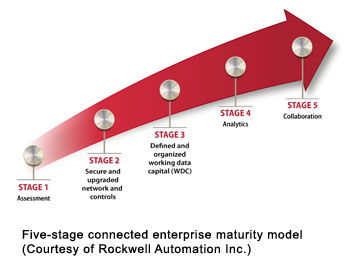 standards where you have different types of purpose-built networks. In the past you needed to have a motion network, a safety network, an information network, and an I/O network. You have to drive that into open standards."

"We believe that open standard is Ethernet IP, the Internet protocol," says Hannah. "We have to move away from these disparate IT and OT networks to really think about it as a converged, secure and collaborative operation, so all of these smart devices that the Internet of Things is built upon can communicate securely. A 'thing' could be a robot, or it could be a sensor on a robot. All of the things have to be able to communicate together in order to really achieve the value of the IoT."

It's not just a network security issue," adds Hannah. "We talk about security as a holistic defense in-depth approach."

Rockwell's Schuster stresses the importance of an integrated approach. "We have the ability to communicate safety data directly over an EtherNet/IP network (usually wired, but could be wireless). I think there's a lack of understanding in the general community about how that could be safe, just as there was with programmable safety systems when they first came out. There were a lot of questions about how that's managed. Technology doesn't manage itself. It's people, procedures and processes that combine to support the technology appropriately."

"Our safety network, EtherNet/IP Safe, is built on a fundamental concept called a black channel," explains Schuster. "That's why it works over a wired or wireless connection, because the design assumption is that the safety is in the end device, not in the network. The black channel means that the network is assumed to be 100% unreliable. So the safety is in the safety controller on the Rockwell GuardLogix system and it's in the safety system of a robot controller or safety I/O module, or a drive or motion device. Not in the connection between them."

Big Data, Big Questions
As a manufacturer's operations become more connected and data starts flowing in from many sources, there's the risk of data overload.

"One of the new technology enablers that people are talking about is big data and analytics," says Rockwell's Hannah. "Defining what that data is and defining what devices need to be connected are part of what we need to think about and prepare for," he explains. "Just because something can connect to the network doesn't necessarily mean you need to. You have to look at the value of that particular device connecting to the network and the risks associated with it. Data by itself doesn't do anything. It has to be put into a contextualized format, an actionable format."

With big data come important questions. Hannah says to ask yourself, "Who is going to own that data? How are we going to manage that data? What are you going to do with that data?"

"Data is one of the most valuable assets of an organization, because a lot of that is where your intellectual property resides," he adds.

The Connected Enterprise
Hannah suggests that manufacturers start with an assessment of their current system.

"When you're considering how to take advantage of the Internet of Things, you really ought to do a baseline assessment of your network infrastructure."

Rockwell developed a comprehensive model that incorporates measures and best practices for implementing a more intelligent OT/IT network. This white paper on the Connected Enterprise Maturity Model walks you through the five-stage process.

Hannah says the world's largest automation company walks the talk. Rockwell took its own journey through the five steps toward a connected enterprise.

"A lot of people think of us as an automation vendor, but we understand what manufacturers' challenges are," says Hannah. "Why? Because we're a manufacturer, as well. We have 20 plants and almost 400,000 SKUs that we sell."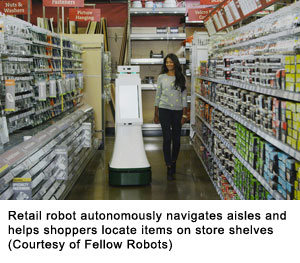 For the connected enterprise to be successful, it will require collaboration across all levels of an organization.

Social Robots
When we're talking about a subset of industrial robotics, then collaboration takes on a different persona. Collaborative robotics refers to human-robot interaction and was most recently covered in this article, The Realm of Collaborative Robots – Empowering Us in Many Forms.

Service robotics also involves human-robot interaction, but outside the industrial realm. SVR's Keay notes some start-ups in this relatively young segment of robotics.

"Another trend that I think is really important and applicable to all sorts of robotics, not just personal robotics, is this new breed of social robots," she says. "Robots such as Jibo, Pepper from Aldebaran, or some of the kiosk robots like OSHbot from Fellow Robots or Furo from Future Robot, Savioke's Robot Butler, and Budgee from 5 Elements Robotics."

She says these robots have implications beyond personal robotics and extend into professional service and even industrial robotics. Direct interaction with people means that the interfaces are improving. The more social robots in the mainstream, the more improvement we have in interfaces. One of the goals of the newer collaborative robots was to have them working alongside people on the factory floor, and to do that we'll need better interfaces, like voice-activation or other more natural HRI interfaces.

Keay makes the salient point that we have to stop trying to train people to work with robots, but rather design robots to work with people. Many agree.

Ease of Use
User friendliness and robot teaching, or really programming, continue to be barriers to use, especially among small to medium-sized businesses, an area expected to see substantial growth over the next five years.

"Outside of the traditional robot industry, you have to make teaching easier," says Yaskawa's Nieves. "There just aren't robot people everywhere you go. To the extent that you can train a robot the way you train an operator, will be the extent that robots are successful in those places. That's what people want."

"In this business, we only do two things. We replicate human ability and once we've done that, we expand on that capability," explains Nieves. "Right now, we've done a poor job of replicating the teaching function. We made this interface, this teaching pendant, to allow you to describe the task, but that's not human capability. Human capability is, come here, I want to show how to do this."

Yaskawa, in collaboration with end effector manufacturer Robotiq, developed Kinetiq Teaching for robotic MIG welding, which allows the operator to hand-guide the robot to the desired welding positions rather than programming with a teach pendant.

"It's the initial process of programming the robot that we're trying to ease," says Nieves. "The robot that improves ease of use is the robot that wins, not the robot that goes five degrees per second faster."

A Kinetiq Teaching case study appears in this article, Robots Fill the Welding Gap. Right now, the technology is primarily being used for arc welding, but it could be used in other types of robotic processes.

Robot-Robot Collaboration
There's been a lot of hype around collaborative robots, of which the Robotic Industries Association (RIA) has often led the discussion. But collaboration comes in many forms, not just between human and robot. Robot-robot collaboration is just as intriguing and thanks to advanced sensors and software, we're going to see more robot teams in our future.

In this case, a team of KUKA six-axis robots drill and fill approximately 60,000 fasteners for assembling the panels of a Boeing 777 jetliner fuselage. This release along with a video describes the process.

Mike Beaupre, Director New Market Sales for KUKA Robotics Corporation in Shelby Township, Michigan, provides a glimpse into the advanced manufacturing technology deployed in Boeing's FAUB program.

"They use a laser tracker system as an integral part of the accurate positioning system for the robots and the work pieces," says Beaupre, referring to the guidance system mentioned in the release. "For robots to do what manual operators are typically doing on either side of the fuselage, and to create that leverage for drilling, the robots use specialized tools with force torque sensing."

He says robots are positioned on both sides of the fuselage. "Percussion on the rivet on the other side (of the fuselage panel) is just backing that up in a maintained force. The robots are using cooperative motion. One is applying the percussion on the rivet to form it and the other is doing 'bucking' which is just holding the rivet in place during that force application. In our case it's always one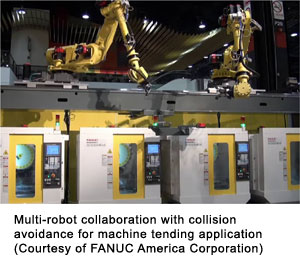 controller for every robot. They talk to each other through Ethernet link for cooperating technology, so all the robots are on one common control system."

He says the FAUB program is still in the R&D phase, but close to finalizing development. At which time, the operation will be into production at Boeing headquarters in Everett, Washington.

"The program has been very successful," says Beaupre. "They are very excited. It changes everything."

No doubt other aircraft manufacturers will take notice.

Big Yellow's teams are also hard at work. "We're trying to encourage multi-robot collaboration," says Chris Blanchette, National Account Manager Assembly and Aerospace for FANUC America Corporation in Rochester Hills, Michigan.

"The biggest issue with multi-robot configurations is the risk associated with collision," explains Blanchette. "Damage to tooling, to the robot, and production stoppages. In the past, OEMs and integrators have shied away from robots working with robots because it's been too difficult to ensure or guarantee there won't be a collision. Traditionally, the execution of the collision avoidance had to be done manually."

"Now FANUC has intelligent Interference Avoidance that allows multiple robots to work together in the same workspace," he says. "You run the software and it mathematically calculates where the collision opportunities are and then you link them up together with your Ethernet, and then it monitors them for you automatically. So now you can very reliably build programs with multiple robots working together and know you're going to be collision-free."

This video shows two overhead, rail-mounted robots tending four machine tools. FANUC's iRVision Interference Avoidance feature is used to prevent robot collision while exchanging parts at the re-grip station.

Blanchette is very excited by the prospects this kind of technology and other advanced software and sensing technologies afford robots.

"It's a great time to be in robotics," he says. "I believe we're in a robotics revolution. It's a global thing, and the activity that we see, and the opportunities that we see, and the tools that are available make it so much more attractive than it ever has before to apply robots in manufacturing."

Smart Manufacturing
A major component of the collaboration trend is the sharing of knowledge between the research community, standards bodies, and the industrial sector. If the U.S. Smart Manufacturing initiative and Europe's Industry 4.0 are to succeed, a collaborative environment is vital.

The National Institute of Standards and Technology (NIST) in Gaithersburg, Maryland, plays an integral role in helping U.S. industry capitalize on dynamic production systems. The Robotic Systems for Smart Manufacturing Program, within the Engineering Laboratory at NIST, develops and deploys measurement science for intelligent robotic systems used in manufacturing.

"You can talk to people that have these mausoleums of robot systems or vision systems that sounded great when they heard about them or saw them at a tradeshow, but then they installed them and couldn't really achieve what they set out to do. We're trying to avoid that," says Elena Messina, Group Leader, Manipulation & Mobility at NIST, and Manager of the Robotic Systems for Smart Manufacturing Program.

"We characterize the performance of particular solutions or products, so you can match them to your particular application," she says. "Ultimately, what that does is reduce the risk of adoption of new technologies."

"At the same time, having these methods for measuring performance is a way to guide innovation. If you're developing a new perception system or new end effector for robots, if you have these test methods and ways of measuring the performance, it will stimulate you to do even better. It sort of embodies the end user requirements."

Messina says they are always looking for input from industry. They also try to bridge the divide between developments emerging from the research community and manufacturers' future needs.

"That's really important to us, because we don't like to work in a vacuum. The ideal model is that we can get a spectrum of input from a variety of manufacturers, from the small to the large, aerospace to consumer products, and a variety of applications, and that can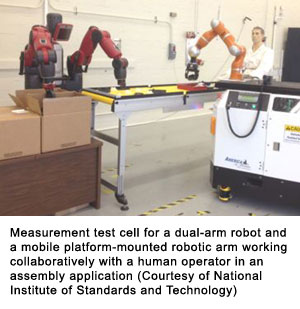 help us really understand the domain."

She says her program is focusing on areas of development at the national and local levels, including robot-human collaboration and mobility, 3D imaging, end effectors and tactile sensing, and robotics in small to medium-sized businesses.

"What we see in the near term for the robotics industry is a division of labor between robot and human," says Messina, "where they can work side by side and they each do what they are best at, or the robot helps the human by holding things in certain orientations, so it's easier for the human to access parts of the assembly."

"We're very active in the collaborative robotics area," explains Messina. "We're also looking more downstream at robot-robot collaboration, where you have teams of robots that can jointly work on operations together. That can be two industrial arms, where one is orienting the part and the other is drilling or placing the part."

"But you can also consider a mobile platform with an industrial arm on top. RIA has the safety standards for industrial arms well-covered. There's a separate safety standards organization that deals with AGVs. But when you put a robot arm on a mobile platform, who is going to deal with the safety standards for that? Sometimes the safety standards aren't in agreement on how to deal with certain situations. So that's one area of study for NIST."

She says current programs include looking at performance measures for AGVs, and not only how well they avoid obstacles, but also how well the system is able to find a path to safely go around obstructions. NIST researchers also participate in an ASTM committee that develops test methods for evaluating how well 3D imaging systems determine the pose of a part in six degrees of freedom. Other research is enabling quicker tasking of robots and defining interfaces that make it easier to integrate new sensors and components into a system, as well as the robot into the rest of the enterprise.

"NIST also has a Small Business Innovation Research (SBIR) program and through that we're working with a tactile sensing company called SynTouch, so we're experimenting with advanced tactile sensors for robotic hands and measuring the performance of grasping operations."

Collaborating with SMEs
Messina expects collaborative robotics to have a significant impact especially on certain sectors of the manufacturing community.

"We are seeing more of these collaborative robots coming out and I think that's really going to make a difference. When you can have a human and a robot in the same space, then you leverage the strengths of each. That's especially important for small and medium enterprises, where the population is really underserved by robots."

"NIST has a Manufacturing Extension Partnership program with MEP Centers in all 50 states. We're trying to work through them to reach the SMEs to start understanding what would it take for them to be able to use a robot cost effectively and to their advantage. That program is currently evolving."

She cited mobile manipulators as another area for growth. "If you have an arm and you can bring the arm to different workstations when you need it, that would help the cost effectiveness."

NIST's robotics researchers started testing robots years ago for urban search and rescue, mostly for the Department of Homeland Security. Now they have nearly 20 test methods that have been approved through ASTM. They're building on that knowledge base in addressing initiatives for the industrial sector.

"We're not trying to flunk anybody," says Messina. "We're trying to expand the use of robots. We're trying to enable people to innovate and expand their markets."

"The SMEs are underserved, so we want to be able to have them communicate challenges that may be specific to them. We want to convert those into test methods and test beds, so that people can try to address these concerns and we can measure how well they address them. That should give the SMEs confidence that they can spend a big chunk of change on this robot that they've never bought before and it won't end up in the robot mausoleum."

Mobility
No one wants to see a robot slumped over in the corner of a factory collecting dust. Mobile robots are working hard to become indispensible.

Yaskawa's Nieves says mobility and portability are powerful enablers. "Because the factory floor is flat, the robot can roll. Mobility is a force multiplier. Move the robot around like you do labor. Mobility increases the utilization of the robot."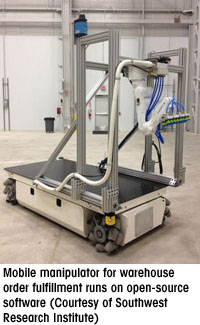 "Right now the robots dictate the layout of the plant so that the robot can work efficiently and effectively," he says. "Mobility gives the power of the layout back to the plant engineers. Let me lay out my plant so that it works best for me and my material flow, and you (the robot) come to where the work needs to be done."

Soon autonomous and semi-autonomous mobile platforms with robotic arms will begin rolling out of the research labs and into our plants, offices and warehouses. Here's a video of a mobile manipulator loading a dishwasher. An added twist takes this hybrid to new heights.

Mobile cells aren't far behind. Check out these mobile collaborative robot concepts that could transform the workshop floor.

The industrial safety standards community, however, will be playing catch up with this new breed of robot. Risk assessments remain the gold standard.

Professional Robots on the Rise
Keay's expectations for collaborative robots are tempered right now. "I don't think they are going to make a significant impact for a few years, but when they do start to make an impact, I think it will be an enormous impact. I think we will be reconfiguring how manufacturing is done and extending the automation process into areas that it hasn't previously been."

She's lukewarm on personal service robots, too. Professional service robots have her intrigued.

"I think personal robotics is probably the least of the areas that's going to be interesting in the next five years, even though it's one that people think of most when they think of robots," she says. "The changes that are happening in agriculture, logistics, and in medical and health robotics are really exciting."

"Over the last hundred years, we've seen a complete change in the practice of agriculture and the number of people that are employed in agriculture. We're facing another critical point. There aren't people left on farms, and the people that are left, are aging."

Agricultural Robots
According to Keay, farmers are finding that robots save them from arduous, inconvenient tasks like milking Bessie at 4 in the morning. For some farmers, it's about quality of life for a rapidly aging farming population and trying to retain their current workforce. Other farmers are more interested in milking more cows, generating higher milk yields, and making more money. She noted manufacturers of robotic milking systems such as Lely and DeLaval.

Curious about the world of robotic milking? Take a look at this video. No cow tipping here. This is high-tech stuff.

Keay also points to other standout companies in the Ag space, Blue River Technology and Harvest Automation. Both focus more on the horticulture side.

"The fact that someone can do a write-up and describe 27 agricultural robots speaks to how the space is developing," says Keay, referring to robotics analyst Frank Tobe's November 2014 Ag survey.

Tobe is Editor/Publisher of The Robot Report and Cofounder of ROBO-STOX™ Global Robotics and Automation Index (ROBO). We gave Tobe a hearty nod in last year's inaugural forecast, Robotics in 2014: Market Diversity, Cobots and Global Investment.

And before you dismiss the Ag space, remember that a couple of these bots are essentially rugged pick-and-place robots on steroids. They're not only mobile, but also collaborative, designed to work safely alongside humans. Don't be surprised if they pop up in a warehouse or distribution center near you.

Healthcare Robots
Traditional industrial robots and new collaborative robots modified for medical use are transforming our hospitals and medical centers into mini factories, automated and streamlined to handle the volume of patients and procedures indicative of population ageing.

Hybrid operating rooms with high-payload robots serving as patient positioners and wielding advanced equipment for diagnostic imaging and minimally invasive surgery perform a variety of procedures in the same room, making the OR as agile as our most advanced factories.

Rehabilitation robots like Hirob blur the lines between industrial, collaborative and service robots.

"What we're starting to see is no longer a large factory over there," says SVR's Keay. "The factory is now going to be small, it's going to be agile, and it's going to be in every business." From the farm to the studio, to the medical center, automation will be everywhere.

Entertainment Robots
Once industrial robots leave the factory floor and are commissioned for commercial use, they enter the professional service robotics realm.

One of the first industrial robots to grace the stage hails from ABB Robotics. RoboScreen® technology, a patented invention by animator Andy Flessas of Robotic Arts in partnership with ABB, combines six-axis robots with the latest in LED display and media control technology to offer eye-catching video content and synchronized animatronics. The robotic entertainment system first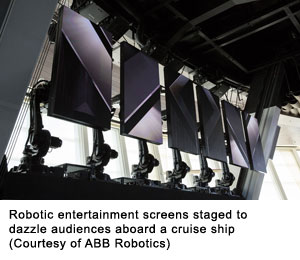 gained prominence in 2010 when the robot troupe traveled the globe as main stage props for the Bon Jovi Circle Tour.

Today, robots set the stage in the latest RoboScreen installation aboard Royal Caribbean's newest cruise ship. Already comfortable as a backdrop for touring rock stars, this marks the first permanent installation as part of a major performance venue and the first on an oceangoing vessel.

The entertainment arena is expected to grow considerably for robotics over the next few years.

"It's going to be a huge market," says Nicholas Hunt, Manager of Technology and Support at ABB Robotics in Auburn Hills, Michigan. "All we've done is given an industry a tool that they didn't know existed. And they're going gaga."

"A lot of the people want these robots for the same reason you would in manufacturing," says Hunt. "They're precise, they're repeatable, and you can do the same thing over and over again. Like a movie film crew on a film stage. You shoot a scene 20 times. You have to shoot it exactly the same way. That's really hard with humans, but with robotics, you just push the button again.

"You're going to see these kinds of robotic applications accelerate," he adds.

Don't be surprised to see them popping up in your land-based entertainment arenas, interactive point-of- purchase retail advertising, and nightclubs and sports bars around town.

In another entertaining application, robots play along with this cobalt cue-balled trio. In this video, Big Orange almost upstages blue in Las Vegas.

And you'll never look at a box (or a robot) the same way again. In this video by Bot & Dolly (one of Google's many acquisitions in 2013), robotic precision, coordinated motion, and dexterity are on full display.

Starring roles again go to KUKA robots; and those tracks moving them around? Those are from the Güdel Trackmotion Floor (TMF) product line, according to Joe Campbell, Vice President and Business Unit Manager – Products for the Ann Arbor, Michigan-based gantry robot manufacturer.

For a look behind the scenes into the making of the "Box" movie, check out this enlightening video.

"We also have our TMO overhead tracks being used with KUKA robots manipulating cameras for high-precision, high-speed film sequences," says Güdel's Campbell.

Remember the 2013 movie blockbuster "Gravity," that was shot with the aid of industrial robots.

Cobots are behind the cameras, too. Check out this video for a new perspective on your local television newscast. Expect to see more cinematographers, creative designers, and television news crews using robots in the near future, further blurring the lines between the industrial and service sectors.

SVR's Keay puts it all into perspective. "People spend a lot of time worrying about dehumanizing us by working with machines, but I think we'll be very complementary. Automation, both with computations and AI, and physically with robotics, will take over some parts of what we do, but it will be the parts that we don't do well anyway. It will allow us to focus on the parts that we do really well."

RIA Members featured in this article:
ABB Robotics
ASS End of Arm Tooling, Inc.
FANUC America Corporation
Güdel, Inc.
Jabez Technologies
KUKA Robotics Corporation
Rockwell Automation Inc.
Silicon Valley Robotics
Soft Robotics Inc.
Southwest Research Institute
Yaskawa Motoman