Robotic Welding of Precision Aluminum Parts in Telecommunications and Medical Devices
Reprinted with permission from Robotics World Magazine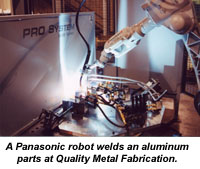 Faced with the need to adopt robotic arc-welding technology to increase capacity in the face of a local shortage of qualified welders, Clarence Rierson, founder of Quality Metal Fabrication (the East Coast division of Coraza Systems), made a key strategic decision.
''As a team with our quality manager Robert Trocke, accounts manager/engineer Tina Rierson and production manager Randy Anderson, we decided that converting manual TIG welding to robotics was key,'' Rierson said. ''Our customers are in fast-moving industries, such as telecommunications, and slow delivery on our part is unacceptable. In addition, product changes are rapid, so fast turnaround and response to change is also critical. Robotic welding was the solution. But we didn't know of anybody MIG welding precision aluminum chassis with robotics.''
Coraza Systems focuses on contract manufacturing telecommunication and medical equipment, and also services commercial customers. It provides prototyping and production of small quantity or high volume parts, plus electronic assembly and integration, for global OEMs. Most work is complex-shape, precision Type 5052 aluminum chassis. For example, one part had four sides with nine planes, plus two flat mounting surfaces, and required dimensional variances of no more than 1/32 inch. The box was also required to hold parallelism and perpendicularity variances of no more than 1/32 inch. The finished welds had to be leak-tight and the procedures needed to minimize and then dissipate the heat of welding to prevent distortion.
One of the keys to success was the decision to weld downhill at about a 15-degree slope. This process allowed faster travel speeds, which minimized distortion and maintained flatness, a key objective. The part had several short weld seams that changed direction 13 times. There were several starts and stops, all needing to be welded downhill at various angles to achieve a quality comparable to manual TIG welding. The company was also searching for a method to weld low volume work, which meant short setup times.
The search began at a 1998 trade show at which Rierson, accompanied by Grady Foster, Fabrication Manager, spoke to many robotic suppliers. ''During our visit to the exhibit of Panasonic Factory Automation, Marty Weir, Panasonic's national sales manager, referred us to Progressive Systems Inc., a systems integrator that had successfully executed several aluminum welding applications,'' Anderson said. ''Shortly thereafter, John Foust, president, and Lynn Freeland, regional sales manager, visited our facility to learn about our situation in detail.''
In beginning the evaluation process, Rierson provided Progressive with sample parts. Then the company began working with Panasonic's Robotics and Welding Applications Center near Chicago. This allowed the company to evaluate parts with the exact robots and power sources to be used in production.
Foust explained a key aspect of success is planning for the entire manufacturing process, rather than only welding procedures. Coraza Systems needed welding capacity for its aluminum chassis work plus mild steel fabrication. Panasonic's HM-II Dip Pulse power source permitted welding either alloy.
Coraza Systems specified virtually no spatter on welded parts, because telecommunications customers want the image of quality in everything they purchase. Therefore, incoming materials to the welding station were grain-sanded to final surface appearance before welding. Removal of spatter after welding would not only lead to added labor costs but also degraded surface appearance. Once the HM-II was installed and following training sessions at Progressive Systems, Rierson said, no mechanical removal of weld spatter was required. ''The only thing we do is to remove the welding soot with a chemical dip. As a result, we have documented major benefits. The first is a 350 percent increase in welding speed, and the second is far more reliable arc starts and stops, all achieved with a fully acceptable bead appearance.''
Also incorporated within the Progressive design was a PerformArc 175 pre-engineered work cell. This cell contains the HM-II power source, a VR-008A 6-axis robot/controller and dual headstock/tailstock turntable, as well as requisite safety interlocks and features. Progressive Systems included two weeks of robotic programming and system operations training on this application, which included applications specific robotic welding training for aluminum and the runoff of both the steel and aluminum production parts.
As a result of this first robotic cell, Rierson is already planning the company's second installation.