Robotic Industry Looks for Continued Strong Growth in 2005
POSTED 01/05/2005
 | By: Winn Hardin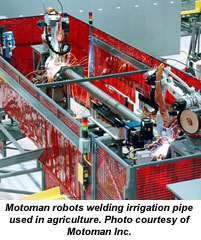 Robots in the next few years will become more adaptable, more flexible and more accepted than ever. Last year, the industry recorded its fastest start since the record-setting year of 1999, and most industry insiders expect a continuation of this rebound. They also believe there will be more growth in the types of applications and industries that use robots.
Robot sales are no longer tied so tightly to the automotive sector, although it still plays a big role. Today, industrial robots are being installed to handle food, cut plastic, package consumer goods and bolster progress in the medical and pharmaceutical markets. Office furniture, sporting equipment, cell phones, computers and many other personal products are touched by robots every day. More growth is expected in these and other areas as North American manufacturers realize what many other industrialized and developing nations already know: Robots are the fast, flexible and economical choice for improving manufacturing, and you don't have to be high-tech to use them.
Move Over Automotive
''We're looking at five to ten percent growth in 2005 over 2004,'' said Craig Jennings, President of Motoman Inc., West Carrollton, Ohio. ''That volume will be greater outside of automotive, which was the big industry driver for robotics in 2003 and 2004.'' Jennings points to the food and beverage industries, consumer goods, agriculture, construction, and durable goods as just a few of the new drivers in 2005.
Adding to the discussion, RIA Board Member and Manager of Welding and Controls for DaimlerChrysler Corporation, Auburn Hills, Michigan, Bob Anderson, explained that his company has seen significant robotic purchasing in 2004 and anticipates it will continue into 2005 in response to new model tooling programs, but, ''We can go six months or a year and not buy anything, or buy a lot of robotics, depending on the program timing.''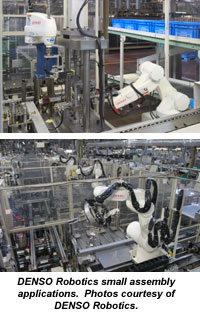 DENSO Robotics, Long Beach, California, manufacturer of small-footprint robots, is also looking outside the automotive industry for the majority of its 2005 growth. ''We focus on small assemblies, and 2004 started out with a lot of 'wait and see'…but in the past quarter and a half or so, it looks like smaller companies have decided to start spending, even in electronics,'' said Peter Cavallo, Sales Manager at DENSO Robotics. ''2005 looks very strong. People are feeling good about the economy and that translates to capital equipment purchases. After the election in the U.S., the environment looks good for continued business growth.''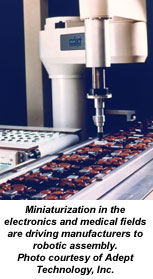 Continuing on the subject of small assemblies, Adept Technology, Inc.'s Vice President of Sales, John Dulchinos, added that miniaturization in the electronics and medical fields are driving manufacturers to robotic assembly because these systems are far more accurate than manual assemblies.
Think Global, Act Local
Many robot manufacturers point outside the U.S. to Asian and European markets as strong drivers for the robot industry in 2005. ''Japan has seen four to five times more installations than North America,'' added DENSO's Cavallo.
Vice President of General Industries at FANUC Robotics America, Inc., Rochester Hills, Michigan, Kevin Ostby agrees. ''In 2005, North American growth is likely [to be] in the five to eight percent range in terms of units booked. Growth will be primarily in the non-automotive arena, as there is significant opportunity for implementation of robotics in a variety of material-handling applications, in food, consumer goods, plastics, medical devices, pharmaceuticals, and other general-industry markets. [However,] utilization of robotics in manufacturing in these industries in the U.S. still lags the implementation rate in other countries such as Japan and Germany,'' Ostby explained.
Although robot manufacturers are located around the world, ostensibly giving each company an advantage in its local market, robotic executives realize that serving global markets outside of their own countries is critical for financial success. An issue rising out of globalization is robotics' ability to cost-effectively allow manufacturers to make products near their customer base. This eliminates having to move their manufacturing operations to countries with low-labor costs to make themselves more cost competitive.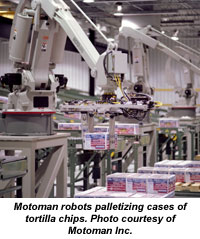 Pointing to the United States as an example, Motoman's Jennings says, ''Given the weak dollar, robots give companies in the U.S. the ability to compete globally without outsourcing to manufacturing at distant facilities. Look at Dell. Who would have thought that a consumer electronics company could compete by making their products in Texas and now in North Carolina?''
Keeping manufacturing domestic helps to limit threats to intellectual property that might not be covered by laws within developing countries, and also cuts down on delivery times and shipping costs. ''I believe that … manufacturers will, at increasing rates, understand that the use of robotic automation drops costs to be competitive with overseas labor costs and allows them to keep manufacturing here, to avoid the inherent risks of off-shoring such as shipping time and delays, currency exchange risks, political risks, and so-on. Concrete examples were presented and discussed at the recent RIA Industry Forum,'' said FANUC's Ostby.
RIA's President, and Group Vice President of Robotic Products and Automation in North America for ABB, Inc., Auburn Hills, Michigan, Åke Lindqvist, adds that while ''one-off'' systems or prototype products may go to newly industrialized nations with lower engineering costs like India, manufacturing commodity products can be done cost effectively anywhere in the world using robots and automation.
Anticipating the special needs of globalization, Robotic Industries Association (RIA) Executive Vice President, Donald A. Vincent, explained that the association is working hard to spread the business case for automation in manufacturing. This includes expanding the content on its Web site (www.robotics.org) and getting RIA staffers on major media ''expert lists'' as interview sources for mass media stories on robotics, outsourcing and manufacturing. ''Global standards are critical to moving the industry forward. We've been working within ISO to develop an international robot safety standard and had very good reception to our national ideas,'' Vincent noted. ''Safety is going to become even more of an issue as the service and consumer robot markets increase. We're also exploring relationships with other international regulatory bodies such as the European Union, that control the CE Mark certification.''
Technical Developments
Successful globalization requires effort on the part of both robot suppliers and industry associations, like RIA. For instance, DaimlerChrysler's Anderson sees several changes in the automotive manufacturing industry that will affect robot products and require new standards, including the trend away from chain-driven automotive-body handling systems to robotic material handling.
Robot handling allows an automotive manufacturer to have a wider product mix at lower volumes compared to hard-tooled handling solutions, but also requires a consolidation of robot parts and end effectors to be cost effective on a global scale. ''There are fewer [end-of-arm] tooling suppliers in the world today. We can't depend on a favorite tooling manufacturer in the U.S. for a plant in Japan. That means we need hardware standards that will allow a tool built in Japan to work on a U.S. made robot, for instance. Robot manufacturers need to work with us to make sure the industry has standardized products, good manuals and training. Globalization requires good communications, logistics and support,'' Anderson said.
The future also demands new robotic products to serve a growing number of industries. Durable good manufacturers need robots with larger payloads to replace hard-tooled material-handling systems for fully-robotic manufacturing. New drive and arm designs will improve the reproducibility of robotic movements, moving robots from tending high-precision machining systems to performing the high-precision work of multiple-machining systems through custom end-of-arm tooling. Robot controllers are moving from separate enclosures into the base of the robot itself, and offering internal PLCs so that manufacturers familiar with PLC programming can move to a ''plug-and-play'' integration format for new robot work cells.
''We're also seeing an increased need for vision-enabled robots for assembly and other operations,'' explained Adept's Dulchinos. ''By moving the controller into the robot, it not only lowers costs, but speeds integration for cleanroom and similar applications…Lastly, we've spent the last twenty years trying to convince the manufacturing industry that robot controllers will replace PLCs, and that's just not the case. There's an embedded base of customers with knowledge of PLCs, and by developing robots that can be programmed through a PLC, we've received great reviews from our customers in the automotive and pharmaceutical industries.''
Convergence
Today, the buzzword in high-tech is convergence. In the robotic industry, convergence has its own set of meanings. Automation is moving from a haphazard selection of stand-alone, hard-tooled fixtures; islands of robots; and add-on vision systems to a fine-tuned network of systems epitomized by vision-guided robots that interpret and adapt to changing work conditions.
At the same time, the global market is converging from isolated markets into a single market, forcing a unification of standards, support and supply. And as industrialized nations develop faster than at any time in history, labor – once the defining factor for production output – is finding new, more strategic roles created by the digital manufacturing age.
Managing this convergence is the highest priority for the robot industry. This changing and dynamic landscape underscores the important role of a trade association that acts as the single voice of the industry. For 30 years, the Robotic Industries Association has been that voice, giving the industry a platform at the biennial International Robots & Vision Show and Conference; Robot Safety Conferences; application workshops; standards development; statistics; networking and information sources. Tomorrow's robots will be more amazing than ever, and RIA will continue to be the central clearinghouse for how to use the new technology, where to find it, and how to succeed with it.