Robotic Grinding, De-Burring and Finishing Applications
POSTED 07/02/2012
 | By: Bennett Brumson, Contributing Editor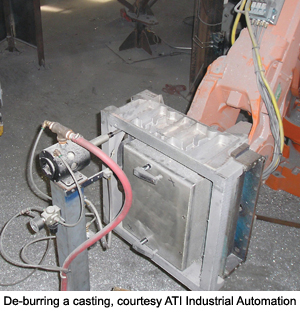 Manufacturing just about anything requires material removal in one form or another. Due to the dangers involved in manual grinding, de-burring and finishing, robots are increasingly called on to do these operations. Getting and retaining people to perform material removal tasks on metals and plastics as been difficult for many manufacturers. These difficulties will only increase as workers who carry out manual material removal retire while younger workers decline to fill these positions.
"Manual material removal is a tough job. The work is hard, heavy, dirty and nasty. Getting younger people to do essential grinding, de-burring and finishing is not easy," says James Morris, President of Automated Cells and Equipment Inc. (ACE, Painted Post, New York).
With more robust and less expensive vision and force control systems, robotic grinding, de-burring and finishing applications are more attractive to manufacturers.
Force Control
Successful robotic grinding, de-burring and finishing applications means applying the proper amount of force onto the part. Insufficient force wastes time and valuable abrasive media while too much force potentially ruins parts. "As the robot twist and turns, it affects compliance of the tooling. Force feedback enables the robot to constantly put the proper pressure on the proper area on the part as the robot's position changes," says Robert Little, Chief Operating Officer with ATI Industrial Automation (Apex, North Carolina). "With force control, the robot 'feels' when it goes around a part's corner while maintaining a constant force."
Little uses a human analogy to illustrate his point. "Force control is like a person with closed eyes and a hand on a part. When feeling your hand going around a corner you put more pressure to keep your hand on the part. You cannot see the part but never loose contact with it." The robot does the same with force control, says Little.
Likewise, Joseph Saad, Director of Sales with the Acme Manufacturing Co. (Auburn Hills, Michigan) says, "Force sensing has proven more reliable for de-burring and buffing cells than grinding systems. The next five years should produce a more reliable 'active' force sensing technology."
Advancements in robot controllers facilitates better force control for grinding, de-burring and finishing applications says Morris. "High-speed force control is one of the biggest developments in the past five years. With increased computing power of the robot controller, end-users can take advantage of force control devices to control the material removal process better." Robot operators are more confident and have a more robust material removal solution as a result, Morris concludes.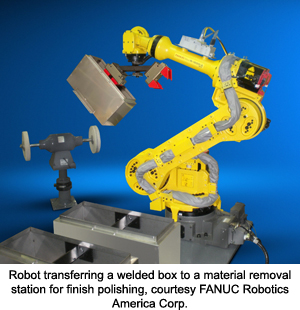 Foundries
Robotics play important functions in foundries, points out Saad. "Robots are now utilized in the foundry industry to first cut off castings from the main casting tree, then grind the gates flush to the surface. Robots utilize high-speed carbide tools to de-flash trim or excessive material."
Virgil Wilson, FANUC Robotics America Corp.'s (Rochester Hills, Michigan), Material Handling Product Manager, says grinding, de-burring and finishing robots equipped with force sensors are a good fit in foundries. "Forces sensors are not only capable of controlling the cutting forces being applied but can also control the speed of the robot by sensing changing cutting conditions and dynamically adjusting the robot's speed. A good example can be found in foundries where flashing conditions can change dramatically not only from part to part but also within the same part."
Wilson goes on to say, "Force sensors uses a six degree load cell that provides force data to the robot planner in a closed loop system. The force data controls and adjusts the robot's position to maintain the commanded force."
In short, "Gate removal must happen in foundries. Gate removal is why a particular end-user company was looking at robotics," recalls Morris.
Big Burrs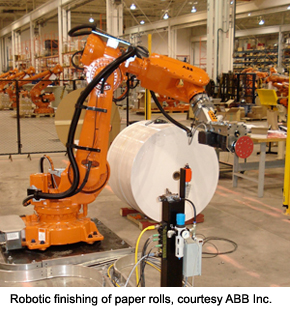 When a robot performing grinding, de-burring or finishing chores encounters a particularly large burr on a part, successfully removing that burr can be tricky. "If the robot runs into a big burr, the robot should slowdown to prevent breaking the material removal tool. Force control can sense when the burr is so large and the tool cannot handle it," says, Nicolas Hunt, Automotive Technology Support Group Manager at ABB Inc. (Auburn Hills, Michigan). "The robot is repositioned to take off smaller amounts of material automatically, until the burr gets down to a manageable size and maintain the surface finish."
Similarly, Morris says, "In a known shape such as castings, burrs or gates are handled with simple compliance devices. If the part has a lot of variation, force control tells the robot to make a path adjustment." Morris cites an example of a material removing robot encountering an especially large gate. "The robot senses the large gate and adapts its path to successfully remove the material."
Removing on the Move
Grinding, de-burring and finishing robots can do their job at an impressive rate. Max Falcone, Product Development Supervisor at Kawasaki Robotics (USA) Inc. (Wixom, Michigan) provides a glimpse at robotic material removal throughput. "Using 36 grit grinding media at 5,000 revolutions per minute, a grinding robot can remove about 15 cubic millimeters of material per minute."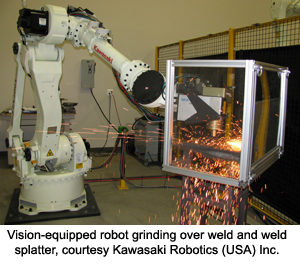 Falcone says when grinding weld splatter for a show surface to be painted, the robot can travel at 70 to 125 millimeters per minute, and up to 450 millimeters per second for an average clean surface. As much as 4.5 kilograms of material per hour could be removed robotically.
Wilson says material removal rates are process-dependent. "De-burring an edge of stainless steel will be done at a different feed rate then sanding or polishing a stainless steel part. The average feed rate is 60 to 80 millimeters per second."
Joe Saad of Acme adds that robotic material removal feed rates are, "Approximately 250 to 380 centimeters per minute [of material removal], which is fairly standard. Aluminum is faster."
Tom Sipple, Material Handling Marketing Manager at Yaskawa America Inc.'s Motoman Robotics Division (Miamisburg, Ohio) agrees that material removal rates depend on the specific process. "Robotic grinding, de-burring or finishing depends on how much material needs removing and how aggressive the abrasive or cutting tool is. When doing really rough removal, end-users should use a more aggressive method but the surface quality will not be as high." A balance must be found between aggressiveness and finish surface quality, notes Sipple.
Unusual Removal
Robots are most likely called on to perform routine material removal tasks. However, robotic flexibility lends itself to executing unusual grinding, de-burring and finishing operations.
"If the material the robot is removing is well understood, such as its stiffness or variations based on temperature, end-users do not get surprises because these applications tend to be deterministic," says Adil Shafi, President of ADVENOVATION Inc. (Rochester Hills, Michigan). "A robot working with products with unusual physical properties, such as inconsistent alloys or composites, could run into repeatability problems. Sometimes these variations are in-feature geometry and can be accommodated with the use of machine vision that works with the robot and the force compliance tool in real-time."
Shafi adds that robotic laser cutting of metal, and trimming of plastic with a consistent chemical mix ordinarily works well.
Nick Hunt also talks about unusual material removal applications. "Using force control, we have done robotic grinding, de-burring and finishing on huge paper rolls, boat hulls, as well as grinding and buffing operations on optics for very large telescopes." Hunt also mentions robots used to polish gun chambers.
Hunt describes the paper grinding application. "When grinding the edges of the paper rolls, the robot cannot overheat the surface so we monitor the temperature and vary the force as necessary. An infrared temperature sensing device tells the robot to back off or increase the forces. Force and temperature sensors maintain optimal force for the material removal speed yet preventing the paper from getting too hot." The edges of the paper will fuse together if overheated during the grinding process, says Hunt.
Little sees an increase in non-automotive finishing applications. "Robotic finishing of laptop computers is exciting because electronics is a large market. Using force control, the robot finishes computer cases and other electronics. The key is getting around edges, where robot force control is very successful by moving very smoothly."
Morris also integrates robots to finish electronics. "We polished aluminum and copper, creating a fine finish for an end-user that makes electronics."
Learning Material Removal the Robotic Way
End-users and integrators of robots for grinding, de-burring and finishing have several opportunities to learn more about this application. Shafi will conduct a webinar, New Trends in Material Removal Robots, to educate the industry on how robots can efficiently and effectively undertake these tasks. The webinar is scheduled for Thursday, July 19, 12:00 PM through 1:00 PM EDT.
"The webinar will cover material removal technologies. The application is trending towards the ability of material removal robots to follow part contours or shapes. Following complex contours is no longer a laborious process. Integrators do not have to teach many points by hand," Shafi says in describing his tutorial. "Controllers increasingly support receiving computer-aided design (CAD) files to generate a path for the robot. CAD saves a tremendous amount of time and increases quality."
Shafi's webinar will cover not just grinding, de-burring and finishing but waterjet and laser cutting, as well as robot-based knife trimming. These topics will be examined through the use of videos and a slide show.
End-users can also attend Automate 2013 to garner more information about material removal robotics. The Automate trade show takes place in Chicago, January 21-24 at McCormick Place, and will be co-located with ProMat.
Multitasking
The flexibility of robotics allows a single machine to perform a multitude of tasks. "When using a robot for assembly, the material handling automation is free. The robot that picks the part from the load area is the same robot that holds the work piece and discharges the part on to an unload conveyor, box or station," says Joe Saad.
Little says tool changers enhance the already flexible nature of robots. "Robots are capable of changing tools to do more than one function. Material handling and finishing are often combined in the same work cell with the same robot."
Morris says, "We have integrated projects where the robot using a vision system loads parts into a trim press. The press will take off most of the excess metal but some edges need to be touched up. The robot moves the part to a station that removes flash from spots where the trim die cannot access due to the geometry of the part."
Removing On
Robotic grinding, de-burring and finishing applications are poised for growth predicts Little. "Because grinding and polishing are extremely nasty and dirty jobs, even manufacturers in China are automating that process. Recently, aluminum dust in the air ignited, causing an explosion at a factory in China doing finishing work. Many people were killed in that explosion, increasing pressure to automate finishing work and get people out of that environment." Little sees a surge in grinding, de-burring and finishing applications beyond automotive and moving into other industries.