Robotic Ergonomics and Part Traceability
POSTED 04/18/2005
 | By: Bennett Brumson, Contributing Editor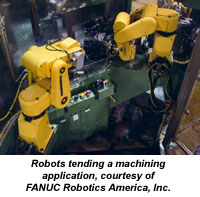 Until recently, ergonomics and part traceability had little in common except that they are two of the most significant issues that manufacturers face today. Ergonomic hazards are among the chief concerns companies and workers face, where repetitive motion and lifting actions can lead to disability claims and time lost from work. Meanwhile, part traceability plays a significant role in the stress of manufacturing, as companies seek to give technicians the ability to trace a specific part as it moves through the manufacturing and assembly process. Companies of all sizes can justify improved health and safety conditions, and better part tracking is a contributing factor for protecting the bottom line as well.
Manufacturers such as Harley-Davidson Motor Co. are investing in robotics to perform functions that have been determined to have a high risk of ergonomic hazard. Meanwhile, companies such as Honda of North America are investing in robotics to keep better track of parts as they move through the assembly line. In both cases, robotics are saving the manufacturers money and increasing production by providing a safer and more efficient production line.
Let the Robot do the Lift and Shift
''Ergonomic issues are reaches and weights,'' says Todd Babisch Distribution Account Manager at Nachi Robotic Systems Inc., Novi, Michigan. ''These include workers reaching overhead, to the side, and moving product from one level to another.''
How can robotics help to eliminate ergonomic hazards? By performing repetitive and strenuous tasks once endured by workers. ''The benefit of robotics has been recognized by Nachi's customers in applications that historically have had a high rate of disability claims or workers' compensation claims,'' Babisch said. ''This is because tasks are of a repetitive nature or involves heavy lifting.''
A typical example of a high-risk operation is to move a 10-20 kg part, which is an operation that is conducive to lower back injury, especially if it is more than 50 cm away from the body.
''That could be a strain on the body, but for robotics that is a simple task.'' Babisch added that aside from the medical cost savings, robotics move heavy items more efficiently. ''The robot could do that repetitive motion in an accurate manner, so there is an efficiency gain. The robot user experiences a double gain.''
In addition to health gains, the scrap rate is reduced by having a robot move heavy parts.
''Nachi had customers that needed parts moved into a machine for processing,'' says Babisch. When people loaded the parts, many of them got damaged. ''Now, they perform that process with a robot, greatly reducing the scrap rate.'' The reduction of damaged product is particularly important if the customer has already invested a lot of money to process a product to that point.
There are several ways that end-users integrate robotics to reduce ergonomic hazards. Michael Kunkle, Senior Manufacturing Engineer at Harley-Davidson Motor Co. says his firm evaluates each manual task to determine the ergonomic impacts upon an operator.
''Harley-Davidson scores a job that involves bending, twisting, and stooping,'' Kunkle said. ''We also look to see if the shoulders are parallel, the neck straight, or if the worker leans forward more than 20 degrees. If the job gets high scores, we look at robotics to help eliminate these hazards.''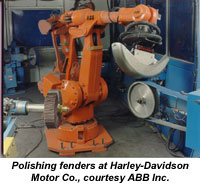 The applications that Harley-Davidson has found to be ergonomically stressful include polishing, grinding, painting, and others that appear to increase a risk of carpal tunnel syndrome, a condition caused by repetitive motion that affects the hands and wrists. ''We look at whether the job has pinch grips, power grips, finger press operations, or radial deviation,'' Kunkle says. ''These are grips that are not ergonomic and should be reduced.'' Kunkle believes that using robotics is one way of reducing ergonomic hazards at Harley-Davidson.
''Harley-Davidson just did an evaluation on some hand welding applications, where there is twisting of arms and wrists while welding in various positions. One product had a high score on it,'' Kunkle says. ''We determined that we are going to implement robotics on that process.''
As the parts that constitute finished assemblies get smaller and the final product gets ever larger and heavier, the ergonomic hazards workers face increase. Robotics are particularly well suited to handle these extremes.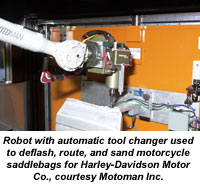 Sending out Tracers
With respect to part traceability, a key element is 100% inspection. ''To make sure that 'poor' parts are identified before additional value is added to them, Automotive OEMs and Tier 1 suppliers are using robotic automation to perform inspection of parts in the same cell in which a production process (welding, cutting, etc.) is performed,'' according to Carl Traynor, Motoman Inc.'s Senior Director of Marketing. ''In this manner, they are able to either confirm that a part is within desired tolerances or, if the part is outside desired tolerances, they can identify and separate non-conforming parts immediately rather than have them move on to other station,'' Traynor continued.
With respect to ergonomics -- ''RIA data collected in 1996, 2000, and 2004 shows steady growth in the material removal segment -- this growth is driven in part by worker's compensation claims for 'white finger' injuries incurred by manual grinding and deburring operations that can be automated with robotic solutions. These are jobs that are not only dangerous, but for the same reason provide employee retention challenges to employers that robots can eliminate entirely,'' Motoman's Traynor adds.
When manufacturing complicated products that consist of many different parts, such as automobiles, it is important to be able to keep track of parts as they move through the assembly process. To accomplish this, identification codes are stamped onto each part where feasible. Code marking enables individual parts to be tracked. Robotics ensure that these codes are present and readable. Vision systems are in the forefront of reading these codes. If a code is put on a part but is not readable, the mark is essentially worthless. This is where robotic vision systems come into play.
''Traceability couples robots and vision for verifying the marks once they are on the part,'' says Michael Monnin, Sales Engineer at Remtec Corporation, a systems integrator located in Cincinnati, Ohio. ''Parts are traceable throughout the manufacturing process.'' Parts at an automobile manufacturing plant are constantly moved from one area to another or transferred to an installation on another continent, making it vital that their exact location can be accurately tracked at all times.
Remtec, says Monnin, is involved with Honda America to do traceability on their engine manufacturing lines. ''This allows unit-level traceability, which is key in the automotive industry should there be a warranty or a recall.''
Traceability also ensures automobile parts are manufactured according to specification. Peter Habsburg, Robotic Specialist at Comau Pico Robotics, related how traceability is used in automobile production. Comau Pico is a robot manufacturer and systems integrator based in Southfield, Michigan.
''The robot in itself cannot do traceability, but integrators mount a camera onto the robot to do that,'' says Habsburg. The camera can be used to ensure that parts are the correct shape or that they fit together properly.''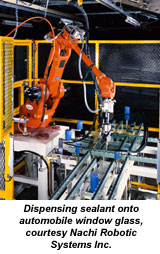 One place Comau Pico uses robots for traceability is as a quality control system in windshield installation. For example, a dispensing application lays down a bead of sealant around the perimeter of the glass.
''Robotic traceability is a monitoring system that assures the right amount of material is dispensed,'' Habsburg said. ''A camera looks to see if the right thickness of sealant goes on.''
Habsburg also says that the robot grips and maneuvers the windshield rather than the glue applicator itself.
''A robot picks up a piece of curved glass and moves it under a glue applicator,'' Habsburg says, noting that this approach gives the advantage of flexibility. ''The robot is programmable, so next year when the windshield design is changed, integrators just have to program the robot for the new design.'' The tool that holds the windshield may change, but the glue applicator remains.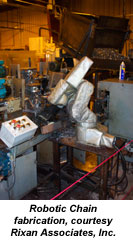 Robotic-based traceability also plays a role in manufacturing automotive parts, says Stephen Harris, President of Rixan Associates, Inc. Rixan, of Dayton, Ohio, is a systems integrator and engineering services company.
''Rixan is involved a lot in the spark plug industry. In this application, spark plugs are moving on conveyers,'' Harris said. ''We passed a sensor into a hole to make sure it has been deburred or cleaned before loading ten spark plugs at a time.''
The robotic sensor prevents damage to the spark plug should it grind up against a burr or other obstruction. The system will count ten holes and synchronize the robot's movement to the track movement and place spark plugs in track holders. ''This application uses different types of presence detection to see if there is an unobstructed path to the target,'' Harris says.
General Motors (GM), the Detroit, Michigan automaking giant, is a mass end-user of robotics. As such, it relies on robots to assist in the process of part tracing.
''GM needs traceability in case there is a quality problem so that we can trace the issue back to the root cause,'' stated James W. Wells, Senior Staff Research Engineer at GM Research and Development. Wells elaborated by saying, ''the robot guarantees that a part will come out of the process in compliance with the specified sequence of operations. The robot is a very important prime mover in a system solution that includes built-in quality.''
Wells' colleague at GM, Marty Linn, concurred with him saying ''one example is where a robot presents a part to an automated inspection system. If there was a fault at that point, the robot would set that part aside for either repair or root-cause analysis.'' Linn is GM's Principal Engineer of Robotics for its controls, conveyors, robotics and welding group.
The GM way of manufacturing is to utilize traceability in critical areas where the successful completion of a process is confirmed to ensure quality.
Linn gave the example of sealant dispensing to illustrate the role of robotics in part traceability.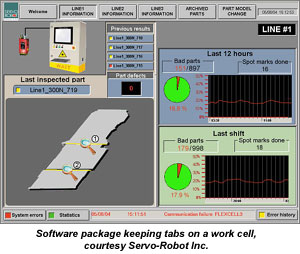 ''At the completion of a dispense application, typically GM has a robot presenting parts to an operator for inspection or to another piece of automation that is performing the task sensing. The robot plays an important role in determining if the sealant is all there and in the right place.'' In short, the robot is a constituent of a system that facilitates traceability.
The in-process tracing codes used in these systems generally are used as a supplement not a replacement to the ubiquitous barcode. In the automotive sector, robotically applied tracing codes are applied to major engine and transmission components, parts that constitute the drive train, the fuel, braking and exhaust systems as well as air bags, and electronics. Overall, the codes are applied to the vehicle and read while it is being pieced together and for final assembly verification.
Robotic tracing systems are capable of doing weld inspection to determine if welds were formed properly. Servo-Robot Inc., St-Bruno, Quebec, Canada, manufactures such a system.
''Servo-Robot has a system integrated into a robot that looks at welds as people now do with their eyes or a gauge,'' says Jeffery Noruk, President of Servo-Robot's United States subsidiary, headquartered in Mequon, Wisconsin. ''We use a three-dimensional laser to scan a weld, looking for a certain shape.''
''Tolerances are applied to report if the weld is good or not,'' Noruk says. ''With that information, operators can reject the part or do statistical analysis to locate the problems.'' This system prevents substandard welds from being shipped out on finished products.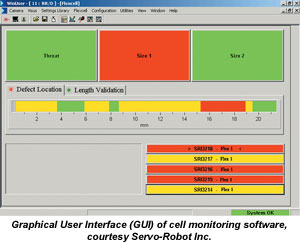 The data of Servo-Robot's tracing system is sorted using a computer database. ''Software can sort data by shift, individual machine, by weld, time of day,'' Noruk continued. ''The data can help determine common defects, as well as where and when defects occurred.''
To ensure that only properly fabricated parts get through the system, Noruk suggests setting a standard of using only parts that are known to be in compliance.
''Initially, when the calibration routine is set up, integrators use an actual part or weld as a certified sample,'' Noruk says. Robotically produced parts are compared to this certified sample.
While code reading is a growing trend in the automotive industry, it is still the exception. Monnin sees the day when robotic traceability is a common feature of manufacturing.
''Traceability is not yet the norm in the automotive industry, but it will be as the cost of implementation goes down and capability goes up,'' Monnin says, adding that a hand-held code reader was recently introduced. Earlier models consists of large, fixed pieces of equipment.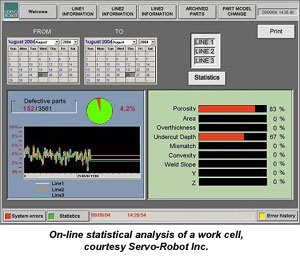 Whether it is the health of workers or the quality of the product, robots deliver significant advantages to manufacturers concerned about ''cheaper, better, faster'' manufacturing. Every material handling robot installed reduces risk to workers from lifting and repetitive motion injuries. Not only can a company create a safer workplace, but in many cases the same robot is a tool for improved tracking of parts. The result is higher product quality and customer satisfaction without the expense and suffering experienced by workers forced to do jobs that pose health risks.
To find out what integrators or manufacturers are best suited to help you with your application, visit the Find a Company section of Robotics Online.