Robotic Assembly: Shrinking Footprint, Expanding Market
POSTED 08/22/2014
 | By: Tanya M. Anandan, Contributing Editor
SUVs, ovens, surgical devices and hard drives … What do they have in common? Assembly robots are building them right now. From the largest vehicles to the smallest electronics, robotic assembly is increasingly being used to manufacture the world's goods.

The latest statistics released by the Robotic Industries Association (RIA) show record-breaking sales for the first half of 2014. Assembly orders were up 96 percent in the second quarter from the same period last year.

Reshoring and next-shoring efforts are bringing manufacturing home. Rising global wages and an aging workforce are driving automation worldwide. Meanwhile, miniaturization is demanding superhuman precision. A new breed of compact, highly dexterous robots with advanced sensors are answering the call.

"The only way to make assembly processes cost-effective for North American manufacturing is with robotics and automation," says Chris Blanchette, National Account Manager Assembly and Aerospace for FANUC America Corporation in Rochester Hills, Michigan.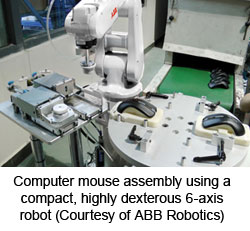 "Foxconn has got a lot of publicity saying they are going to have a million robots at their plants in China by the next year or so. That's a significant statement. What that means to the global industry is that they themselves recognize that automation and robotics can be more cost-effective than even low-wage labor."

"Using advanced technologies like vision, whether it's 2D, 2-1/2D or 3D, to locate parts and guide robots and then force sensing to determine how parts go together are making robots more desirable, increasing their productivity, and making them more cost-effective and easier to deploy and support," says Tim DeRosett, RIA Board Member and Director of Strategic Initiatives at Yaskawa Motoman in Miamisburg, Ohio.

Combined, these trends are transforming our assembly lines and clean rooms.

Assembling More in Less Space
Robotic assembly that unites multiple operations and multiuse tooling is shrinking the footprint of the work cell, the assembly line, and manufacturing as a whole.

"In our powertrain assembly area, where we're putting together large complex systems, the end-of-arm tooling is mind-bogglingly complicated," says Nicholas Hunt, Manager of Technology and Support at ABB Robotics in Auburn Hills, Michigan. "It's not unusual for the end-of-arm tooling to cost more than the robot. There is a lot of sensing and control capability in the end effector itself. We're doing so much with those tools, because we can. And all in one cell."

"When the part ships out of that cell, it's assembled and it's checked," adds Hunt. "So we're shrinking the footprint of manufacturing all over the world."

"One of the other trends is using robot control technology to control more than robots," says Hunt. "One example is what we do with body-in-white tooling with our GateFramer, or these flexible systems where we control and manage the transfer of body sides through the assembly line. You can introduce up to five new body styles in midstream, for a total of six car models, one right after the other."

In this video courtesy of ABB we ride the assembly line for a fish-eye view of how robot control technology is being used to handle multiple car models.

Market Expansion
New applications in mature and emerging industries, plus growing interest in automation among manufacturers further down the supply chain, are expanding the market for robotic assembly.

"When you look across the spectrum of industries, automotive continues to be one of the predominant industries for assembly," says Yaskawa's DeRosett. He also sees robotic assembly applications increasing in durable goods markets, such as household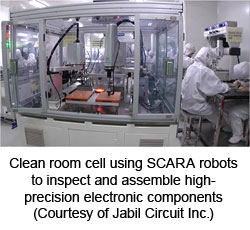 appliances and lawn equipment.

Small parts assembly, particularly in the 3C (computer, communication and consumer electronics) industry, continues to be a major area of growth for automated assembly.

"Another area that typically fits with small parts assembly and handling is medical device, which is a relatively small market compared to automotive but has potential for strong growth," says DeRosett.

Probably one of the most interesting developments is the adoption and consideration of robotics for contract manufacturing services. The robot OEMs are paying close attention to this growing trend.

"Primarily, the markets that we're tracking right now for contract manufacturing are computer microelectronics and consumer electronics," says FANUC's Blanchette. "But a lot of those companies do business in aerospace, medical device and other industries."

He says that new industries are evaluating contract manufacturing, so automation and robotics could potentially play an important role in their adoption.

Miniaturization and Precision
While contract manufacturing and the 3C industry are expected to grow, consumer electronics are getting smaller and the assembly tolerances tighter. Robotics becomes critical to the production process when the product cannot be made to satisfactory precision, consistency, or cost without flexible automation.

"In our world, in electronics manufacturing, there are robotic solutions and flexible automation that's capable of getting to the level of precision that we can now take advantage of the technology," says Rush LaSelle, Director of Automation at Jabil Circuit Inc. "Labor rates in China and other parts of the world are rising, and so everybody is looking for a lower cost alternative."

Headquartered in St. Petersburg, Florida, Jabil is a contract manufacturer for some of the world's most recognized brands.

"If you're buying a smartphone or other consumer electronic device," says LaSelle, "likely some part of the product is being manufactured by Jabil."

He notes miniaturization, greater precision, and short product life cycles as some of the key drivers sparking the demand for automated electronics assembly.

"People can't do the really fine tasks that are called upon for assembling next-generation mobile devices or wearables," says LaSelle. "The product life cycles aren't long enough to support customized machine tools."

This video courtesy of Jabil discusses the trend toward miniaturization and precision assembly.

Jabil also serves the automotive, healthcare, printing and energy generation industries. They have identified aerospace and wearable technology as emerging industries for contract manufacturing. LaSelle credits this market expansion to lower-cost sensor technology.

See, Feel and Adapt
Whether it's machine vision for part identification, tracking, inspection and robot guidance, or force sensing for mating delicate, complex assemblies, sensor-based technologies are getting better and cheaper. It's a happy balance for robotic assembly.

"We've come through a very large maturation curve on vision and that has enabled new classes of applications that really outstrip the repeatability of robots," says LaSelle. "Using this sensory input in the form of cameras, 2D and 3D vision, you can achieve the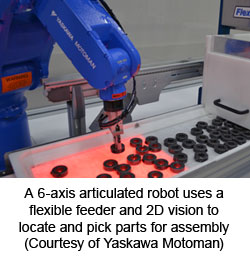 requisite level of accuracy and precision to handle some of the more precise, miniaturized componentry."

In this video five FANUC M-1iA delta-style robots demonstrate a water meter assembly process that uses iRVision® to insert components, match gear phases, and inspect the final assembly.

"FANUC has really focused on intelligent-based features for the robot," says Blanchette. "Some of those features are low-cost integrated vision, including 2D bar code reading so you can track your product. Then we have guidance, so you can locate product and parts in the assembly process. You can actually do the inspection while you're doing the assembly with a low-cost vision system."

The robots in the previous FANUC video are equipped with a patented 3-axis wrist.

"It's a unique enabler," says Blanchette. "Having the 3-axis wrist on a delta-style robot makes it an assembly robot. Otherwise it's just a picking/packing robot."

"All of FANUC delta-style robots have a 3-axis option," he says. "It's a really cool solution because it allows for very small part manipulation in all 6 degrees of freedom."

Equipped with force sensing, assembly robots also gain the sense of touch in all 6 degrees of freedom.

"Force feedback is just one more sensor set that will allow you to get better precision in a cost-effective manner. It better replicates how people assemble devices, because we still design components with human assembly in mind," says Jabil's LaSelle. "As more of these sensory packages come online, become more cost-effective and are more easily deployed, so too will be the growth of deployment into the electronics manufacturing arena."

Force Sensing and Control
The force sensor measures the forces and torque applied at the end-of-arm tool and provides feedback to the robot control system. The robot can then adjust its movements based on that feedback. This is especially useful when assembling complex mechanisms such as meshing gears.

"The technology is not new," says DeRosett. "It's been used for the last 25 years in robotics. What is changing is how well integrated the force sensor is with the robot controls. The technology is maturing and becoming more prevalent to a wider range of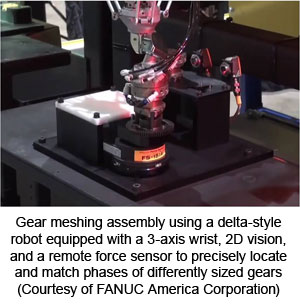 applications. It's become more user friendly, the user interface has advanced, so you don't have to be as highly skilled to use it."

Products like ABB Integrated Force Control make the technology easier to use. "The concepts can be complicated, so we give you these program tools that make it simple," says Hunt. "We reduced the size and the amount of hardware, and the complexity of the package. We integrated more into the robot system."

"With force control, we can use it in a broader way than we have in the past," explains Hunt. "Normally, we use it in a straight force torque sensing configuration, where we're trying to assemble a torque converter and we're feeling the interference of the gears that we're trying to mesh together. But we can also use the force torque sensor as a strain gauge. We're assembling the valve stem in the engine along with the spring and we're checking for the absence of an impulse. So we're not using force control directly to apply a consistent force. We're using it as a poka-yoke. That's another example of getting the most out of the end-of-arm tool."

"Parts used to have to go to another cell for quality assurance checks," says Hunt. "With advances in control technology, processing power and sensor technology, we now have the ability to do assembly and inspection simultaneously."

In this video a FANUC M-1iA delta-style robot assembles gears of different sizes using a six degree-of-freedom remote force sensor attached to the assembly instead of the robot. About 1:10 into the demonstration, you can see a close up of the phase matching process.

Gear Meshing
In the previous example, the force sensor is attached to the assembly. Often the force sensor is located between the end-of-arm mounting flange and the tool itself, as is the case with this automotive clutch assembly.

This video courtesy of Kawasaki Robotics (USA) Inc. demonstrates the process.

"The six degree-of-freedom force sensor measures forces in x, y and z, as well as the torque forces about the three axes," says Samir Patel, Director of Product and Advanced Engineering at Kawasaki in Wixom, Michigan. "The measurement is fed back to the robot controller for hybrid force-compliance control of the end-of-arm tool."

"One of the other key features is called groping," explains Patel. "The robot moves the end-of-arm tool with the part close to where it needs to be assembled, and then it transitions into this groping feature where the robot makes a pattern around the part where it's supposed to be assembled, moving slowly and progressively trying to make contact. As it is making contact, the robot is sensing the forces, motion and direction, and accordingly driving the parts together."

Patel says the 'groping' process involves both preprogramming and adaptive robotics. The groping feature offers different motion patterns, like a rectangular or flower pattern. The robot programmer selects one of these patterns as he is writing the routine. Based on this preprogramming, the robot receives force feedback and makes the decision whether to keep progressively moving down or sideways to complete the assembly.

This Kawasaki clutch assembly was a special project for Ford Motor Co. The robotics solution helped alleviate ergonomic issues associated with assembling these heavy parts.

Bearing Assembly
In another complex assembly application, robots help assemble gear boxes for Kawasaki motorcycles. With a wide product range, flexibility is important.

"One of the assembly requirements for gear boxes is inserting ball bearings into the housings," explains Patel. "Traditionally, they would place the bearing case on a fixed surface and using a hand press, drive the bearing into the bore. But Kawasaki makes so many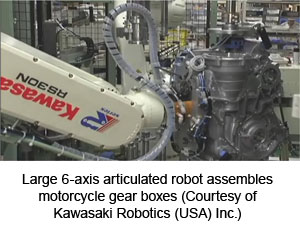 different motorcycles, anywhere from 100 cc to 1500 cc, that you need the flexibility to build different gear boxes. And each gear box may have a different number of bearings."

"What we did is build a flexible cell that has fixtures for different gear boxes," says Patel. "The robot carries the crankcase, moves it over the fixture where the bearings are mounted, and then just holds it there while the press comes down and drives the case into the bearing."

"Now, robots are designed to move parts from one place to another," he continues, "or in other words, the principle on which they operate is position control. If the robot is holding a part in one place and you exert an abnormally high external force, it could damage the robot or it could push the part off the tooling. So we have this soft absorber mode, or software compliance feature. As the robot is holding the crankcase over the bearing, the robot transitions to soft absorber mode so that it is compliant, and then the bearing is pressed into the casing. Then the robot goes back to position control mode and carries on with the job."

This video shows the motorcycle crankcase bearing assembly, which is an ongoing operation at Kawasaki's manufacturing facility in Japan.

Recommended for assembly applications, the Kawasaki R-Series robots (pictured) have a smaller footprint, internal cabling, and a tight radius that make them ideal for high-density applications with two or more robots in a small space.

Compact, Highly Dexterous Robots
Compact, highly dexterous robots are playing an ever-increasing role in the assembly space. Nimble 6-axis robots engage assemblies from all angles, while dual-arm humanoids transform manual operations.

"Because of the dexterity and feedback that's needed, assembly applications can be fairly complex," says Yaskawa's DeRosett. "That's one of the things we've seen with the dual-arm robot that's enabled us to move into complex assembly applications, where you're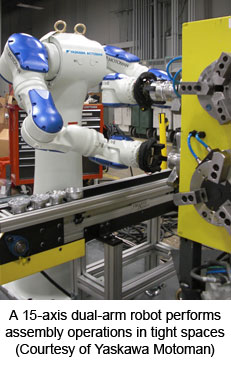 holding one part and inserting another part into it."

"Force sensing certainly helps," he continues. "But what we've seen with the dual-arm robot is handling flexible parts or components, such as tubing and hoses, which when used with the traditional single-arm robots require the end-of-arm tooling to be more complex. Whereas if you have two arms working together, then that can simplify the tooling and enable the application to be done in a better way."

Yaskawa is on the fifth generation of its dual-arm robots. The SDA-series have two 7-axis, kinematically redundant arms mounted to a common torso. This video shows the dual-arm assembling an office chair.

"Being able to get into small, tight spaces was one of the things that led us to create the 7-axis arm," says DeRosett.

Check out this video to see a single 7-axis arm insert flexible tubing in an assembly demo. Learn more about kinematic redundancy in this primer on collaborative robotics.

There's another kinematically redundant dual-arm on the horizon. The ABB Dual-Arm Concept Robot (DACR) is expected to hit the market by mid-2015.

"The launching of the DACR will definitely be a boon to our 3C offering," says Hunt. "For basic assembly of relays, contactors, and anything that is not precision assembly. There's a lot of stuff out there."

As Hunt notes, the DACR is not their entry point to the 3C market. This video courtesy of ABB demonstrates various assembly applications.

"The IRB 120 was the major jumping-off point for ABB into the 3C area," he says. "It's a tabletop and our smallest 6-axis robot."

First debuted at Automatica 2014 (watch the video), its big brother is the six-axis IRB 1200. It will be officially released at the International Manufacturing Technology Show this fall. ABB's newest robot is even more agile and dexterous to address the growing demand for miniaturization.

"The small 6-axis robots are doing more of the applications that over the last 10 to 15 years have been largely SCARA applications," says Yaskawa's DeRosett. "Over the last 6 to 8 years, the small 6-axis robots have really improved in terms of speed and precision, so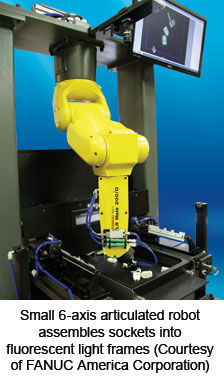 that's enabled them to move into small parts assembly and handling applications." (Yaskawa's MH5 series robots fit into this category.)

"There's a lot of product miniaturization going on," say FANUC's Blanchette. "They need high-precision, high-speed articulated mechanisms to be able to put those assemblies together. With our new LR Mate 200iD series (pictured), we managed to create a robot that is articulated in 6 axes of freedom and has the majority of characteristics of a SCARA, but is 20 percent faster than the SCARAs in its class. We now have a price that is very competitive with a SCARA, as well."

"With visual servoing, we've been able to achieve precision assembly of better than 10 microns," adds Blanchette. "Usually you only think of that kind of precision with machine tools or custom Cartesian-based robot systems. But we're able to do that with a small LR Mate robot."

Also entering the assembly space are collaborative robots, a rapidly emerging area of industrial robotics. Here, specially designed robots such as ABB's DACR and Universal Robots' UR can operate alongside human coworkers on an assembly line without the need for safety guarding. In other cases, conventional robots are equipped with safety mechanisms to allow them to work in close proximity to humans, such as in progressive assembly applications. This article surveys the current state of collaborative robotics.

Safe Collaborative Assembly
Traditional robot manufacturers offer software-based safety features that are integrated into the robot controller, and when coupled with safety sensors, allow conventional robots to safely collaborate with humans. Each manufacturer has its own flavor.

ABB calls it SafeMove, Yaskawa has its Functional Safety Unit (FSU), then there's KUKA Safe Robot, and FANUC Dual-Check Safety (DCS). Each software solution helps reduce the manufacturing footprint.

"Floor space is everything," says ABB's Hunt. "We pack robots denser and denser. The only way to do that with large robots and when people are around is with a product like SafeMove. There's really no reason to have hard fencing for robots with the kind of technology we have available today. SafeMove is an enabler for human-robot collaborative assembly."

Redeployable Modularity
Modularity is another trend that is helping shrink the manufacturing footprint. Drop them in and modular cells provide a turnkey solution for robotic assembly, especially where product life spans are fleeting.

"Modular cells are becoming very popular and very important," says Hunt. "The safety stuff is such a pain for small companies to deal with, so we deliver these modular cells that have all that built in and then you apply it in whatever way you want. They cut down on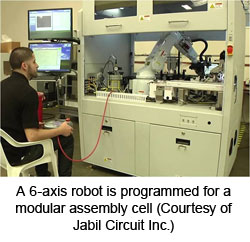 the integration time. Typically OEMs and Tier 1s don't go for these modular cells. These are more for the mom-and-pop shops and perhaps entry-level integrators."

Modular assembly cells are also attractive to contract manufacturers looking for redeployability.

"One of the things that contract manufacturers are looking for is reusability of the automation equipment," says FANUC's Blanchette. "The product life cycles are very short. So they need to invest in equipment that is reusable, that they can turnaround and deploy in a matter of a month or so. The kind of solutions that they are looking for are modular-based solutions that can be fit into any portion of a line and then adapted and adjusted to fit any type of process, or a multitude of processes."

"Jabil is actively investing in the redeployability of automation platforms," says LaSelle. "What it's speaking to is this desire to get technology into production faster. This isn't novel, but it's come to a fever pitch right now. Especially in electronics, where we really only have maybe 24 months and it's a reverse ramp, so you produce your maximum production right before Christmas and then it starts to decay over the next year or two. So people are trying to find ways to get standardized solutions."

"It needs to be 70-80% redeployable, so all of the equipment that goes in there has to be reusable in the next solution or contract," says Blanchette. "Robots are traditionally flexible, so a robot is a great tool to add to that modular solution because it can be reprogrammed and has the ability to adapt to different part geometries."

Whether we're building Corvettes or circuit boards, we're asking more from our automation than ever before. As costs continue to align with demand, nimble robots bolstered by integrated sensors are assembling a promising future. Stay tuned.

RIA Members featured in this article:
ABB Robotics
FANUC America Corporation
Jabil Circuit Inc. (User Member)
Kawasaki Robotics (USA) Inc.
Yaskawa Motoman