Robotic Application Research: Past, Present, & Future
POSTED 07/16/2009
 | By: Brette Christe, JR Automation Technologies, LLC
In 1961, the first manufacturing robot, the Unimate, hit the assembly line for GM. This welding robot, which received its commands from a magnetic drum, continued a centuries old interest in mechanizing tools to move automatically.

In the decades since, robot manufacturers have worked to develop economically viable manufacturing robots. Modern robots work 24/7 in almost any environment with the ability to change over part lines quickly. Because of this, robots have become common in a broad range of industries.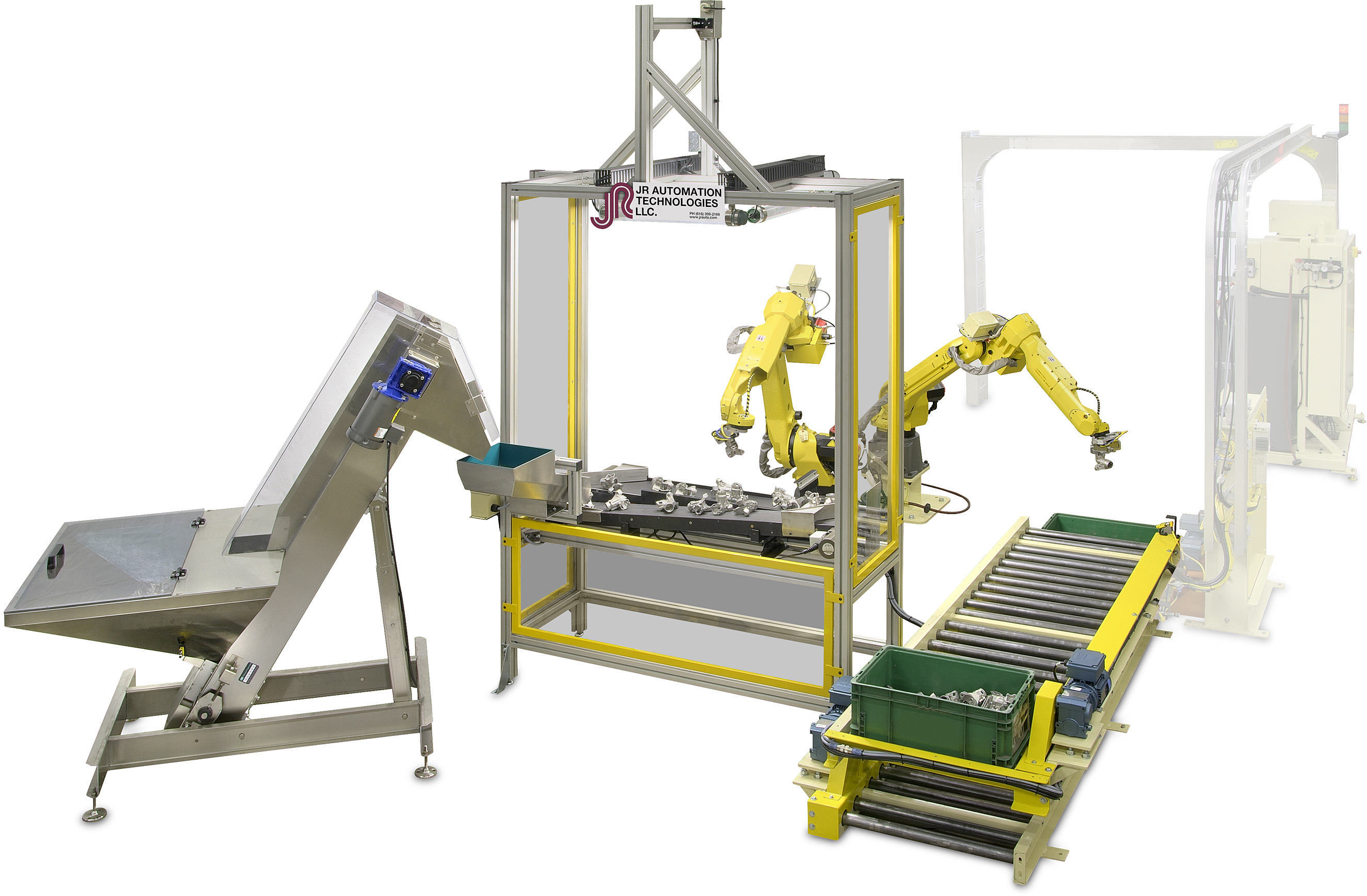 Vision Guided Robotic Flexible Feeding allows for almost endless product line configurations, eliminating the need for part designated infeed systems and machines.
The future of robotics lies in application development—merging the demands of today's manufacturing environment, robot technology, and specific advanced technologies. At comparatively low costs, manufacturers can customize robotic applications to solve difficult manufacturing challenges and give them a leg up on their competition.
Because the application of a robot is fundamental to the design of the automation system that uses it, many automation design-and-build companies provide application and process R & D services at low to no cost for their customers. R & D has become an integral part of machine design.
Turning to an outside engineering resource for robot application research makes sense for manufacturers. The benefits include:
Less expensive than internal development (people/resources)

Mechanical and electrical engineering, fabrication
Readily available equipment: Facilities, robots, tooling
Development through prototype and computer simulations

Faster time to market
Development results carry over directly to production equipment, reducing engineering, build & debug time
The relationship between the end user and the integrator should be one that establishes mutual trust. It is important to build a partnership that mitigates risk while maximizing benefits. It is through these partnerships that manufacturers and design-and-build firms are driving innovations in robotic applications.
An external engineering resource should provide:

• Security of intellectual property • Expert people
• Support over time
Take, for example, the continued improvements to 3D robot vision. The advances in 3D vision have made robots adept at recognizing a changing environment and adapting to it. This flexibility has allowed robots to work on projects that lack precise consistency, something that was very difficult for a robot to do in the past.
Currently, robotic vision research is expanding into many new areas. Robots can now pick variously shaped objects from an indexing conveyor, eliminating the need for part designated infeed systems and machines. Research in this area has even made it feasible to pick from a box for certain part configurations.
With manufacturing companies and automation design-and-build shops working together to find the best customized solution possible for unique manufacturing challenges, application research will continue to find outlets in a constantly expanding arena of industries, applications, and products. This collaboration has become necessary as robots have become an integral part of automation design. It has also become an important tool to manufacturers as they strive to implement processes that give them an advantage over their competition.