Robot Safety Trends in Automotive
POSTED 09/10/2012
 | By: Jeff Fryman, Director, Standards Development
There are vibrant new activities related to industrial safety in robot applications around the country today, and none more so than in the automotive industry. Recovering from the last recession, our nation's industries are stronger and more competitive than ever, and much of that competiveness can be credited to new and innovative applications using industrial robots safely. The auto industry has been a leader in applying robots to save time, improve processes and assure consistent quality of products; and continues to be a leader in assuring the safety of their workers.
A key word in manufacturing today is "lean"; a reduction of waste – wasted time, wasted energy, wasted effort and wasted cost. Eliminating these wastes means thinking "out of the box". Elimination of fixturing (fixed stands and clamps) is probably the biggest trend toward lean manufacturing. Taking time, effort, and cost out of manufacturing processes is the key to lean manufacturing and competitiveness. We refer to robot applications as "flexible" automation, and that can mean flexibility in design, capabilities and not just motion. Designing lean robot applications is important to achieving innovative solutions to ordinary manufacturing tasks, and with new robot features this can be done while also achieving enhanced worker safety.
Let's look at an "old design" application; maybe a spot welding assembly process. Each step in the flow has a fixture for each part; and if I want to run different parts, each has its own fixture. After the initial parts are loaded to the fixture, a robot carrying a spot welding gun moves in and makes the welds. To move to the next step in the process the part is unloaded from the fixture, placed on a conveyor and moved to the next position where it is again loaded to a fixture. Maybe at this step a robot picks the part off the conveyor and loads it to the fixture. Another robot picks up a part from another loading fixture and adds it to the assembly. Then a robot carrying a spot welding gun moves in and makes more welds. At this point the completed assembly is unloaded and racked.
Now let's analyze this application from a "lean" perspective. Where are there wastes in this example that can possibly be eliminated? This design limited the process to the specific part being worked on, or a possible compromise of the fixturing to accommodate multiple parts. Transferring parts entailed additional motions and a conveyor of some type. Three fixtures and clamps to hold parts in place while the robot slung the heavy weld gun and positioned for each weld. This also requires a large capacity robot to handle the weight and bulk of the weld gun.
So what would a new "lean" method look like? A robot with light weight end-effector designed to accommodate variations in parts is loaded and moves into position at a fixed weld stand, moving and properly positioning the part for each programmed weld. It then presents the part to another robot that has already picked up an additional part to be added to the assembly from a bin using machine vision guidance. This robot than takes the assembly and presents it to a robot with a servo-controlled spot welding gun, and then both robots move in coordinated motion to position the part for each of multiple complex welds. The part is then placed in a rack by the robot.
Where are the savings? Direct transfer of the part between robots has eliminated the conveyor and one fixture completely. The vision guided bin-picking application has totally eliminated another fixture, and the end-of-arm tooling is lighter weight and floor space can be saved without fixed location fixtures. The stationary stand and use of servo-controlled spot welding guns allows for lighter capacity robots to be used in the application, hopefully saving costs as well.
This application can be done today, within the guidelines of the current robot safety standard. The soon to be released new robot safety standard takes this ability to innovate even further!
New safety features available with new robots (not existing ones) will allow for the reduction of robot application footprints on the order of 30%. How would you like to have 30% more floor space in your existing facility? And there is more – the re-introduction of man-in-the-loop production techniques; where in the example above the operator directly loads the end-effector during the robot operation.
To learn more about these exciting developments, join us for the National Robot Safety Conference XXIV, September 24 – 26 in Indianapolis, Indiana. We will delve into these and many other robot and machine safety topics during 3 days of outstanding workshops, conference sessions, tabletop exhibits and more. Complete information on the conference can be found at http://www.robotics.org/safety12 or call RIA at 734/994-6088.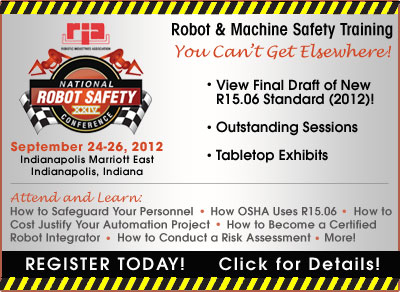 Be safe, and I hope to see you at this year's robot safety conference in Indy later this month!