Robot Safety Changes Ahead
POSTED 09/06/2006
 | By: an interview with Jeff Fryman, Director, Standards Development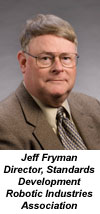 The National Robot Safety Conference is scheduled for early October, so Robotics Online took this opportunity to sit down with Jeff Fryman, Director of Standards Development for the Robotic Industries Association to talk about recent safety developments. The following is a recap of the interview.
RO: Looking at 2006 to this point in the year, what sticks out in your mind about safety activities?
JF: Well I can't help thinking what a productive year it has been; with maybe the most notable accomplishments coming in the standards work.
RO: Are you referring to the recent introduction of the new Technical Report?
JF: On the domestic front, yes. We are very pleased to have published the new Technical Report RIA TR R15.106 on Teaching Multiple Robots. This is the result of several years work by the R15.06 safety committee and is an excellent companion piece to the ANSI/RIA R15.06-1999 robot safety standard.
RO: Why did you choose to do a Technical Report?
JF: As you know, ANSI requires that we review our standards on a five year periodic basis. The committee reviewed the 1999 standard and found it to be well received and very well accepted, and to have a wide following – all excellent reviews for a technical standard. The committee, therefore, decided not to undertake any changes to the USA standard until the International Standards Organization gets done with their work on the international standard. What the committee did decide, though, was that we had not covered the topic of teaching multiple robots very well. Indeed, you could easily read the standard and think it was not a good idea, yet it is not prohibited. We just didn't address the topic. I guess that could be a reflection on the prevailing experiences in the mid 90's when we were revising the R15.06. There were certainly multiple robot installations; but they were installed and programmed as an initial installation and were covered by Clause 13 of the R15.06 standard. Since then we have gone through a cycle of re-application of the robots; and that experience led to questions of compliance.
RO: How did you respond to these questions?
JF: We developed five scenarios of representative approaches or best practices for safeguarding the robots when more than one teacher is involved in teaching multiple robots.
RO: What significance does a Technical Report have?
JF: It is definitely not a standard; rather it is a formal documentation of best practices or suggested methods. A Technical Report can be information that is focused on a single topic that may ultimately be included in a standard, but it is not ready yet, or doesn't need the ''weight'' of being a standard.
RO: So the Technical Report only talks about teaching multiple robots?
JF: Well no; we also took the opportunity to document some ''interpretations'' of the standard based on some frequently asked questions.
RO: Can you give an example?
JF: Obviously there are several, but one example is about control of hazardous energy. The new ANSI Z244.1-2003 Control of Hazardous Energy – Lockout/Tagout and Alternative Methods, in Annex J refers to the R15.06 for examples of alternative methods for robotics. If you read the Table of Contents in R15.06 you do not find the topic of controlling hazardous energy. Unfortunately, ten years ago when we were working the revision to R15.06 we didn't have the foresight to use the term ''hazardous energy''. Instead we talked about ''access to safeguarded space with drive power available!'' So we took this opportunity in the Technical Report to give some direction as to where to look for hazardous energy control.
RO: Earlier you qualified the answer about standards with domestic, and then mentioned ISO. Is this more news?
JF: Yes indeed! ISO published the new international robot safety standard ISO 10218-1:2006 in June. This is the first change in the international standard since 1992. Significantly though, it is only applicable to the robot (manipulating arm and controller), not the entire robot system as we would use it. The standard for robot system and integration (ISO 10218-2) is still in development, so we only have half the guidance needed from the international community. Even with that limitation, I am very excited about the Part 1 as it allows some new and innovative features that will make new robots very attractive from a feature and safety standpoint. More importantly it gives robot manufacturers a single standard from which to manufacture compliant robots world-wide.
RO: Can you give us an example?
JF: I can mention a couple very quickly. One is guidance on provisions for wireless pendants. Imagine the convenience of not having to trail a cord around behind you while working in the robot cell, not to mention the increased safety by eliminating a trip hazard in the cell. Another will be safe axis limiting that will allow you to design more compact restricted spaces.
RO: This does sound exciting, how can we find out more?
JF: Thank you for asking; what a great lead-in to a plug for our upcoming safety conference. These topics and many more will all be offered in our four-day National Robot Safety Conference, October 2-5, 2006, in Ft. Mitchell, KY. This annual event allows participants to hear from a number of safety experts in the field of robotics and to interact and network with them to get a full understanding of robot safety requirements.
RO: Yes, well we do have some more questions. Since the ISO 10218-1 is an international standard, how does that work in the United States with R15.06?
JF: Let me make it perfectly clear up-front; the ISO standard does not replace R15.06 in the USA. The American National Standard for robot safety is still R15.06. Like ANSI standards, ISO standards are voluntary. If you (a company) choose to follow a standard, they contain excellent guidance on a topic – in this case personnel safety related to a robot. The ISO 10218-1 only contains information that is found in Clause 4 of the R15.06 – safety performance requirements for the robot which is essential information for the robot manufacturer in designing and building the robot. The requirements found in the new ISO 10218-1 are fully compliant with the R15.06 requirements and provide for even more guidance and information. If you purchase a robot that is compliant with the new ISO 10218-1:2006 it will meet the requirements of R15.06 for the robot only. I need to emphasize compliance with the 2006 edition. If you only see ISO 10218, that is the 1992 edition and will not meet minimum requirements of the R15.06.
RO: R15.06 is dated 1999; when will we see a new version?
JF: Well this is just conjecture and my opinion; but not until after 2008 and the completion of the ISO work on the Part 2 document. Part 2 of the ISO 10218 will be the other 13 clauses found in R15.06 and will give the full guidance on the robot system and integration. Both parts are needed to make the whole of R15.06. The R15.06 robot safety committee is active again and closely monitoring and making input to the ISO 10218-2 work. It is the goal that national bodies will adopt the ISO 10218 (both parts) so that it will ultimately be accepted as the robot safety standard world-wide.
RO: How world-wide is the work on ISO 10218?
JF: There are currently experts appointed from 9 countries representing Europe, Asia and North America. This allows for a comprehensive review of positions and interests in robot safety. I am convinced that the work of this very knowledgeable and dedicated group will lead to a well accepted standard. This is a very large committee considering ISO expectations.
RO: We have heard the term NGR mentioned. What is that?
JF: The Next Generation Robot (NGR) is an initiative of the RIA to encourage the development of a new generation of robots that will provide significantly more safety to the user than those manufactured today; and one that better meets the needs of ''lean manufacturing''. I sometimes say a robot for circa 2010. That is not an absolute date, in fact it could be an optimistic date; but rather it is an attempt to describe a new generation of robots, and not the new robots that will be introduced as a result of the new ISO 10218-1. They too, will provide more safety to the user, but in a more traditional fashion. With the NGR we anticipate a paradigm shift in safeguarding concepts. We have been working with NIST on this initiative, and will continue to do so; and have another workshop planned for mid-September to further the discussions and recruiting of research partners in this work.
RO: That sounds like there will be more exciting news to come?
JF: Well actually there is more now. ISO has started an initiative for a safety standard for robots used in personal care. They are also continuing a study on needs for mobile service robots. ISO has currently issued a call for experts to participate in these activities. These are both areas that are outside the current purview of the standing RIA committees, so if anyone learning of this is interested, please contact me so that we may nominate USA experts to the committees.
RO: Thank you for your time.
JF: My pleasure – and I hope to see everyone at the National Robot Safety Conference in October!

Editor's Notes:
Jeff Fryman can be reached at RIA headquarters at 734/994-6088 or by e-mail at [email protected]. For more information on: The National Robot Safety Conference XVIII, click here. For information on workplace safety, safety standards, RIA In-house Training Seminars, and more, visit www.robotics.org.