Robot Palletizes Putter's Pickles: A Robot Case Study. . . .by Mary Kay Morel, Staff Writer/Editor, Motoman Inc.
POSTED 02/01/2007
 | By: Mary Kay Morel, Staff Writer/Editor
Aliment Putter's Food, Inc. (Sainte-Sophie, QC), a well-known eastern Canadian producer of a wide variety of pickled vegetable products -- found themselves in a bit of a production pickle. Their manual end-of-line palletizing operation was limiting their processing capacity, particularly during their peak season between July and mid-November, when Putter's typically runs up to 12,000 cases per day, operating one 10-hour-plus shift, five or six days a week.
Even with three people palletizing, we couldn't take product away as fast as we could produce it,'' said Putter's owner and president Alvin Goodz. ''Cases weigh up to 20 lbs each. Stacking them onto pallets for shipment is a backbreaking, physically demanding job that was just killing our employees. People were quitting left and right. Nobody wants to work that hard,'' he continued.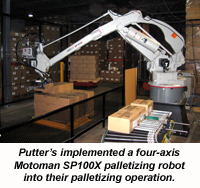 ''It was time we bought a robot, so we did and we've been very happy with it,'' Goodz said.

In September 2005, Putter's implemented a four-axis Motoman SP100X palletizing robot into their operation. ''People always worry that robots will eliminate jobs, but this robot has actually helped create more jobs in the plant and we've been able to hire more people as a result,'' Goodz said.
''The palletizing robot works all day long and doesn't break a sweat. It never misses a day, gets tired or takes coffee breaks. It also never asks for a pay increase. It's wonderful,'' Goodz commented.
''Our employees are happier. They're not strained or stressed now that we have the robot. It creates a better, happier atmosphere,'' he continued.
''We can now take product away as fast as we can produce it. The palletizing robot does a physically demanding job that people don't want to do -- and as a result, we've actually been able to hire more people for the processing line and increase production because the robot can handle it. Consequently, our unit cost has gone down,'' Goodz said.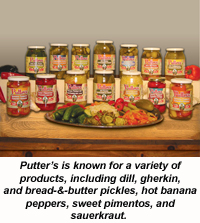 Company History and Growth
Established in 1948 with only two or three employees, Putter's is a family-owned business that now employs 50-60 people during peak season when they produce primarily pasteurized (cooked) products – such as dill, gherkin, and bread-&-butter pickles, hot banana peppers, sweet pimentos, and sauerkraut -- that do not require refrigeration.
Putter's also does a lot of ''transformation'' work during the off-peak season. The transformation process involves removing products from barrels where they have been soaking or fermenting in brine solution and packing them into jars of various sizes. Off-peak, the company employs about 30 people and produces nearly the same volume per shift, but they process more non-pasteurized (uncooked) products – such as original (Kosher deli-style) dill pickles, dill tomatoes, pickle relish, and deluxe mix -- that do require refrigeration.
All products produced by Putter's are approved Kosher, and also are Canadian Food Inspection Agency (CFIA) Certified as well as U.S. Food and Drug Administration (FDA) approved. Putter's is also currently undertaking the stringent process of obtaining Hazard Analysis and Critical Control Point (HACCP) certification.
The company's products are distributed under the Putter's Food label to retailers and wholesalers in Canada and the United States, and are also sold under 8-10 private labels.
Sales are split about 50:50 between Canada and the U.S., Goodz said.
Putter's packages the company's 18 different products into 500 ml, 750 ml, 16 oz, 1-liter, 2-liter, and 4-liter jars. Putter's uses seven different sizes of cardboard cases, with dimensions ranging from 6.75''-12.625'' W, by 12.25''-17'' L, to 5.75''-10'' H.
All cardboard cases come with dividers, some of which are loose while others are pre-glued into position. Jars are machine-labeled and packed into a case by hand. Cases are sealed with tape prior to being palletized.
Equipment and Process Sequence
Cases of product enter the robot cell via a single-lane, powered infeed conveyor. Sensors on the conveyor system indicate that the cases are in the proper location and ready for robotic pickup.
The four-axis Motoman SP100X robot has a 100 kg (220-lb) payload and 360-degree work envelope with a 3,291-mm (129.6'') reach and a repeatability of ±0.5 mm (±0.02'').
The XRC 2001 robot controller provides overall control of the robotic palletizing cell, but Motoman integrated a low-cost OMROM Zen controller to run the conveyor photo eyes and gate system as well as the operator pushbutton stations.
Changeover between product types is easy. An operator simply selects a different program using the robot's teach pendant and the system is ready to run the next batch.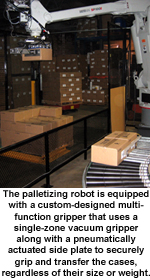 The palletizing robot is equipped with a custom-designed multi-function gripper that uses a single-zone vacuum gripper along with a pneumatically actuated mechanical side plate to securely grip and transfer the cases, regardless of their size or weight. ''With the setup we have that uses both vacuum and side plate grippers -- the robot will never drop a case.'' Goodz said. ''Someone would have to turn off the air hose -- it wouldn't be the robot's fault.''
The robot gripper picks the smaller, lighter cases that weigh 8-38 lbs each individually, and palletizes them at a line rate of 10 per minute (600 per hour). The robot palletizes the tall, narrow 20-lb cases that each contain two 4-liter/1-gallon jars two at a time. Even though the robot carries a 40-lb payload each pick cycle, the palletizing rate for these heavier cases is twice as fast -- 20 per minute (1,200 per hour).
The line rate is faster with the 4-liter jars because it takes less time to fill and label the larger containers than it does to fill and label multiple smaller jars.
The robot stacks the cases onto wooden pallets located in one of two palletizing stations – Side A and Side B. Pallet layers for the various products contain 10-21 cases and stacking patterns vary. The robot does not palletize mixed loads of product at this time. Products are batch run and only one type of product goes on a pallet.
Full pallets are removed via forklift and replaced with empty pallets while the robot continues to palletize cases in the other station. Full pallets are shrink-wrapped in another area of the plant prior to shipment.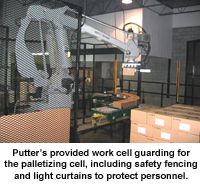 Putter's provided the work cell guarding for the cell that includes safety fencing and light curtains to protect personnel from entering the robot's work envelope during operation. Yaskawa Motoman Canada (YMC) provided the robot solution, systems integration and also did the initial programming.

''Programming the cell presented a little bit of a challenge due to the height variances in the wood pallets and the fact that the floor in the robot cell is not level. There is about a one-inch slope from one side of the pallet stations to the other, '' according to Bruce Clifford, the YMC senior application technician who did the initial programming. ''If these pallet variations or facility issues had caused any real problems, we could have added a sensor to the gripper to check the height of the pallet prior to stacking the first layer, but it was not necessary,'' he continued.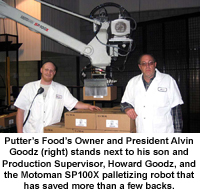 ''My son, Howard Goodz, the company's Production Supervisor, handles any programming touch-ups we need,'' Goodz said. ''He studied and learned the basics, and he's gotten pretty good at it. We didn't take advantage of Motoman's formal training classes, but they are probably a good idea. In fact, I think everybody should take a programming course before they buy a robot to see if they can handle it,'' he continued.
''This was our first robot and it's been a good experience. We're still learning ourselves what the possibilities are (with the robot). What we have is a relatively low-cost, basic system, but it has the flexibility to allow us to add a second infeed conveyor, automatic pallet feed and product feed, so it is a solution that can grow as the company grows,'' Goodz said.
''The Motoman robot has been very reliable. It just keeps working. At the beginning, when we were first getting up and running, we called for a little technical help. Once we got it up and going – we've never had a problem with the robot.''
''The actual financial payback will take a couple of years or so, but in terms of peace of mind, the robot has already paid for itself,'' Goodz said.
Additional Automation Planned
''We're currently thinking about getting another Motoman robot to put jars into the cases. We're especially interested in automating packing of the 4-liter (1-gallon) jars that weigh 10 lbs. each,'' Goodz said.
''Case packing these large jars by hand is exhausting and it puts a lot of strain on the operators' arms and wrists, especially at the line speed that we run,'' he added. ''This packing application will be a good one for a robot, especially since it will be packing the two large jars into cases that already have pre-glued dividers,'' Goodz said.
Editor's Note:
The article's author, Mary Kay Morel, Staff Writer/Editor, Motoman Inc., welcomes questions and comments at 937-847-3242 or e-mail to [email protected]. For more material handling and palletizing-related information and content, visit Robotics Online, Tips & Tech Papers.