Robot, Heal Thy Self: The Latest in Robotic Maintenance and Diagnostics
POSTED 12/17/2008
 | By: by Bennett Brumson, Contributing Editor
Maintenance and diagnostics are important in keeping industrial robots at their optimal operating performance. While simply cleaning and lubricating robots periodically can go a long way in achieving peak performance, controls built into them provide preventive maintenance capability as well as the ability to diagnose problems.
"Robot operators often have difficulty in setting aside time for required maintenance. End-users are worried about production and saving money rather than looking at preventative maintenance to increase the life expectancy of the robot while reducing downtime," asserts Cynthia E. Lang, Director of Field Service with Industrial Control Repair (ICR, Warren, Michigan). Lang sums up the general trend in robotic maintenance and diagnostics, saying, "More software integration packages will be installed on robots that will help diagnose problems and potential failures to prevent downtime."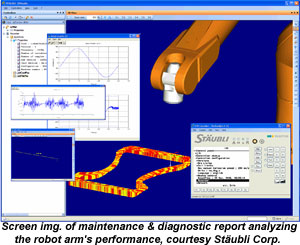 Robot Reports
In the unlikely event that a robot does have a problem, robot manufacturers and integrators have devised several means to diagnose and correct that problem. David Huffstetler, After Sales Parts Manager at Stäubli Corp. (Duncan, South Carolina), points out three features that maintenance and diagnostic systems should address: an event log, remote maintenance, and the ability to monitor the robot including its trajectory.
Huffstetler begins with event logs. "Logging events should be the first thing a maintenance and diagnostic system does. This log typically consists of data fault characteristics and reports that data to the robot operator. The log provides primary and secondary fault information, as well as collecting data and surveying the robot's condition."
Huffstetler goes on to say that should a fault occur, the robot's operator will be able to survey all systems after a status report is generated. "Status reports are a new feature. The report indicates where the problem is, along with what is working and what is not working on the robot."
The second major feature of Stäubli's diagnostic reporting system is an enhanced remote maintenance capability. Huffstetler says Stäubli's system, "Can remotely troubleshoot equipment through the Internet and LAN-based networks, giving end-users the ability to perform maintenance and diagnostics in TCP/IP fashion. Robots built in Asia, Europe or North America and are exported globally so end-users are demanding better remote troubleshooting." The location of the robot is no longer important when it comes to maintaining and diagnosing them.
Finally, maintenance and diagnostic systems are not only able to monitor the robot itself, but can oversee the robot's trajectory and its servoing. Huffstetler says by creating a "snapshot" of the robot's parameters at a given moment, the characteristics and dynamics of the equipment's performance can be analyzed by engineers. "By collecting data over time, the diagnostic system can become predictive. If an operator sees degradation in the robot's motion, the data associated with that degradation can be captured in a predictive fashion." Huffstetler believes being predictive is preferable to being reactive through analyzing the robot's data.
Huffstetler contends that being proactive is preferable to being reactive. End-users can look at the overall performance of the robot rather than merely looking at a fault message. This predictive quality of maintenance and diagnostics is becoming a major trend in industrial robotics, Huffstetler says.
ABB Inc. (Auburn Hills, Michigan) is another manufacturer that has a diagnostic system that generates reports on the robot's status. Joseph Chudy, North America Customer Service Manager, says, "ABB offers a maintenance and diagnostic product that monitors a number of conditions in the robot such as heat build-up in the controller and motor activity. Over time, end-users can review reports to see if a particular motor is working harder than it should be." Chudy adds that the diagnostic system can install programs and determine which axes are working the hardest, how hard the robot is working overall, and how fast it is moving. "Using that data, end-users can undertake preventative maintenance in addition to regularly scheduled maintenance," says Chudy.
Chudy gives an example of how the maintenance and diagnostic data can be utilized by end-users. "If an axis is working very hard, moving very fast, or is using the full range of its motion, operators can look at the temperature of the motors. Also, operators can monitor whether the fans are moving in the control cabinet and see if any error codes are generated."
Cynthia Lang of ICR emphasizes the need of documentation in diagnostics and maintenance in industrial robotics. "ICR documents particular robots used in different industries, applications and environments, as well as the type and frequency of repairs. This documented history helps predict when a particular component might fail on a particular model of robot." Lang adds that gathering historical data is extremely beneficial to end-users and recommends that ICR's customers document maintenance as much as possible. "In a perfect world, everyone would document all downtime and repairs to predict when a component will fail as to schedule repairs before an actual failure occurs."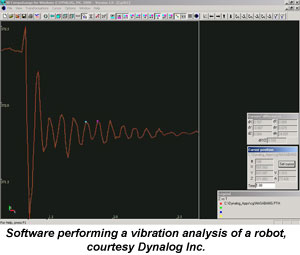 Latest and Greatest
Until recently, maintenance and diagnostic systems were a special feature of robotics. That is beginning to change, says Daniel Hasley, Director of Business Development, at Dynalog Inc. (Bloomfield, Michigan). "The increased availability of robotic maintenance and diagnostics has been a major change in the last five years. In the past, maintenance and diagnostic were available from only a few robot companies," Hasley observes. "Maintenance and diagnostic products have been integrated into most robots for several applications."
Likewise, Douglas Burnside, Director of Customer Care with Motoman Inc. (West Carrollton, Ohio), sees more and better maintenance and diagnostic capabilities being built-into industrial robots. "Major improvements have been in the controller and other hardware. Maintenance systems are continually evolving and have become Internet-based," Burnside reports. "Maintenance and diagnostic systems incorporate databases of alarms and troubleshooting procedures and can track maintenance schedules. A variety of devices are easily integrated into the robot and allow end-users to monitor their processes." Most systems will communicate through Ethernet, DeviceNet or other communications platforms, Burnside says.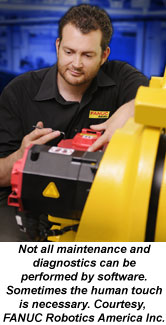 For Glenn Nowak, Controller Software Development Manager with FANUC Robotics America Inc. (Rochester Hills, Michigan), the latest developments in robotic maintenance and diagnostics stem from the migration from static systems to an Internet-based network that analyzes data in real time. "Maintenance and diagnostics have become real-time customizable web-based applications with global access and local interactive systems with real-time communications. Maintenance and diagnostics now have notification systems and remote access options."
Nowak and his colleagues at FANUC, Glen Konopaskie, Senior Product Development Engineer, and Sean Lennon, Staff Specialist, believe that, "Maintenance and diagnostic systems will get 'smarter'." These systems will have more capability to predict problems before they occur, saving time and money." The FANUC team continues, saying, "Improvements in connectivity will allow faster and more efficient diagnosis of problems. Many problems can be completely resolved remotely, without the need for a service call."
JR Musselman, Software Engineering Manager with Doerfer Companies (Greenville, South Carolina), also sees benefits of remote diagnostics. "If a robot is connected to a network, end-users can have remote diagnostics, which monitor the equipment's temperature and the torque of the motors. Those remote diagnostics are built in by robot manufacturers."
Musselman remarks that the status of the robot's motors is among the most important indicators of potential problems within the work cell. "If motors are heating up or demanding too much torque, the diagnostic system can alert the end-user over the Internet if the robot is having problems. Some robot makers send this diagnostic data back to their factory." Musselman explains that robot manufacturers can monitor a robot remotely and inform the end-user if it is having a problem. "Robot makers can understand an application's details more than a typical operator can," says Musselman.
For example robots manufactured by KUKA Robotics Corporation (Clinton Township, Michigan) communicate between its manufacturing facility and where it is deployed. "By doing so, KUKA's robots can often report a problem before the end-user's maintenance crew or technicians are aware of the problem," says Musselman.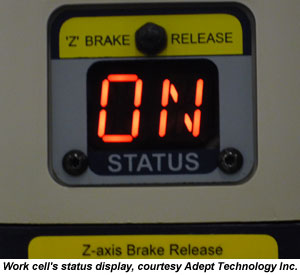 Design of robots lends itself to reducing the need for maintenance routines, says Jay Sachania, Director of Marketing at Adept Technology Inc. (Livermore, California). "Gears and drives in robots are sealed for life, reducing the need to do maintenance unless a component actually fails. Also, carbon fiber components wear out much more slowly over time, reducing the need for scheduled maintenance."
Sachania says system design has changed to help diagnostics. "When an error message does appear, the operator becomes aware of a problem. Error messages are displayed on a teach pendant or another graphical user interface to provide the operator an idea of how to correct a particular problem." Sachania declares such tools were not available until relatively recently.
Sachania goes on to say, "Electronics now are more robust than was previously available, reducing the need for multiple layers of components. Now, end-users can undertake hardware changes more easily." As an example, Sachania cites the process should an amplifier fail.
"Maintenance personnel can just remove an amplifier and replace it within a few minutes. Before, end-users had to download software, reconfigure the amplifier, change specific components on the amplifier, and finally reinstall the amplifier," said Sachania. This process would take up to an hour. "Now, components are miniaturized and standardized, making access to controller cabinets easier," Sachania says.
Automated Preventative Maintenance
End-users want to know when a robot or one of its components is going to fail before it happens. Joe Chudy of ABB says, "End-users do not want us to call them to tell them their robot is down. Rather, end-users want us to call them and say, 'If you do not do perform a certain procedure, your robot is going to go down.' They want robot manufacturers to be predictive."
Chudy states that end-users would like to see more predictive information coming from the equipment itself. "Robot makers are still working on being predictive through gathering history that will help make the system better."
Similarly, the FANUC team says, "End-users want automated notification of maintenance requirements with the option to do the work themselves or schedule the robot's manufacturer to do it. Also, end-users want to have an idea of maintenance processes for the life of the robot since it plays into the overall cost of that robot."
JR Musselman of Doerfer says end-users would like to see, "…interactive software that lets end-users do more of the maintenance themselves. Now, they have to call the robot manufacturer to perform maintenance."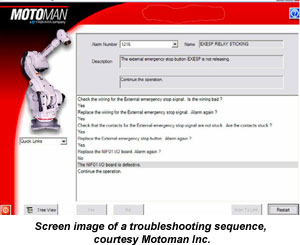 Like many other facets of robotics, training operators in maintenance and diagnostics is vitally important to achieve an efficient and successful application. Motoman's Doug Burnside suggests that end-users make the most of training offered by robot manufacturers. "Often, companies who use robotics will invest a great deal of money on a system but never realize its full potential because the people that use the equipment are not properly trained. Proper maintenance is also critical to extend the life of the asset and ensure continued performance," according to Burnside.
"The success of a work cell is dependent on understanding the potential of the equipment, having fully trained operators, and having a life cycle management mindset to maximize the performance and life span of the equipment," Burnside contends. "This understanding comes through a comprehensive maintenance and diagnostic training regimen and implementing that plan consistently," he adds.
Maintenance and Diagnostic Tools
As technology progresses and is refined, robotic maintenance and diagnostics will get easier and more comprehensive. "Robot manufacturers and integrators provide much more information about the condition of the robot," says Joe Chudy of ABB. "The ability to access that information from the Internet has really come alive over the past three years."