Robo Removal: Parts Finishing is Big Business for Robots
POSTED 08/17/2007
 | By: Bennett Brumson, Contributing Editor
In fabricating just about any item, from children's toys to aerospace turbine blades, inevitably a need will arise for some type of parts finishing. Whether it is degating a tiny injected plastic part or precisely grinding a large and heavy component for an aircraft, industrial robots are becoming, for many, the method of choice for material removal operations.
''Like it or not, deburring in manufacturing is a necessary evil. If manufacturers could produce parts without burrs, they would,'' says Richard Sawyer, Engineered Solutions Manager, at Weiler Corp., Cresco, Pennsylvania, a maker of wire and nylon abrasive filament brushes.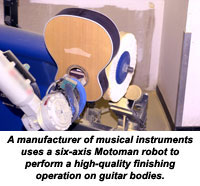 When the manufacturing process gets to the material removal stage, most other operations are completed so the manufacturer has a great deal invested into the part at this point. If the part is incorrectly deburred, deflashed, sanded, polished, or ground, the part could be rendered into costly scrap.
''Robots have already been integrated into most of the 'easier' manufacturing processes within a factory. Material removal is the next step on the natural evolution in shop automation. It was once considered a more difficult application, but robotic technology has now advanced to the point where material removal is now just as doable,'' says Erik Nieves, a Technical Manager for Motoman Inc., West Carrollton, Ohio. ''In many cases, we're already handling the part and processing it robotically; material removal is just adding one more robotic process,'' he continues.
Enough but Not Too Much
Force control, the ability of a robot to apply optimal pressure on a part, is an essential element of robotic material removal. Without proper force control, a robot could remove too much or not enough material from a part, requiring the part to be reworked or scrapped.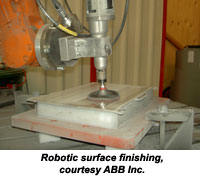 ''Robot manufacturers have been focusing more on force control. Robots are able to sense the force on the work piece so as to change the robot's speed or force, depending on what it encounters,'' says Jerry Osborn, Vice President and General Manager of Robotic Automation at ABB Inc., Auburn Hills, Michigan. ''Force control has opened up material removal robotics into products such as mobile phones, laptop computers, and the finishing of paper rolls.'' Osborn adds that force control enables end-users of robotics to perform pre-machining of castings that were not done efficiently without it.
Osborn says force control is requisite for maintaining the quality of parts when they go through a material removal process. ''ABB had a customer who was doing manual high precision polishing that had a scrap rate of 30%. By doing robotic polishing with force control, our customer was able to take the scrap rate down to nearly zero.''
Robotic force control is a software-intensive process. The robot uses force control software to ''feel'' its way along a path, adjusting that path and force depending on what is encountered.
''If material removal is done on a rough casting, the robot may encounter only small burrs, then a large glob of material in one area. If material removal is done without force control, the tool might break, the robot might stall or tear a big chunk out of the part,'' says Jerry Osborn. ''With force control, when the robot encounters that big glob, force control software slows the robot and adjusts the feed rate until the robot gets through it.''
After processing the large glob, the robot resumes its fast pace. Force control can improve quality and cycle times because operators are able to automatically adjust the robot's speed, depending on what it encounters.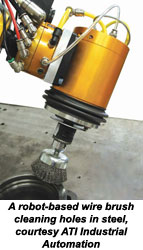 Aaron Odham, an Applications Engineer at ATI Industrial Automation, Apex, North Carolina, also says end-users are looking for force control and compliance in their robots.
''If a robot is deburring a part and the part has shifted, a compliant tool prevents the robot from removing too much material.'' Odham goes on to say, ''Compliance and force control are safeguards that add more assurances to the complete robotic system so that the end result of the material removal process is what end-users want it to be.''
Lester Godwin, Vice President at PushCorp, Dallas, Texas, stresses the importance of robotic force control and compliant material removal tools. ''Robotic material removal was next to impossible before compliance tools came along,'' says Godwin. ''Compliant tools allow the robot's arm to come in contact with the part with a precise amount of force. Operators can attach spindles or other tools to the robot's arm so that the cutting tool contacts the part in a very precise and specific, yet adjustable way.''
Suppliers of material removal media understand the need for compliant robotic systems. Richard Sawyer of Weiler speaks of the value of compliant media for robotic material removal.'' Nylon abrasives brushes' claim to fame is compliance, because they can absorb the shape of the part while still removing the proper amount of material. However, nylon abrasives brushes need to be run at the right speed, otherwise they will melt or not perform material removal,'' Sawyer says.
Sawyer adds a caution to users of nylon abrasives brushes who are more familiar with traditional media for material removal. ''End-users are more familiar with grinding wheels, cutters and wire brushes, which operate at a speed of 1,800 to 2,100 surface meters-per-minute. Nylon abrasives brushes need to be operated at 900 surface meters- per-minute,'' Sawyer warns. ''If people do not understand the media, they will fail the first time using it.''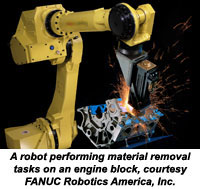 Quality and Cost Savings
Increasing quality and consistency, while lowering costs, are among the myriad of reasons end-users cite to justify their investment in robotics for material removal. ''Customers use many justifications for investing in material removal robotics such as media cost, labor cost, ergonomic issues, quality issues and labor shortage,'' says Virgil Wilson, Senior Engineer for Material Removal at FANUC Robotics, Inc., Rochester Hills, Michigan. ''Customers generally know what their labor costs are and can justify automation on the labor savings alone.'' He went on to say that robots can greatly reduce the cost associated with ergonomic issues like carpal tunnel syndrome.
James Hoffmann, Rimrock Automation's Senior Application Engineer, elaborates on why end-users turn to robotics for their material removal needs. ''End-uses justify their investment in robotics for material removal applications because of ergonomic issues, hazardous work environments, and the lack of people willing to do those types of jobs. Also, quality improvement and consistency are other reasons,'' says Hoffman. According to Hoffmann, robotics extend the life of the media by 30 to 50% when compared to material removal operations performed by hand. Rimrock is a robot integrator based in New Berlin, Wisconsin.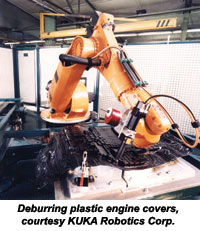 Engine block fabrication is another example of how robotics save time and money in production. Bernard F. Sagan, Jr., Vice President of Sales and Marketing at KUKA Robotics Corp., Clinton Township, Michigan, says, ''Robotics mill sand to fabricate a mold for engine block castings, from which a stainless version of a basic engine is made.'' Sagan says robots then make molds for other versions of the engine block with added holes and pockets for different variations of it. ''Robotics enables the mass production of products while still having a wide variety of them without the need to do as much machining,'' concludes Sagan.
Quality is on the mind of David Arcenaux, Marketing Manager at Stäubli Robotics, Duncan, South Carolina. ''Stäubli is involved in precision grinding of artificial hip joints, a very precise application. The surface has to be in a certain quality finish,'' relates Arcenaux. He points out that robotics are used by the aerospace and power generation industries for precision grinding, deburring, and finishing of turbine blades.
''The key benefit of material removal robotics in making turbine blades is the repeatable required motion to get a high quality finish,'' says Arcenaux. ''Precision is of the utmost importance when grinding and polishing turbine blades, or any type of high-quality part requiring a high degree of repeatability.''
Learning About Robotic Material Removal from the Experts
Robotic Industries Association has a Robotic Grinding, Deburring and Finishing Workshop that fosters an exchange of ideas, tips and tricks for robotic material removal. This event is in Minneapolis, Minnesota, September 17-19, and includes hands-on labs at 3M. Through a series of tutorials, classroom presentations and tabletop exhibits, vendors supplying everything from abrasives to robots will offer attendees expert guidance on robotic grinding, deburring and finishing.
One of the presenters is Charles Gales, Automation Sales Manager at Weldon Solutions, York, Pennsylvania. ''I will present a case study of a robotic material removal system Weldon installed a few years ago. We integrated a robotic work cell to automatically deburr small parts that features compliant tooling, programmable robot path and a gripper to deburr several types of parts,'' says Gales.
''The original system has a footprint of only 54 inches square, but now the end-user wants to run a larger part. Weldon is planning to install to a bowl feeder, which can be accommodated by removing a side panel,'' says Gales.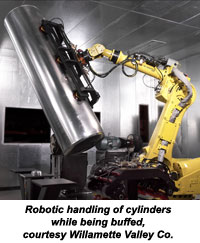 Willamette Valley Company of Eugene, Oregon, will give a presentation and have a tabletop display of various robotic material removal systems. Willamette's Product Development Engineer, Asa DeForest, has advice on cost justification which he will elaborate on during his session and at the tabletop trade fair.
''We will focus on return on investment and what end-users should expect from an integrator. Our tabletop display will include of videos of different finishing projects,'' says DeForest. ''When end-users see a material removal application performed by robots, they see how their company could possibly apply that process to their operations.''
DeForest will discuss examples and case studies of robotic polishing of aluminum and stainless steel parts. He also will examine issues related to whether the robot should be brought to the part or the part to the robot, details of cost justification, and how to deal with layers of processes for a single part.
Bright Future for Robotic Finishing
It has been twelve years since the first RIA workshop on robotic finishing, and today new developments have simplified and enhanced the application. Demand is up for this technology and top-tier experts are at the Workshop to help you succeed with this application. It is also a tremendous networking opportunity. The last time held, in 2005, there were 150 Workshop attendees from a wide variety of industries and user companies.
Robot capabilities and tool accuracy have evolved to the point where most applications are well within the scope of this technology, and integrators have bona fides from a growing list of successful installations. Many see this application growing even more in the very near term as force control and software advancements continue. RIA has seen an increased comfort level by users for robotic grinding, deburring and finishing which translates into a serious advantage in labor reduction and manufacturing quality. The future looks very bright for robotic finishing.
Editor's Note:
This article has been reviewed by members of the RIA Editorial Advisory Group.
For details on the Robotic Grinding, Deburring & Finishing Workshop, September 17-19, 2007 in Minneapolis, Minnesota, click here.
For details on RIA In-house Training Seminars, click here.
For more information, you may contact any of the experts listed in this article or visit Robotics Online, Tech Papers.
Jerry Osborn, Vice President and General Manager of Robot Automation, ABB Inc., 248-391-9000, jerry.l.osborn@us.abb.com
Aaron Odham, Applications Engineer, ATI Industrial Automation, 919-772-0115, aodham@ati-ia.com
Virgil Wilson, Senior Engineer-Material Removal, FANUC Robotics, Inc. 248-377-7000, Virgil.Wilson@fanucrobotics.com
Bernard F. Sagan, Jr., Vice President of Sales & Marketing, KUKA Robotics Corp., 586-569-2082, bensagan@kukarobotics.com
Erik Nieves, Technical Manager – West, Motoman Inc., 937.847-6200, erik.nieves@motoman.com
Lester Godwin, Vice President, PushCorp, Inc., 972-840-0280, godwin@pushcorp.com
Jim Hoffmann, Senior Application Engineer, Rimrock Automation, Inc., 262-432-0600, JAHoffmann@rimrockautomation.com
David Arceneaux, Marketing Manager, Stäubli Robotics, 864-433-1980, d.arceneaux@staubli.com
Rick Sawyer, Applications Engineering & Integrated Solutions Manager, Weiler Corporation, 800-835-9999, rsawyer@weilercorp.com
Charles Gales, Automation Sales Manager, Weldon Solutions, 717-846-4000, cgales@weldonsolutions.com
Asa DeForest, Product Development Engineer, Willamette Valley Company 541-484-2368 13ASAD@wilvaco.com