RIA Launches New Certified Robot Integrator Program
POSTED 03/06/2012
 | By: Armando Barry, Certification Consultant
Robotic Industries Association (RIA), the industry's largest trade group representing over 265 companies, has announced the launch of their Certified Robot Integrator Program.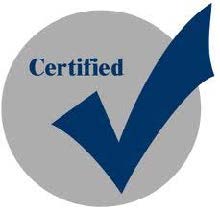 Over the years many industries such as IT, Health Care and Automotive have launched their own versions of certification to ultimately promote industry best practices. Certification in any industry is a mark of professionalism. The RIA certification program will help drive these initiatives for robot integrators that focus on delivering best value solutions, complete service and support for end user customers.
Robot users and system integrators encouraged the RIA to create a robot integrator certification program. These members helped with specifying the requirements for the certification of qualified member and non-member robot integrators and their personnel. In keeping with the longstanding RIA tradition of promoting and supporting the use of robotics since 1974, the association listened to and acted upon the suggestions brought forward by integrator members and robot users.
"The new RIA Certified Robot Integrator program began from a simple question: What can the RIA do to help the industry develop more successful robot applications?" said RIA President, Jeff Burnstein. Focus groups were held with leading system integrators and collaborative end users. Users told the RIA that a robot certification program would be useful as a way to help them develop a baseline for the evaluation of robot integrators. System integrators told the RIA this would be a great way for them to benchmark themselves against best industry practices. After more than two years of touring the country to get input from integrators, users, robot suppliers and other interested parties, the program was officially launched in January 2012. "I think there is great excitement about it throughout the industry," Burnstein explained.
EXAM CRITERIA:
There are three basic parts to the on-site exam and audit:
Hands-On section
Expert Response Section: (Participant industry tenure & biography)
On-site audit of business infrastructure per completed "Self Score Card". Supporting evidence will be gathered before any certification date is scheduled.
For example, to earn Certified Robotic Technologist and or Certified Expert Robotic Technologist status, the candidate(s) must pass an open resource hands-on exam on general robotics tasks, and answer personal work and education experience related to the industry. During this visit, the RIA will audit the integrator from a business perspective on operation, personnel resources and procedures based on information provided on the "Self Score Card".
The entire certification process will demonstrate the requisite level of technical knowledge required to execute robotic system projects and tasks in a safe, efficient, and economical manner. It also signifies not only the company, but the technician has the ability of working with various codes and standards.
"The RIA certification program is a perfect opportunity for certified robot integrators to differentiate themselves," says Armando Barry, certification consultant to the RIA. "Not only will certified integrators receive plaques, logos, and other tools that can be proudly displayed on letterhead, at trade shows, in ads, on product literature, and in other promotional efforts, but it also drives the opportunity for certified integrators to improve their performance," Barry explained. "Achieving the RIA certification will reflect a significant commitment by robot integrators, that elevates their technical expertise in applying robots in a consistent manner," Barry concluded.
"This is another great resource for the robot user in selecting the right integrator for the right job; and it also brings a positive comfort level because of the RIA certification process," says Sam Schenck, Director of Business Management at Yaskawa Motoman Robotics (Miamisburg, Ohio), an RIA Platinum Supplier member. Schenck believes that this is a win-win situation as it pertains to his business and the support of others.
"The program is obviously going to be a big help to end users just getting their automation feet wet, but I believe it will be of great benefit to current end users as well," said Curtis Richardson, Associate Technical Fellow, Robotics of Spirit AeroSystems, Inc. (Wichita, Kansas), an RIA User member. "It is a convenient tool to help us identify established integrators in the industry, and it enables us to see at a glance the integrators who have met some basic but very critical criteria established by their professional peers."
"RIA, which was founded in 1974, is the largest robotics trade association in North America, so it makes sense that the RIA should be the group to undertake certification," said Scot Lindemann, Vice President of JR Automation (Holland, Michigan), an RIA Platinum Integrator and one of the integrators who helped the RIA develop the program.

"The trade group has experience handling confidential data because it has been collecting and reporting statistics since 1983," Lindemann noted. "Also, the RIA developed the American National Robot Safety Standard (R15.06); and safety training is a key element of the new certification program," said Lindemann.
The RIA is now accepting applications from integrators interested in becoming certified. The association's Robotics Online website devotes a new RIA Certified Robot Integrator Program page to providing complete details, including an application; scheduled and archived webinars, including Best Practices for Robot Integrators (March 8) and How to Become an RIA Certified Integrator (January 26); and more.
The Robotic Industries Association is part of the Association for Advancing Automation (A3), formerly known as the Automation Technologies Council. Other associations under the A3 umbrella are AIA, an association for vision and imaging companies, and the Motion Control Association (MCA).
For more information on the RIA, membership and the certification program, please contact RIA Headquarters at 734/994-6088 or visit Robotics Online at www.robotics.org, the industry's leading website with some 200,000 unique visitors each year.