Retailers Look to Imaging, Automation to Adapt to Scary New World
POSTED 09/22/2020
 | By: Winn Hardin, Contributing Editor
The Duchess of Windsor famously said, "You can never be too rich, or too thin." In the time of COVID-19, one might add "or too clean." Today, retailers are using a variety of automation systems from autonomous cleaning robots to hands-free inventory systems to adapt to a marketplace turned on its head just a few years ago by e-commerce and flipped yet again thanks to a global pandemic.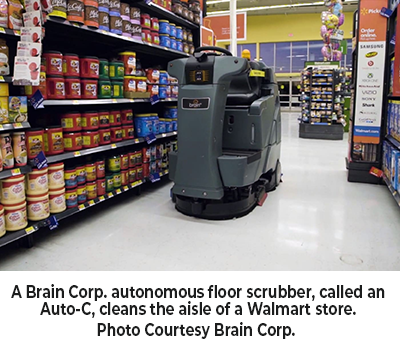 Constant Cleaning
According to Phil Duffy, Vice President of Product at Brain Corp., a supplier of artificial intelligence (AI) retrofit solutions for commercial autonomous robot floor scrubbers, big-box retail chains such as Walmart and Kroger have had to reduce hours in the face of exploding demand to deep clean and sanitize stores and give exhausted employees a break. In response, retailers are moving autonomous cleaning activities that used to be the purview of the night shift into daytime hours as well—not just to improve cleanliness but to make shoppers feel more comfortable.
A recent study by C+R Research revealed that 60 percent of U.S. shoppers are scared to shop at grocery stores. During the pandemic, C+R found that grocery delivery demand has increased by roughly 350 percent, while the average number of in-person grocery store trips has dropped from 2 per week to 1 per week. Nearly 43 percent of these customers disinfect their groceries when they return home, and more than half think the store should do more to clean.
"Clean is a new brand value that's become very apparent," said Duffy. "BrainOS robots help amplify an organization's cleaning capabilities almost immediately because they require no custom infrastructure to deploy."
Brain Corp's BrainOS robotic system uses multiple imaging modalities to guide to simply teaching and navigation. For example, a standard autonomous floor scrubber includes a time of flight (ToF) 3D camera and multiple lidar sensors to provide a layered sensing capability for autonomous navigation.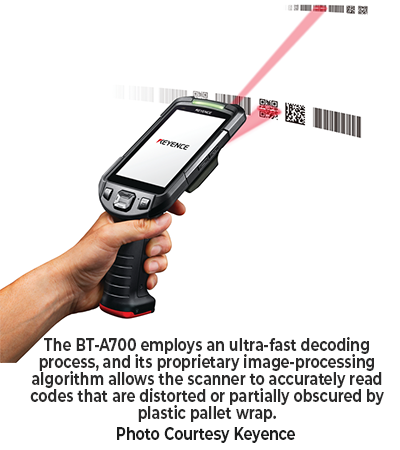 Code Scanners Help Volatile Supply Chain
Retail operations, including their supply chains, were already undergoing massive changes during the last few decades. Globalization with supply chains stretching around the world peaked in 2009 just after the global recession. After the recession ended, online shopping changed the way customers purchased many of their favorite products, including food. COVID-19 has only accelerated the move toward online shopping and e-commerce, while global supply chains face challenges caused by regional shutdowns in the face of biological threats. These powerful and sometimes contradictory trends have forced retail operations to reconsider every part of their enterprises.
Handheld code scanners for reaching 1D barcodes and 2D machine readable codes, for example, have been in use in retail operations for many years. However, the need to limit the amount of time shoppers spend in close quarters at the checkout line has led to "que busting," where mobile workers scan items while people wait in line, giving them a summary receipt to give to the cashier and reducing the amount of time spent at the cashier. According to Don Poston, Insight Sales Manager for North America, customers are using Datalogic's line of mobile Android devices with image-based code readers for these purposes as well as warehouse/supply chain operations. Datalogic has even taken to embedded antimicrobial materials in some of their handheld devices designed for the medical industry to help prevent the spread of infectious diseases, according to Ivelisse Gomez, North American Retail Industry Marketing Manager at Datalogic. Housings are just one way mobile computers are changing to help retail operations. Displays on the edge of the devices help workers to view alerts without having to pick the device up, while contactless charging helps the devices' batteries last longer.
For rugged warehouse operations, companies like Keyence have developed image-based code reading systems such as the BT-A700 that can read codes from 1-inch to up to 30 feet away, allowing workers at big-box stores and in warehouses to scan items directly in front of them as well as those at the top of the aisle shelf.
And because these mobile devices are image based—they can read text as well by using optical character recognition (OCR) algorithms, some of which leverage deep learning to adapt to new fonts—retail employees now have another way to track products across their supply chains.
Fixing the Supply Chain
While mobile scanners are helping retailers at all points in their operations, fixed scanners are critical for many warehouse operations. For example, a pet food manufacturer came to machine vision integrator Artemis Vision asking for a system that could scan entire pallets as they were loaded onto waiting trucks. Using powerful infrared light, Artemis' Tom Brennan was able to develop a system that could read a pallet code on a moving forklift and return a pass/fail visual alarm to the driver before they enter the trucks.
"Every time a shipment would be incorrect, Walmart would fine the company," explained Brennan. "This system paid for itself in four fines, or just a couple of months. Retail and agriculture are exciting new frontiers for machine vision."
Retail enterprises face unprecedented challenges today as customers accelerate their move away from brick-and-mortar stores and toward online sales. And this is happening at the same time that a global supply chain is showing its weaknesses thanks to a global pandemic. These forces are creating new classes of winners and losers within the retail and transportation industries. For example, McKinsey & Company's recently look at the future of trucking points out that while the first half GDP for the US fell between 9 and 14 percent, trucking volumes initially increased by 30 percent due to panic buying before dropping significantly and then rising again. Railroad remains low, while last-mile deliveries have surged 10x.
And just as manufacturers have looked to automation to help grow capacity during difficult times, today services such as logistics and retail operations are also looking to imaging technologies to help them excel in today's most "interesting" times.