R&B Plastics Integrates Motion Control Functionality into an Off-the-Shelf PLC to Optimize Blow Molding
POSTED 08/12/2008
 | By: Jim McMahon
The PLC handles control functionality with built-in integration of parison control, synchronized camming of blow pins with carriages, linear positioning of shuttles and 30 zones of heat control.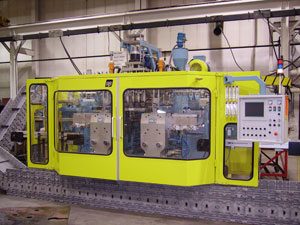 Like most blow molding original equipment manufacturers, R&B Plastics Machinery, LLC (R&B) has to coordinate different machine motions very closely. Its machines had been using closed-loop hydraulic motions with dedicated motion control cards, which are not only expensive, but also somewhat difficult to coordinate with programming. However, recently the company decided it would be more efficient to control these hydraulic motions directly from its PLCs rather than having to use dedicated motion control cards. In conjunction with Siemens Energy & Automation, Inc., R&B has successfully integrated the motion control functionality of its blow molding machines, including parison control, into off-the-shelf PLCs, and in the process increased productivity, reduced machine cycle times and cut costs by reducing the amount of components required.
Specialists in Plastics Machinery
Founded in 1980 and is based in Saline, Michigan, R&B provides solutions for plastics machinery, molds, tooling, and trimming systems. It offers programmable controllers, touch screen operator interfaces, independent parison controls, inclined or horizontal machines, free standing platens with mold face compensation, in-machine trimming, single screw extruders, and trimmers and deflashers. The company also designs and builds custom equipment for various processing requirements and provides precision built blow mold and trim tooling products. Additionally, it offers machinery audits, machinery installation/removal, reconditioning, and metal cutting machinery services.
PLC and Motion Controller in One Unit
One particular R&B blow molding machine has nine axes of servo-hydraulics - three are for parison control and six are for motion control. It has two shuttles, two molds and two blow pins. Clamp motions open and close the molds, blow pins move up and down, and carriages, which hold the clamps, move underneath the parison head, and then out to the blow station.
"R&B is using a standard Siemens S-7 PLC to control these positioning motions," says David Chin, a technician with NDC Technologies, a Siemens strategic partner in the controls upgrade. "We provided a set of function blocks that gave R&B the position control with a PLC. Other machines will control motion with a motion controller, a dedicated controller for servo-controls and positioning. We were able to customize the design of the function block to achieve the same type of functionality and performance compared to a stand-alone controller."
"A PLC is not usually associated with high precision for servo-control, that is why a dedicated motion controller is normally used," explains Chin. "But here, the motion control function that is handling the positioning of various components, which are all hydraulically actuated, is controlled by a standard Siemens S-7 PLC."
The PLC is also controlling 30-plus zones of heat control from the hopper to the extruders and through to the parison head. Twelve of these zones are for heat-cool, and 18 are for heat only. The heat control system, starting with cold plastic in the hopper to 415 degrees F at the parison head, is critical to maintaining a temperature tolerance of +/- one degree throughout the machine.
The off-the-shelf Siemens S-7 PLC uses function blocks written in standard IEC-61131 languages to control all servo hydraulic axes. It does not require a different motion control environment. By integrating motion control capabilities into the PLC, like the S-7, faster performance and much more efficient processing capability is provided, as opposed to the use of dedicated PLC and motion control hardware.
Integrated Parison Control
The first of the motions that R&B was trying to manage through the PLC on its blow molding machines was the parison. Normally, blow molding machines are controlled in either one of two ways: by a machine controller, and a completely separate and independent parison programming unit with a dedicated motion control card; or by the use of PC-based automation using specialized and often proprietary code, to handle the motion control requirements. R&B wanted to integrate the parison programming right into the main machine controller. Programming speed with Siemens S-7 PLCs has become fast enough to make this possible.
The parison control data comes directly from the position transducer as an analog input. All of the processing is done as regular PLC code, and then an analog output is used to control the hydraulic valve. This is done without using any specialized hardware.
Integrated Hydraulic Axis Control
R&B then integrated the rest of the servo hydraulic axes into the PLC. The position transducer data for these axes come into the PLC via SSI modules. If required, the position data coming from the SSI modules can be synchronized to the PLC program scan using Siemens' Profibus Isochrone mode. Again, standard analog output modules are used to control the hydraulic valves.
Synchronized Camming of Blow Pins with Carriages
Another function that R&B has integrated into the PLC is camming of the blow pins with the carriages. As the carriage brings the mold toward the blowpin position, the blowpin traverses downward following a programmed "cam" profile. Since the position of the two axes is coordinated, this can be accomplished with minimal margin for error.
Before integrating this function into the PLC, R&B was unable to do this synchronized camming because the blow pins and carriages were not able to communicate. The protocol programmed into the S-7 PLC makes this functionality possible for the first time with blow molding.
Reduction in Dry-Cycle Time
In blow molding, the time it takes to actually blow the bottle or cool the bottle is typically similar on all machines. But there is a difference between machines from a cycle-time standpoint, specifically with dry-cycle time, when the machine is not actually physically blowing the bottle. This is measured in how long it takes the machine to get back to the point where it is blowing the next bottle or set of bottles.
The motion control functions within the S-7 PLCs provide a superior level of coordination of the dry-cycle motions, reducing time intervals between specific actions. It enables multiple motions to be coordinated together - position-based as opposed to time-based. This allows significant time, as much as 20 percent, to be taken out of the dry-cycle, giving R&B a cycle-time advantage.
PLC-Based Automation for Blow Molding, a Better Solution
The advantages to using a proven, off-the-shelf PLC-based automation solution for blow molding compared to dedicated hardware for motion and parison control are significant. Since all servo-functions are controlled from one function block, this means better coordinated and faster machine cycle times, more simplified and faster programming and less equipment. Additionally, dedicated hardware is manufactured in small production runs bringing into play quality control factors, long-term support issues, and the need to re-engineer and fix problems with the product, all of which require additional financial justification.
Compared to PC-based controls, proven PLC-based automation solutions also provide a more attractive controls package for the blow molder, including a more rugged unit, use of solid state memory, no dependency on third-party operating systems, longer product life cycles and more long-term support. One of the key benefits of PLC versus PC control is the ease with which PLCs retain data when they are shut off (such as with a power loss).
"We now have one controller that is controlling our PLC functions and motion control functions," says Jake Losee with R&B Plastics. "We do not have the communication delays that we had before using a stand-alone card. Also, we have recipe storage of all of our axes. Before, we had separate software packages that could only be used by a technician who understood a particular motion card. Now, we are able to put it all on our HMI (Human Machine Interface)."
"One of our goals was to eliminate equipment," explains Losee. "Adding additional equipment means more costs, more maintenance and more software, which requires more training for our maintenance personnel. The Siemens S-7 PLCs, with its integrated motion and parison controls, has delivered a highly optimized controls solution on our blow molding machines."
About Siemens
Siemens Energy & Automation, Inc. is one of Siemens' operating companies in the U.S. Headquartered in the Atlanta suburb of Alpharetta, Ga., Siemens Energy & Automation, Inc. manufactures and markets one of the world's broadest ranges of electrical and electronic products, systems and services to industrial and construction market customers. Its technologies range from circuit protection and energy management systems to process control, industrial software and totally integrated automation solutions. The company also has expertise in systems integration, technical services and turnkey industrial systems.
Siemens AG (NYSE:SI) is a global powerhouse in electrical engineering and electronics, focusing on the three key sectors of healthcare, industry and energy. Founded 160 years ago in Germany, Siemens AG reported sales of $96.6 billion in fiscal year 2007 (ended September 30). Siemens today employs more than 470,000 people in some 190 countries. In the United States alone, Siemens had sales of over $25 billion (including export sales), fueled largely by infrastructure projects and innovative solutions in the industry areas of medical, automation and control, power, transportation and lighting. Headquartered in New York City, Siemens in the U.S. employs nearly 72,000 people in all 50 states and Puerto Rico. The U.S. is also home to the global headquarters of nine of Siemens' worldwide businesses. For more information on Siemens in the United States, go to www.usa.siemens.com.
R&B Plastics Machinery, LLC can be reached by contacting Jim Sheely; 1605 East Woodland, P.O. Box 100, Saline, MI 48176-0100; Phone 734-429-9421; Fax 734-429-1805; email [email protected]; www.rbplasticsmachinery.com.
Jim McMahon writes on industrial automation.