Programming Made Easy: How Millennial-Friendly Technologies Are Transforming Robot Programming  
POSTED 06/18/2020
 | By: Emmet Cole, Contributing Editor
Robot programming systems are evolving rapidly, with traditional point-by-point teach pendants being supplemented --and even replaced-- by more intuitive and user-friendly technologies.
The promise of these new, easy-to-use systems is that people with little or no robot programming training can get industrial robots up and running within minutes.
And while traditional programming requires understanding of X,Y, Z coordinate systems, the right-hand rule, and some mathematical knowledge, new robot programming technologies deliver precise programming capabilities without the need for extensive training in those subject areas.
Easy programming techniques such as hand-guiding are common in collaborative robot systems, but until recently industrial robots have tended to lag behind in terms of ease-of-use. That gap is being closed, however.
Yaskawa's Smart Pendant, for example, is a 10.1 inch touchscreen-based pendant that turns the traditionally complex task of industrial robot programming into a simple, graphic-oriented process much like using a smartphone or tablet application.
If the Smart Pendant looks like a tablet computer with some extra buttons on the side, the likeness is quite deliberate, says Michael Castor, product manager at Yaskawa Motoman.
"We recognized that the workforce of tomorrow is growing up with touchscreens, smartphones and tablets. So, to capture that and to make robot programming more familiar to them we've gone for the sleek, touchscreen design. We say that it's 'millennial-compatible'," says Castor.
Making robot programming more millennial-friendly is a "great idea," says Lionel Robert, a robotics expert and associate professor of information at the University of Michigan.
"A big part of the problem with getting more people involved in programming is that there is a delay between learning to program and seeing the results of the programming. Linking the programming directly to the behavior of the robot keeps the learner engaged in the learning process because they can see immediate benefits of their work," explains Robert.
Smartphone and tablet-type applications are less intimidating because they are more familiar to millennials and there is probably a cool factor in there also, adds Robert.
One of the difficulties associated with traditional robot programming is that users have to see the world from the robot's point of view. Yaskawa's patented Smart Frame technology enables the robot to respond to the world the way the user sees it, eliminating a layer of complexity and bringing intuitive transparency to the programming process.
Smart Frame works with the Smart Pendant's Inertial Motion Unit (IMU) --consisting of an accelerometer, gyroscope and magnetometer-- to determine the user's orientation relative to the robot in real-time.
Instead of using conventional coordinates, Smart Frame uses human coordinate references (left, right, toward, away) for intuitive control of robot movements.
"This makes it much easier to move the robot to go exactly where you want it to go, even into tricky places or maneuvering around obstacles. Instead of remembering how the robot see the world, you just have to figure out where you want it to go and position it accordingly," explains Castor.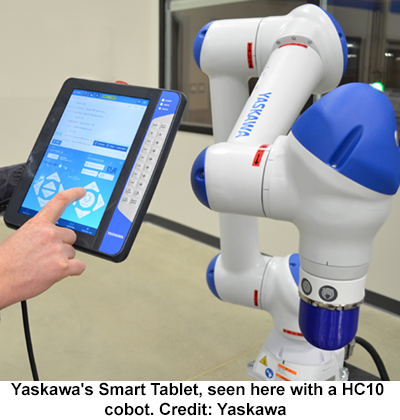 Training on Yaskawa robots typically involved taking an intensive four day training class at Yaskawa's Ohio offices. By contrast, training on the Smart Pendant requires just four hours of online classes.
"After taking our free online training, you can be very fluid with the smart pendant. The technology greatly reduces the time for training and allows you to get up and running and even programming complex operations," says Castor.
The Smart Pendant is available on Yaskawa robots with payloads of 12 kg (26.40lb) and under, but the company has plans to release the Smart Pendant with its 20kg (44.09lb) payload cobot HC20 arm "in the very near future."
Sisu's SRC Controller offers a different approach. Like the Smart Pendant, the SRC enables end-users to program a robot using a simple tablet-style pendant. It also understands the user's position, enabling robots to be programmed in a natural way and without knowledge of coordinate systems.
However, the SRC also incorporates a handheld controller with a joystick and trigger that allows the robot to follow the user's hand movements in space –all with the aim of further simplifying the programming process.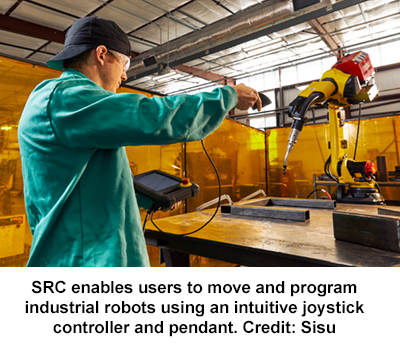 Robot manufacturers have done an incredible job over recent decades, developing amazing industrial robots, but that creates its own problems, explains Michael Morgan, head of marketing at SISU.
"These robots and the programs used to operate them are designed to be able to do anything, which makes them incredibly complex. What we're trying to do with the SRC controller is trim off all of that fat --all the unneeded stuff that's cluttering the user interface-- and just give users what they need," says Morgan.
Currently compatible with industrial robots from FANUC and KUKA, the SRC system consists of a tablet, a joystick controller, a button-type control box, a case containing sensors, and an interface module that connects to the manufacturer's robot controller.
Moving the robot is as easy as pointing with the joystick and moving your hand. The robot will follow your hand movements exactly. Programming a sequence involves moving the robot into position and then pushing a button on the controller and saving that point before moving on to the next step. The pendant is then used to add IO steps and logic.
"It's really pretty incredible watching how fast people learn how to program robots using SRC. We'll bring people in and within a few minutes they are moving it around and within an hour they are writing their own programs. It's really fun to watch," says Morgan.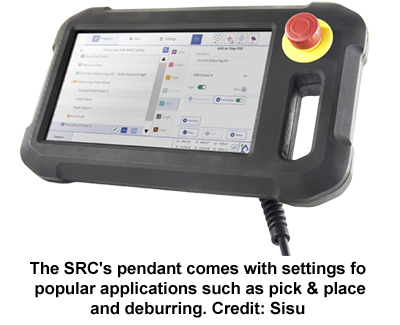 Sisu hopes to open up the market to smaller businesses and individuals that need automation by removing the need for long training courses and eliminating the costs associated with bringing costly robot coders in to take care of industrial robot programming tasks.
"There are thousands of businesses out there who would benefit drastically from having automation but the problem is the astronomical costs associated with programming, especially for high mix type processes," says Morgan. "It takes a few hours to learn how to use SRC and you can program tasks in minutes, greatly reducing programming time --and costs-- compared to traditional pendants."
The pendant comes with built-in options designed to assist users with specific applications, including pick & place, material removal, and welding.
"It really resonates with people when we offer these off-the-shelf, ready to go systems for specific applications. They would much rather have something they can just buy and have shipped to them ready to go than having to get an integrator to set it all up for them," explains Morgan.
In the long run, says the University of Michigan's Robert, manufacturing companies have to change their image to attract programmers, but in the short run they will have to increase the supply of programmers.
"To accomplish this, manufacturers need to find ways of recruiting bright millennials to take up programming who would have otherwise chosen another area to study. This is where making programming more accessible --not necessarily easier-- would help them attract more younger workers."
As robot programming systems adopt the plug & play and point & click functionality most of us are familiar with from everyday computing, the opportunities for low cost automation implementations increase.
And with manufacturers working hard to attract millennial talent by providing up-to-date technologies to work with, it's just a matter of time before intuitive, no-expertise-required industrial robot programming becomes the norm.