Press Brakes and Robots
POSTED 05/17/2011

 | By: Ken Miller, Product Manager

g hspace="10" alt="Press Brakes and Robots" vspace="10" align="right" width="300" height="301" src="/userAssets/Image/Press_Brake.jpg" />Still reluctant to automate your press brakes? Time to rethink this while you still can, because the latest robotic automation has proven it can reduce your part costs and level the playing field with foreign competition.

There is a traditional reluctance afforded discussions regarding the automation of press brakes, such as the tying up of a limited resource with an automation system; substantial programming efforts; establishing initial part quality; and by the belief that automating a press brake is a lot more difficult and expensive, both in equipment and floor space, than automating a machine tool.

However, let me give you ten reasons why you should consider automating your press brakes:

(1) Throughput/Yield: An automated system delivers consistent output and can offer unattended production that will enhance throughput, running through lunch, breaks and off-hours or at night.

(2) Labor Issues. Many companies have a difficult time finding workers to perform mundane load/unload tasks. Those that do are paying significantly higher rates than their global competitors (not one of the jobs high school kids dream about in shop class, if they still have shop class). Re-training operators costs money, time and valuable resources that could be applied elsewhere.

(3) Worker Safety. Robots don't fatigue, incur injuries, or file workers comp claims. Operators often work with their hands and arms over their heads (to prevent back-bending of parts) and as such are subject to greater injury and strain.

(4) Quality Issues. Automation can increase the quality of all aspects of your process. Dropped, miss-loaded, miss-processed, returned, and scrapped product can be eliminated.

(5) Process Control. Automation can improve the control of a process. This will reduce product variation so all the parts are the same, all the time.

(6) Utilization. Automation can increase the utilization of your equipment to over 90 percent in many cases. Most non-automated cells are operating at under 65 percent utilization, due to fatigue, breaks, shift changes, illness, etc. This means more parts at the end of the day.

(7) Flexibility. Robotics allows customers to quickly respond to market demands. The simplicity and flexibility of offline-part programming software facilitates the creation and testing of new press brake and robot programs offline. Incorporation and initial run of these new programs can be completed more quickly. Robots are also easily re-deployable to a new task.

(8) Predictable. A controlled process allows predictable production scheduling and system maintenance. Costly re-scheduling and unanticipated maintenance events can be reduced dramatically.

(9) Reliable. The highly reliable robots used in these cells greatly improve manufacturing uptime.
But the Number One reason to consider automating your press brake is:

(10) Global Competition. Manufacturing facilities all across the U.S. are struggling to compete in this global market. Robotic automation has been proven to reduce manufacturing costs and level the playing field with foreign competition.

Utilizing manual labor to perform these operations requires a recurring annual expense that rarely diminishes and can become very expensive considering the costs of personnel injuries and damaged products. Most of the press tending automation packages available today are designed with a 'large-reach' robot, either on a track, floor or ceiling mounted, and positioned in front of the press brake. These solutions can handle a large range of part sizes – and they can be very expensive.

However, it may be that a sizable market exists for a cell that need only process small size parts; measuring maybe 16 in x 16 in square or smaller. For fabricators competing in this market, a new and unique solution has been developed to address these smaller part sizes. This solution is named "Lean Machine" (a series of robotic machine tending solutions) "Robotically Integrated Bending Solutions" or "LM-RIBS". The Lean Machine series are pallet-mounted robot cells, enclosed and self-contained, easily installed or re-deployed, requiring very little floor space, typically 48 in wide x 84 in long.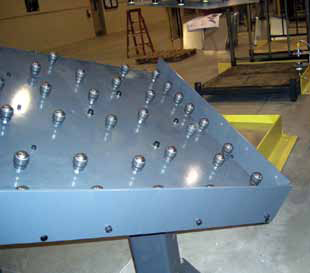 A mobile LM-RIBS cell can be slid into position by a fork truck. It uses a 4-drawer storage cabinet for inbound part blanks that enables the cell to store a high volume of inbound materials inside a compact area that is easily accessed from outside. A conveyor or drop bin handles formed parts. A gravity part-blank alignment table is located inside the cell, within the robot's reach. Double blank detection sensors are available, as well as a re-grip or turnover stand for re-gripping and locating the part to facilitate the bending sequence. This system is positioned in front and to the side of the press brake, opposite the CNC control. Once installed, it allows for manual or robotic operation of the press brake.

Reluctance Number One: "Tying up of a limited resource with an automation system."

Check. One of the key features of the Lean Machine series solutions is how inbound part blanks are handled. The 4-drawer cabinet offers high volume part blank storage in a very small footprint. Each of the four independent drawers offers a 150 lb storage capacity, in a 20 in x 20 in x 6 in tall cavity. Each drawer can be pulled out of the cabinet for access by the robot on one side (inside the cell), or the operator/parts stocker on the opposite side (outside the cell). This feature allows for replenishment or change-over of part blanks at any of the three drawers not currently being serviced by the robot. Change-over can be done without interrupting production, or "zero-time" changeover.

The robot can handle part blanks using traditional vacuum grippers or with recently developed technology using a "Programmable Magnetic" gripper. This new programmable permanent magnet allows for variable gripping force that can be altered on a position-by-position basis for greater flexibility during the material handling and forming process.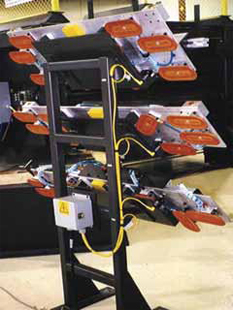 The robot's End-Of-Arm Tooling (gripper) is, in most material handling applications, the single most critical component of the robotic solution. It is the primary interface of an industrial robot to the work cell around it. If the gripper (and wiring harness) are not properly designed to handle the chosen parts, of robust construction and easily and quickly repaired, it can prove fatal to the application. An add-on encoder provides ram position feedback on the brake and add-on sensors mounted on the existing back gage; provide the robot with part position information.

Programming of the press brake and the robot can be accomplished using ROBOWAVE off-line programming software. With a virtual work-cell developed offline during the system build phase, new parts can be easily added, bending sequences automatically calculated, press brake and robot programs generated and then simulated and debugged – all while the work cell is running production. New part programs are then downloaded to the brake and robot, the initial part is run, the program tweaked if required and then stored in the work cell library, ready for production.

The LM-RIBS cell also offers a part inspection feature. Following a change-over, the robot will present the first part formed, to an operator to examine and approve before beginning the production run.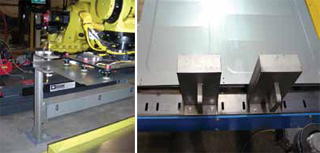 Reluctance Number Two: "Substantial programming efforts; establishing initial part quality."

Check. The LM series cells are compact, pre-engineered packages, meaning substantial engineering costs have been removed. A Fanuc M-20iB robot proves to be an incredibly reliable manipulator and, when it comes down to it, whether the robot is handling a flat part blank, a steel shaft, a cast aluminum housing or a cardboard box, it is simply manipulating the piece part through a series of motions to accomplish a task. Thorough project definition, some innovation and sound engineering practices greatly reduce the risk associated with automating the machine, whether it's a lathe, a punch press, a packaging machine or a press brake.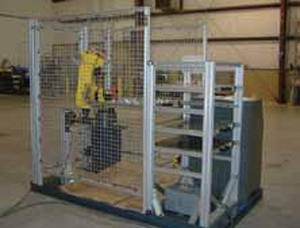 Reluctance Number Three: "The belief that automating a press brake is a lot more difficult and expensive, both in equipment and floor space, than automating a machine tool."

Checkmate. Automating a press brake does not make sense for everyone. If you run extremely short batch sizes and are constantly changing out press tooling in a low productivity and high cost mode, or if you do primarily prototype work or have difficulty making your parts due to tooling, material or process issues, you have other things to be thinking about. Automating any manufacturing process requires minimum standards be established and maintained. But a controlled process, one that runs with very little operator input or monitoring, can be a great candidate for automation and all the benefits that come with it.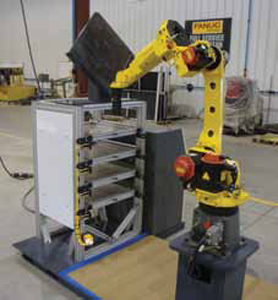 There are a lot of press brakes installed in the U.S. Most of them are under-utilized or operated inefficiently. Many companies that used these brakes to make some of their component parts have now jobbed those parts out, due to operating expense. Press brake automation however, is compelling some manufactures to bring those components back in-house because of the savings generated by robotic operation of the brake.

We all hear claims that our manufacturing jobs are going overseas, and some are for now. But a commitment to the robotic automation of some of these manufacturing jobs will keep manufacturing here in the U.S., improving productivity, lowering costs, increasing market share, promoting growth and job creation. There are examples everywhere. You can help rebuild the economy, rebuild your market share, and rebuild your bottom line.

Take another look at automation, while you still can.



Contact Information
Ellison Technologies Automation is an Integrator Member of the Robotic Industries Association (RIA). For additional information, please contact Ellison Technologies Automation at 712-328-3410, or visit www.automation.ellisontechnologies.com.


This article was first published in the October 2010 issue of Fabricating & Metalworking magazine, www.fabricatingandmetalworking.com.