Portal to Success: Update Multiple Robot Programs in a Minute or Less
POSTED 03/03/2010
 | By: Brette Christe, Technical Writer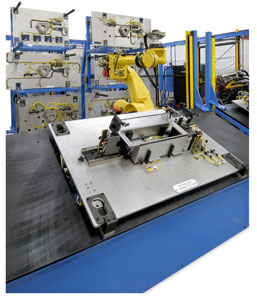 THE CHALLENGE: MULTIPLE ROBOT ADJUSTMENTS
Product variations, changes, and introductions are commonplace in manufacturing today. In response, many companies are choosing to use robots for material handling and production processes, meaning new product lines require adding a new fixture, and not a new machine.

Using multiple robots for production processes and material handling reduces the time and money spent on capital equipment over the years. However, this solution comes with its own challenge: specifically, manual adjustment when introducing a new product line.

THE SOLUTION: ENABLED WEB PORTAL
An alternative to manual adjustment is to use an enabled web portal that manages and controls robot programs on the plant floor; a web portal that can process and manage multiple robot controllers within a given request.

For example: A new product variation is introduced into a line with 10 robots. Before the web portal was added to the line, a maintenance worker would halt production and manually adjust each robot program. With the web portal in place, the worker presses a button, and within a minute or less the 10 robots are updated. This web portal also allows the worker to rollback and review the updates, ensuring the accuracy of each adjustment to the program.

THE BENEFITS ARE MANY
This type of dynamic adjustment obtains the following results:
Reduces overhead labor and on call support
Streamlines the migration process
Significantly reduces production downtime and increases through-put
Increases accuracy and control between robot controllers
Allows for production floor process backups for every robot on a plant floor
Increases process control
Provides quick and accurate response to changing conditions
Allows manufacturing solutions and business processes to work together
Another benefit is the web portal can be customized for each part, process, or plant. Furthermore, it can be developed to allow manufacturers to adjust specifications across multiple plants without incurring additional development costs for each product change.

WHAT IT TAKES
Implementing a web portal requires collaboration between manufacturing process, information technology, and controls systems to create the required network structure and design specifications of the program. This type of collaboration can be a catalyst for looking beyond the ordinary when developing other solutions that integrate machines with production processes.
The trend of doing more with less is not going away. It is important to build relationships with experts who drive innovative solutions. Each competitive advantage has the ability to create new challenges-the one who wins comes up with the next solution first.