Pharmaceuticals Turn to Machine Vision to Combat Counterfeit Drugs
POSTED 12/19/2014
 | By: Winn Hardin, Contributing Editor
Rec

alls. Liability concerns. Tampering.

They've all been cited as reasons to develop national track-and-trace regulations for the pharmaceutical industry. Today, with pharmaceutical companies operating in a global, highly segmented supply chain, manufacturers are adding counterfeit drugs to the list of compelling reasons to track each pharmaceutical package from manufacturer to end user, opening up even more opportunities for machine vision technology in this highly regulated market.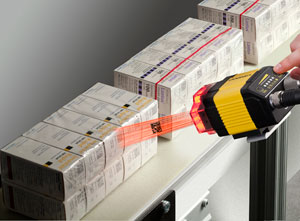 "Today, all of our pharmaceutical clients are interested in fighting counterfeits," says Olivier Feraille, senior sales manager, strategic vertical markets Europe for Cognex International Inc. (Rueil-Malmaison, France.) "There are three main ways to do this. The first is product integrity, such as using perforated cartons to verify a drug is in its original packaging, which eliminates the possibility of counterfeiters reusing official packages. The next is product authentication, to authenticate the item with a combination of visible and invisible data. Finally, there's product identification, to prevent counterfeit and fight reimbursement fraud. All European countries must have a unique serial number on each package by 2017." (according to FMD regulations)

According to Feraille, 1D barcodes and 2D data matrix codes, along with optical character verification (OCV), are the standard methods for verification and identification, which means plenty of market opportunities for machine vision companies. "2017 may seem like a long way away, but if you're a big pharmaceutical company and you haven't already done one or two pilot test lines, you're behind," Feraille says.

The U.S. is farther behind the verification and identification process than Europe. In April 2014, several European trade associations representing the pharmaceutical and medical device industries signed a combined deal with a software supplier to provide a central database for verifying lot codes at the distributor and pharmacy level of the supply chain as part of the European Medicines Verification System (EMVS).

The EMVS was successfully tested in 2009-2010 during a pilot in Sweden connecting medical personnel that dispense drugs to a series of national data repositories, which serve as verification platforms and can be used by pharmacies and other registered parties to check a product's authenticity. The National Blueprint System Template will be harmonized and interoperable among the various countries and will allow for the reconciliation of products traded between EU member states (known as parallel traded products) as well as for multi-country pack management through the European Hub. Additionally, it will offer countries that do not want to set up their own national system the opportunity to join an existing product verification infrastructure.

According to Feraille, several countries require product verification at any aggregation, repackaging, or distribution point, not just at the manufacturer and pharmacy, to improve the security of the pharmaceutical supply chain. "We're seeing this in China and Turkey, among other countries," Feraille says. "Any time you do repackaging, you may have one or two intermediaries. And if all their facilities are not completely secure, you have to check the product at every point."

U.S. Lags in Counterfeit Fight
While the U.S. isn't requiring hospitals and pharmacies to check serial numbers from pharmaceutical packages with an OEM or national database, large organizations such as insurance and direct-mail drug companies may move in that direction to improve accuracy, reduce costs, and limit liability.

"Today, you may not want to put an automated OCV system in every pharmacy because the cost would be prohibitive," says Tom Brennan, president of Artemis Vision (Denver, Colorado), "but large health organizations and mail-order pharmacies do have the volume to support adopting automated verification solutions."

In the U.S. today, pharmaceutical companies don't have to put a unique serial number on every package, just a lot code for recall purposes. Detecting counterfeits is even more difficult because large health organizations may get the same drug from multiple places, each with its own packaging. So seeing the same drug in different packages isn't a "red flag." Further complicating the issue is that U.S. pharmaceutical organizations do not adhere to the same marking, serialization, or data-handling standards, which would complicate a national verification initiative.

Random Serialization Boosts Security
One way companies are helping to combat counterfeits in the U.S. without tracking every point along the supply chain is to use random serial numbers. "Random serial numbers mean someone can't pull one carton, assume that every package has a serial number in order, and then duplicate that carton using counterfeit pharmaceuticals," says John Salls, president of Vision ICS (Woodbury, Minnesota). "We're hearing a lot of talk about counterfeiting these days…even more than straight-forward serialization discussions. Most companies in the U.S. have serialization and lot codes already in place. That's the critical part for regulatory compliance."

As companies explore different methods to fight counterfeits, many are turning to non-standard fonts for serial numbers and OCV applications. "People aren't happy with most machine-readable fonts," adds Salls. "Today, they expect a machine vision system to read just about anything. Why can't it read Arial, they ask? Luckily, the algorithms for optical character recognition (OCR) and OCV are getting better. Segmentation, or the ability to read symbols that touch one another, and the ability to teach a vision system new fonts has improved a lot. In the past, non-standard fonts would result in a higher false reject rates, but that's not the case today."

While a global track-and-trace standard may never come into play, the pharmaceutical market represents a strong growth area for machine vision over the next few years. "The U.S. represents 44% of the global pharmaceutical market, and Europe just 25%," notes Cognex's Feraille. "But if you want to sell into that 25% in Europe, you have to comply. We've seen a lot of investment in the packaging industry in advance of the EU directive, and we expect it to increase during the next two to three years."

Tobacco and food are other high-growth potential markets for the same code and OCR/OCV solutions. As much as 10% of the EU €700 billion tobacco market is estimated to be counterfeit, and U.S. food producers are moving to comply with the Food Safety Modernization Act (FSMA) enacted by congress.