Part II: Making the Intelligent Factory Today
POSTED 04/05/2016
 | By: Kristin Lewotsky, Contributing Editor
What are the tools and techniques you can apply right now to begin reaping the benefits of the industrial Internet of Things?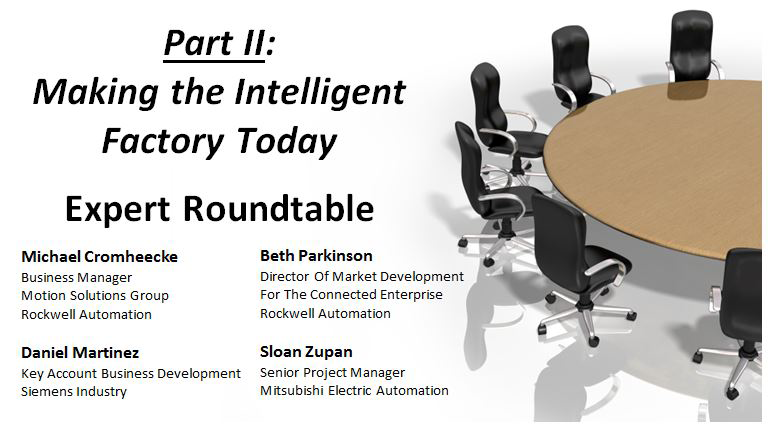 Editor's Note: This article is one element of a three-part series. Read Making the Intelligent Factory Today and download the webcast The Intelligent Factory - Using Smart Components and Connectivity to Help Cut Costs and Improve Performance.
These days, it's hard to avoid all of the talk about the industrial Internet of things (IIoT) and its potential to remake the manufacturing landscape. Whether it's referred to as intelligent factories, smart factories, factory visualization, cyber-physical systems, Industry 4.0, or IIoT, the value proposition is the same – data-driven insights served up in real time to support more effective operations. It's an intriguing prospect. The question is how to make it practical. What tools are available to manufacturers and what are the techniques to apply and pitfalls to avoid in the process? We asked a group of industry experts for their opinions and here is the result.
Michael Cromheecke, Business Manager, Motion Solutions Group, Rockwell Automation
Daniel Martinez, Key Account Business Development, Siemens Industry
Beth Parkinson, Director of Market Development for The Connected Enterprise, Rockwell Automation
Sloan Zupan, Senior Project Manager, Mitsubishi Electric Automation
What do you consider to be a key benefit of the industrial Internet of Things?
Parkinson: Companies are always trying to figure out how to stay competitive and how to improve productivity. The technology that is available now is making it easier to do than it was 15 years ago. It's really about scalable computing and scalable analytics and kind of fit-for-purpose use cases. There are things that you want to do in a real-time mode that are related to what an operator managing a piece of equipment needs or what a line needs versus multiple lines, versus a plant versus multiple plants, etc. Today's technology landscape allows you to utilize the same pieces of data for different purposes and different times.
Zupan: Say you analyze similar machine types, either in a single facility on different lines or a single facility on different shifts and there's a difference. Why is this same machine on shift one producing at this level and not shift two? Why is plant one producing at a different rate than plant two, when you have similar equipment in place? Without collecting that data and having the analysis tools, it's impossible to really dig down deep and understand what the root cause of a problem is. You may not need to make an investment in a new piece of equipment in order to get the capacity you need. It might be something as simple as training, or a reconfiguration of the way your manufacturing assets are laid out.
Martinez: [You can use] asset and analytic services, which look into machines and data coming in that have to do with the mechanical state the machine is in. We have energy analytics, so that you can actually look at the behavior of the machine as far as energy consumption and sometimes you can use this information to make changes. For example, you can set the machine to automatically shut down the hydraulic pump if nobody is using it for five minutes, that kind of thing.
How do companies get started?
Zupan: Customers who have experienced success in this data integration journey are those who have been able to pinpoint specific areas of risk in the manufacturing processes or key points they wanted to address. I think that it's important to have a goal in mind, something you want to accomplish.
Parkinson: At a high level, how are you assessing where you are and putting a plan together? What is happening to your network and security architectures that would enable this data flow? Where are you, related to the equipment? Do you have enough of a modern environment that you actually can share the data? What kind of data do you have and do you trust the data?
We look at what data exists. What do you need? What is the data architecture and are you taking advantage of it in different parts of your operation? Then there is always the question of how you increase collaboration across your facilities and operations. We actually have documented steps to execution, whether you do them with us or not. There are ways that people can look at getting started.
Martinez: You have to have some way of making the connection from the hardware layer to your [enterprise and product lifecycle management] layer, and that's where the manufacturing execution systems (MES) software comes into play. It allows you to communicate and gather information at the automation level and make sense of it, depending on whether it's needed for the management level or the floor, maybe it's the information necessary for your maintenance guys.
Now this is where things really get interesting. You're going to have many people needing different things out of this data, and therefore you're going to have to have a way of handling data, where to put it, how to make sense of it, how to present it back to those who need it at a different level in the enterprise. MES software does that rather well.
Zupan: Over probably the last two or three years, there's been a paradigm shift in the way customers use data. Rather than doing all the information processing in the server environment, customers are really looking for edge devices to macro process data, convert it into useful information and then have that resident in the IT environment or the cloud environment so it can be reported on. The granularity becomes less important if you are utilizing that at an edge device and transforming it into something more useful, and then putting it in a platform that can be shared with a variety of different consumers.
Customers are surprised by how relatively inexpensive these solutions are when compared to solutions specifically adopted by IT departments. They're a fraction of the cost of an ERP system or an MES system, and the value delivered is equal to, if not greater than those with much larger expenditures. We talk to IT departments all the time, and they're saying this is really underpriced for the value that it provides. I think it kind of negates the need to have a champion.
What are the most common pitfalls in implementation?
Zupan: I've talked with a lot of clients who are in the earlier stages of the data analysis journey. Their typical initial request is that they want to collect everything. But they don't actually need data in the raw form. What they are really saying is that they want the tools, the dashboards that are going to tell them in which areas they can make the most significant improvements to provide value to the organization and meet the demands of their customers.
Parkinson: There are tons of companies that have a lot of data they are storing because they think they should but they don't know how to use it. It comes down to what are the use cases and who is looking at the use cases? There is a lot to talk about in terms of what big data really means and what it will bring you. What do you want to process at the control level? What do you want to process at a higher level and what do you want to process at the cloud? Because there are different uses for different levels of that data management.
How much of an investment to companies need to make in order to derive benefit?
Parkinson: All this data has to actually be transported in some way. You can have a lot of data flowing off of a machine but if it's not connected, how are you using it beyond that machine? How is your current architecture in terms of automation implementation systems? Some of our customers can use existing environments that add on information dashboard environments to be able to have different levels of visibility of that information. Other people really need to look at the type of equipment that they have and whether they need to modernize. One of the things we say is you can get started. It doesn't have to be rip and replace. You can look at one part of your operation that needs improvement and decide how to fix that.
Zupan: It's true regardless of where you are in the journey, whether you have no data collection and no analysis capability or you're collecting data but you have no really good means of analyzing it, or whether you've got a distributed work force that's not on-site and doesn't have the tools available to them and they need access. There's a solution set that can be pieced together to fill the gaps in what you currently have in place. It's doesn't need to be an all or nothing approach. You can purchase components and they snap together to equal an information-enabling ecosystem that really empowers you.
What has been your company's experience in applying the technology?
Parkinson: From a Rockwell perspective, we have been on a journey to improve our ability to be competitive in the market. It really started more on the business application side—focused on a global ERP platform for improved business operations. As we progressed, we realized there was a big gap related to our production information. We integrated our MES with our ERP platform and now have interaction between the two systems every 15 minutes. It's essentially what people would think of as real time in a business context. It is different from real time in motion control; however, it also yields a significant increase in enterprise visibility to support various levels of decision making.
Martinez: We use our tools in our own facility like our factory in Amberg, Germany. We have a very tight control of production and we use all the software suites that we sell, customized to our particular application. We use our MES systems to connect all the machines and pass information. We use our software solutions to make sense of the data that we're getting from the equipment and so we do quality analysis and whatnot. On every single level, we have an ability to know which machines are running, which machines require maintenance or help, and which machines will likely need to be disassembled next week because something is starting to go wrong and we need to go in there and check it out.
What do you think is the level of uptake out in industry?
Cromheecke: I have always come at this question from a remote monitoring perspective, in terms of not just being connected to your own servers but being connected to outside sources and the Internet. I see a lot of companies becoming more and more comfortable with the concept.
Parkinson: I think we are still at an early adopter stage of people actually doing it but it's like Mike said, the OEMS are building it in and talking about how to help the end users understand there are ways to architect it so that remote monitoring makes sense. Maybe off-site users can see the equipment but they can't control it. The components can at least alert them if there is a problem. We still have a long way to go until people are fully connected, but enterprises are building strategies around it. It's just a matter of how far it's been executed and who owns it right now.
Zupan: We're really seeing a trend where people are moving from storing data in a database and analyzing it off-line for trends to wanting real-time analytics. They want to pin point what they should do now, be provided with a real value and real answers. And I think that is the real benefit of enterprise connectivity and the IIoT solutions offering.
Further reading/listening:
Making the Intelligent Factory Today
The Intelligent Factory - Using Smart Components and Connectivity to Help Cut Costs and Improve Performance
Making the Case for Total Cost of Operations (TCO)
M2M and Big Data Combine To Improve Machine Performance
Cut Energy Costs Using Motion Control