Painting With the Sims
POSTED 03/01/2006
 | By: Bennett Brumson, Contributing Editor
Simulation, the process of imitating the real dynamics of a robot with a set of mathematical formulas, is becoming increasingly more important in work cells. While simulation is used in just about all robotic applications, its use in designing painting cells is particularly useful.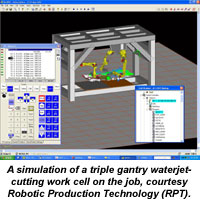 ''Simulation tools provide an off-line system to represent what equipment and parts are included in a work cell and how the overall robotic system does its job,'' contends Roberta Zald, Director of Engineering at Robotic Production Technology (RPT). A robotic systems solution provider and system integrator, RPT is headquartered in Auburn Hills, Michigan.

''PC-based simulation provides a way to verify the layout, interferences, robot reach, and fixturing requirements of a work cell,'' adds Zald. ''Simulation is the first step of the engineering process for system design.''
Justifications
The aerospace industry is deploying robots as a means of painting aircraft bodies. This industry, as well as others, utilizes simulation to maximize the efficiency of paint work cells and to minimize wasted paint.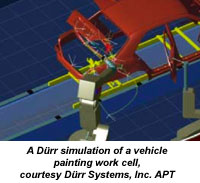 ''Aircraft paints are typically heavier than automotive but the paint's thickness is about the same. Weight is always a concern with aircraft,'' asserts Isabelle Roberts, Vice President of BRIC Engineered Systems, a robot maker and systems integrator based in Oshawa, Ontario, Canada. ''There cannot be too much paint on an aircraft as this adds weight which causes the aircraft to use more fuel.'' Roberts went on to point out that simulation is the best tool to ensure that the optimal amount of paint is applied onto aircraft.
''Dürr uses simulation to plan the robot's speed and cycle times. CAD (Computer Aided Design) files import data to the robot controller to determine requirements of a painting work cell. CAD is also used to check the reach of the robot in a work cell,'' says Einar Endregaard, Director of Sales, Marketing Proposals, and Planning at Dürr Systems, Inc. APT, Auburn Hills, Michigan, a robot manufacturer. ''Simulation is used as a planning tool, to determine dimensions and location of parts to be painted. It is important to demonstrate to the end-user how the cell will look and how much it will cost,'' Endregaard continues.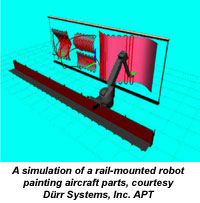 Zald's colleague at RPT, Reggie Aquino, Leader in Simulations, states that simulation performs important reach studies in a work cell. ''RPT's simulation does reach studies where a model of the robot is used to figure out the reach of all parts relative to the robot.'' Aquino went on to say that part size and the position of the robot are important.
''RPT verifies that the robot model can interface as required with the part.'' Aquino says the system is modeled in three dimensions to ensure that the robot can reach all points and positions required in the cell's layout. ''Part size, features, position of the robot, and ability to reach all needed process points are vital to a successful system design.''

Zald adds ''Simulation is used to figure out cycle times in parts to reflect end-users' needs. Off line simulation makes integration easier,'' Zald says. RPT uses FANUC Robotics software controllers, which are brought into both the virtual and real worlds. Both are accurate and repeatable in dealing with variables such as temperature changes.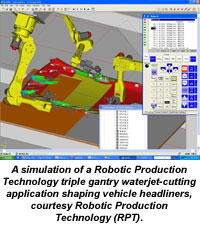 Zald adds ''Simulation can be used by a skilled, process-knowledgeable person to estimate cycle times. Simulation tools allow robot programs to be generated off-line so that the system is tied up for less time for part programming.'' RPT uses FANUC Robotics America robots and their own simulation package which supports the virtual robot controller so that programs generated off-line transfer seamlessly to the actual robot.
The major benefit of simulation is that these systems enable integrators and end-users to fine-tune a robotic work cell's parameters while the cell itself is still performing production tasks.
''An advantage of simulation is that it can simulate the work flow through a production plant as well as simulate the painting process. Simulation is important for creating off-line programs,'' says Gordon Geheb, Director of Application Product Development at FANUC Robotics America, Inc., Rochester Hills, Michigan ''Integrators cannot run simulations unless they do off-line programming first.'' Geheb continues by saying that an asset of simulation is that it allows a work cell's criteria to be modified to accommodate a new or different part to be painted. ''Robots can be online producing while the simulation for the new part is being done on a computer,'' says Geheb.
While one type of part is being painted, another can be simulated to be painted. All of this can be done without the loss of production time by the robot. ''With increased flexibility of simulations, parts can be programmed weekly, daily, or hourly while the robot is still producing. Simulation brings the ability to have mass customization,'' says Roberta Zald.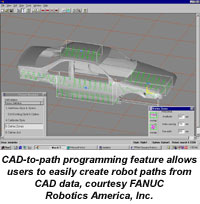 While most parameters can be confirmed through simulations, not all can be. ''Eighty to 90 percent of parameters are verified using simulation, but the rest are done by laboratory testing,'' states Dürr's Einar Endregaard. ''Humidity and downdrafts are variables that affect a painting job that cannot be seen in a simulation.''
Endregaard's sentiments are shared by BRIC's Isabelle Roberts: ''Painting is a process, as opposed to pick and place applications. When a process is added, there are a lot more variables. Variables, such as ambient temperature, affect the paint,'' Roberts says. ''The nozzle could get clogged, which affects how well the robot can paint, if at all.''
Roberts adds ''When painting large parts, such as aircraft or rail cars, it is preferable to have the simulation be perfect. The reality is that engineers have to fine tune the simulation, which is done by going off-line and using a teach pendant.'' This procedure takes time, so the goal is to reduce the programming by formulating a near perfect simulation.
An advantage of using simulations is it avoids the time and expense of constructing prototypes so that a paint cell could be designed around a specific part. Engineers can experiment with different painting scenarios using a three dimensional simulation rather than constructing several prototypes. Integrators can verify which type of painting cell works and which do not.
Models
In order to run a successful simulation, an accurate model of the cell must be worked up first. Roberts addresses this issue: ''The key to successful a simulation is accurate models. The less accurate the simulation the less useful that simulation is going to be.'' Roberts continues by saying that for simulations to be accurate, there needs to be as much information put into the model as is possible.
''If a model is very complicated, cell designers cannot put the entire part to be painted into the simulation. The model has to be simplified, possibly reducing the accuracy of that model in the simulation.''
Roberts' point on the need for accurate model was echoed by Gordon Geheb of FANUC Robotics. ''The first order of business is to get an accurate model of the work cell. Once an accurate model is generated, the part is painted using the desired pattern,'' Geheb says. ''Process parameters, such as robot speed and fan overlap can all be changed in simulation.''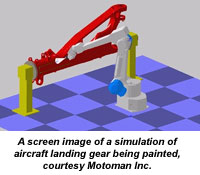 To generate a simulation that accurately reflects the actual work cell is to use the same software in both. Like FANUC Robotics and RPT, this is the approach of Motoman Inc., a robot manufacturer, distributor and integrator located in West Carrollton, Ohio.
Motoman's Coating Technology Leader, Randy Schuetz, speaks to this. ''Motoman uses the exact kinematics and same software in the robot controller as in the simulation. The simulation has an accurate three-dimensional model of the end-of-arm tool, the parts and other components.'' By having an accurate model, Schuetz says what is seen in the simulation is precisely what will be seen in the actual painting process.
A model that is ''too perfect'' could have some drawbacks, as explained by Jay Johnson, Senior Consultant at DELMIA Corporation, a robotic software provider based in Auburn Hills, Michigan. ''The downside to a model being too exact is that the test data can change from day to day. The paint gun will do something differently, such as the nozzle getting clogged or replaced,'' Johnson says. ''The real world changes while the conditions in the simulation stay the same.'' Johnson qualifies his words of caution by saying that integrators and engineers must be mindful that the simulation must be changed to reflect any alteration in test data.
Despite Johnson's caveat, he believes that simulation has many more advantages than disadvantages. ''Simulation optimizes paint use, time use, and improves quality. With simulation, engineers have the ability to try different painting scenarios off line on a part while the robot is actually painting,'' Johnson says. ''Simulation gives integrators the ability of optimizing the painting process, minimizing waste, and improving consistency without costing production time.''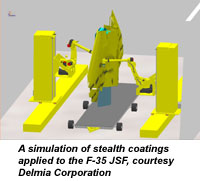 DELMIA's simulation software and modeling system for off-line programming is being used to simulate and robotically paint large sections of the F-35 Joint Strike Fighter. Portions of the aircraft that are simulated consist of the fuselage, wings and tail sections.
While simulating a paint cell before that cell is built and used in the real world saves time later, there is a time cost in configuring the simulation. This is the case because someone has to sit in front of a computer screen to work out the work cell's details. However, engineers are doing this while the hardware is working on other painting tasks.
A Pound of Paint is Worth a Pound of Cure
While robotics are successfully simulating painting work cells and actually painting product, there is a role for them to facilitate the curing process of paint. UV Robotics, as sister company of Artomation, Cleveland, Ohio, is using ultraviolet lamps (UV) mounted on robots to cure paint. While UV light has been used to cure paint on car vehicle bodies and aircraft fuselage components for several years, it is only recently that a system has been devised to combine them with robotics.
''UV Robotics' simulations are an outgrowth of the tools that have developed for painting. We use robotics to cure paint in a similar way that it is applied,'' says Paul Mills President of UV Robotics. Ultraviolet lamps are mounted on articulated robots and maneuvered around newly painted parts. Because paint cures at different rates on different areas of a part, there is a need to simulate the drying process to make it more predictable.
''The tools that were developed for painting simulation are a good platform to start with when implementing robotic UV curing. The fan pattern of a spray applicator is not that different from the light pattern that a UV lamp gives off,'' says Mills. The size of the fan's footprint and pattern are very similar to paint spray, Mills says. Of course there are differences between light and paint.
''Paint is affected by gravity, air turbulence, and electrostatic affects where UV light is not. The differences are in the details of the way light rays behave and the way paint droplets behave,'' Mills says.
Future Sims
The place of simulation in painting applications, indeed all applications, is an assured part of the future of robotics. As simulations become more reliable and more powerful, they are becoming a standard feature in work cells.
''Simulation is more common, even in small companies, which will allow them to remain competitive,'' says DELMIA's Jay Johnson. ''Simulation is the next step going from two-dimensional paper drawings to three-dimensional prototypes.'' As end-users become more accustomed to working with simulations, they are seeing that it will be a requirement, not a luxury, in planning paint work cells.
Editor's note - For more information, you may contact any of the experts listed in this article or visit Robotics Online, Tech Papers.
-Roberta Zald, Robotic Production Technology (RPT), 248/829-2814, [email protected]
-Isabelle Roberts, BRIC Engineered Systems, 905/436-8867, [email protected]
-Einar Endregaard, Dürr Systems, Inc. APT, 248/745-8500, [email protected]
-Reggie Aquino, Robotic Production Technology (RPT), 248/829-2800, [email protected]
-Gordon Geheb, FANUC Robotics America, Inc., 800/477-6268, [email protected]
-Randy Schuetz, Motoman Inc., 937/847-6200, [email protected]
-Jay Johnson, DELMIA Corporation, 248/205-5265, [email protected]
-Paul Mills, UV Robotics, 440/234-1988, [email protected]