Packaging & Palletizing Robots Solve Industry's Pain Points
POSTED 10/30/2014
 | By: Tanya M. Anandan, Contribting Editor
Throughput, quality, labor and ROI, this is what keeps manufacturers awake at night. Fear not. Robots are at the ready. Deft manipulators with astounding speed and precision are busy on the packaging line, while stalwart articulators manage the towering pallets of goods. No job is too small or too big.
Faster, Cheaper, Better
Packaging and palletizing robots are getting faster and more cost-effective. They're now easier to use with integrated controls and intuitive human machine interfaces. They're smarter with advanced sensing and software, and more adept at handling product variations.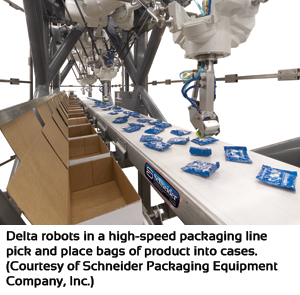 "Our customers' greatest challenge is return on investment," says RIA Board Member Pete Squires, Vice President of Schneider Packaging Equipment Company, Inc., in Brewerton, New York. "Our customers are looking to maximize their throughput and achieve the most payback. They want reliable systems with fewer breakdowns. They need to handle more SKUs than ever before, and with high changeover rates."
Schneider Packaging, an RIA Certified Robot Integrator, provides end-of-line packaging solutions for the food and beverage, pharmaceutical, personal care, plastics and paper industries, among others.
"End-of-line packaging, that's all we do," says Squires. "Our use of robotics is just an extension of what our customers need, and we've always been focused on that end. Being a great general integrator is nowhere as important as being a great packaging integrator. The product varies, the pallets vary. It's a very unique industry."
This video shows a variety of packaging and palletizing applications.
"We see a lot of customers with existing automation going to robotics because of the reliability and adaptability of robots," says Squires. "Robots insert bags or packages into cartons similar to the way a human would do it and with repeatability."
Easier to Use
Squires says companies new to robotics may misunderstand how simple robots are to operate.
"Nearly all of our equipment is controlled through Rockwell HMIs. (He credits controls integration between Rockwell Automation and FANUC Corporation.) You don't need to be a robot programmer or PLC programmer to run them. Most of the day-to-day product changeovers are straightforward. From a user standpoint, they're just changing recipes on the HMI."
"With the shortage of skilled labor, it really helps our customers if they don't need a robot programmer to run this equipment," he adds
This video courtesy of Schneider Packaging shows an HMI on the job for an end-of-line palletizing system. Two high-payload, articulated robots sort and palletize cases of ice cream cones with multiple SKUs onto six different conveyor lines. Then a shuttle system transports the completed pallets from each cell to a shrink-wrap line.
Sophisticated vision systems integrated into packaging lines also combine product inspection, quality control functions, and bar code reading into the robotic process. Coupled with vision, delta-style robots have cornered the market on packaging applications for more than a decade, and with good reason. They've been known to reach 300 picks per minute, and when equipped with vision and conveyor tracking, can pick and place a variety of items with mind-numbing precision. They do have their limitations, however.
Clean and Contamination-Free
Improved sanitation is a growing concern in the packaging industry, especially with primary food packaging, which involves direct food contact. Not content to join the delta pick-and-place fray like so many of its fellow contenders, one robot manufacturer decided to revisit a familiar design with a new twist.
"We resisted entering the market for quite a long time with a picker-type of robot until we could find an alternative solution, which in the end delivers the speed that everybody wants, but does it without any contaminations," says Simon Whitton, Product Marketing Manager for Stäubli Corporation in Duncan, South Carolina.
"For packaging, we have our TP80 Fast Picker," says Whitton. "It's a fully closed-structure robot, which is quite unique in the picking area."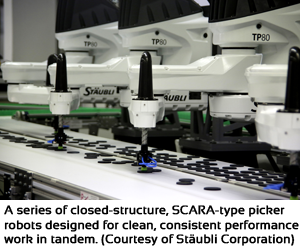 "With the closed-structure, it means that all the air pipes run inside the arm," he explains. "The purpose of that is to give this robot clean performance rather than just performance. When we canvassed the market, asking integrators and end users what kind of product they would design and what kind of risks they would want to eliminate, the TP80 is in response to that."
He says the 4-axis robot has a "SCARA-like" work envelope with a reach of 800 mm. It can be mounted overhead, alongside a conveyor, or between two conveyors.
This video shows the Stäubli TP80 Fast Picker in a food packaging demo.
"You can reach in front of you, on the right side and left side, and to a certain respect, behind you," says Whitton. "We can go up to 200 cycles per minute."
Whitton, who is celebrating nearly 30 years in robotics and began his career at the original robot company, Unimation (later bought by Stäubli), says increased cleanliness will continue to be a major factor among this industry segment as more robotics makes its way into food handling and packaging.
"If you have a clean product that meets the needs of the industry, you move backwards along the production line and you're handling earlier in the process," he says. "You don't have to wait for things to be pre-wrapped before you can secondarily handle them. You're more applicable in more applications. Manufacturers can look differently at how they do certain things. It might be that a production line turns into an island rather than a continuous process, because you can pack it earlier and still maintain the integrity of the environment."
"This is true in food, pharmaceutical, and even electronics where you have sensitive components," he adds.
Vision and conveyor tracking go hand in hand with packaging, so Stäubli offers an integrated vision and conveyor tracking solution along with its picking robot. The robot OEM also addresses another trend in the packaging world.
Integrated Controllers
In an effort to make robots more user-friendly, some robot OEMs are integrating proprietary robot controllers with more broadly used PLC-based controllers. As mentioned previously, Schneider Packaging uses integrated FANUC and Rockwell controls to give novices an easier path to robotic automation.
"We feel that the best and easiest method is to use both controllers, but in a highly integrated solution," says Squires. "This way, users don't need to compromise on performance, reliability and ease of use."
Stäubli has its own approach. "We provide a product called Unival," explains Whitton. "It allows you to connect the robot control to your motion controller and then you operate in your environment. Some packaging machine companies want to incorporate the robot as part of the packaging machine, so they can have the feed-in and the feed-out as part of their solution. With Unival, they're able to have their own control interface and the operator or programmer works completely in the language of the control system."
"People can be up and running quickly because they would already be familiar with the language of the control supplier," Whitton adds. "They don't require any special knowledge of VAL3 (Stäubli's proprietary robot language) to create the robot program,"
Advanced Gripping
Robot manufacturers and integrators of packaging and palletizing systems can't underscore enough the importance of end-of-arm tooling. EOAT is getting more sophisticated. Users are demanding lighter, faster end effectors, and the ability to handle quick changeovers and multiple functions with one end-of-arm tool.
"End-of-arm tooling is being made out of carbon fiber for its light weight and there's a fair amount of 3D printed tooling now," says Squires at robot integrator Schneider Packaging. "We use off-the-shelf tool changers, but we also have our own quick change system. We have a lot of multi-use tools that pick and place product, add and remove slip sheets, and add and remove pallets. We do all of our own end-of-arm tooling. We feel it's a critical part of any customer project."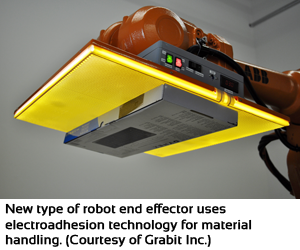 "I think end-of-arm tooling, in general, has not been given the proper development in the industry," says Charlie Duncheon, CEO and Cofounder of Grabit Inc. in Santa Clara, California. "We've designed these beautiful, flexible robots that have become very robust. But there's been very little done with grippers over the years. I think it's time for companies to really look at making grippers as flexible as the human hand. That's what we're trying to do."
Duncheon is referring to his company's flexible solution for material handling based on electroadhesion technology. Winner of a 2014 Game Changer Award, Grabit's panel grippers are hailed as disruptive technology destined to transform the packaging, palletizing and conveyor markets.
High-Mix Handling
A close relative to the wall-climbing robot of SRI International fame, Grabit's panel grippers use that same "sticky" technology to grip myriad surfaces, everything from glass, plastics and sheet metal, to cardboard and fabric.
Rub a balloon on your hair and then see how it sticks to the wall. That's electrostatic force. Grabit's technology has found a way to harness that energy in a very controlled manner.
This video shows the Grabit panel gripper mounted on an articulated robot picking and placing boxes of computer keyboards. Notice how the boxes seem to defy gravity as they travel up the conveyor, which is also wrapped in the electroadhesion technology.
"Electroadhesion force is a function of the material we're gripping and the surface area that we're contacting," explains Duncheon. "Boxes, cartons and cases lend themselves very nicely to electroadhesion. Also, we handle a very broad range of panel form-factor products such as glass sheets, display panels, handheld devices, cell phones and tablets, composite sheets, and apparel fabric.
"For large boxes and cases, we can take that panel gripper and configure it in two parallel positions or an L-position. There's a lot of different ways we can configure these panel grippers to handle boxes."
Established in 2011, Grabit is a spin-off of non-profit, independent research center SRI International. Duncheon, a 2000 Engelberger Robotics Award winner, established the start-up with his co-founder, Grabit's Chief Technology Officer Harsha Prahlad. A PhD in aerospace engineering, Prahlad was the principal inventor of electroadhesion technology patented within SRI's Robotics Program.

Duncheon says Grabit is currently shipping production products of its panel grippers. Applications include handling fabric, printed circuit boards, and solar cells. Still in the early prototype stages is an even more captivating version of electroadhesion technology. Grabit calls it the Each Pick gripper.
This video shows the Each Pick prototype gripper handling boxes, bags and soda cans, all with ease.
Compliant Grippers
Industrial use of electrostatic technology is nothing new. It's been deployed in fabs since the 1980s for electrostatic chucks used to transport semiconductor wafers between processing stations.
Duncheon says it's 'compliant' electroadhesion technology that is brand-new and heavily patented. "That's the good news, the technology is already proven. But what's new about our technology is we've printed positive and negative electrodes on this flexible polymer surface that can bend around irregular surfaces, like a shrink-wrapped tray of soft drinks."
"We stick to everything," he says. "We deposit charge on the surface that we're adhering to and then opposite charges attract. The more conductive the surfaces, the more charges we deposit and therefore the stronger the force."
Although electroadhesion technology operates at high voltages, it uses extremely low currents, typically micro-amps. Duncheon says it's extremely safe.
"In fact, our controller by design does not allow the current to go above any amperage rate where you would feel it."
He notes that the seemingly slow engagement speed shown in the previous video is for demo purposes only. Likewise, the apparent wires, or "tendons" as he refers to them, were simply a crude means of shaping the fingers around the product. They have a more robust solution on subsequent designs.
"We have a very powerful controller that we've developed with our gripper that allows the user to use many different profiles that affect fast pickup and fast release times," says Duncheon. "We've demonstrated in many applications the ability to pick up at 50 milliseconds and release at 50 milliseconds."
Less Energy Consumption
Current and prospective adopters of electroadhesion technology are extremely excited about its reduced energy consumption, according to the company.
"We operate at three orders of magnitude less energy than a vacuum gripper," says Duncheon. "We're also silent, lighter, and there are no vacuum hoses and pumps. When you look at handling cell phones or display panels, vacuum cups tend to leave smudge marks. We've run tests with our customers and you can't see any evidence of handling whatsoever with a Grabit gripper."
He also says Grabit panel grippers are comparable to vacuum grippers in cost.
Looking past the robot horizon, Duncheon sees tremendous potential for Grabit's electroadhesion technology in the conveyor market. "We think there are a lot of applications for smart conveyors that have charged zones and can hold parts in place and then release parts appropriately along the conveyor. We have a conveyor customer who is funding development."
Super-Payload Palletizing
Whereas potentially disruptive technologies are looming larger in the robots' future, we're still grappling with the exhaustive variety of products and containers that must be packaged. Robots are still relatively new within this segment. Palletizing robots, however, are tried-and-true partners in material handling.
"Palletizing was one of the early robotic applications because the justification is quite easy," says Stäubli's Whitton. "They tend to be reasonably heavy loads, difficult to manage, and they go to significant heights. The return on investment is reasonably rapid, so it's fairly widespread."
Most traditional robot manufacturers offer palletizing robots. We're used to seeing these agile manipulators stacking boxes and crates of product. The job becomes more challenging when the products are bulky or heavy and when the workspaces span wide distances. That's when gantry robots and robot tracks come into play.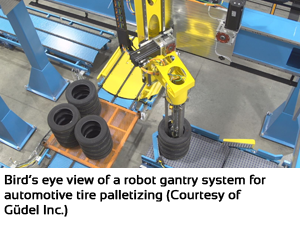 "Payload and work envelope are the two big advantages," says Joe Campbell, Vice President and Business Unit Manager-Products for Güdel Inc. in Ann Arbor, Michigan. Our bigger gantries can handle payloads up to 5,000 pounds. We do a lot of handling of locomotive wheels and axels. When a commercial robot stalls out on payload, a large gantry can step in."
"The second driver is raw size, the physical footprint," he continues. "We see this in applications in distribution centers where there's just a very large footprint to cover. You certainly can't do it with one robot and it's not practical to do it with multiple robots on tracks."
Mega Workspaces
Early this year, we explored the increasing use of robots in expansive distribution centers and other applications in this article on Material Handling Robots in the Mix.
Güdel designs and manufactures 1- and 2-axis systems considered machine tool loaders/unloaders. Other single-axis systems are used as shuttles or tool indexers, or are embedded in machine tools. The Güdel FP gantry robots have 3, 4, 5 or 6 axes depending on the configuration.
"Think of our product as one giant erector set," says Campbell. "We build 1- through x-number of axis mechanisms. In many cases, our gantry robots are configured with multiple carriages that are independently controlled and operated (usually with one controller)."
Campbell says their systems are controls agnostic. "Our customers use a range of controllers to control our devices, from an ABB robot controller or PLCs, to dedicated motion controls or CNC controls from companies like Siemens and FANUC."
"If you look at a gantry robot, the basic construct is that you have two parallel rails and then across the rail you have a bridge. Then attached to the bridge you have a Z-axis carriage," explains Campbell. "The two long rails are the X, the bridge is the Y, and then you have the Z. The nice thing about gantries is that we can put multiple bridges on a given pair of rails. Each bridge can operate independently across the entire work area."
"There are a couple big advantages and you see that particularly in palletizing," says Campbell. "One is if you have a surge in zone 1, you can actually bring two gantry bridges in to work on that zone. The second is if you have a maintenance issue on any single gantry. You can take it to one of the ends to a service area, and the remaining bridges can handle the entire footprint."
"You may get less throughput, but you're still running. In a traditional robot cell, if the robot goes out, you're done."
This video shows various modules with gantry robots and robot tracks used in a variety of applications, including automotive tire palletizing, where you can see the rails, bridge and Z-axis carriage that Campbell describes.
"We do a lot in the tire industry," says Campbell. "The tires are molded in the molding room and then sorted by model number and size. The sort room is half a football field in size and it's populated with stacks of tires, up to six tires tall. We service it with gantry robots. We pick up the individual tire and put it on the proper stack. When it's time to ship, we pick up the entire stack."
Larger Work Envelopes
In August, Güdel introduced its third-generation Trackmotion modules, which are single-axis devices for extending a robot work envelope. Sometimes referred to as the 7th axis, the tracks are offered in floor (TMF) and overhead (TMO) models. Other manufacturers call them RTUs, or robot transport units.
"In the palletizing world for high-mix, low-volume applications, you might find a palletizing robot on a track moving 40 to 60 feet up and down a line building multiple pallets," says Campbell. "For packaging, we're starting to see a lot of low-volume, high-mix automation and that's where it's an advantage to be able to move a robot to individual stations."
"A single robot on a track is significantly lower in cost than two robots, two grippers, two controllers, two safety systems, and two of everything," he adds.
Campbell says a common misconception is that robot tracks are big and clumsy. But that's hardly the case. Güdel's latest generation of tracks are built with a uniframe which is more rigid, lighter, and commands a smaller footprint, among other design advances.
"In fact, we had an interesting concept proposed for flexible packaging lines using one of our overheads to move picker robots between pack stations," he says. "In a lot of these plants, not all lines run every day, so they have a large chunk of capital equipment that's sitting idle. We're finding that we can fit overhead tracks and floor tracks into applications that just wouldn't be supported in the past."
Higher Payback, Smaller Footprint
With gantries and tracks, the robots go to the product. But in most applications, the product comes to the robot. Such is the case with one integrator's self-contained palletizing cells.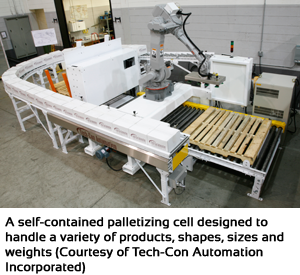 "When it comes to palletizing, our customers are interested in cycle time. This is a huge factor," says Nino LaDuca, VP & General Mgr at Tech-Con Automation Incorporated in Burlington, Ontario, Canada. The RIA Certified Robot Integrator serves the automotive, pharmaceutical, and food and beverage industries.
According to LaDuca, Tech-Con began developing palletizing lines in 2008-09 when traditional automotive applications began to slow with the recession. They build pallet-based assembly lines for automotive seat manufacturers and also appliance manufacturers producing washers, dryers and dishwashers. Tech-Con has also developed both standard and custom palletizing solutions for the food and beverage industry.
He says the payback analysis in the food and beverage industry is not the same as in automotive.
"In automotive the wages and overhead costs can be higher compared to those in food and beverage, therefore the payback analysis takes longer in a palletizing application. For palletizing, food and beverage customers are really looking for a certain cycle time and budget, and also a smaller footprint."
Self-contained palletizing cells address those budgetary and footprint challenges.
"We build palletizing cells where you can move them within the warehouse," say LaDuca. "You can almost pick it up with a forklift and move it. It's very easily deployable."
According to Tech-Con, self-contained palletizing cells reduce the need to custom design every cell, which reduces the delivery time. They also reduce cost with modular, scalable solutions that fit most palletizing needs.
Many RIA Members are exhibiting their latest technology at PACK EXPO International in Chicago on November 2-5, 2014. Head to the RIA News page for a preview.
RIA Members featured in this article:
Grabit Inc.
Güdel Inc.
Schneider Packaging Equipment Company, Inc.
Stäubli Corporation
Tech-Con Automation Incorporated