One and Only Automation Showcase for Robotics, Vision and Motion Control
POSTED 02/26/2015
 | By: Tanya M. Anandan, Contributing Editor
Automation is becoming a contact sport. No longer are the machines over there and the humans here. Automation is on the move, becoming plug-and-play ready when and where you need it. It's more approachable for human operators and more cost-effective for buyers. It's handling our products with intelligent robotics, robust compliance, and advanced sensory perception. The technology is moving at warp speed and the reasons to automate are multiplying. How do we keep up? Head to Chicago, where one show puts it all into perspective.

No other event in North America brings you the full spectrum of automation like the Automate conference and exhibition. More than 270 exhibitors and 30,000 attendees representing 35 nations will converge on the McCormick Place Convention Center on March 23-26, 2015. The biennial show is now 70 percent larger, occupying 79,000 square feet of exhibit space.

One Badge, Two Shows, Top Ten
Automate was named one of the Top 10 Manufacturing Shows in the U.S. It's collocated with ProMat®, also on the top-ten list. Automate is organized by the Association for Advancing Automation (A3), which is the umbrella group for the Robotic Industries Association (RIA), AIA - Advancing Vision + Imaging, and the Motion Control Association (MCA).

Modular cells, fenceless robot safety, integrated vision, coordinated motion, bin picking, and 3D-printed grippers – the latest trends are at Automate 2015. Engage with industry experts and thought leaders representing all facets of automation. Gain valuable insight and get all the ideas, inspiration, tools and education you need to make informed decisions.

From traditional robotic applications in material handling, material removal, machine tending, packaging, palletizing and welding, to emerging technologies in collaborative robots, soft robotics, and even robotic exoskeletons – it's all here in one place.

Integrated Solutions Front and Center
As you enter the exhibit hall, the Integrated Solutions Center showcases more than 50 automation, vision, and robot system integrators. Live robotic demonstrations, interactive displays, and real-world application solutions immerse you in the action. Automate is a full-sensory experience.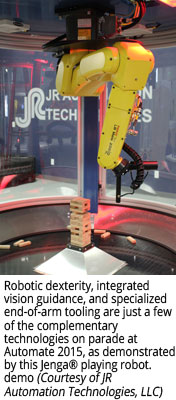 "The Integrated Solutions Center at Automate showcases the top integrators in North America, each with a unique solution displayed in motion," says Scot Lindemann, Vice President at JR Automation Technologies. "It's a great way for attendees to see firsthand how far automation can take them."

"JR Automation was a part of the initial focus group of robot integrators and users centered on the idea of creating systems integrators of a higher caliber," says Lindemann. "We worked with our fellow industry leaders to develop goals and standards for raising the bar on robotic integration."

The result was the RIA Certified Robot Integrator Program established in 2012. JR Automation will join a dozen of its fellow certified integrators exhibiting at Automate 2015.

JR Automation Technologies, LLC (Booth 620) of Holland, Michigan, will unveil three new cells specifically built for the show. Until then, they are keeping the details under wraps. But the integrator did give a sneak peek and says the demos incorporate FANUC iRVision along with flexible feeding to perform puzzling human tasks.

"Integrating software into the cells and utilizing that software to create world-class robotic technologies and applications is something special we can't wait for Automate attendees to see," says Lindemann.

And what does he want to see at Automate? Lindemann says he's looking forward to the keynote presentations.

"Seeing some of the world's leading technology experts choose Automate as a forum for an industry discussion is pretty exciting. I'll be sure to check out Steve Wozniak's talk."

Woz Wednesday, Kamen Monday
Steve Wozniak will present "What's Next – The Future of Technology" on Wednesday, March 25. The Apple cofounder joins the list of esteemed presenters, including Whole Foods CEO John Mackey and Google's Renée Niemi appearing earlier in the week. Learn more about the upcoming keynote presentations here.

Another highlight is the 2015 Engelberger Awards Dinner on Monday, March 23. Dean Kamen and Raffaello D'Andrea are this year's recipients. Kamen, inventor of the Segway® and FIRST® founder, will give the keynote presentation at the awards ceremony. Hosted at the Chicago Museum of Science and Industry, attendees will enjoy a "hard hat" tour of the museum's new robotics exhibit, Robot Revolution, slated to open to the public in May 2015. Learn more and register for the awards dinner here.

Back on the show floor, the Integrated Solutions Center plays host to a variety of live demos and hands-on displays.

Random Bin Picking
Midwest Engineered Systems Inc. (Booth 526) is headquartered in Waukesha, Wisconsin, and provides custom machine design and automation solutions. The RIA Certified Robot Integrator will showcase three cell demos featuring force/torque integration, robotic bin picking, and coordinated motion.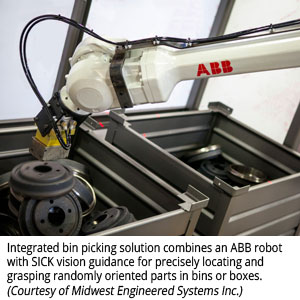 In one of the cells, MWES will demonstrate random bin picking with an ABB IRB 4600 robot using a SICK PLB 3D vision system to track, replicate and map the bin environment. The end effector is an actuated rare earth magnetic gripper designed specifically for the part weight to avoid picking up more than one part.

According to MWES, the random bin picking system has many advantages, including the ability to identify parts regardless of color or texture, and to safely move sharp or heavy parts that are difficult or dangerous to handle manually. Proprietary applications include automotive, agricultural, aerospace, earth moving, and heavy equipment manufacturing.

Another cell will demonstrate force/torque integration using a KUKA robotic system equipped with force sensors, tight tolerance capabilities, and fluid speed and distance data processing. The third cell will feature a FANUC LR Mate robot demonstrating coordinated motion with tight tolerances, high repeatability and robot precision.

Modular, Portable Cells
Acieta, LLC (Booth 614), formerly Ellison Technologies Automation, is based in Council Bluffs, Iowa. The RIA Certified Robot Integrator will be front and center as you enter the exhibit hall.

"Being part of the Integrated Solutions Center brings immediate credibility," says Blake Consdorf, Vice President of Sales for Acieta. "People already know that since we are in this section we are an established integrator. It also has the advantage of being first in line as visitors come into the show. We have the opportunity to point these visitors to other suppliers to increase their understanding and knowledge of automation. It enhances the overall experience of attending the show."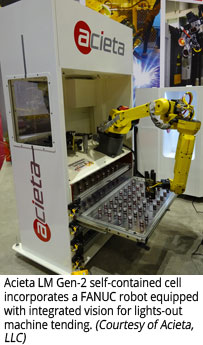 Acieta will demo its LM (Lean Machine) Gen-2 cell for machine tending and material handling. This latest-generation LM is completely self-contained, portable, and uses an advanced safety system that eliminates the need for traditional hard guarding.

"We have integrated a Keyence safety scanner in combination with FANUC Dual Check Safety software. This creates an open, unobtrusive cell with two zones," explains Consdorf. "The first is a warning zone that will slow the robot speed to 10 percent. If the operator crosses through this area to the next zone, the safety scanner will detect the intrusion and stop the robot completely."

The entire LM Gen-2 cell is mounted on heavy-duty casters so it can be easily moved around the factory floor as needed. A similar cell was demoed at IMTS 2014. Check out this video.

Consdorf says the demo cell at Automate will be loading a generic machine tool and handing off parts to an interactive assembly cell, which booth visitors can challenge to a race.

"The race is to find colored BBs and insert them into a demo part in sequence," says Consdorf. "The BBs are very small and hard to handle. The robot uses FANUC's integrated iRVision to find the correct color and location of the BBs, and a vacuum gripper to achieve a very quick pick-and-place routine."

We humans have two grippers and our own built-in vision system, but how dexterous are we? Come March, get up close and personal with Acieta's LM Gen-2 cell to see how you stack up against the robot.

Expert Huddles
In the meantime, Consdorf says he's looking forward to participating in the Expert Huddles. Free to all attendees and exhibitors, the huddles are open discussion groups led by industry experts right on the show floor, and cover a variety of important automation topics.

For even more valuable insight into the dynamic automation industry, attend the Automate Conference running simultaneously with the show. Explore the agenda and register here.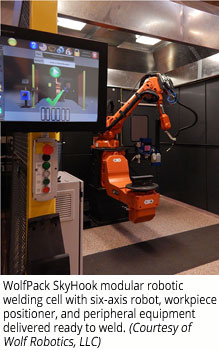 Ready-to-Weld Cells
Wolf Robotics, LLC (Booth 514) hails from Fort Collins, Colorado. The RIA Certified Robot Integrator provides robotic integration solutions for automated welding and cutting systems, material removal, machine tending, and material handling applications.

Wolf's booth will showcase a live demonstration of a WolfPack™ 750 SkyHook robotic welding cell. WolfPack cells are modular robotic welding systems featuring a full line of robotic positioners and peripheral equipment in a cost-effective, ready-to-weld solution.

Another live demo will feature a tool changing system with an ABB IRB 4600 robot using different ATI and PushCorp grinding and finishing tools.

One of the unique aspects of the Automate show is you can see all types of automation in one place. Robots aren't the only stars.

Packaging and Palletizing
Schneider Packaging Equipment Company, Inc. (Booth 626) of Brewerton, New York, is the only RIA Certified Robot Integrator that specializes exclusively in end-of-line packaging solutions. On show will be Schneider's Fully Automatic, Random Water-Activated Tape Case Sealer, or Sentry for short. The machine accommodates a wide variety of box sizes, automatically sizing them up as they come through the in-feed and applying a special water-activated tape that, according to the supplier, creates a stronger bond than pressure tape.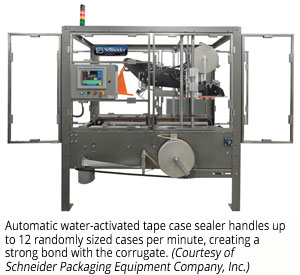 "You can imagine a wide array of applications, especially for fulfillment centers," says Pete Squires, Vice President at Schneider. "As the online shopping culture continues to grow, demand for this kind of random-size case sealing will become more prevalent."

Schneider's booth will also feature Robox, or Robot in a Box. This portable palletizing cell uses a 3D-printed end effector mounted on a FANUC M-20 robot to pick and place product inside a self-contained unit.

"What customers like about Robox is the ability to grab it with a fork truck and move it to a new line without a lot of programming required," says Squires. "It's completely plug-and-play and allows for a lot of flexibility. The 3D-printed tool allows us to be more adaptable to product changes, but it's also less expensive to manufacture than machining a new tool for each application. Often the tool ends up being lighter and easier to change out."

He says they are currently outsourcing the 3D printing. A 3D laser sintering process is used to harden nylon-based powered materials to create the end effector.

Squires demonstrates the advantages of Schneider's Case Sealer, Robox palletizer, and 3D-printed end effectors in this video from Pack Expo 2014.

End-of-arm tooling via 3D printing is one of the disruptive trends shaking up the robotics industry. Watch for more examples on the Automate show floor.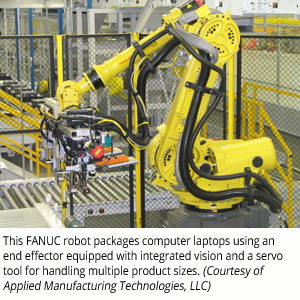 Robotic Flexibility
Applied Manufacturing Technologies, LLC (Booth 714) is an RIA Certified Robot Integrator based in Orion, Michigan, specializing in robotic automation engineering and integration for material handling, machine tending, coating, dispensing, assembly, packaging, palletizing and welding applications.

AMT's exhibit will feature a live demonstration of robotic flexibility and versatility using a FANUC R-2000 robot and multiple ATI tool changers. Video displays will showcase system simulations and the corresponding real-world system implementations.

Don't miss AMT's conference presentation, "Is Automation Right for Your Company?" Learn about key ROI issues and hear from leading users who have successfully implemented automation at their companies.

Show Specials on Welding
Lincoln Electric Automation Division (Booth 1014) has the largest exhibit space in the Integrated Solutions Center and it will be completely devoted to welding. Based in Cleveland, Ohio, the RIA Certified Robot Integrator and welding equipment supplier will demonstrate pre-engineered robotic welding cells, a robotic tank welding system, fume extraction and filtration systems, and a virtual reality welding training system.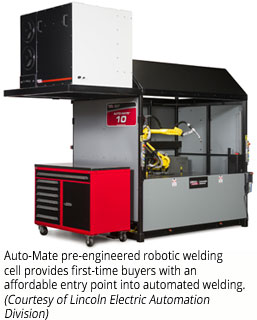 Lincoln Electric will offer show specials on its Auto-Mate® pre-engineered robotic welding cells. Designed for the first-time buyer, these cells create an easy entry point for automation newcomers and an affordable stepping stone to a more sophisticated system down the line.

The Auto-Mate 5 is a single-zone cell suitable for welding medium-sized to larger parts. Special show price $53,999.

The Auto-Mate 10 (pictured) is a two-zone cell, but with the same footprint as the Auto-Mate 5. Show special $64,999.

Lincoln Electric is also running a show special on its ContainAir™ fume extraction system at $18,799 for the two-bank configuration.

Also on tap will be the new RoboTank® welding system for producing tanks and vessels for the energy, automotive and heavy equipment industries, among others. Vision tracking software detects plate and weld-joint locations to accurately guide three FANUC robots to place and hold various parts for welding.

This video shows the RoboTank welding system in action.

Addressing the rising skills gap head-on, Lincoln Electric's VRTEX 360 Virtual Reality Arc Welding Training System provides basic to advanced welding training for testing, recruitment, and educational purposes. An interactive, hands-on demo will give booth visitors a chance to try virtual welding on the show floor.

This video demonstrates the VRTEX Mobile, a portable version of the virtual reality welding training system.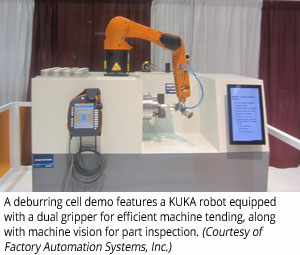 Machine Tending
Factory Automation Systems, Inc. (Booth 1019) is an RIA Certified Robot Integrator based in Atlanta, Georgia, specializing in machine tending, material handling, palletizing, material removal, and controls integration.

"Since we do a lot of machine tending projects, we'll have a KUKA robot loading and unloading a chuck on a simulated machine tool with secondary operations of deburring and part inspection," says Ron Potter, Director of Robotics Technology at Factory Automation Systems. "A dual gripper will turn the part over to work on the other side, while a vision system inspects the part."

"Next to that we'll have a large screen showing videos of similar applications with larger robots and many other applications."

Robotic Arc Welding
Genesis Systems Group, LLC (Booth 720) of Davenport, Iowa, is the largest builder of robotic arc welding systems in North America. The RIA Certified Robot Integrator specializes in factory automation integrating robots for welding, cutting, adhesive application, assembly, machine tending, composite non-destructive inspection, and waterjet cutting.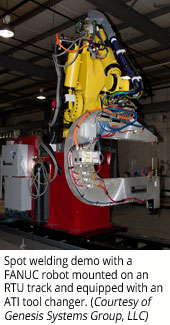 Genesis' booth will showcase a live demonstration of a FANUC R-2000 robot mounted on a Genesis RTU track and sporting a spot welding gun and ATI tool changer (pictured). The robot will travel along the 4-meter RTU track and simulate resistance spot welding.

Additional displays will include a FANUC iRVision demonstration, 3D-printed product models, and welding consumables.

Part Transfer and Surface Prep
Creative Automation Inc. (Booth 914) of Whitmore Lake, Michigan, will demo two robot cells, the first featuring the RIA Certified Robot Integrator's material handling expertise. It will include a FANUC M-10 robot transferring parts from one side of a plate-chain conveyor loop to the other.

Established in 1994, Creative Automation also specializes in machine tool tending and primarily serves the transportation industry.

"We're heavily involved in automotive," says Gerd Walter, VP of Operations for Creative Automation. "We do a lot with powertrain groups, but also heavy truck and off-road, like Volvo, Caterpillar or Cummins."

In another demo, the integrator will feature a FANUC LR Mate robot wielding a plasma torch.

"The plasma torch end-of-arm tool is usually used for cleaning in preparation for laying down a gasket bead," says Walter. "It iodizes the surface so gasket materials adhere better."

He says this setup is used in automotive powertrain and assembly applications.

Ontario Pavilion
Tech-Con Automation Incorporated (Booth 588) is an RIA Certified Robot Integrator based in Burlington, Ontario, Canada. Serving customers in North and South America, the company specializes in pallet-based assembly lines, material handling, robotic waterjet cells, and industrial automation equipment.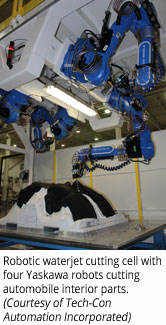 Tech-Con is participating in Automate 2015 as part of the Ontario Pavilion, along with several manufacturers and suppliers representing the Canadian province. On display will be photographs and videos of real-world applications, such as this waterjet cell (pictured).

This video shows a similar waterjet cutting cell in action.

Automate is the place to see the latest trends in robotic automation and one of the hottest topics is human-robot collaboration. The two most widely recognized ambassadors for collaborative robots were already on the Automate show floor long before all the buzz.

Two Arms, Two Eyes, Three Times the Speed
Rethink Robotics Inc. (Booth 592) debuted Baxter, its paradigm-shifting collaborative robot, at Automate 2013. This year, the Boston-based robot manufacturer will bring a faster, more precise and more capable Baxter back to the show floor in Chicago.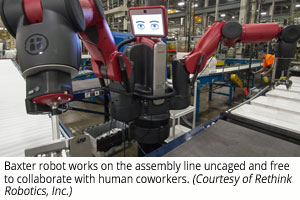 This huge leap forward is thanks to two years of scheduled updates to the robot's operating software, now called Intera. Company officials report that the Baxter robot has been sold and deployed extensively in manufacturing and production facilities throughout North America, and in research and educational environments around the world. It now features three times the speed, twice the precision, and a broader array of capabilities than the original version.

Baxter will be greeting booth visitors face-to-face, and as always, you will have an opportunity to train Baxter to do a task.

Check out this video of Baxter's latest gig at a contract packaging company, where the robot works in tandem with its human collaborators.

We highlighted Baxter's progress and a slew of new collaborative robots entering the market in this article, The Realm of Collaborative Robots – Empowering Us in Many Forms.

Newsworthy Cobots
Universal Robots USA Inc. (Booth 960), based in Stony Brook, New York, will kick off the first day of the show with a press conference on Monday, March 23, at 10 am. The Danish manufacturer of collaborative robot arms invites all Automate attendees to its booth for the big announcement.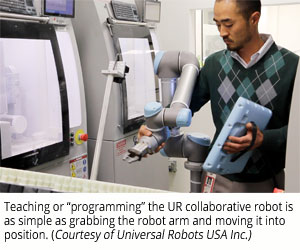 This video represents the latest case story by Universal Robots. It shows a UR5, one of seven on the job at this production dental lab, tending milling machines producing dental crowns.

As noted in the video, if not for a chance meeting at Automate two years ago, this success story may have never come to fruition.

Collaborative Robots Track
The Automate Conference will devote a special, five-session track of presentations to the topic of collaborative robots beginning on Tuesday, March 24. Learn about current applications and challenges, key safety issues, gripping technologies, and the future of human-robot collaboration. Check out the Conference Agenda for dates, times and presenters.

Launch Pad Startup Competition
It's not long ago that maturing startups Universal Robots and Rethink Robotics were in their infancy, struggling in a sea of skeptical investors, series funding runarounds and media hype. But they each powered on and found their niche markets. Now a new class of wide-eyed dreamers is searching for the horizon.

This is their shot, the Automate Launch Pad Startup Competition. Resembling a nail-biting session on the hit reality TV show "Shark Tank," startups will get a chance to pitch their technology to a panel of investors and automation experts. Grand prize is $10,000. The competition is co-produced with Silicon Valley Robotics and sponsored by Shell GameChanger. Tune in at Automate 2015 on March 23.

Robots, Vision, Advanced Software All-in-One
At the center of all the action are the RIA Platinum Suppliers. They will command wide swathes of show real estate devoted to the latest technology in robots, gantries, software and end-of-arm tools. Plus special guests will be on hand.

"Unlike other shows that are fairly select and dedicated to particular vertical markets, the Automate show is unique in that it provides a broad perspective of automation that's inclusive of robotics, motion, vision and integrated solutions, says Tim DeRosett, Director of Strategic Initiatives at Yaskawa Motoman."

Celebrating its 100-year anniversary, Yaskawa Motoman (Booth 559) of Miamisburg, Ohio, will showcase new automation solutions for assembly, packaging and welding. The robot manufacturer's motion and control technology will also be on display.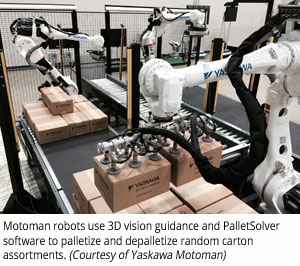 Yaskawa's exhibit will include an interactive, end-of-line palletizing demo featuring a Motoman® MPL80 robot simulating today's on-demand packaging environment. Using the recently released PalletSolver™ software, booth visitors will be able to create new pallet patterns and perform quick changeovers to build pallet loads.

In an adjoining depalletizing demo, two MH50 robots will be simultaneously guided by Universal Robotics' Neocortex® Unlimited Depalletization software. Neocortex learns 3D box stacking patterns in various orientations, enabling the robot to depalletize randomly placed boxes.

This video courtesy of Universal Robotics shows the real-time 3D vision guidance software in action.

In another interactive demo, booth visitors can test their prowess in an assembly task against an MH12 robot. Equipped with MotoFit™ integrated force sensing and MotoSight™ 2D vision, the robot makes high-precision assembly look easy. Are you up to the challenge?

Welding Faster, Easier
Yaskawa's booth will also showcase new welding robots. With its 2010-mm reach, increased payload, and large 50-mm through-hole size, the new MA2010 extended-reach arc welding robot supports the integration of welding sensors and push-pull torches, thus improving application flexibility and uptime. The new MS80W II compact, fast spot welding robot is designed to take advantage of lighter-weight MFDC spot guns with servo motor actuation.

Try your hand at Kinetiq Teaching™ in another interactive demo. This innovative technology simplifies and speeds robot programming by allowing operators to hand-guide the robot to desired welding positions. Now robotic MIG welding becomes practical for high-mix, low-volume job shops. We profiled one such case study in Robots Fill the Welding Gap.

Guest Star Exoskeleton
The ReWalk™ robotic exoskeleton will make a guest appearance in Yaskawa's booth. A ReWalker will demonstrate how the device provides powered hip and knee motion, enabling individuals with spinal cord injuries to stand upright and walk.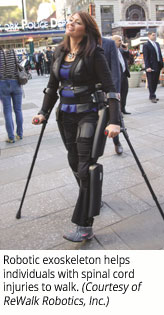 According to ReWalk Robotics, the device's manufacturer, the ReWalk Personal is the only powered exoskeleton with U.S. Food and Drug Administration clearance. A rehabilitation version is also FDA approved.

In September 2013, Yaskawa announced its investment in Argo Medical Technologies, now ReWalk Robotics. DeRosett says there are parallels between exoskeletons and where production robots could be going in the near future.

"I think technology is moving in that direction, providing exoskeletons that can assist people in manufacturing or production environments to lift and move payloads that are not ergonomically practical today," he says. "That could also translate into warehousing, supply chain and distribution environments."

In fact, a recent report is projecting more than 70 percent growth for exoskeletons in the medical, military and industrial markets through 2019.

"Our core is all about motion and control," says DeRosett, referring to Yaskawa's expertise in servo motors and controllers. "That's really much of the technology that's needed in these types of devices."

"There's been a lot of discussion around collaborative robots, and humans and robots working together," adds DeRosett. "You can't get anymore collaborative than an exoskeleton."

Robotic exoskeletons, especially those expected to populate factory floors and warehouses, blur the distinctions between industrial, collaborative and service robots, a rapidly emerging phenomenon we explored in RIA's latest forecast article, Robotics 2015 and Beyond: Collaboration, Connectivity, Convergence.

Robotics Education
Another emerging trend addresses the growing skills gap. Robots will be an important cog in helping industry deal with this mounting problem. Both Yaskawa and KUKA will introduce portable robotic education platforms at Automate 2015.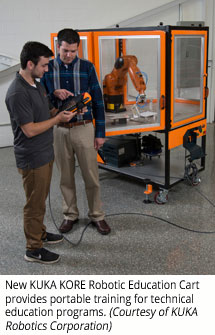 KUKA Robotics Corporation (Booth 870), based in Shelby Township, Michigan, will also showcase robots for human-robot collaboration and sensitive assembly applications, as well as a cooperative motion demonstration.

The new KORE Robotic Education Cart incorporates a KR AGILUS robot in a portable unit on casters. Collapsible walls allow it to fit through standard classroom door frames. Designed to add robotic learning to career technical education programs, the cart comes with built-in safety features, mounting hardware, and KORE course curriculum materials.

Human-Robot Collaboration
Also on tap, the KUKA LBR iiwa will make its North American debut at Automate 2015. The compact, lightweight robot has integrated torque sensors in all seven of its axes. They respond to the slightest external forces, enabling safe collision protection for human-robot interaction and unintended contact with other machinery. According to KUKA, this eliminates the need for safety fencing in many cases.

This video of a touchscreen assembly demo shows off the remarkable sensitivity of the KUKA LBR iiwa.

Also on display in KUKA's booth for the first time will be the complete family of KR AGILUS small six-axis robots. All three models will be shown side by side, each renowned for its high speed, short cycle times, and integrated energy supply system.

In another demo, a KR210 robot will simulate fixtureless arc welding on a motorcycle frame with two KR5 robots using RoboTeam cooperative motion software.

Fenceless Safety
FANUC America Corporation (Booth 660), headquartered in Rochester Hills, Michigan, will showcase a family of compact, slim-arm robots, advanced robot controllers, and its new fenceless safety solution.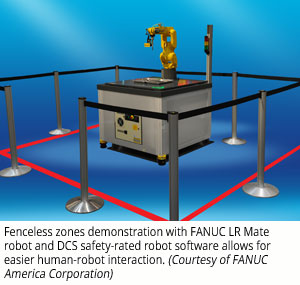 Booth visitors can safely approach and interact with a FANUC LR Mate 200iD robot in the Dual Check Safety (DCS) fenceless zones demonstration. The robot operates without traditional safety fences. Instead, it uses DCS and a series of area scanners to safely monitor robot motion area and speed, and any intrusions into the safety zones around the robot.

"The area sensors surrounding the platform create a virtual wall around the robot," says Greg Buell, Product Manager at FANUC. "This allows for easy part changeover and interaction between the operator and robot without the need for safety fences."

This video courtesy of FANUC shows the fenceless zones demonstration in action and explains how the safety features work.

Prior to the application of safety-rated robot software, according to FANUC, all robot safeguarding needed to be external. DCS software allows the safety design of the system to use the robot itself for some of the safety functions. Restricting the robot motion in Cartesian space means the robot can be restrained to the exact working area.

"By moving some of the safety functions to within the robot, customers will realize significant savings in floor space, flexibility in system layout, reduced hardware costs, and improved reliability," says Claude Dinsmoor, General Manager, Material Handling Segment.

We explored these new robot safety scenarios in The Shrinking Footprint of Robot Safety.

Slim Arms for Small Spaces
FANUC will also showcase its LR Mate 200iD robot family. With a slim arm about the size of a human arm, it's a versatile solution for a wide range of manufacturing operations that require access into small spaces.

A bottom cable exit option minimizes interference with peripheral devices, and the work envelope design accommodates both upright and invert mount installations. The LR Mate 200iD robots are also available in ISO Class 4 cleanroom and food-grade variants for food handling and healthcare packaging applications.

The FANUC R-30iB Mate Controller uses high-performance hardware and the latest advances in network communications, integrated iRVision, and motion control functions. On display at Automate, the controller features FANUC's exclusive, easy-to-use iPendant with 4D graphics.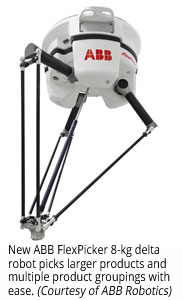 Flexible Pick-and-Place
ABB Robotics (Booth 571) of Auburn Hills, Michigan, will showcase "A New Era of Robotics" built upon the three pillars of collaboration, simplification and integrated solutions. The exhibit will feature robots, sensors and software designed for seamless integration and ease of use.

One of the demos is the new Standard Double-Picker Cell featuring the 1-kg and 8-kg IRB 360 FlexPicker models. The 8-kg FlexPicker robot provides a robust solution for handling both heavier individual products and larger product groupings in multi-pick applications, with the ability to handle up to 500 products per minute.

The expanded FlexPicker portfolio now includes three payload variants at the standard 1130-mm reach and two variants with the extended 1600-mm reach. ABB says this provides end users with the broadest portfolio of high-speed picking robots available in the industry.

FlexPicker robots are also available in IP69K stainless models and variants with IP67 protection suitable for most hygienic applications.

Another demo will feature two IRB 1200 robots with the new Integrated Vision inspection system that integrates seamlessly into RobotStudio, ABB's signature simulation and offline programming software. The IRB 1200 is designed with no offset in axis two, thus delivering a longer stroke while maintaining a compact footprint for material handling and packaging applications. According to ABB, the longer stroke combined with other signature features enables up to 15 percent smaller work cells and 10 percent shorter cycle times.

Also on display are ABB's IRB 6700 robots. In addition to enhanced speed, payload and accuracy, the power consumption has been lowered by 15 percent and total cost of ownership reduced by up to 20 percent. The new model is available with LeanID, a new integrated dressing (ID) designed for easier programming and a smaller footprint.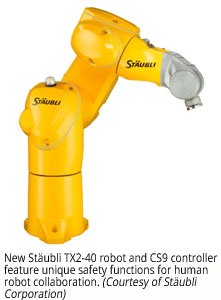 Food, Life Sciences and Automotive
Stäubli Corporation (Booth 672), based in Duncan, South Carolina, will feature robot demos for the packaging, food, life sciences and automotive industries. The robot manufacturer will preview the new TX2-40 CS9 featuring its new safety features for human-robot collaboration. The demonstration will showcase Stäubli's safe stop, safe tool, safe zone, and safe speed features with its TX six-axis robot, and the new CS9 controller and teach pendant.

In another demo, three TP80 robots together with vision-guided conveyor tracking will simulate high-speed packaging of poker chips. Another cell will demonstrate the RX160 HE arm conducting a quality control cycle on wheels of cheese. It will showcase the special HE (humid environment) feature by submerging its IP67-rated wrist in water, simulating a washdown scenario.

Solutions for the life sciences industry will include a lab automation demo with a TX90XL SCR (super clean room) robot equipped with a servo gripper handling and transferring microplates from hotel, to nest, to the washer station. In another demo, a TX60L Stericlean robot will handle medical vials, demonstrating the VHP sterilizing feature.

Automotive industry demos will feature Stäubli's TS series of SCARA robots performing various pick-and-place and assembly operations of car parts and electronic components.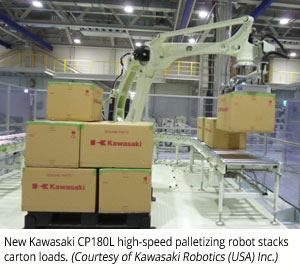 High-Speed Palletizing, Cleanroom and Assembly
Kawasaki Robotics (USA) Inc. (Booth 860) of Wixom, Michigan, will showcase cells for material handling, food packaging, palletizing, assembly and arc welding.
In a palletizing/depalletizing cell, a CP180L high-speed robot (pictured) with a 180-kg payload and 3255-mm reach leverages AS language programming flexibility for conveyor control and robot synchronization. According to Kawasaki, the high-speed palletizing arm boasts industry-leading cycle times of 2050 cycles per hour. The new compact, energy-saving E03 controller fits under conveyors and features a new, integrated power regeneration function to reduce emissions and energy consumption.

A pick-and-place material handling cell will feature two MCR04N robots working together with synchronized motion using cooperative motion software to carry and load/unload large trays of water enhancer bottles.

This video shows a similar application demo using MCR robots.

Kawasaki's MCR robots feature a streamlined design, high-performance seals, and a smooth metal-plated finish to facilitate the decontamination process. A hollow wrist with through-arm cable and tube technology minimizes potential interference with other processing and manufacturing equipment. Designed for cleanroom environments, the MCR robots meet ISO Class 5 cleanroom standards.

In another cell, Kawasaki's new food-grade RF10N robot demonstrates the complete food packing process, from filling cases to packing those cases into cartons at the end of the production line. End-of-arm tooling with individual vacuum control allows for picking multiple product sizes, while Piab vacuum generators with integrated quick-release ensure simpler plumbing.

An assembly cell will feature two RS06L robots using Kawasaki's cooperative motion software to collaboratively assemble a bike cassette. Two different 2D vision guidance systems, one from Cognex and the other from Dalsa, are used to locate the gears and hub assembly. This demonstrates the flexibility of the AS language and the openness of the Kawasaki controller in communicating with any Ethernet-based vision system. Ethernet is also used to communicate with the SCHUNK electric grippers.

Also on display will be Kawasaki's new BA06 arc welding robot. The hollow wrist structure makes the arm compatible with torch manufacturers, while the offset design of the upper arm easily accommodates wire feed equipment.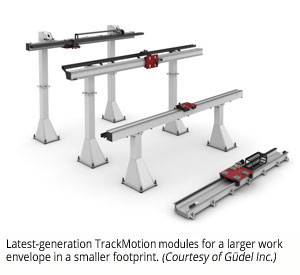 Gantries and Linear Motion
Güdel Inc. (Booth 532), based in Ann Arbor, Michigan, is the only RIA Platinum Supplier solely dedicated to linear motion technology. New, heavy-duty modules from the TrackMotion and ZP families will be centerpieces in the booth, with robots and controllers from Yaskawa, ABB and FANUC playing prominent roles.

In the first demo a vertical TrackMotion TMV moves a Motoman MA2010 robot up and down like a precision lift. Welding, painting and heavy-duty lifting are often done from this configuration.

At another station an overhead TrackMotion TMO gantry carries an ABB IRB 2600 robot. Painting, welding, handling, and any in-line process with a long footprint uses this configuration to save space and expand the robot work envelope both horizontally and vertically.

Also on display will be a ZP gantry with dual carriages for two-axis handling, plus rotary wrist axes, with control provided by FANUC's Power Motion i-MODEL A motion controller. According to Güdel, ZP is the preferred linear motion technology for tending CNC machines.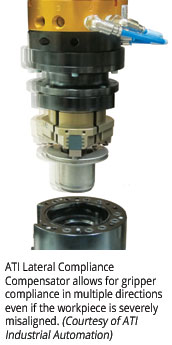 Tool Changers, Compensators and Sensors
ATI Industrial Automation (Booth 640), headquartered in Apex, North Carolina, will display several live demonstrations featuring robotic tool changers, robotic deburring tools, multi-axis force/torque sensors, and robotic collision sensors.
Latest advances include two new series of Compensators that allow compliance in multiple directions. These unique devices allow parts to be gripped or routed reliably even if the workpiece is severely misaligned. Both the Lateral and Pivoting Compliance devices are designed for high endurance and high repeatability, and have robust guidance, allowing for high moment loads in a compact work envelope.

ATI will also showcase new robotic tool changer models, including the QC-18 electrically Actuated Tool Changer, the QC-160 for most 200-kg robots, and the QC-001 Micro Tool Changer for high-speed delta robots. The tool changers are designed to function reliably for millions of cycles at rated load while maintaining extremely high repeatability.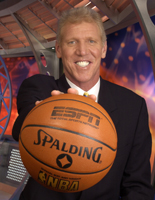 Also on display will be a series of Utility Couplers that can be manually coupled/uncoupled when quick connections are needed to utilities such as air, fluid, power and electrical signals in docking and fixturing applications. Any of ATI's Standard Series Tool Changer Utility Modules can attach to the modular, multi-coupling design and will improve cycle time and flexibility in any production cell.

Automate Madness Networking Party
ATI is co-sponsor of special guest appearances by basketball legend Bill Walton at both the Automate Madness Networking Party on Tuesday evening, March 24, and in ATI's booth that afternoon. Be sure to stop by booth 640 to meet the Hall of Famer!

Where else can you meet legendary icons of sports, science and technology, experience proven automation solutions and explore emerging robotics technologies, all in one place. There's only one show, Automate 2015. See you in Chicago!