Next-Gen Assembly Robots Turn Heads
POSTED 12/15/2016
 | By: Tanya M. Anandan, Contributing Editor
Forget what you think you know about assembly robots. How they look and move. Newcomers are about to change perceptions.
Take a six-axis assembly robot that defies convention and confined spaces, or a collaborative robot with two SCARAs for arms, or a Cartesian that can lay down a bead of sealant with hair-splitting precision. No two are the same. All are coming to a production floor near you.
Now take a mobile robot that moves from one assembly station to another and plugs itself in – all autonomously. That's the idea behind FANUC's new long-arm collaborative robot and its travel buddy, the TUG autonomous mobile robot by Aethon. Watch this duo in action.
Next up is a contortionist of sorts, at least in the industrial robot world. With assembled components getting smaller and factory floor space at a premium, the demand for robots able to work in tighter, more confined spaces is growing. On the show floor and the shop floor, a unique robot is turning heads.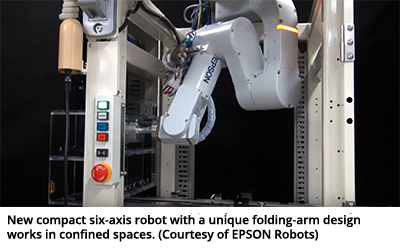 Behold the new EPSON Flexion N-Series six-axis robot (pictured). According to the manufacturer, this patented design features the world's first compact folding-arm technology, which reduces the required workspace area by up to 40 percent versus standard six-axis robots.
"One of the real driving factors here is every time you use a six-axis robot, especially when it's configured as a ceiling mount, the elbow gets in the way," explains Rick Brookshire, Senior Manager of Product Development and Engineering at EPSON Robots in Carson, California. "We were looking at customers' robot workcells that were 750 to 800 mm square and wondering why they had to be that big. The area they were working in was nowhere near that size, but they had to make the cell that big because otherwise the robot would bang into the sides of the workcell."
Efficiency of Motion for Space Savings
By designing the Flexion N-series to move "through" itself rather than "around" itself like most six-axis robots, EPSON was able to create a more compact workspace and shrink the size of the entire workcell.
"Imagine you're holding a basketball with your elbows sticking out on either side," explains Brookshire. "Every time you rotate at the waist, you're going to bang in to something with your elbows. Imagine if you could bring your elbows down and tuck them in. Now you're able to more efficiently utilize space."
Brookshire says the Flexion N-Series came about from EPSON working on applications with key electronics manufacturers around the world.
"We kept seeing that they were using a lot of real estate when they didn't need to," he says.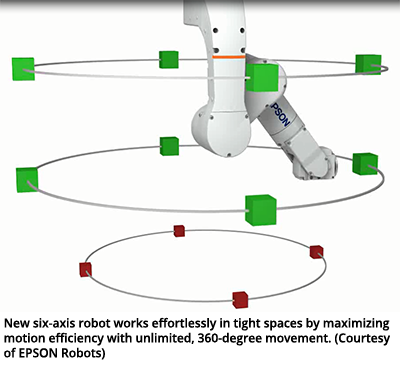 This video demo shows the space-efficient movement of the new EPSON Flexion N-Series robot.
"We were also able to gain some motion efficiencies for faster cycle times," says Brookshire. "This was originally called the hopper project, because if you look at the video, you'll see the relationship between the J2 and J3 arms. They kind of rotate over the top of each other, or fold over each other. By doing that we can go between two positions, basically 'hopping' the robot from one position to another, almost like duplicating a SCARA on its side in terms of motion." (In the video, this is referred to as an "arching" motion reminiscent of a SCARA.)
He says this also makes teaching (or programming) the robot easier. With conventional six-axis robots, because the elbow keeps getting in the way, you have to teach intermediate points.
"You have to put intermediate points in a lot of six-axis applications to avoid the elbow from smacking into the glass," says Brookshire. "That costs you cycle time. It really has to do with maximizing the efficiency of motion and the efficiency of space utilization."
Take this video of an application demo with the Flexion N-Series robot, which Brookshire says arose from customer need. Imagine each one of those shelves is a test box and you're putting electronic devices inside those test boxes. But it takes 30 seconds to a minute to test each one of those devices. You don't want the robot sitting there waiting.
"You want to keep loading up the test boxes, and you want these test boxes to be all around the robot as tightly as possible, so you don't use up a lot of workspace. Go back to that elbow problem. By eliminating that issue, we can bring those test boxes much closer to the robot and be able to reach them more efficiently.
"By putting a dual-headed tool on the robot, you can pick up the device that's in the test box, drop a new one in the test box, and then take the completed device over to the conveyor and move on to the next one," he continues. "You're able to do 20, 30 or 50 test boxes all at once."
The first model available in this series is the Flexion N2 with a 450 mm reach and 2.5 kg payload. It's designed for small parts assembly in the 3C industry (computer, communication and consumer electronics). The medical device assembly market and life science sector are also expressing interest.
Larger models are on the horizon to tackle machine tending operations and other applications that require a longer reach. Brookshire says EPSON's automotive customers are champing at the bit for a larger version of this unique six-axis design.
We'll be watching, too. In the meantime, how about a team of robots assembling consumer electronics? Check out Nachi six-axis and SCARA robots demoing an assembly process for tablets.
Now watch the new KUKA KR 3 AGILUS robot assemble sensitive circuit board components, going head-to-head with its human counterpart.
Precision Cartesian
Robotic assembly is not always a six-axis, or even a four-axis, endeavor. Known for their rigidity, precision and large-payload capacities, Cartesian robots are suited for many types of assembly applications.
Typically two- or three-axis systems, Cartesian robots generally have a smaller footprint than their SCARA and six-axis articulated cousins. As a supplier of all three robot types, TM Robotics has a broad perspective.
"Toshiba Machine is one of very few manufacturers that makes Cartesian, SCARA, and six-axis robots," says Nigel Smith, CEO of TM Robotics, which markets and distributes Toshiba Machine robots. "We not only offer all three types, but we manufacture our own. It's our product from start to finish."
Smith makes the case for Cartesians in this Machine Design article. Sometimes a system with fewer axes is better, and simpler. But don't let their simple, linear movements fool you. Despite a common misconception, Cartesian robots are made for the factory floor.
"Our Cartesians are industrial-grade machines," says Smith. "They are built to last for decades. We have machines that have been running for 20 years. They are designed for continuous operation, for three shifts a day, seven days a week."
Their Cartesians are used in the packaging, automotive, medical, pharmaceutical, and plastics industries.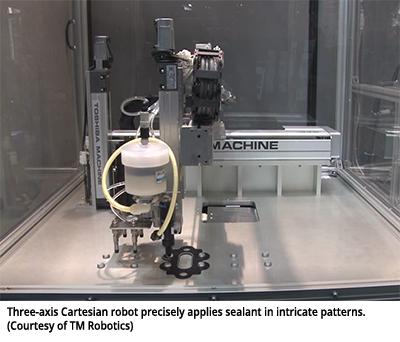 "A popular trend with the Cartesians, especially in automotive component supply lines, is machines that have 50, 60 or 70 axes of motion performing a wide variety of tasks from pick-and-place, to palletizing, to parts insertion, to moving a part from a bowl feeder to an assembly, or presenting parts to a camera and putting them back on the conveyor to go to the next station. Whether it's a button cluster for adjusting your seat, or the switches in a mechanism used to measure how hard you're pushing down on the gas pedal, all of those sensors are built in assembly machines that have multiple axes of Cartesian systems in various configurations."
Check out this video demo of a Cartesian robot in a dispensing application. Watch how it achieves full circular interpolation of movement on all three axes as it maintains a constant speed while the sealant is dispensed precisely and evenly around the intricately shaped part.
Plug and Play, Less Maintenance
TM Robotics recently announced the new BA-III Cartesian Robot Series (pictured). This is the third generation of Toshiba's popular linear actuators, now with a longer range, a more user-friendly design, and extended performance between maintenance intervals.
"We now have much larger and longer actuators, and higher payloads," says Ryan Guthrie, Senior Vice President of TM Robotics. "We can go from 50 mm up to 4,450 mm of stroke on a single axis, and every size in between. We can now do in excess of 250 kg payloads on a single axis."
Guthrie says the system is plug-and-play ready.
"We provide one part number. That part number includes all of the brackets and cabling, and everything you need. We even offer the capability to have it come fully assembled from the factory. So all you're doing is plugging it into the wall and into your computer. All of the calibration is done in the factory before it ships. Out of the box it has the repeatability promised in all of the specifications without any pre-calibration on your part. Everything comes preloaded and preconfigured."
He says seasoned users of Cartesians familiar with the calibration process of years back will appreciate the new plug-and-play design.
"You're potentially saving a whole day of work, where you would be digging through manuals, looking up numbers and multipliers for different gear ratios. All of that is automatically configured. You don't have to worry about plugging in all the parameters for each of the axes into a controller."
The BA-III Series actuators also come with their controllers. Guthrie notes that some manufacturers of Cartesian systems only provide the actuator. Then the customer has to buy and configure the controller together with the actuator.
"We've also changed our bearing types to a more sealed design. The advantage of that is when you start getting into dirtier, dustier environments. By having the sealed bearing, we prevent foreign debris from getting into the rail. That increases the amount of time required between preventative maintenance cycles."
With previous robot versions, he says you may have needed to grease the bearings every three months. With the BA-III Cartesian Series, they're achieving up to 12 months of operational cycle time before any preventative maintenance is required.
SMASHsolar was the first company to deploy the new BA-III Cartesian Robot on its production line. Guthrie says they were especially interested in the sealed design.
"Because they have a limited staff, they don't have to worry about allocating the resources to do maintenance on this system nearly as frequently as previous designs. Just set it up, plug and play, and forget it.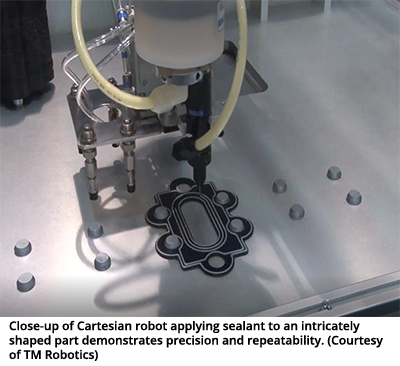 "It's a much cleaner design as well," adds Guthrie. "Now you don't have exposed rails covered in grease. In the medical, pharmaceutical, and plastics industries where cleanliness is important, our new BA-III design lends itself to those environments."
Unique to Cartesian systems is that you can easily scale up or down.
"Cartesian is based on a building-block style," explains Smith. "It's very easy to add a third or fourth actuator and just add an extra controller to the system. If the customer wants to upgrade or change his facility, he can do that very simply."
Smith says Cartesians are good entry-level systems. "If customers aren't familiar with automation, we can show them the benefits of automation with just a one- or two-axis system, or even a three-axis system. Then automation evolves within that factory."
"From a programming perspective, it keeps the program simpler, easier and quicker to modify for the user," says Guthrie. "For first-time robot users, a two-axis system is much easier to get their head around. Whereas with a four-axis SCARA or a six-axis robot, there is another level of complexity that may be a bit daunting for first-time users if they don't have any programming experience.
"But it's not just an entry-level product," he adds. "There are advanced users that will circle back and use a Cartesian because it is the best-suited robot for the application."
The best-suited robot for any particular assembly process can come in many forms.
Collaborative Dual-Arm SCARA
When you're working in a confined space where three or more axes of motion are required, that's when you start looking at different configurations like the six-axis "contortionist" at the top of our discussion, or this next newcomer.
Watch this dual-arm SCARA robot assemble printed circuit boards. The Kawasaki duAro robot (pictured) can either coordinate movements between its two SCARA arms or operate each one independently.
The duAro not only operates with the dexterity of a human, but the collaborative robot can also work alongside its human coworkers without the need for safety fencing. We explored collaborative assembly robots and the new robot safety standards paving the way for their mainstream use in Collaborative Robots and Safety Hand in Hand.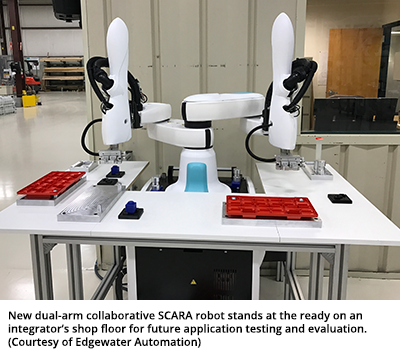 "We're one of the first systems integrators to receive the DuAro arm for testing and application feasibility for future projects," says Chad Henry, Director of Engineering at Edgewater Automation, an RIA Platinum Integrator and designer/builder of custom automation equipment in St. Joseph, Michigan. "It's a testament to us having one of these robots here in our facility. We're looking at applications to find new core niches, so we can offer different value to the market."
Assembly Systems Integration
Established in 2001, Edgewater has built a variety of robotic assembly machines from the ground up, or modified existing systems for improved performance. One such system was a dual-robot workcell for sorting and testing an automotive transmission component before a subsequent assembly process.
The workcell was an existing, third-generation machine that Edgewater's customer wanted upgraded to specific criteria and a particular budget. Steve McLaren, Sales Manager at Edgewater, explains the challenge.
"The customer required a higher cycle time, wanted to keep the existing footprint of the machine, and also wanted some flexibility for separating the two (Adept SCARA) robots that were currently operating in each other's work zones. They had an existing cycle rate of 85 parts per minute that were being picked, inspected, and then sorted. Our goal was to increase that by at least 20 percent."
McLaren says they were able to move the two SCARAs far enough apart to allow them to operate at maximum speed, but without increasing the machine footprint. Separating the robots into individual work zones increased access for easier maintenance. It also made programming easier because you don't have two robots working within a crash zone. This also meant that they weren't sharing resources or waiting for the other robot to get out of the way.
Faster Cycle Times
Just separating the robots allowed them to go faster, but it took Edgewater's combined engineering expertise to bust the cycle time challenge.
"We did a complete mechanical design, hardware and software design," says Henry. "We had to solve things differently to get to the cycle time we needed to meet the specifications."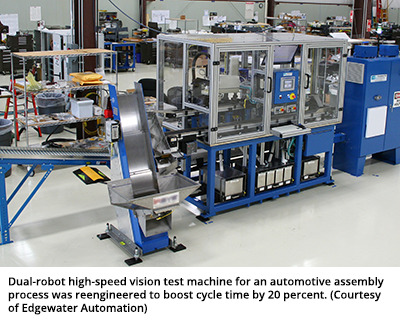 This video shows the high-speed robotic vision inspection machine in operation (pictured).
Each robot is equipped with a conveyor-tracking vision package. When the parts come down the conveyor, a camera upstream of each robot takes a picture to confirm the location of the parts. Once the parts are in the pick zone, the robot picks one and moves it over a vision inspection area, where four cameras look at all sides of the part for dimensional inspection. Then the robot moves to a drop-off position where an eddy current check is done to test the hardness of the part before it's deposited in a chute. Each robot has its own work zone to duplicate that operation.
"We needed to coordinate that vision check with the robot position and we needed to do this while minimizing the hardware communication delays," explains Henry. "That had to happen within a certain amount of milliseconds before we drop the part in the chute. There were some challenges we had to solve in software and hardware to reduce the delays for the computations that are taking place.
"Our final cycle time on this machine is less than one second," he continues. "That's from pick, to inspect, drop off, and back to pick. That's sub one second per robot to do that."
From there, the automotive component moves to the next station in the assembly process.
As integrators hone their expertise and robots gain more agility, robotic assembly is only expected to rise. For more stories from the shop floor, don't miss Small Assembly Robots with Big Gains.
RIA Members featured in this article:
Edgewater Automation
EPSON Robots
TM Robotics