New Trends in Robot and Controller Design
POSTED 03/06/2012
 | By: Bennett Brumson, Contributing Editor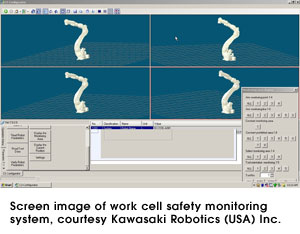 Without a controller, industrial robots would not be able to perform their application tasks. Controllers contain software giving robots the intelligence to perform complex tasks and provide a means for the robot to interact with the physical environment. Advances in controller design facilitate collaborative robotics, the ability of robots to work in direct interaction with people.
Proposed changes to ANSI/RIA R15.06 robot safety standards guidelines reflect the trend towards collaborative robotics and enable "robotification," applying robotics into new applications.

"I see a trend towards the robot controller being more of a controller of the whole manufacturing process. With increased processing power, integrators are able to add more items into the robot controller," says Erik Carrier, Product Engineering Manager with Kawasaki Robotics (USA) Inc. (Wixom, Michigan). "Traditionally, the robot was doing just one task or running one program. Now, controllers have the ability to run multiple programs simultaneously."
With advancements in controllers, their integration into a work cell becomes easier, says Claude Dinsmoor, General Manager of the Material Handling Segment with FANUC Robotics America Corp. (Rochester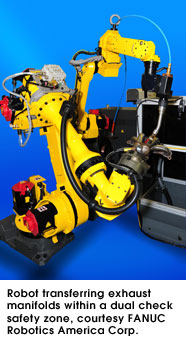 Hills, Michigan). "Integration makes robots easier to apply, more agile to deal with the increasing demands for robust automation and contributes to the ongoing decline in the cost of robotic systems when compared to traditional fixed automation systems."
Dinsmoor sees this trend continuing. "We see this trend accelerating with an increasing focus on ease of use of the robot software, increased capability of the robot to do functions normally done by external devices. We also see the dawn of learning robots, machines that learn from experience in executing an application to optimize their performance to become faster, more precise, and more flexible in production."
More Power, Smaller Package
Controllers have been downsized, a trend that players in the robotics industry expect to continue. "The size of controllers are getting smaller and I expect to see more of that trend in the next five years. Like other electronic devices, robot controllers will have fewer components inside due to consolidation," says Joseph Campbell, Vice President of ABB Inc.'s (Auburn Hills, Michigan) Robot Products Group. "End-users can now mount smaller controllers above a robot or embed it into the robot. Keeping the footprint small and flexible gives integrators options on where to locate the controller." Compact robot controllers are very common in the electronic industry, Campbell says.
Likewise, James Shimano, Product Manager with Precise Automation Inc. (San Jose, California) anticipates the persistent shrinking of robot controllers. "I see a continual drive to shrink controllers. In the past, controller cabinets were large, bulky and unwieldy that needed harnessing to the robot. System integrators needed to find a place for the controller and their harnesses while keeping them safe. Controller placement was a problem in an industrial factory, where large and dangerous objects are moving around."
Shimano notes smaller controllers are necessary for successful "robotification" of research laboratories and life science installations. "In the last three years, the trend towards smaller tabletop controllers and robots in pharmaceuticals, life sciences, laboratories, solar panel assembly and semiconductors has grown. Integrated controllers are smaller in both their computing section, containing the processor and memory, but also the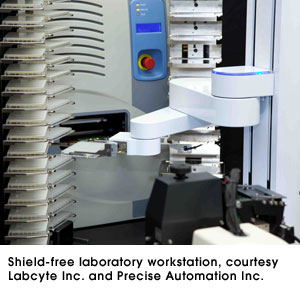 amplifiers." Incorporating the amplifier and the controls within the robot's structure into a very small package eliminates extra cabinets, making controllers more compact, a necessity for tabletop laboratory robotics, Shimano concludes.
Miniaturization facilitates robotic safety in non-industrial applications, Shimano says. "Integrated controllers can create safer robots for use in non-factory settings without safety shields. These controllers are easier to use by people who are not engineers, assembly technicians or scientists who want to use robotics in a collaborative fashion."
Shrinking controllers is also on the mind of Michael Bomya, President of Nachi Robotic Systems Inc. (Novi, Michigan). "The trend towards miniaturization of robot controllers will continue to the point where integrating the controller into the robot's arm will be simple and practical. Integrating the controller into the robot arm is a requirement to make a humanoid robot." Robot controllers will become sufficiently small for placement within the manipulator to advance mobile robots, Bomya says.
Collaborative Robotics
More powerful and miniaturized robot controllers facilitate "collaborative robotics," enabling people and robots to work in relatively close collaboration within a workspace. "I see new controller platforms allowing for collaborative applications. The robot is only one portion of collaborative work cells and other devices must facilitate it," says, Carrier. "Proposed revisions to the (R15.06) robot safety standard will help move technology in the direction of collaborative robots."
Robot manufacturers and integrators are working towards collaborative robotics and some robotic equipment is currently capable of meeting proposed revisions to the R15.06 safety standard, says Charles Ridley, PaR Systems Inc.'s (Shoreview, Minnesota) Material Handling Service Manager. "To meet the new robot safety standard, safety circuits must be dual channeled and dually monitored, with several processors redundantly monitoring each safety circuit. The robot program limits the work envelope, monitors location and speed of the robot by dual processors."
Ridley illustrates his point by citing a palletizing application. "The robot goes to a certain point within its work envelope to pick up slip-sheets. When slip-sheets need replenishing, safety inputs allow the operator to replenish them without stopping the robot. The robot continues to palletize but safety inputs restrict the robot from going where the operators is." Ridley adds that controller software recognizes when the palletizing work cell needs more slip-sheets as well as preventing the robot from moving into the area an operator is within the robot's work envelope.
Jeff Fryman, Director of Standards Development at the Robotic Industries Association (RIA, Ann Arbor, Michigan) has a similar take as Ridley on the role of collaborative robotics. "The robot is in automatic mode during collaborative operations and the robot stops for the collaborative operation. Collaboration operation allows work cells designed without fixtures and simply drives the robot to a starting point." The operator then commands the robot to execute a pre-programed operation.
Fryman recalls a demonstration of hand-guided collaborative operation at the Automate trade show in March 2011. "At Automate 2011, a simulation of a water-jet cutting work cell was demonstrated. A 150-kg capacity robot stopped and waited for the operator to maneuverer it within the work cell. The operator would then exit the collaborative work space and return the robot to its fully automatic mode, where the robot would cut out a predesigned pattern without the use of fixtures," Fryman said. "Grabbing a robot by a joystick on the wrist plate and driving it around is impressive."
Continuing, Fryman says, "Collaborative robots can assist the operator by doing the heavy lifting so the person can focus on the thought processes. Controller designs have built-in safety-rated features to assure the robot will do exactly what it is told to do and stop when it knows it did not."
While the robot controller and its software makes the work cell more predictable, human nature remains unpredictable. "The difficulty with collaborative operation is that human operators do not always perform in a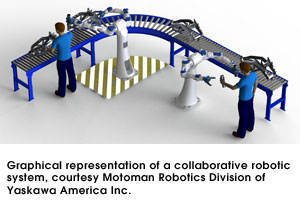 controlled or reliable fashion so safeguarding can be a challenge. The revised safety standard will require a risk assessment to address the potential hazards of a particular installation," says Chris Anderson, Welding Technology Leader with the Motoman Robotics Division of Yaskawa America Inc. (Miamisburg, Ohio).
Brandon Rohrer, Principal Member of the Technical Staff at Sandia National Laboratories (Albuquerque, New Mexico) agrees with Anderson's assessment. "I am watching the trend of enabling robots to behave well in unpredictable, unexpected, and poorly modeled environments. Traditional assembly line robots work really well as long as the lighting is just right and everything coming down the conveyor belt is oriented the same way. If circumstances deviate too much from design conditions, the system chokes really fast. New developments in controllers are pushing back those limits on how structured the environment must be."
The notion of ridding work cells of hard stops intrigues John D'Silva, Marketing Manager with Siemens Industry Inc. (Norcross, Georgia). "The revised R15.06 robot safety standard could possibly do away with hard stop requirements in new robots, with better control of restricted space. Collaborative robotics is a way of the future because both the robot and operator can work in harmony to increase production. Reliable safety is provided by the safety controller during operation, setup and commissioning phases of the work cell."
Both Fryman and D'Silva pointed out that proposed revisions to R15.06 relating to shield-free work cells will be applied to new robotic systems and retrofitting current systems will not be an option for end-users.
Robotification
Advancements in controllers will help lead robotics into new applications. "Controller technology continues to open new applications for robots, especially in non-traditional areas, such as where either people or custom machines are normally applied, such as surface finishing, on-the-fly weight measurement, and precision assembly," says Dinsmoor.
Similarly, John Boutsikaris, Senior Vice President of Adept Technology Inc. (Pleasanton, California), says, "Traditional applications will continue to expand with new gripper technology and continuous performance improvements. Fusion of sensory inputs including sonar, scanning lasers, three-dimensional vision systems and more, on the robot controller continue to expand the applications for robots into more flexible, dynamic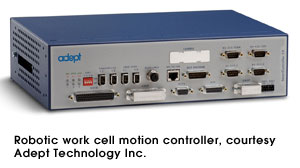 environments."
As controllers become more powerful, they will become more capable of managing other equipment and facets of the work cell, says Amy Peters, Business Planning Manager with Rockwell Automation Inc. (Milwaukee, Wisconsin). "End-users want tighter integration with the logic platforms, built-in kinematics, and the ability to control other aspects of a manufacturing plant."
Joe Campbell believes "More intelligent controllers and enhanced safety circuitry allow robots to work in closer proximity to people and opens many new applications. I see growing opportunities where multiple robots in a work cell function in a very coordinated fashion." Campbell also anticipates robots working outdoors. "I see manufacturing outside and robots aboard ships performing maintenance and repair of ship components as well as on oil rigs with controllers able to withstand the weather."
Motoman's Greg Garmann, Software and Controls Technology Leader says, "Robot controllers have all the tools required to jump into almost any new application. The only restraints are the imagination of programing engineers and the complexity of the task."