New Tools, Changing Markets Impact Product Tracking & Sorting Applications
POSTED 03/21/2012
 | By: Winn Hardin, Contributing Editor
Today, product liability, lean supply chains, and the need to reduce overhead costs for industries ranging from postal sorting to pharmaceutical to general manufacturing are all contributing to a growing number of automated tracking and sorting systems.

As a result, all constituencies within the vision and imaging supply marketplace are improving their hardware and software tools to keep pace with this growing customer segment.

Going Postal

More than 95% of letters and packages are automatically sorted before they reach the courier, or last leg of the delivery. Letters are automatically separated from packages; oversized letters are separated from standard letters; and barcoded letters are separated from non-barcoded letters. The rest go to manual sort stations.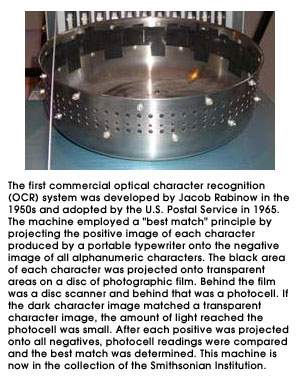 Because of the speed of postal sorting machines, along with the high data rates generated by machine vision dimensioning, 1D and 2D code readers, that are the backbone of an automated postal distribution center, mean frame grabber manufacturers have enjoyed a healthy relationship with the postal industry.
"One of things that BitFlow Inc. (Woburn, Massachusetts) did very well at the start was postal sorting and inspection," explains Donal Waide, Director of Sales. "We got in at the ground floor with key players, and it's very successful for us. Because of the high rates of inspection, a frame grabber was the only viable interface for these machines.
"Unfortunately," continues Waide, "we're seeing some of the new business move towards Gigabit Ethernet due to a number of factors: the incorrect perception that a frame grabber can only handle one camera, a growing need to string multiple cameras together for a single sorting application, and possibly, the growing need for portability in retailing and other logistic applications at the edge of the postal markets. But GigE has its own problems when it comes to high-speed tracking and sorting applications. We hear about people moving dropping frames and data and how GigE systems can hog the CPU, requiring the system designer to add more computer power to handle the same application."
The shift towards GigE will probably change again as CoaXPress (CXP) continues to gain market share. "CXP has the speed and determinism of Camera Link with the distances of GigE…and you need a frame grabber with CXP," Waide notes.
When asked about pharmaceutical sorting applications – where government regulations help drive the need for automated product tracking – Waide explained that most of those tracking stations use low-resolution cameras and don't generate enough data to warrant a frame grabber solution. However, that's not the case with another market that may soon fall under new government product-tracking regulations: the food-processing industry.
What Did I Do to Feel So Black and Blue?
The U.S. passed the FDA Food Safety Modernization Act last year, followed by the announcement of two pilot programs – one for processed foods and another for vegetables – that will explore the feasibility of automated product tracking.
While product tracking and electronic pedigrees are still relatively new to the food-processing industry, sorting food using machine vision technology is a widely used practice in the vegetable sector.
This type of application helped drive JAI Inc. (San Jose, California) to develop the AD-080 two-CCD camera, which is capable of providing simultaneous images of the same object when viewed from the visible and near-infrared (NIR) light spectrums.
"Traditionally, multispectral cameras have been very costly, which has limited their use," explains Steve Kinney, Director of Technical and Pre-Sales and Support at JAI Inc. "The food-processing industry traditionally used two cameras for this type of sorting: looking in the visible spectrum for debris, size, and external appearance and NIR for bruises and other issues. Keeping two cameras running in synchronicity in a packing shed can be difficult. The AD-080 uses a prism to split the incoming light into visible and NIR, simplifies integration, and decreases system components while increasing reliability. We've recently sold these cameras into pecan and potato sorting applications as well as pharmaceutical applications."
Improved OCR for General Manufacturing
General manufacturing also widely uses OCR in automated tracking, sorting, identification and label verification applications. Cognex Corp. (Natick, Massachusetts) is one machine vision vendor that has responded with new OCR algorithms that achieve high read rates and fewer false reads in food, beverage, general manufacturing, and pharmaceutical applications.
Cognex recently announced a new software tool calledOCRMax that works on both its In-Sight smart camera platform as well as its VisionPro software. "Every customer is looking to get the highest read rate and least amount of false reads at the fastest speeds possible," explains Dirk Lipper, Product Marketing Manager for Cognex VisionPro PC-based image processing software. "OCRMax is an excellent tool that lives up to all of these requirements."
OCRMax includes three unique processing steps that allow the tool to learn virtually any machine printable font – with the exclusion of script -- with read rates of 99% or better compared to 95% for many competing solutions. First it is an extremely powerful segmentation that accounts for character variations such as skew, stroke width variations and the like. In addition it also can handle background variations using built in preprocessing and normalization functions that improve contrast. Second, the tool includes some additional checks that detect potential character confusion in order to minimize false reads. And finally, a fielding feature that works with either fixed or variable string lengths.
"We've redesigned the tool from the ground up to achieve unprecedented read rates for OCR and OCV [optical character verification] tracking, sorting, identification and label verification applications while giving the customer the flexibility to optimize their system for speed, accuracy, or a combination of both," adds Narayan Subramaniam, Principal Product Marketing Manager for Cognex In-Sight smart camera product line.
Through new software, hardware and network protocols, machine vision continues to respond to the growing and changing needs for product sorting and tracking. Automated sorting allows product to move faster through supply chains while limiting liability between supplier and manufacturer, as well as manufacturer and customer. In a world desperately in need of tools to keep boosting productivity, machine vision continues to offer new solutions for industries looking to improve efficiency.