New President Brings New Agenda to RIA
POSTED 02/18/2008
 | By: Rich Litt, President, Robotic Industries Association
I am both honored and humbled to have the opportunity to serve as RIA president (as of November 9, 2007). The honor comes with succeeding Trevor Jones who has done a tremendous job of paving the way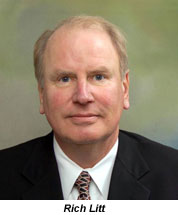 for our organization and making both my job and the jobs of RIA staff easier as we move into the 2008 operating year. The humility comes when I reflect on the long line of industry legends that precede me in this position. I will work to the best of my ability to continue our association's value and growth - coming from the strong foundation of their wisdom, initiatives and accomplishments.

Each new President is asked to summarize his or her objectives for the coming terms. Frankly, it is RIA's Board of Directors who provide much of the ''guidance and council'' and act as a sounding board for the President, Vice President and staff. I have the benefit of a tremendously experienced, knowledgeable and bright Board of Directors. I look forward to continued close collaboration with them that will serve the interests of all our stakeholders.
Id like to take this opportunity to provide a brief glimpse of what, with the Board's concurrence, I hope to focus on in the coming year.
Programs
This is the first time since our founding that a member representing the System Integrator segment has been named President of RIA. As a representative of that group, I hope to shepherd our association in providing expanded membership benefits to this rapidly growing and largely untapped membership subgroup. As our industry has grown, robot and process equipment suppliers have increasingly moved away from self-performing integration in favor of establishing networks of integrators with specific application experience and know-how. Sometimes those integrators are the end users themselves. More often, the integrators are independent companies providing turnkey solutions to those end users. This trend may prompt the RIA to expand our focus on ''soft'' issues like integrator friendly ERP's, drawing/design management tools, user training tools and program structure, variation management and VSA, field service and technical support software tools, work in process financing options and a wide range of other ''non-process, non-hardware'' areas that are crucial if we are to continue growing the successful installed robot base of end-users.
At the same time, I will not ignore our core ''historical'' programming. I hope to have the opportunity to participate in the continuation and expansion of current RIA programs and initiatives. If asked by staff, I will make myself available to facilitate the review of existing programs with an eye toward which are best left unchanged, which warrant increased attention/investment and which should be reduced or abandoned. At the same time I hope to inspire a look toward new programming that will further advance the value we bring to our membership and our industry.
Strategic Planning
The second major area I hope to concentrate on is the reinitiating of longer term strategic planning. Our industry has changed, our association has matured and the constituencies we serve have become more diverse. I believe that it may be the right time to shift some of our planning a bit more toward the horizon or perhaps, over the horizon. That may be difficult to balance with the day-to-day demands of the association. Jeff Burnstein, RIA's Executive Vice President, and I are in agreement that we need to focus on a limited number of critical issues. We will focus on determining the most important one or two strategic initiatives to pursue in the near term while laying out successive initiatives that we may pursue over time.
RIA is a strong organization. What we do is important. We have a solid financial footing, talented staff, an outstanding Board of Directors, a vibrant industry and a great future. I am honored to have the opportunity to lead.