Moving Toward Better Overall Equipment Effectiveness (OEE)
POSTED 08/30/2018
 | By: Ray Chalmers, Contributing Editor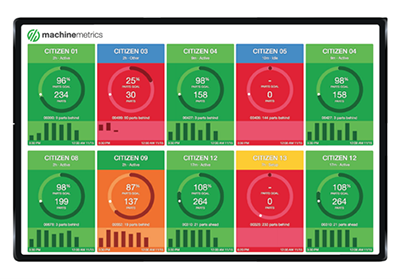 Along with the Industrial Internet of Things (IIoT), Industry 4.0, and data-driven manufacturing, overall equipment effectiveness (OEE) is one of the hottest concepts going today.
Although manufacturing has always had some kind of effectiveness indicator, from management walking the shop floor to red-yellow-green stack lights, today's OEE is all about collecting the data digitally. And manufacturing is not leading the league. "Despite producing the most data, manufacturing is ranked last in digital transformation efforts," confirms Graham Immerman, director of marketing, MachineMetrics, an IIoT platform provider. "Compared to all other global industries, manufacturing is still caught in a state of reactivity. Lacking a roadmap, the result is hesitancy."
Where There's a Will, There's a Way
OEE success doesn't just happen by itself. "Transformation requires buy-in from the front office and on the shop floor, but it also requires internal leadership," says Immerman. "It's critical for manufacturers to recognize the important role organizational attributes play in long-term project success and begin discussions about increasing the odds of project success by evaluating organizational gaps."
"Following an OEE commitment, the steps that manufacturers should take to digitally transform their operations become clear," says Joe Whyte, director of serialization and connected enterprise solutions at Rockwell Automation.
Step #1: Connectivity
As mentioned, digital transformations aren't wished into existence, nor do they occur overnight. The journey begins with assessing each plant's current network architecture and embracing Ethernet as the core infrastructure standard, Whyte says. Once the current state is understood, a plan should be developed to connect, over time, every smart device that can generate data.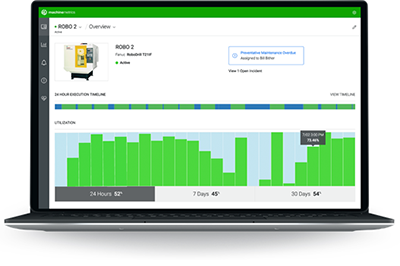 Step #2: Security
With connectivity comes the concurrent need for an in-depth security strategy that protects a company's data and insures only those who are authorized can access it.
Step #3: Collect Data
When collected, contextualized, and analyzed, data delivers value to stakeholders at every level. However, for digital transformations to be cost-effective, management and the implementation team must develop a scalable data collection and storage strategy. Data collection, analysis, and storage should take place as close to the source of the data as possible to derive immediate and maximum value.
Step #4: Analyze
Following data collection, next comes deploying a scalable analytics strategy, also to deliver value to every stakeholder at every level. Collecting all plant floor data and sending it to an enterprise cloud environment for storage and analysis can be cost-prohibitive from a storage perspective and resource-intensive from a data scientist perspective. Collecting data and applying unique operational expertise and machine learning not only delivers production-layer insights, such analyses provide real value to every stakeholder at every level of a manufacturing operation.
Factories of the Future
A vision of tomorrow's factories includes multi-tasking equipment, advanced manufacturing cells, and robotic automation systems together with complete digital integration for free-flow data sharing. In such an environment, connectivity of machines and devices allows enhanced process control, operation monitoring, and analytical support capabilities — all within a plant wide or multi-plant cybersecure connected network. For example, joint efforts of machine tool builder Mazak Corporation, manufacturing communications platform provider MEMEX, Inc., and IT leader Cisco have achieved a significant leap forward with the successful digital integration of the Mazak factory in Florence, Kentucky USA. Mazak accesses and uses real-time manufacturing data to improve overall productivity, agility, and responsiveness to customer and market changes.

With this platform, Mazak sought to achieve the following project objectives:
Create a digitally integrated platform to further improve manufacturing efficiency, particularly in regards to machine utilization and associated downtime
Track machine utilization accurately using Overall Equipment Effectiveness
(OEE) as a standard measurement
Produce machine, machine operator and plant productivity analytics and KPI reports that management and production teams can act on
Establish a secure and scalable plantwide network to connect machines (new and legacy) and other equipment to track OEE
Provide the means to grow the use of sensor technology for monitoring the cutting characteristics of machines, thereby enabling predictive maintenance
Mazak's project incorporated several advanced technologies, one of which was the communications protocol MTConnect®. On the software and hardware side, the MERLIN manufacturing communications platform from MEMEX works in tandem with hardware elements.
MTConnect
The open MTConnect manufacturing communications protocol fosters greater interoperability between manufacturing devices and software. The MTConnect standard provides connectivity and the capability to monitor and then harvest data from the entire production floor: machines, cells, devices, and processes. The standard makes this possible, because it's based on XML and HTTP Internet technology for real-time data sharing.
MERLIN
The MERLIN manufacturing communications platform monitors and provides operational metrics and KPI reports on operations, analytics of machines, test stands, and other equipment in a manufacturing plant. The software connects to any machine, old or new, using the native MTConnect protocol or hardware adapters for older machines that permit them to communicate via MTConnect.
The software generates numerous operational metrics, and reports, and automatically sends them to a variety of departments, cells and managers. Reports can be generated on a daily, weekly, or monthly basis through an email alert engine, including daily production, quality, constraints, throughput, operator and utilization metrics. Typically, MERLIN metrics and reports focus on a specific machine, and display performance-based gauges and readouts. Other reports compare all connected machines across a variety of critical metrics, such as uptime and stoppage.
The Cisco switches provide machine connectivity solution in a secure, scalable way to connect machines to OEE platforms. It supports the MTConnect standard. The switch also provides security and computing capabilities. The switch's technology resolves the problems typically associated with access, management and scalability, thus enabling both IT and manufacturing-operations people to work together to drive machine efficiency and visibility.
There are 65 production machines, paint test stands, and other connected devices in a beta test at the Kentucky Mazak factory. This test section of the plant represents a cross-section of equipment and has helped establish a performance benchmark and related training protocols that will easily expand across the entire machine-tool manufacturing plant.
A series of 60-inch display monitors present real-time utilization data in the test section of the plant and cycles through a series of KPI reports viewable for short periods of time. The Cisco switch enables network isolation, which creates a higher level of cybersecurity for enhanced machine monitoring and analytics.
Almost as soon as Mazak produced reports on its plant floor, the company experienced a six-percent increase in utilization. Without any other actions taken, these immediate gains resulted from operators simply being aware of how their time management affected machine utilization. To date, efforts to reduce downtime — as based on factory-floor report data — have yielded more than double-digit percentage improvements in machine utilization for the monitored machines. As a result, Mazak reduced operator overtime by 100 hours per month and brought 400 hours per month of previously outsourced work back in house.
Factories of Today
Manufacturing equipment lasts a long time. Plenty of plants have equipment from the 1940s, 50s, and 60s and those machines are still running strong. Many of these machines have no electronics or, if they do, they are very simple. Connecting directly to the PLC to collect data won't work.
While it's true that you don't need new machines to get better data, adding sensors to legacy equipment can pose a lot of challenges. Data platform provider SensrTrx and founder Bryan Sapot report that many manufacturing companies don't want Wi-Fi or Ethernet run into the plan, often, for security reasons.
"This is a classic problem we have been looking at and I have personally evaluated hundreds of different solutions to help solve this very specific challenge," he says. "So the question is: how can I track the availability, efficiency, and performance of this old equipment? The best solution we found so far is Banner Engineering's wireless sensors and gateways." Here's why:
Many of the sensors can be battery operated
The sensors communicate with a gateway via RF
Wire replacement and counter radios can connect with almost any sensor or I/O point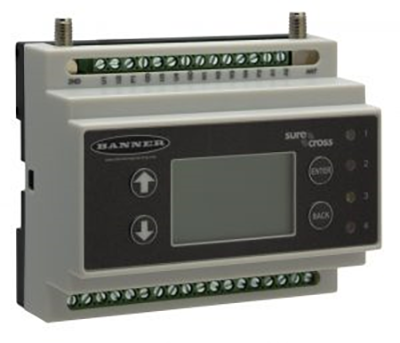 "In recent implementation, we worked with a company that manufactures wire. They did not have Wi-Fi or Ethernet in the plant and they did not want to install it. Their machines are older, 15+ years, and we could not tie into PLCs," said Sapot.
The customer wanted to measure the number of rotations of a spool of wire as it unrolled and was fed into the machine. For this application, we used a Banner gateway, a wireless part count node and an encoder connected to the part count node.
The installation was fast and easy. "We don't have to worry about range or passing through walls like you do with Bluetooth because the range of the node is measured in miles not feet. The spools are in a part of the machine that does not have power, so the battery powered radios made the installation easier. It took less than 10 minutes to configure. Our engineers paired the part count nodes with the gateway and the customer's maintenance team installed them on the machines."
The nodes counted the number of cycles on the machines, sent them to the gateway which in turn sent the part count to our platform. From this one data point per machine, we were able to detect downtime and track cycle times and performance of the machines.
No New Machines, Significantly Better Data
In less than one day, this customer was able to supercharge seven different legacy machines and start getting production data to manage and improve their processes.
These part count radios are not the only option. Another option to connect legacy manufacturing equipment are wireless tower lights. They replace your existing tower lights. The new lights are configured to transmit their color and status codes to the gateway which can be used to count cycles and track downtime.
In short, just because the equipment is simple – or old – doesn't mean you can't make it smart
Fastenal, a manufacturer of fasteners, tools, and industrial supplies based in Winona, Minn, began investigating OEE in 2016. "The objective was to better understand their downtime, machine utilization, quality issues, and to embrace IIoT technology for production efficiency and process improvement," says Graham Immerman, marketing director, MachineMetrics.
Fastenal used MachineMetrics to monitor 11 Swiss machines and three turning centers. They installed monitors on their shop floors so that operators and managers both could understand what was happening. In the three months since implementation, the company ran 305 hours faster than the previous three months. "At this rate, we have been able to boost production by over 100 hours each month. It's the same as adding over two weeks to each month."
With Knowledge Comes Accountability
Does increased visibility threaten shop-floor personnel? Says Fastenal's manufacturing engineer Matthew Nelson, "I did a lot of the training for this installation. The operators have a gut reaction that says "oh great, now you are looking over my shoulder even more". But the truth is, if there's something going on, the manager would probably be on them about it anyway. This gives them the opportunity to be involved in that process. If we don't know what's causing the issue, it makes it impossible to create a plan to fix it. They are allowed to engage their brains in a different way. Operators and managers can look at historical data and implement it into the future. Now, when we
have an issue with a job, we can apply what we've learned from this mistake to the next time. We no longer have to be reactive."
Furthermore, added Nelson, "the operators now do everything they can to keep the monitors green. They became less worried about us looking over their shoulder and more focused on their own success. They've become more success-driven."