Motoman's Dean Elkins is RIA's New Chair
POSTED 04/30/2010
 | By: Bennett Brumson, Contributing Editor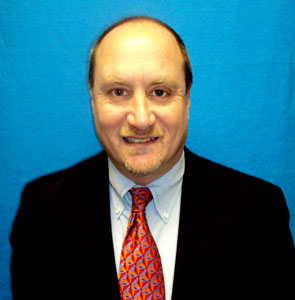 Dean Elkins
2010 Chairman, RIA
The Robotic Industries Association (RIA, Ann Arbor, Michigan) selected a new chair in January 2010. Dean Elkins of Motoman Inc. (West Carrollton, Ohio) was voted as the chair of RIA's board of directors, following the two-year tenure of Richard Litt, Chair of Genesis Systems Group, LLC (Davenport, Iowa). Elkins also serves as Motoman's Senior General Manager.
Elkins' Priorities
"My hope is to proliferate the use of robots in emerging and growing markets along with re-energizing RIA's trade shows and other industry events such as webinars," said Elkins. "RIA re-branded the International Robots, Vision & Motion Control Show to Automate 2011, to be held March 21-24, 2011 in Chicago. We hope to reach out to non-metal industries that might be non-traditional growing markets for robotics." Elkins explained that these non-metal industries include consumer product good manufacturing, food/beverage and pharmaceuticals, primarily in case packing and palletizing applications.
Held simultaneously with ProMat 2011, the trade show of the Material Handling Industry of America (MHIA, Charlotte, North Carolina), Automate 2011 promises to be the sort of expo Elkins has in mind. "European trade shows are comprehensive solution-based events. People come to trade shows to see how to solve a problem germane to their production or quality needs, not to see an example of how a robot can move in three-dimensional space."
Elkins went on to say, "Automate 2011 will be a solution-based trade show and showcase robot manufacturers and integrators who solve real manufacturing problems in today's marketplace. By reaching out to a very broad section of markets, Automate 2011 will embrace testing and sensing technologies as well as many mainstream applications."
As of this posting, some RIA members attending Automate 2011 include: ABB Inc., ATI Industrial Automation, Denso Robotics, EPSON Robots, FANUC Robotics America, Inc., Genesis Systems Group, LLC, Intercon 1, Jabez Technologies Inc., Kawasaki Robotics (USA), Inc., KUKA Robotics Corporation, Motoman Inc., PIAB Vacuum Products, Precise Automation, Inc., Reis Robotics USA, Inc., SICK, Inc., Stäubli Robotics, Toshiba Machine Co., America and Vaccon Company, Inc., with more companies being added on an ongoing basis.
New Markets
While the recent recession has taken its toll on the robotic industry's major source of business, the automotive sector, other markets are on the rise. "Alternative energy is a bright spot for the robotics industry," contends Elkins. "Solar and wind energy are emerging key markets." Likewise, Elkins "Sees major growth in food and beverage applications, which are case packing and palletizing applications. Growth in laboratory automation applications such as high volume blood screening and DNA testing are promising too."
Elkins concluded his remarks, saying "The automotive sector is beginning to bounce back. Many robot manufacturers are starting to see more activity in automotive applications."
In medical applications, Elkins anticipates maturation of robotics as assist devices. "I see more helper robots, especially medical and surgical robots that help patient positioning in cancer treatment." Elkins cites the da Vinci robot as an example of medical assistant robotics. "The da Vinci robot is not performing surgery but assisting surgeons to obtain a higher degree of accuracy in their surgical procedures. The use of assistant robots will continue to grow and will be an important source of business for RIA members."
The educational market, like laboratory and medical applications, has been marked for increased attention for RIA under Elkins' incumbency. "RIA is targeting vocational technical education schools to grow their ranks in our membership. Like system integrators, vocational schools provide considerable value to end users." Elkins continues, declaring "Vocational technology schools train future integrators and users of robots. Among the ways we're trying to attract vocational schools to RIA membership is by providing educational programs aimed at their students to teach them the specifics of the ANSI/RIA R15.06 national robot safety standard. We're also working on several new benefits for the students and the schools."
RIA works with robot manufacturers to ensure robotics is a part of the curriculum offered in vocational technical schools and high schools. "RIA can expose vocational technology school and high school students to robotics through webinars and by making educational resources available to these schools. Students can attend seminars or symposia to learn from robotic industry experts," Elkins posits.
Webinars
Webinars, interactive seminars or workshops transmitted over the Internet, are important to Elkins. RIA recently hosted a webinar, "Career Opportunities in Robotics," where students and engineers had the opportunity to look into a career involving robotics. Speakers included Jim Devaprasad, Professor of Engineering and Technology at Lake Superior State University (LSSU, Sault Sainte Marie, Michigan). Devaprasad is Director of LSSU's Robotics Center.
"How Robots Help American Companies Compete in a Global Economy" was another recent webinar sponsored by RIA. A workshop on Increasing Productivity through Robotics and Lean Manufacturing was conducted by RIA's Secretary and Treasurer Michael Kunkle. Kunkle is Harley-Davidson Motor Co.'s (Milwaukee, Wisconsin) Senior Manufacturing Engineer.
The webinar on food robotics conducted by RIA in mid-April is the third example of RIA webinars. Featuring RIA members Adept Technology, ADVENOVATION, Applied Robotics, PaR Systems, and Schneider Packaging Equipment, the webinar considered sanitary design and integration of robotics from primary food handling to packaging and palletizing to customized distribution systems.
All three of these webinars were components of the first annual National Robotics Week, April 10 through 18. They have been archived and will be available shortly on the Association's website (
www.robotics.org
).
Not all events during National Robotics Week were geared towards industrial applications. Events included Robotics for Kids, the Robot Block Party, a symposium on robot ethics, and the RoboCup U.S. Open, where autonomous robots played soccer. Look to see more webinars during Elkins' RIA leadership.
Elkins emphasized the importance of vocational education and research to RIA. "RIA has researcher members on our board of directors. We look to attract researcher members to promote white paper submissions and funding of special projects that will be shared by the entire robotics industry."
Elkins wants to nurture stronger ties between RIA and the 33-member Congressional Robotics Caucus, co-chaired by Representatives Michael Doyle (D-Pennsylvania) and Philip Gingrey (R-Georgia).
End-Users and Integrators
Elkins praises his predecessor, Richard Litt, who remains on RIA's Board as Past Chair. "Litt's election as Chair of RIA shows that integrators are critical to the robotics industry. RIA is not just about robot manufacturers but is also about users, integrators and component suppliers," asserted Elkins. "Litt's international industry experiences and his personal business acumen demonstrate that integrators are vital to the existence of robot manufacturers and end-users." Without integrators, end-users would be without engineered manufacturing solutions, said Elkins.
End-users' needs are important to Elkins. "Industry would like to assimilate the current safety standard into a global standard. RIA is very much involved in that process," professes Elkins. "End-users have safety as their paramount concern, and RIA provides end-users with information on the safety standard's specifications. RIA conducts many safety seminars related to robotic functionality and the pros and cons of placing a specific robot into a specific environment or application."
As manufacturing continues to shift to low-cost areas of the world, robot makers and integrators follow. "Many corporations are setting up shop in Brazil, China, or India. Robots are increasingly used in these countries to augment quality and to produce products in a cost-efficient way," Elkins connotes. "As the world screams for high quality products, robots aid in that quality fulfillment, even in low-cost markets."
Experience Counts
Elkins has been in the robotics industry for 30 years. With Motoman for over twenty years, Elkins has held various international sales and management positions. "I helped Motoman set up offices in North America and helped guide our expansion to Mexico and Canada, as well as Latin America."
Elkins has been active in RIA since 2000. "I served as chair of RIA's Membership Committee, where I was involved in marketing activities. In 2000, I joined the RIA board as a member at large, then as second and first vice president, now as chair. I also served on the Automation Technology Council's board."
"I look forward to new membership initiatives that demonstrate the value of RIA. Having a revitalized, solutions-oriented trade show will attract membership because companies actively involved in automation will want to be part of the world's largest robotics trade group."