MICPA Appoints Robert Doyle as new President and CEO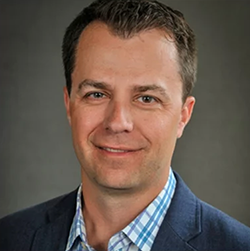 The Michigan Association of Certified Public Accountants is pleased to announce the appointment of Robert Doyle as its new President and CEO, following Peggy A. Dzierzawski who is retiring March 31.
"Peggy is an association icon in Michigan and around the country… those are big shoes, and I'm humbled by the opportunity to fill them," said Doyle.
Robert Doyle is a highly experienced, successful and well-regarded business leader who has directed the advocacy, marketing and communications efforts for the Association for Advancing Automation headquartered in Ann Arbor, as well as day-to-day of the Robotic Industries Association and A3 Mexico. After completing a B.S. in Environmental Engineering at Michigan Technological University, Doyle went on to receive an M.S. in Engineering Science – Management of Technology from Rensselaer Polytechnic Institute and an M.A. in Public Relations & Organizational Communications from Wayne State University.
Doyle has extensive board governance and strategic planning experience and was previously a board director and member of the advisory council of Lighthouse, formerly South Oakland Shelter. He sits on the external advisory board of the Pavlis Honors College at Michigan Technological University and is also on the executive advisory board of Winning Futures, a mentoring organization empowering high school students to succeed.
"For over 22 years, Peggy has done a remarkable job of directing the MICPA with distinction," said MICPA Chair, David Echelbarger, managing partner of EHTC in Grand Rapids. "Our process for identifying and retaining the most qualified successor was extensive. Bob is the perfect fit! He is passionate, strategic and possesses a deep understanding of emerging technologies and their application within associations."
He succeeds Dzierzawski, who became President and CEO of the MICPA in 1997, instilling in her team the power of relationships and partnerships, a focus on initiatives that promote diversity and inclusion and the importance of building the pipeline for future CPAs. Throughout her celebrated career, including the past 22 serving in the organization's top leadership role, her mission has been to serve the CPA profession and the public interest with passion and integrity.
Heavily involved in the community and the profession, Dzierzawski has served on numerous state and national committees, supporting professional and philanthropic initiatives including hospice, cancer, and education.
A 2006 inductee into the Michigan Society of Association Executives Hall of Fame, Dzierzawski has received numerous honors, including recognition by Crain's Detroit Business as one of the Most Influential Women in the state. She is the only two-time recipient of the Walsh College Jeffery W. Barry Award, which honors exceptional leaders for their achievements in community service and educational excellence.
After working with Dzierzawski through a six-week strategic transition plan, Doyle will officially step into his new role on April 1, 2020, where he will lead one of the largest and most well-respected professional associations for CPAs in the country.
"CPAs are fiscal leaders - vital to protecting the public interest, and powering Michigan's economy," Doyle said. "I'm excited to be joining the MICPA's mission to support their efforts."
Read more about Doyle's new role
About the MICPA
The Michigan Association of Certified Public Accountants is the leading statewide professional organization dedicated to promoting and enhancing the value of the CPA profession. Our more than 19,000 members work in business, education, government, and public accounting.
Established in 1901, MICPA members serve as trusted advisors for businesses and individuals while embracing the highest standards of professional and ethical performance.