Mexico, Land of Automatización Opportunity
POSTED 04/22/2016
 | By: Tanya M. Anandan, Contributing Editor
If habaneros are hot, Mexico's industrial landscape is on fire, and spreading. From automotive and aerospace, to consumer electronics and the medical device market, Mexico's manufacturing sector is a hotbed for foreign direct investment (FDI). Its nearest NAFTA partner is leading the pack, with the U.S. accounting for 53 percent of Mexico's $28 billion FDI in 2015.

It's no coincidence that the automation market is also fired up. These industries are associated with high-tech growth and automation adoption in other industrialized regions of the world. Now increasing numbers of robots are taking up residence in Mexico.

In 2015 robot sales in Mexico smashed all previous records. At 6,320 units, sales were almost three times the previous year, amounting to more than $243 million. This is no surprise as unit sales for all of North America were up 14 percent, making 2015 another record-breaking year for robot sales.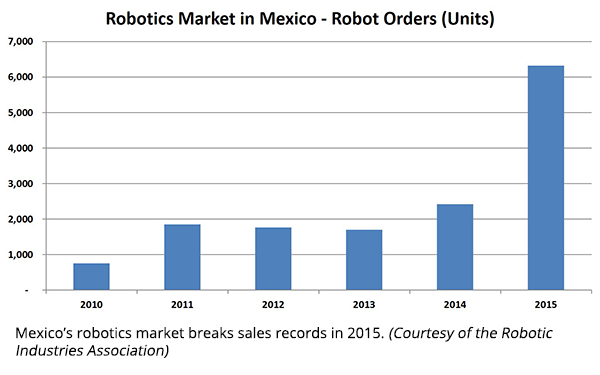 A3 Mexico Coming Soon
As we first announced in January, the Association for Advancing Automation (A3) is embracing Mexico's growth and potential by forming a new association geared to this booming market. A3 is the umbrella association for three leading industry associations that collectively form an ecosystem of automation: the Robotic Industries Association (RIA), Advancing Vision + Imaging (AIA), and the Motion Control & Motor Association (MCMA).

"Because of the unique nature of the Mexican industry, and the language and culture, we decided it would be well-served for our members and potential members to form a specific Mexican entity," says Bob Doyle, Director of Communications for A3 in Ann Arbor, Michigan. "We will be tailoring our services, activities, and member benefits specifically to the Mexican market."

T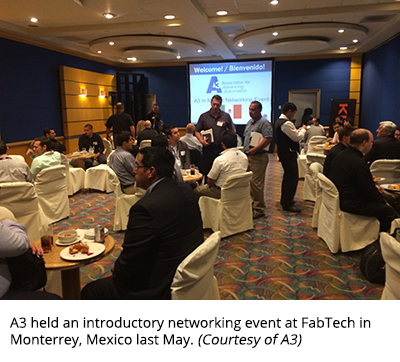 he new entity – A3 Mexico – will have its own website in Spanish with microsites for RIA, AIA and MCMA. Members will have a company profile page and be able to post product information, videos, and case studies, and advertise on the site. A3 Mexico will include the breadth of resources and member benefits you've become accustomed to, and the three associations – RIA, AIA and MCMA – will continue to have a strong presence in Mexico.

"We are in the process of forming a not-for-profit organization in Mexico," says Doyle. "That process is moving along a little more slowly than we would have liked."

As the association's business consultant in Mexico reminds us, patience is a virtue.

"In Michigan it's easy to form a new company. You can do it in a day. Here it's more involved," says Don Harris, President of Amerris Consulting, LLC, in San Juan del Río, Querétaro, México. "It can take up to 3 months or so to form a new entity, whether it's for profit or not-for-profit."

A3 expects to launch the new Mexican association and website in the third quarter of 2016.

Booming Foreign Investment
Driving the association's efforts in Mexico is our members' investment and burgeoning interest in a land of plenty opportunities.

"Mexico has been growing leaps and bounds in the automotive industry, and then followed by the aerospace industry. It's what we refer to as the next China, where there's so much potential here," says Evan Haley, Director of International Sales & Business Development for ATI Industrial Automation, headquartered in Apex, North Carolina.

In fact, Mexico is moving up the ranks among the world's industrial powerhouses with auto production leading the way.

"Mexico just placed seventh in the world in terms of auto production. It passed Brazil last year. It's expected to move up to sixth place by 2020," says Amerris consultant Harris. That's a big deal when you consider it puts Mexico closer to the world's biggest players, such as the U.S., Japan and China."

Over the last several years, Mexico has seen an explosion in FDI expenditures in the auto industry.

"Mexico is booming in terms of foreign direct investment. There is $500 billion in trade every year between the two countries (U.S. and Mexico)," explains Harris, who helps companies establish and grow their entities in Mexico. "There's also big investment from German luxury automakers. BMW, Mercedes, Audi, these companies are investing in Mexico because they've seen over the years, and even decades, that automakers can successfully and profitably build here. GM has an 80-year presence in Mexico. Ford and Chrysler are in the same general category. Nissan, which has also been in Mexico for decades, is teaming up with Daimler and Renault on a joint venture in the city of Aguascalientes to build luxury vehicles. BMW is building in San Luis Potosí. Honda just opened a new plant. Toyota also recently announced that they will be building a new assembly plant."

He notes that new investment and expansion of existing automakers' sites are also fueling a supplier boom.

"Ford announced that they will be expanding their engine facility and building a new transmission plant. GM announced several billion dollars investment in Mexican auto plants. All of this investment isn't just focused on eight or nine OEMs. It's the hundreds of suppliers that come along with them that make this a very attractive place for companies to consider if they want to stay in the game and go where the growth is."

Mexico is where the growth is, and Mexico's boom is a boon for automation suppliers.

Driving Automation
Mexico's manufacturers and top tier suppliers are turning to automation and robotics to boost production, curb costs, improve quality, and ensure worker safety. ATI's Haley says labor costs and product demand are the major influencers.

"You need to get your volume up and if you can't get more throughput out of your people, then you have to automate. If the cost of getting more people is too expensive, or the current cost of labor keeps rising as it's been doing, then naturally the way to maintain and keep a fixed cost is through automation. People will look at their return on investment for a robot or an automated cell. Those numbers have been dropping. That's doing a lot to drive automation." (Calculate your ROI. It might be higher than you think.)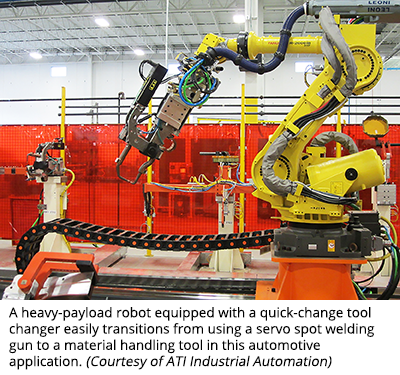 "Quality is the other one," he continues. "If somebody is doing a particular job that requires some sort of tools in their hands, the quality of the work that they will produce on Monday at 8 am will be very different from the results at the end of the day at 5 pm. By the time Friday rolls around, if that same person has been doing the same thing 700 times a day, you can certainly imagine that their brain has kind of turned off and they're hands and arms will be tired and sore. Naturally, quality will suffer."

He reminds us that automated systems and robots don't need breaks. There's no need for sick days or vacation. Robots keep working at the same designated speeds day in and day out, without breaking a sweat or getting their noses out of joint.

"It's not all that long ago that many of the automotive plants were doing welding by hand," says Haley. "They were using manual welding guns, which are big and heavy, and dangerous and difficult for people to use. Quality issues certainly come up. The largest change is that people are going to robotics for welding and material handling. The final assembly houses, they've been doing it for a while. Where we're starting to see more of it is in the tier one suppliers like Metalsa or Magna.

"Foreign direct investment by the Germans and Japanese are demanding that the quality of the vehicles being produced in Mexico are greatly improved from what it had been a year or two years back," continues Haley. "They are putting more pressure on the local plants to increase the quality, get better safety, get better throughput, and that's driving automation and robotics."

Committed to Mexico
That demand is what drove ATI to hire their first Mexican national in Sept 2014 and open a new office in Querétaro in May 2015.

"We believe it's such a good market, I've decided to move here," says Haley, who will spend at least 7 to 10 business days a month working out of the Querétaro office, about 100 miles north of Mexico City.

Haley says robotic tool changers lead the demand for ATI products in Mexico, especially the heavy-duty, larger sizes used in automotive applications. Deburring and finishing tools, force torque sensors and collisions sensors, and utility couplers round out the popular offerings.

In this video, ATI Heavy-Duty Robotic Tool Changers are used to easily switch out different end effectors for spot welding, applying sealant, and stud welding automotive fixtures. The tool changers help provide a cost-effective solution for a low-volume, specialty application requiring multiple processes.

"Our biggest reason for wanting to put the office here was improved support and profitability for ATI, because we were using distributors beforehand. We wanted to better support the domestic customers in Mexico with improved sales, engineering, training support, as well as faster response times for any potential issues."

Haley says ease of communication was also a major factor.

"It's important that our customers be able to communicate freely in their native tongue, be it written or verbally. It makes things so much easier. Customers are really happy. It made sense to be here with boots on the ground and local people that know the market and can build those relationships."

"We're making a commitment to this geographic region," says Haley. "We believe it's such a great market that it's worth doing."

Robótica en México
One automation integrator made the commitment decades ago. Genesis-ICESA Systems is the first RIA Certified Robot Integrator in Mexico. Based in Querétaro, Genesis-ICESA is the product of a 2011 joint venture with one of the largest automated solutions providers in the U.S. The Mexican operation is run by brothers Thomas Patton, President of Genesis-ICESA, and Sean Patton, who was recently promoted to Vice President of Resistance Spot Welding and OEM Business Development.

We first introduced you to the Patton brothers in January's editorial preview when they shared the story of how their father, Harry Patton, started the business in the '70s building welding controls for American Motors and integrating assembly lines for Ford Mexico. Now 40 years later, the Patton family backed by the worldwide resources of Genesis Systems Group is still helping manufacturers and their suppliers automate operations amid a thriving Mexican market.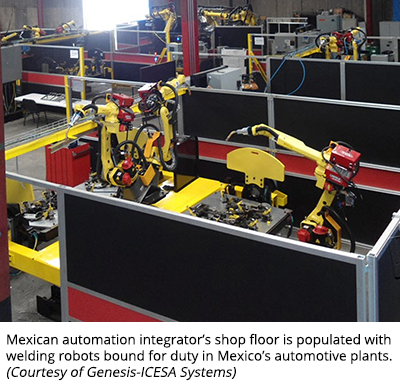 "The steel, aluminum or copper comes in and machines go out," says Sean Patton. "We have waterjet cutting, CNC machining, welding, CMM, paint, assembly, test. We're pretty much self-sufficient."

Mexico as an industrial power is also self-sufficient.

"All the steel that we weld and put together, all of it is made and stamped in Mexico. A lot of people think that the automotive industry in Mexico is like a maquiladora where they send in components and finished product comes out. Probably 80 percent of the vehicle contents are made in Mexico."

Engineers Aplenty
Another common misconception about Mexico is that low-cost labor equates to low-skilled labor. Those experienced in this market say that's anything but the case.

"We have a large pool of very good engineers," says Sean Patton. "There's more engineers coming out of Mexico every year per capita than the U.S."

"We're working with a number of engineering schools where we bring in coop students," says Thomas Patton. "The students are actually programming robots within a few days.

"I've reached out to a school along the Gulf Coast and they have a mechatronics program which just won an international robotics contest. They came in first and second place. We've established a relationship with them to bring students out of that school."

Genesis-ICESA has more than 60 employees and is in hiring mode.

"We're creating our own talent," continues Patton. "We've done this for over 20 years, working with local engineering institutions. We're being contacted by other schools throughout the country that want to work with us. We want a broader pool of talent and I'm trying to increase the IQ level."

"We've had that strategy ever since my Dad came to Mexico," chimes in Sean. "He always wanted young, smart people without any bad habits. We have people that have worked for the Pattons for almost 40 years. We have very low rotation (employee turnover)."

ATI's Haley also applauds the caliber of the skilled workforce available in Mexico.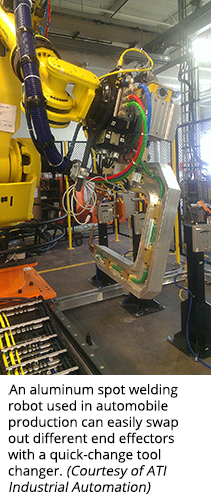 "We hire people with good technical backgrounds and capabilities. Our Sales and Applications Engineer Enrique Rodríguez is a degreed engineer in mechatronics (and robotics/automation)."

"We're not just putting a team of people here to service the immediate need. We're building a future here so we can add value and grow that team, so we can have an actual entity that's going to run and grow in Mexico."

In the future, ATI plans to service customers 100 percent domestically. Product will be stocked, sold and shipped out of Mexico.

Free Trade Abounds
In addition to a skilled, lower-cost workforce, Mexico has some of the most liberal trade policies in the world.

"Mexico has around 10 free trade agreements," says Sean Patton, "so by KIA putting a plant in Mexico, now they can export tax-free to 45 different countries they couldn't do from the U.S. and Korea. That's one of the advantages of doing business in Mexico."

Mexico has geography going for it, too.

"Imagine that you're shipping four weeks on the ocean. Product in transit is money," says Patton. "So instead of the product spending a month on the boat, it can be there on the train within weeks. The Pacific ports in Mexico are closer to the Eastern ports than the California ports, because Mexico has a straight line to Texas with the railroad. They ship stuff from Asia through Mexico and up to the U.S."

Industry Diversity
While Mexico's automotive industry commands the bulk of the attention and FDI dollars, aerospace is making headway. Other industries ripe for automation are also in the running.

"We're predominantly automotive when it comes to sales in Mexico, but Mexico's aerospace industry is growing pretty fast," says ATI's Haley. "Internationally we do a lot with every major aerospace company as well as their tier one and tier two suppliers."

"We're seeing foreign direct investment in Mexico not just because of cheap labor," says Amerris consultant Harris. "Aerospace is very technically oriented, so there has to be faith in the Mexican government and the Mexican labor force for companies like Airbus, Boeing and their suppliers to locate here.

"Other industries that continue on solid footing are electronics and medical device," says Harris." The food industry is extremely large here in Mexico. It doesn't get the attention the other industries do because it's mostly domestic."

ATI's Haley says they have their eyes set on Mexico's food and beverage industry.

"The food and beverage industry is using more robotics, usually in packaging and palletizing," he says. "We've started exhibiting in the various packaging and food & beverage shows down here. EXPO PACK is one of them coming up in May in Mexico City. We had our first exhibit there last year and had good success."

ATI is also exhibiting at FABTECH Mexico in May, along with most of the other RIA Platinum Suppliers. Regional trade shows can be a great way to dip your toe in the Mexican market.

Strong Infrastructure
Haley says an often overlooked advantage is Mexico's infrastructure. He compares Mexico to India, another country with lower-cost, highly skilled labor.

"If you compare Mexico to India, for example, another country with very low labor costs, even lower than Mexico, but very talented, educated, intelligent people, there are a lot of good engineers there as well. But infrastructure-wise you can't get something 500 miles away easily in India, but you can get something 500 miles away in Mexico the same day without too much difficulty. There are plenty of airports, rail systems, and transport trucks available. The highways are improving. You can get from city to city, zone to zone, company to company easily.

"That's huge," says Haley. "Because if you go somewhere to get low costs, even though your labor costs are down, if everything else to do business there goes up, you're not going to receive the same return on your investment. Mexico allows for a good return on your investment. Well-educated people, good infrastructure, good labor costs, and a growing technology base. I've traveled all over the world and comparing the two next closest regions, India and Brazil, Mexico has it all over those two countries. Infrastructure is one of the biggest reasons why."

Lost in Translation
Skilled low-cost labor, a strong infrastructure, and free trade may make for good ROI, but Mexico still has its challenges. ATI's Haley says language continues to be a barrier.

"The biggest challenge anybody still faces in Mexico is communication, written and verbal. Mexico is actually graduating more engineers than any other area of North America and in most parts of the world. The trouble is in Mexico they're being taught 100 percent in Spanish.

"You have a lot of great young engineers who are really great at what they do. They have great ideas. They're new, so they see things through a different set of glasses that nobody else has looked at for a while, but the communication of those ideas is sometimes getting lost. That's a real shame. I really think that's something the government needs to improve upon. The upside would be dramatic."

Total Employee Cost
That highly skilled, lower-cost labor comes with a caveat as well. While base pay is lower, you have to look at the total cost of an employee given certain policies in Mexico. For example, terminating an employee comes with a cost.

"There's no unemployment insurance here in Mexico, so the burden is put on the company letting go of those people," says Genesis-ICESA's Sean Patton. "It's very hard to shed weight, and to expand and contract as a company."

"Severance pay in Mexico is not optional, and it can add up quite a bit," says Amerris consultant Harris. "An employee with 3 years of experience will get 1 month extra severance pay for each year of service, so that's 3 months of pay."

"There's also a standard end-of-year bonus that's 15 days' pay minimum by law," continues Harris. "There's a savings plan, which is not required by law. There's social healthcare, which in Mexico is standard. There's a required housing finance plan that you have to contribute to as an employer, so employees can use that fund to access lower-interest loans to buy a house. The overall cost of labor is significantly lower, but when you add up those benefits, you have to tack on about 60 percent to their base pay to get the real total cost of an employee."

Harris sees these issues less as challenges and more as simply differences that companies should understand before staking a claim on Mexican soil.

Investing in Mexico
An environmental engineer and General Motors alum, Harris held key leadership roles in Mexico for an American tier one chemical management service provider to the automotive and aerospace sectors before launching Amerris Consulting in 2014. Although his clientele is typically small to midsized companies, he works with OEMs and tier one parts producers and companies of all sizes on a regular basis.

"One of my first clients was the Green Automotive Alliance, which consists of GM, Ford and Fiat Chrysler, and numerous suppliers, tier ones and tier twos, working collaboratively on sustainability and environmental challenges at the plant level."

Thinking about putting down roots in Mexico? Harris says it's important to start off on the right foot.

"You really need someone on the ground here, and with experience to guide you through it. You need to recognize that maybe there aren't the same efficiencies in Mexico that you may be used to, but don't get frustrated by it. Just learn to embrace it and work within the system, and you'll reap the rewards if you have a good business model."

He says that includes engaging with a trusted source to form an effective strategy. Review the logistical and workforce considerations first.

Where do you want to be located? What geography makes sense for you? Do you already have customers in Mexico that you want to be situated next to?

"Get to know the culture and the differences that might apply specifically to your company and your operations," says Harris. "Then use that trusted source to help guide you through the process of creating the new entity, of finding a facility, locating equipment, and installation and training programs. Ask for help."

Then once you make the decision to invest in Mexico, commit to it.

"Trying to run a new Mexican operation from the U.S. or Canada, or another country, is very difficult and I would discourage it," advises Harris. "The more successful foreign operations in Mexico are those that are pretty much self-sufficient.

"More investment in Mexico has made and continues to make for stronger corporate entities," he adds.

For more on foreign direct investment in Mexico – where the opportunities are, how to get started, and what to expect – check out Harris' recent podcast.

With geography going for it, free trade with 40-plus countries, an engineering-driven lower-cost workforce, and a flourishing manufacturing sector, Mexico stands poised to join the superpowers in the Fourth Industrial Revolution.

RIA Members featured in this article: