Medical Regulations to Inject Healthy Boost into Machine Vision Market
POSTED 08/25/2015
 | By: Winn Hardin, Contributing Editor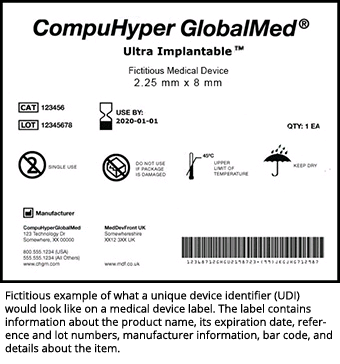 The U.S. military led the way, requiring barcodes on printed packages. For higher-value items, the code had to be printed on the product itself. The U.S. Food and Drug Administration (FDA) eventually followed suit, led by several state programs such as California's epedigree program, requiring both machine-readable codes and human-readable text on all pharmaceutical packages. The patchwork of regulations has resulted in patchwork implementation across the pharmaceutical supply chain, preventing the end goal: the ability to track the manufacture and packaging of any pharmaceutical developed (theoretically) anywhere in the world.
Today, medical devices are joining the chorus, with new FDA unique device identification (UDI) regulations going into effect next month (September 2015), requiring serialization and direct-part marking of certain classes of medical devices.
All of these developments present major opportunities for the machine vision industry and image-based code-reading systems as federal regulations clear away the confusion that has surrounded track-and-trace requirements in the exploding healthcare industry.
Hard Pill to Swallow
The pharmaceutical industry wasn't thrilled with epedigree and federal best manufacturing practice guidelines, and not just because of the additional costs. A hodgepodge of different state regulations and federal guidance left many pharmaceutical manufacturers and packagers unsure of how to best track their supply chains.
"We had one large customer that manufactures a specialized sample container for medical test systems barcoding every product they produced," says Tom Brennan, president of machine vision integrator Artemis Vision (Denver, Colorado) "Another customer makes a drug delivery mechanism, and some critical components of the product don't have codes of any kind when they arrive from a supplier. Levels of implementation vary widely by both company and position in the supply chain. But that's all changing with the [2013] Drug Quality and Security Act [DSCSA]."
Under the DSCSA, by January 1, 2015 pharmaceutical manufacturers, wholesalers, repackagers and distributors must use automatic identification and data capture (AIDC) codes and human-readable text to track pharmaceutical products down to the lot and batch level within their respective enterprises. By 2019, the supply chain will have to track pharmaceuticals to the individual package level. And by 2023, the tracking information should be available to all entities across the entire supply chain from original manufacture to final sale.
Interestingly, the FDA announced in January and again in July of 2015 that it will not yet enforce penalties against pharmaceutical enterprises that do not have lot/batch level tracking in place, but it's just a matter of time.
Brennan adds that China has taken a stronger approach to using "ecodes" in response to increased concerns about counterfeit product. Today, the State Food and Drug Administration of China (SFDA) requires a 128C barcode to be placed on all pharmaceuticals, including traditional medicines. The barcode includes a 20-digit serial number, which also includes a 9-digit code issued by the Chinese government.
"When it comes to pharmaceuticals, we've see more 1D barcode tracking with lasers than 2D code-tracking because the barcode tracking solution is cheaper and more compatible with legacy 1D readers," says Brennan. "But in cases where it's a direct-mail pharmaceutical business, for example, and the packages are going direct to consumers and packaging is more of a concern, we see more 2D requirements because the codes are smaller. In China, there is less concern about making pharmaceutical packages attractive, so a large barcode on the package isn't seen as a problem."
Medical Devices Get On Board
A need for the smallest possible tracking codes may boost demand for 2D code-reading solutions, according to Stephen Stinson, business development manager for laser marking and machine vision at Datalogic industrial Automation Inc. (Telford, Pennsylvania).
Examples of Class I, II, and III devices and their UDI requirements.
Examples of Class I devices:

Elastic bandages
Examination gloves
Hand-held surgical instruments
Class I devices that will require UDI codes:

Pacemaker mesh bags
Cannula clamps
Bone caps
Examples of Class II devices:

Acupuncture needles
Powered wheelchairs
Infusion pumps
Class II devices that will require UDI codes:

Blood filter
Anesthesia machine
Tracheal tube
Examples of Class III devices:

Implantable pacemaker
Pulse generators
HIV diagnostic tests
Class III devices that will require UDI codes:
"New [unique device identification] UDI requirements were a big topic of conversation at last year's PackExpo, and we expect it will be again this year," Stinson says. "Companies are trying to figure out all the different systems and approaches. For consumables and implantable devices, you can't put a label on there. So companies are taking a hard look at laser marking and then machine vision to verify and track the 1D or 2D code through production and distribution.
Datalogic has spent the last few years acquiring and integrating its direct-part marking [DPM] laser products with the P-series smart cameras and fixed mount and handheld for UDI and related applications where metal and plastic parts need to have a unique, machine-readable tracking code, Stinson adds.

In 2013, at the direction of the U.S. Congress, the FDA released new UDI rules for medical devices. Under the new rules, by September 2014, Class III medical-device manufacturers — which include the makers of life-sustaining devices such as pacemakers, HIV diagnostic tests, and defibrillators — must have a UDI on each device package. The FDA allowed manufacturers to request a one-year extension of this requirement, meaning that the first enforcement date is next month, September 24, 2015.
Also in September, a larger collection of Class I, II, and III devices — including most devices that enter the human body during surgery, care, and diagnostics — will need to place UDI codes on every device package. In the years 2016, 2018, and 2020, Class III, II and I, respectively, must have the UDI code on the device itself — not just the packaging.
UDI codes themselves will be generated by one of several agencies authorized by the FDA to provide the serial numbers: GS1, Health Industry Business Communications Council (HIBCC), and ICCBBA. The public will be able to access much of this information through the AccessGUDID database developed by the National Institutes of Health National Library of Medicine and the FDA.
U.S. FDA regulations do not dictate whether manufacturers use 1D or 2D codes, only that the information be encoded on the label and/or device. With this in mind, insiders predict that different companies will use different approaches to track their products, including 1D, 2D, and possibly RFID as well. Tim Kearns, pharmaceutical and medical devices manager at Videojet (Wood Dale, Illinois) writes, "Each customer and their product(s) will have specific needs to meet their particular regulation, depending on materials, line speeds, data management, etc. The common theme for both medical-device and pharmaceutical companies is the basic necessity for high-resolution, sustainable codes for clear product identification."
But with the growth of the global healthcare industry, one can assume that given the need to read and verify both codes and human-readable print, and that machine vision is the only technology capable of reading 1D, 2D, and OCR/OCV text, the machine vision industry is going to enjoy its part in protecting human lives from supply chain-related tragedies.
Click here for more information on UDI.