Medical Diagnostic Imaging Promises a Healthy Outlook for Machine Vision
POSTED 08/24/2017
 | By: Winn Hardin, Contributing Editor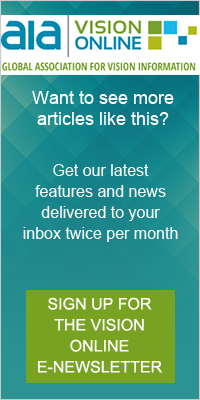 Opportunities for machine vision image sensors and cameras in medical diagnostic imaging are ripe for the picking. The global diagnostic imaging market is expected to reach $33.2 billion by 2022, fueled by rising health care costs, increased awareness of early disease detection, and an expanding elderly population.
To stay ahead of these demands, hospitals and clinics are adopting advanced vision technology that delivers high-resolution, high-bandwidth, portable solutions for diagnostic applications ranging from microscopy to fluoroscopy as researchers investigate new ways to deploy imaging technology for diagnostic purposes.
Seeing Small, Thinking Big
Although it has traditionally sold its products for industrial inspection applications, machine vision camera manufacturer Basler AG (Ahrensburg, Germany) ventured into the medical/life sciences market in 2016 with the release of its PowerPacks for Microscopy. The package includes a camera with the latest CMOS sensor technology and a USB 3.0 interface, as well as microscopy software for accurate and reliable image acquisition and analysis.
"We realized that our classical machine vision products share common values with the medical imaging market," says Peter Behringer, Product Market Manager Medical for Basler. "These commonalities include the need for high reliability and long-term availability of cameras, a robust design manufactured to international standards, and access to trustworthy suppliers who can deliver on time."
Behringer notes that the medical imaging industry is dominated by prestige-driven microscope manufacturers that sell cameras with their products. "That makes it very hard for customers to estimate the price of the camera," Behringer says. "Our PowerPacks deliver the quality of an upper mainstream camera compared to these high-end brands, but at a very nice price."
Basler recently added 20 new high-resolution models to its ace camera series. Available in 6 and 12 megapixels, eight of the cameras feature IMX178 and IMX226 rolling shutter sensors from Sony's STARVIS line that are suitable for low-light applications like fluorescence imaging.
Meanwhile, 12 cameras from the ace L series are equipped with IMX253, IMX255, IMX267, and IMX304 global shutter sensors from Sony's Pregius line. The models, which offer resolutions of 9 and 12 megapixels and frame rates up to 40 fps, are ideal for diagnostic imaging in fields like ophthalmology.
"The physician may want to check that all of the tiny blood vessels in the back of the eye are healthy, and he needs to zoom into that image in order to do so," Behringer says. "A high-megapixel camera offers a decent pixel size, and because global shutter technology takes an image at one time, you have a brilliant image where you can zoom in and see all the details."
Behringer also expects embedded vision — enabled by high-performance systems on chip (SoCs) from the tablet and smartphone industries — to significantly impact the medical diagnostic imaging market in the next few years as demand rises for smaller, cheaper portable devices that bring diagnostics closer to the patient. For example, dermatoscopes with embedded cameras document suspicious changes in the skin while image analysis is integrated into the software.
Another application driver in the market is convolutional neural networks. For example, if several doctors point to the region of cancer in multiple images, and feed all those images into the system, the neural network will learn the criteria for spotting cancer based on common visual cues found in the sample images.
"There are many new devices that don't just take an image, but they also give a diagnostic proposal to the physician, who can decide to accept or reject it," Behringer says. "The diagnostic proposal won't replace the physician, but it will do a very good job detecting pathologies in a camera-based diagnostic application." Systems like these should enable doctors to serve more patients without risk of lowering diagnostic standards.
Keep It Moving
As medical customers push their diagnostic imaging equipment to its limits, they're generating more data than ever. And that means the need for more bandwidth. Pleora Technologies (Kanata, Ontario) is responding by supplying high-performance video interfaces, primarily designed into X-ray flat-panel detectors (FPDs).
"X-rays have evolved from 'snapshot' images to fluoroscopy, where you're basically capturing a real-time, full-motion movie of a body part or a surgical instrument," says Ed Goffin, Marketing Manager for Pleora Technologies. "This translates into more pixel data being generated and a bandwidth bottleneck between the image source, the computer used for processing and analysis, and ultimately a display panel."
Pleora is in trials with its GigE Vision over NBASE-T interface for applications such as FPDs, in which 1 gigabit per second (Gbps) is insufficient and 10 Gbps "is bandwidth overkill and too expensive," Goffin says. "With NBASE-T, manufacturers can support 2.5 and 5 Gbps data transmission while using lower-cost, longer-reach Cat 5e cabling."
Goffin calls NBASE-T technology "a natural evolution for high-performance imaging thanks to its increased bandwidth, low-cost cabling, and compatibility with existing GigE Vision software."
Goffin also sees a rise in more complex imaging systems, including multipanel and moving systems, such as a rotating imaging system used in dentistry that provides a full view of the jaw area and tomosynthesis for 3D breast examination. Like their FPD brethren, rotating systems require more bandwidth as they move from a snapshot to a movie imaging stream.
"The flexibility of Ethernet cabling and the networking, multicasting, and image-triggering capabilities of GigE Vision also help simplify design and lower costs," Goffin says. Pleora's GigE Vision over NBASE-T interface will deploy in fall 2017.
For all the expectations for new equipment, some hospitals and clinics can't afford or simply don't want to invest in the latest diagnostic imaging systems. So a retrofit market is taking hold, primarily for USB3 Vision interfaces. This allows an integrator to maintain a high-value imaging source but migrate to a lower-cost or more portable computing platform, according to Goffin. He gives the example of ophthalmology, where images from a line scan camera used for eye examination are converted into USB3 Vision so they can be viewed on a laptop.
Research Rules
While machine vision companies develop solutions for their medical and life sciences customers, the academic community continues to explore more opportunities for vision in diagnostic imaging. A group of European researchers recently studied hyperspectral imaging to identify cholesterol in facial skin. Early detection of hypercholesterolemia, which is characterized by high levels of cholesterol in the blood, is necessary to prevent the onset and progress of heart disease.
The team used the VariSpec liquid crystal tunable filter system by Cambridge Research & Instrumentation, which covered the spectral range of 400–720 nm, and the EZ Mount white LED ring light (R130) from Smart Vision Lights to take images of subjects that contained only the eyes and skin around the eyes.
Researchers hypothesized that micro-xanthelasma, or fat deposits on or around the eyelids, undetectable by visible imaging could provide a link to blood cholesterol levels. The hyperspectral camera identified characteristic spectral features of the affected skin, visualizing only the lesions and eliminating the effect of melanin and other chromophores, or colored chemical compounds. These features were then compared to known cholesterol levels of the study participants.
The researchers concluded that the study results "demonstrate that hyperspectral imaging can be a promising, rapid modality for detection of hypercholesterolemia." Ultimately, imaging systems equipped with these capabilities could become as ubiquitous as blood pressure machines in places like pharmacies, where consumers could easily and noninvasively check their cholesterol levels in lieu of the traditional method of blood work.
In an article in the journal Nature Biomedical Engineering, Stanford University researchers evaluate in vivo near-infrared (NIR) fluorescence imaging, which offers high resolution with increasing depths of tissue penetration in the 700–1700 nm wavelength range. Advances in imaging instrumentation such as confocal and multiphoton microscopy, along with innovative NIR fluorophores, could spell new opportunities for functional imaging in clinical diagnostics.
In addition to its ability to probe physiological processes deep in the body, NIR fluorescence imaging doesn't contend with the negative effects of tomographic imaging modalities, such as the ionizing radiation of CT and PET scans or MRI's limited spatial resolutions.
To further improve the capabilities of in vivo NIR fluorescence imaging, the researchers call for "more advanced cameras with higher sensitivity and broader spectral ranges within or even beyond the current NIR window." For example, semiconductor materials such as indium antimonide (InSb) and mercury cadmium telluride (HgCdTe) could introduce capabilities otherwise unachievable with the indium gallium arsenide (InGaAs) cameras commonly used for imaging in the 1000–1700 nm range.
Bring on the Problem Solvers
While research can take years to become reality, machine vision companies are firmly planted for current and upcoming opportunities and challenges in the medical diagnostic imaging market.
As with machine vision on the factory floor, medical imaging customers are turning to integrators for remote support. Pleora's Goffin reports that from a nonclinical perspective, FPD manufacturers are exploring ways to use software for remote management and diagnostics. "If there is a failure, manufacturers and end users want to quickly pinpoint the issue and correct it," Goffin says.
As medical imaging evolves toward networked, multi-image source systems, diagnosing the diagnostics becomes more of a challenge. "In many cases it may appear to be a problem with the imaging source when in fact there's a networking or processing issue impeding performance," Goffin says. "Finding and solving that issue remotely can get the imaging system up and running much faster than sending a technician."
Additionally, Pleora is working with system designers to investigate real-time medical imaging and cloud-based analysis. "For example, during the imaging procedure, a patient's real-time results can be compared with a database of archived patient information," Goffin says. "It's similar to machine learning that's happening in the automation market, where a global archive of patient data can potentially help speed diagnoses."
Of course, governmental regulations maintain a constant presence in the world of medical devices. Established machine vision companies that thoroughly familiarize themselves with the stringent requirements of the U.S. FDA will be well positioned to provide diagnostic imaging solutions.
"It's hard for companies to complete the certification process, especially for start-ups," says Basler's Behringer. "There is a reason you don't have start-ups in medical imaging devices, and that is because those strong regulatory hurdles make it difficult to enter this market."
Although the device's end user is responsible for the performance approvals required by the FDA, a well-documented supply chain can help speed that process. "Making a component change that doesn't impact performance is usually inconsequential for an industrial automation application but can stop design or result in a recall in the medical market," Goffin says.
From video interfaces that support high-bandwidth rotating imaging systems to embedded vision technology that enables diagnostics at the point of care, the machine vision industry is poised to provide medical imaging solutions that detect diseases early and accurately.
Embedded Vision
This content is part of the Embedded Vision curated collection. To learn more about Embedded Vision,
click here
.