Material Handling Robots in the Mix
POSTED 02/06/2014
 | By: Tanya M. Anandan, Contibuting Editor
Mobility, modularity and mixed-load are the big movers in this space. From work cells to hot cells, to printing presses and distribution centers, material handling robots are transporting the goods at the end of line and on the front lines.
In fact, the first robot may have been a teleoperative manipulator on a secret mission.
First Handler, First Robot
"The genesis of the very first robot was because the material it was designed to handle was too dangerous for a human to touch," says Brian Behm, President of Robotics at PaR Systems Inc. in Shoreview, Minnesota. A newly elected board member of the Robotic Industries Association (RIA), Behm says that during the Manhattan Project in the 1940s the U.S. government commissioned General Mills to develop a manipulator arm for handling radioactive material.
According to Behm, scientists charged with the task of producing plutonium for the second atomic weapon would take turns running in and out of the lab where the proverbial hot potato was being synthesized. Each scientist wore dosimeters to measure their exposure. If any of them exhibited more than the maximum, they couldn't return to the area for weeks or even months.
"Somewhere along the way," says Behm, "someone must of have said, 'This is crazy. We've got to get an arm in there that we can operate remotely to handle this material.' I was told that was the first robot."
Unimate, the first industrial robot, may have been more advanced, but its emergence trailed the plutonium-juggling robot by more than a decade. According to Behm, this manipulator development grew within General Mills until the business was spun off in 1961 to form PaR Systems.
"From there, these systems got more sophisticated," says Behm. "There were highly automated systems used in weapons programs and nuclear power generation plants."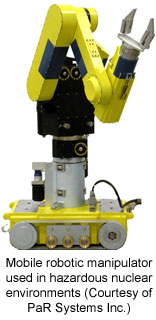 Mobile Manipulators
In nuclear environments, as in many material handling applications, robotic manipulators are going mobile.
"We developed a mobile robot for Argonne National Laboratory for a very high-radiation hot cell where they needed to do some maintenance that they hadn't anticipated," says Behm. "They had a porthole that this robot had to fit through. The robot had to be a certain size so it could reach certain areas and hold about 200 lb. without tipping over."
"We designed the robot to be taken apart and reassembled on the other side of the little hatch that the robot went through," says Behm. "It was made in three parts. We made it so the in-cell crane could grab the parts and they would click together. Then the robot would be able to operate."
"About every nuclear facility in the world has some PaR Systems equipment in it," says Behm. "But the area where there has been the most activity in recent years has been in the clean-up of radioactive environments. This has been a more lively area of innovation, like Fukushima, Chernobyl and the weapons developments sites around the world."
"As a residual of the Cold War, there are some real tough problems that were left from those programs," says Behm. "PaR has delivered many robotic systems to most of these locations around the world to help with this clean-up."
Nuclear Clean-up
"We came up with a new concept called a Tensile Truss™ system," says Behm, "a technology that we licensed from NIST (National Institute of Standards and Technology). "At the time, a lighter-weight version of it had only been used in a paint spraying application for large military aircraft. But we decided we could scale it up and make it more heavy duty and apply our software technology to enable it to do the job at Chernobyl."
The project's evolution and the design of the Main Cranes System (MCS) are documented in this article courtesy of PaR Systems.
"The unique part of the MCS is the trolley that carries the Tensile Truss, also referred to as the mobile tool platform," explains Behm. "The lower platform of the mobile tool platform hangs below the trolley. It reminds me of a puppet on strings."
Except where the puppet would be there's a platform with a robotic arm attached to the underside which rotates 360 degrees.
"It looks like it would be flimsy just like a crane, but it's not," says Behm. "That lower platform is very rigid, given those fixed ropes that come down to it. You can actually apply considerable lateral force with it. That's what makes it remarkable and especially useful in these clean-up situations."
The Chernobyl clean-up process is still underway. In March 2011, a 9.0-magnitude earthquake rocked Japan, triggering a massive tsunami that led to the catastrophic failure of the Fukushima Nuclear Power Plant.
"We thought the solution we were using for Chernobyl would be helpful for cleaning up the spent fuel pool on Unit 3 at Fukushima," says Behm. "The Fukushima equipment is kind of like a gantry. It has four legs to it. All four legs roll together on a rail system. In the middle is the Tensile Truss system."
"This system is completely remote and mounted with all kinds of cameras and has special software and intelligence systems to keep it from doing anything that's not permitted," adds Behm.
Whereas human safety is the primary goal behind material handling robots used in nuclear and other hazardous environments, the logistics space is still discovering all the benefits of robotic intervention.
Warehouse & Distribution
"We're seeing high demand for robotic solutions within the warehouse and distribution centers," says Alfredo Valadez, Vice President of Business Development & Sales for the Robotics Division of Wynright Corporation, an RIA Certified Robot Integrator in Elk Grove, Illinois. "There's a new trend with retailers that they have to deliver anything, anytime, from anywhere, so they're consolidating everything into very large distribution centers."
"Those changes are certainly driving some demand," says Valadez, "but robots in the material handling space are still relatively new. For a lot of the end users that are requesting this type of technology, it's their first time seeing or implementing a robot."
Valadez says the distribution center (DC) is a very challenging space to automate. Variability is the major challenge.
"In the DC space, you see a big range of sizes and weights of cases and boxes," says Valadez. "There's also the product packaging. It's very challenging to manipulate automatically. That's why this space hasn't seen the robotics and automation that the manufacturing side has seen."
"But with new technology, advanced vision systems and better software, we're overcoming some of these challenges," says Valadez. "I think we're going to see a new trend of robotic applications in the DC that were traditionally not solvable just a few years ago."
Truck Unloading
"Wynright has been developing an advanced 3D vision system that's enabling us to solve many processes within the distribution center and warehouse operations, specifically in the dock area. This is one of the most labor-intensive and physically demanding areas in the DC."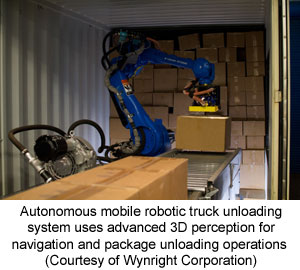 Valadez credits this advanced vision system as one of the enabling technologies behind Wynright's Robotic Truck Unloader (RTU). First debuted a year ago, this patented technology was named a winner last fall in the 2013 Game Changer Awards. The RTU combines many of the latest trends in robotic material handling, including mobility, 3D vision and sophisticated algorithms.
"It's a robot on a mobile platform that autonomously navigates into a trailer or ocean freight container and unloads it automatically," explains Valadez. "The reason we're able to do this is because of this advanced 3D vision system, or what we call perception. The reason that we call it perception is because the vision system is non-deterministic, unlike standard industrial vision."
"This perception has to make decisions on the fly and has to evaluate the container, which is an environment it knows nothing about. It's able to tell the robot specifically where the product is, so the robot can locate it, pick it and unload it."
"The vision sensor is the same technology that the Xbox Kinect uses," says Valadez. "It uses a near-IR light that's invisible to humans and a standard CMOS image sensor to read the coded light back from the target. This is based on the older Xbox technology."
"We use the same perception technology for the robot navigation as we use to pick the cases. It gives us a lot more information than your traditional laser system and we get a lot better resolution."
This video courtesy of Wynright Corporation shows the RTU in action unloading a trailer full of boxes in varying sizes and orientations.
"We invested quite a bit of time in programming automatic recovery of the system," explains Valadez. "When you look at the operator interface for our system, you'll see three buttons. It's just Start, Recover and Abort. For example, if a case was damaged in transit to the point where the system couldn't handle it, the operator simply needs to take care of the problem and push Recover. The system will automatically recover from wherever it was and then it will restart the process. You don't need a high-end technician to operate the system."
Valadez says an operator can manage up to three units simultaneously. "We can take that same operator that was loading and unloading the trailers and train them to operate this system."
He says the main advantages are reduced labor and the reduced costs associated with injuries that typically accompany this type of physically demanding labor. Valadez also notes increased consistency.
"Today, if you're doing this operation manually, you might see a peak in the morning when the operator or operators start working, but by the end of your 8-hour or 10-hour shift, you definitely see a decline in output. The automatic system is going to be very consistent. Whatever productivity it's giving you in the morning, it's going to give you in the afternoon."
Sometimes, it's difficult to attach a dollar figure to payback in material handling applications.
Mixed-Load Palletizing
"That's the battle we fight every day, finding the solution that meets the technical hurdles and the payback hurdles," says Bill Natsch, Director of Robotic Integration for Intelligrated, an RIA Certified Robot Integrator in Saint Louis, Missouri.
"There are many different kinds of opportunities for mixed palletizing (palletizing multiple products onto the same pallet)," says Natsch. "You can't say that any one type of robot or type of tool will work for all applications."
"We have an R&D project in our lab right now where we're testing a very sophisticated end-of-arm tooling that will handle multiple-sized products and types in one robot cycle. It's much more than just the end-of-arm tooling. It's also the software that goes with it."
"We're looking at a tool that's more efficient, that we can pick more products with, and build the loads faster and more efficiently, so that it takes fewer resources in a customer's plant to fulfill their needs for mixed palletizing. If we can get by with doing it with two instead of five, the ROI is just that much better."
"In the warehouse and distribution space, we have to be as efficient and cost-effective as possible. We're using new and emerging technologies, and also merging existing technologies that haven't been brought together before, to try to accomplish some of these tasks. It takes time to refine them."
This video courtesy of Intelligrated shows a mixed-load robotic palletizing demonstration at PACK EXPO 2013.
"Multiple SKUs are handled in a single layer and in a truly random sequence," says Natsch. "A lot of integrators haven't been able to marry the software and technologies to pull off that type of application."
"We virtually build the load with the software, and then use the robot and potentially vision to build that load," explains Natsch. "In between that software and robot you may have some type of sequencing equipment, such as conveyance and sortation equipment, to get the boxes in the right order."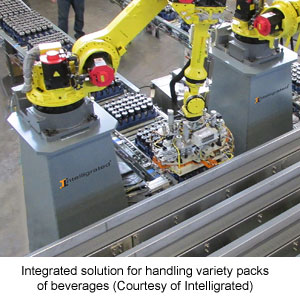 Variety Pack Fulfillment
Also featured at the PACK EXPO was Intelligrated's new robotic variety pack order fulfillment solution. It uses flexible end-of-arm tooling for applications such as case packing and unpacking, depalletizing and product singulation to automatically build retail-ready variety packs of food, beverage and household goods.
"Just like mixed-load palletizing, there's not one solution that meets every customer's application," says Natsch. "It's a custom-engineered solution, depending on what the products are, how they're being repackaged, and how many varieties are in a variety pack. It could be two, it could be twelve."
The end-of-arm technology in the pictured variety pack application is patented and used in this case for singulating or laning soft drink containers. "One size doesn't fit all," says Natsch. "We develop and integrate our own specific end-of-arm tooling per application."
"I think that's a very important part of robotic integration, whether it's in a manufacturing environment or in warehouse and distribution," says Natsch. "As an OEM, we manufacture our own tooling; we do our own controls. It brings about a very seamless project in the customer's eyes as opposed to someone going out and buying tooling from some place and having controls done somewhere else. It's just one piece of the puzzle that helps bring together a successful robotic automation project."
Natsch also notes mobility as a growing trend in robotic material handling applications. "Mobile robotics is coming to the forefront, basically taking an articulated arm and making it mobile. It certainly plays well within the distribution environment where you have a lot of people performing tasks that require them to move around."
Maneuvering the Aisles
Robust mobile platforms and advanced perception technology are poised to open doors into this relatively untapped part of the distribution center, where individual cases need to be picked for order fulfillment.
"Today, you have operators either pushing a cart around or driving a forklift when they have to fill orders at a case level," explains Wynright's Valadez. "They have to drive through all of these aisles and pick the cases off the pallet. So there's a lot of traveling and it's pretty labor-intensive."
"But with this perception technology (the same used in the RTU), we have the ability to put a robot on a mobile platform and use our perception to go down the aisle and pick cases directly off the pallet load," says Valadez. "Handling cases with a robot is not new, but being able to pick it directly off a pallet load is pretty significant. Not only can we implement a robot, but we can use the existing building infrastructure without having to invest in very precise racking or an expensive mechanism that would have to feed the case to the robot."
"Instead of the unit driving into a trailer, it's driving up and down an aisle," says Valadez. "It's still using the same perception technology to find the case, pick it, and then deliver it to whatever medium you're going to use to transport it to shipping."
"We're implementing our first field install of this application next month for a large retailer located in the United States," he adds.
Modularity
Another trend is modular material handling cells. Modular robotic welding cells have been around for many years, and now the ease and speed of modular integration is expanding to other applications.
"The modular design allows customers the flexibility of adding a cell at a later time as their needs grow, or implementing a larger installation over several lines at once," says John Schwan, Director of Sales & Marketing at QComp Technologies Inc., an RIA Certified Robot Integrator in Greenville, Wisconsin, that primarily focuses on the fast-moving consumer products industry.
He says the biggest advantage of modular systems is pre-engineering. "The module is set and all we have to do is customize it for a customer's particular product. So they're not paying for re-engineering or something from scratch, which helps us to be very competitive price-wise."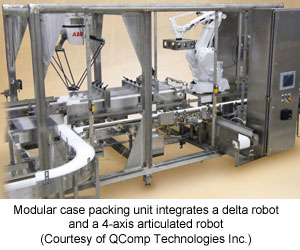 "We place the control cabinet and the robot all on a common frame, so it's very easy to install," explains Schwan. "There might be a sensor here and there, but 90 percent of the wiring is contained within the unit, within that frame. So the customer has very little startup time."
"The other thing we've done with the module is that instead of making large frames on some of the delta robots where you would have four or five robots in a row, each robot cell can be put in as needed. We've done some cells where the customer will start off with two robots and then a year from now if they want to add another robot, they can just drop that module in and it's pretty much plug and play."
Schwan says QComp had a customer that needed to case-pack 150 trays per minute. The challenge was to arrange the trays in the proper array to be picked.
"The solution was the Duet Case Packer," explains Schwan. "This design featured a delta-style robot with the high-speed picking capability to pick the trays as they entered the cell and arrange them into the proper configuration to be placed in the case. The second robot is a four-axis robot that picks the layer formed by the delta robot and then places the trays into two cases at once. The tooling incorporated some mechanisms to gap the product for proper placement into the case."
This video courtesy of QComp Technologies shows the Duet Case Packer in action packing trays of packaged meat product into cases.
Easy Changeovers
Schwan says the control system on the duet packer helps with easy changeover.
"We focus our controls on the PLC. What makes it easy is that we use a remote interface to the robot and then we can change vision programs or the robot program all from that single point of use. Other integrators or suppliers might have a control system where both the vision system and robot program are separate. If they have to do a changeover, they will have to change the vision program on one PC and then change the robot program on the robot controller. We tie everything together in the PLC base and then communicate out to the different camera or robot programs."
"In the duet system, the robots, the control system, all the conveyors that are in that cell, everything is fixed in that frame, so it can be moved easily," explains Schwan. "We have some customers that actually take our cell and move it from one line to another. The way it's designed, it's pretty easy to do that. You don't have to re-teach the robot because it's all fixed within that same framework."
"It's shipped ready to go," he adds. "The customer can move it around their facility or move it to another facility."
QComp's Compact Lean Palletizer is another modular unit on a common frame. It's designed to fit on a truck. "We take that to trade shows," says Schwan. "We can have that set up and picking boxes in a few hours."
"It's really targeted for smaller-weight cases, up to 40 pounds," explains Schwan. "We elevate the pallet on a scissor lift. That allows us to use a small robot in a very compact space. We can get a full 88-inch or 100-inch pallet by using a very small-reach robot. Usually if you were using a robot to build a 100-inch pallet, that robot cell would be at least twice that size."
This video courtesy of QComp Technologies demonstrates the Compact Lean Palletizer.
Signature Moves
As you can see, material handling robots come in many forms. In another application, this overhead manipulator has its own brand of signature moves in the printing industry.
"We added a new product line recently," says PaR's Behm. "It's mostly a crane. It works in the printing industry to automatically load logs of signatures (groups of magazine or book pages) into the pockets of a bindery machine."
The system is called a Log Depalletizer or LDP. "These logs get fed in at a certain sequence and it builds up the magazine," explains Behm. "First the LDP scans the area to make sure there's no one in the vicinity. Then it makes sure it grabs the right set of signatures from the correct pallet and puts it in the right pocket on the bindery machine."
This video courtesy of CAMotion Inc., which was recently acquired by PaR Systems, shows the Log Depalletizer in action.
"There's advance motion control technology embedded in the robot that suppresses vibration, enabling it to carry relatively heavy loads," says Behm. "The LDP replaced manual-assist hoists that operators used to transfer the logs."
"The LDP has proven to be rock solid at always putting the right set of signatures in the right pocket," says Behm. "You can imagine if someone put the wrong signature in the wrong spot. Bindery lines move very fast and can produce an incredible amount of scrap if not managed properly."
Behm says he expects this advance motion control technology to find material handling applications in other industries. He says it's already generating a lot of interest in North America and abroad.
Whether they are swooping in from the rafters or sliding into semitrailers, today's material handling robots are keeping valuable resources on the move and freeing up their human coworkers for more productive pursuits.
RIA Members featured in this article:
Intelligrated
PaR Systems Inc.
QComp Technologies Inc.
Wynright Corporation