Material Handling On the Money
Reprinted with permission from Robotics World Magazine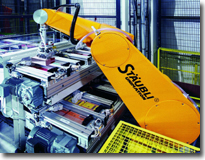 Case Study: A Staubli robot picks up a box of Euro coins for packaging at the Pessac Mint Facility in France
The European Single Currency, the Euro, made its debut in January. April 2001 marked the service introduction of a robot production line set up by GAPE-CEMES at Monnaie de Paris (the Paris Mint) for packaging boxes of Euro coins. Quite naturally, Stäubli robots found themselves a place in this work: strengths such as working amplitude, cycle time and programming language made all the difference.
Monnaie de Paris produces and mints the Republic of France's currency, in addition to a number of foreign countries' currencies. For more than two years now, Etablissement Monétaire de Pessac, the Pessac Mint Facility, has been producing the Euro coins.
In September 2000, Monnaie de Paris chose the technical solution put forth by GAPE and CEMES (Poitiers, France), design specialists of high-rate production equipment, primarily in assembly and packaging systems. These two sister companies integrate all of their engineering, mechanical design and automation and robotic systems skills in order to offer turnkey equipment solutions.
GAPE and CEMES designed and perfected a packaging line that produces 500 kg cases/pallets, composed of an assortment of boxes of Euro coins taken from eight box types off eight single-product pallets.
Removal from the pallets is performed by two similar robot-equipped cells, each one handling four kinds of boxes of coins. These robotic cells, located on either side of an eight-track transfer and accumulation line, each include a Staubli RX175 L robot. The robots, equipped with a suction cup type, multi-format clamp, unstack the boxes from the pallets and place them, right way around, on the assigned tracks on the conveyor line.
Packing is ensured by a robot-equipped cell located at the end of the conveyor line. A Staubli RX135 robot lifts the boxes previously referenced by the indexing stations that equip each track and places these products in the 500 kg box, according to the selected palletizing diagram. The two line control stations group the operator interfaces, whose ''screen'' pages were developed using Stäubli V_ISUAL Interface software.
The expertise provided by GAPE-CEMES ensured that a robotic installation could meet the following demands: amplitude constraints affecting robot movements, cycle times (currently around five metric tons of boxes are processed every hour, a rate of ± 3.4 seconds per box), as well as the strict operator. The safety barriers around the cells were the subject of in-depth design work to ensure that the pallets could be replaced by human operators in total safety, without the need to stop the robots from working.
The diversity of eight box types, in terms of size (length, width and height) and weight (4 kg to 6.3 kg) required that GAPE and CEMES develop a multiple-format suction cup equipped with clamps for handling work at high speeds.
The operational results achieved by this robotic packaging line fully confirm the initial choice of a robot-based solution. When compared with cartesian-type handling systems or semi-automatic packaging stations, the absence of carrying structures, speed, ability to evolve and the technological characteristics of these polymorphous robots were determining factors in choosing robotic equipment; in turn, increased productivity, significant cycle time gains and improvements in working conditions were all achieved.
For additional information, please contact
Marketing Manager
Stäubli Corporation - Robotics Division
201 Parkway West
Duncan, SC 29334
USA
Tel. 864-433-1980
Fax. 864-486-5497