Manufacturing Challenges and Solutions Series: Labor Shortage
POSTED 02/20/2023
 | By: Emmet Cole, A3 Contributing Editor
There is no way to sugar coat the scale of the labor crisis in manufacturing: The latest National Association of Manufacturers (NAM) Outlook Survey reveals that 75.7% of manufacturing leaders in the U.S. consider attracting and retaining a quality workforce to be the number one business challenge.
Statistics from the U.S. Bureau of Labor & Statistics show that around 750,000 jobs are unfilled in the manufacturing sector –even though unemployment is at historically low levels. And Deloitte Insights predicts that 2.1 million manufacturing jobs will remain unfilled in the U.S. alone by 2030.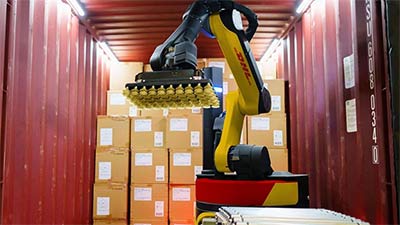 Boston Dynamics' Stretch replaces manual unloading of packaging from trucks -a role that's almost impossible to fill in today's manufacturing labor climate. Credit: DHL
"The situation is quite dire," says Lian Jye Su, research director at market analyst firm ABI Research, noting that the problem isn't confined to North American manufacturing.
"China also faces similar issues in keeping its factory workers. One report stated that more than 60% of Chinese manufacturing workers were born between 1975-1985 and that very few young adults are interested in manufacturing jobs due to higher salary expectations and education levels."
If demographics are a guide, then the labor crisis isn't going away anytime soon.
"The manufacturing sector will always be expected to produce goods in a highly competitive, time-sensitive, cost-effective, and safe manner. Coupled with the ever-declining birth rate, the labor shortage in manufacturing will likely remain, and automation is the only way out," says Su.
The latest NAM Outlook Survey also asked manufacturers about their plans and the number one response –at 65.3%-- was "capital spending on new equipment and technological investments."
The synergies between the industrial automation and manufacturing sectors have always been important to both, but the current labor crisis has intensified the sense of urgency and is a major driver of automation adoption.
Cometh the hour, Cometh the robot
Analysts are saying it. Manufacturers are saying it. The industrial automation sector has always known it: Automation enables manufacturing companies of all sizes to address labor shortages while providing the traditional benefits and enhancements of automation from 24/7 availability and improved product quality through increased production and throughput.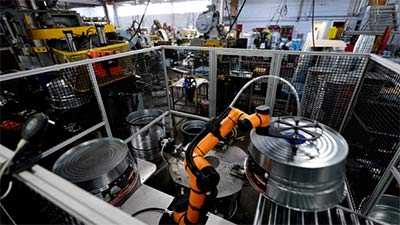 The Rapid Machine Operator is a flexible automation system designed for speedy deployment. Credit: Rapid Robotics
A shortage of workers for manual unloading of packages from trucks led DHL to invest millions in a collaboration with Boston Dynamics on the development of Stretch –a mobile platform for automated case handling that comes with a 7 degrees of freedom robot arm, an adaptive gripper, advanced vision capabilities, and a set of high-capacity batteries to see Stretch through full shifts on a single charge. DHL plans to roll the robot out in several facilities in 2023 and across many more locations over the coming years.
The manufacturing sector is experiencing a critical shortage of machine operators too. Solving this particular problem led Rapid Robotics' to develop the Rapid Machine Operator (RMO)—an affordable, automated machine tending system that the company says takes just hours to set up and can be quickly switched between different tasks.
"Traditional automation has many barriers that have kept manufacturers, especially in the small to medium category, from getting started. Lengthy deployment lead times, hidden integration costs, hefty upfront capital investment, lack of task flexibility –the list goes on. New robotics-as-a-service (RaaS) models can provide a holistic robotic workforce solution that circumvents these barriers," says Jordan Kretchmer, CEO & co-founder of Rapid Robotics.
As "a true RaaS company," Rapid Robotics offers manufacturers the opportunity to lease pre-trained, fully operable robots on a monthly basis, with 24/7 remote support, and regular updates from the cloud designed to improve robot performance, says Kretchmer.
"This shifts the burden of cost from a large capital expense to a manageable operational one. Put differently, rather than pay a massive upfront charge for the machine, plus the additional cost of service and a systems integrator to program the machine, RaaS presents a low-risk pathway to automation."
According to a recent study of 300 manufacturing decision makers conducted by Rapid Robotics, more than 92% are actively hiring machine operators, and more than 60% need to hire at least six. Echoing the results of the NAM survey, Rapid Robotics' study also found that two thirds of manufacturers increased their number of automated processes in the past year, and that almost 80% plan to increase their automation in the next 12 months.
Automation doesn't just help to address labor challenges, it also gives companies the bandwidth to take on more business, says Kretchmer, citing the case of a Rapid Robotics customer that automated pad stamping and heat stamping applications, freeing human operators to focus on higher value tasks –a deployment that resulted in $60,000 in savings per year and $600,000 of additional business.
Looking to the long term
Facing ongoing labor shortages, a machine shop in Texas deployed automation on tasks from CNC machine-tending, sanding and deburring to part inspection and laser marking. Credit: Universal Robots
There is no quick fix for the deeper issues driving the labor crisis in manufacturing, says Joe Campbell, senior manager of applications development at Universal Robots.
"We're seeing unemployment hit its lowest level since 1969, but more than half of young people today just aren't attracted to jobs in manufacturing. At the same time boomers are retiring. As a result, we're seeing hundreds of thousands of manufacturing jobs remain unfilled," says Campbell.
Long term efforts that will take "years to put in place and produce significant results" are nevertheless crucial to the survival of U.S. manufacturing.
"For a generation that is sometimes said to 'live' on their electronic devices, the opportunity to program a cobot from a smartphone or tablet can be very appealing and an extension of what they are already familiar with," says Campbell.
"We need to increase interest in STEM topics in schools to introduce students to the core technologies, and to build awareness of exciting, technology-rich career opportunities in the manufacturing sector. State and local governments see the value in reshoring U.S. manufacturing, part of that has to include the introduction of more training opportunities, including 2-year manufacturing technology programs, to shrink the skills gap and expand the manufacturing workforce."