Maintenance, Repair, Overhaul Helps Robot Suppliers and Customers
POSTED 02/04/2003
 | By: Winn Hardin, Contributing Editor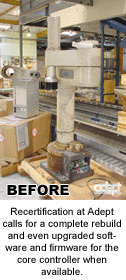 What do you do with a good machine when it gets a few years old, or ten or even twenty? How many pieces of capital equipment even stay in production that long before the process or product changes so much as to render it useless? If you have a robot, chances are you are in the fortunate position to keep it on the line for years with good maintenance, repair, and eventually with an overhaul that makes it as good as new or even better!
In these economic times, savvy robot suppliers and integrators are structuring their businesses to serve the growing field of maintenance, repair and overhaul (MRO). Large and small end users are finding they have a tremendous business case for going with used, remanufactured or recertified robot systems and subsystems. This can add incremental capacity to existing systems, or expand production by simply duplicating an existing manufacturing line without the additional costs of retraining operators or re-engineering product lines.
MRO, a Bright Spot in Dark Times
''Used equipment'' is actually only one segment of the MRO market. Used equipment, usually resold by robot brokers, has had worn parts replaced in order to reach performance standards for that model based on the year it was manufactured and whatever equipment, software and firmware was standard at that time. Remanufactured equipment has been repaired and updated to the level that a field technician could perform on site. A recertified system is usually brought back to the supplier, completely broken down and rebuilt along with the latest software and firmware supported by the core controller.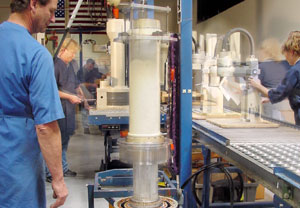 Statistics for the growth of MRO are hard to come by, but responses from a few bellwether vendors puts the market in bright perspective. One West Coast robot manufacturer said that restructuring to focus on MRO initiatives has boosted revenue by 100 percent over the last three quarters in that group.
In another area of the country, technical service manager, Scott Burgess, for FANUC Robotics America, Inc. (Rochester Hills, MI) explains that the benefits from refocusing and reorganization of technical services led to a 25 percent increase in revenues for his group, and 50 percent over the past three years. Independent integrators, such as arc welding specialist Genesis Systems Group (Davenport, IA) have been able to save market share and keep revenues solid during an economic downturn that has crippled many competitors by focusing efforts on retooling and reuse of existing robotic systems.
''I feel like the dog that caught the car, we don't know what to do it,'' said a happy Joel Lorentzen, vice president of tooling business unit at Genesis Systems. ''Robots in our markets have been oversold into programs and speculative applications. A lot of robots are around that are underutilized…While companies are running at low manufacturing capacity…we believe that companies will invest to improve their own products. GM is going to change their cars, John Deer their combines. They want to re-deploy the capital they have, but they will need new tooling,''
Whether MRO makes sense can depend on the customer and the application. In some cases, and because robots can be so durable, it never gets to the point of performing overhaul. ''Robots tend to last a while, so we don't see many of them coming back for rebuilds. By the time they require serious overhaul, they're outdated,'' explained Gary Galinsky, technical service manager at Reis Robotics USA Inc. (Elgin, IL).
Timing is Everything
Depending on the application, robots can operate with minimal maintenance from three to 10 years or more. Customers are well advised to seek guidance from their supplier or integrator regarding annual maintenance and service contracts. There are many approaches to consider.
For instance, an operational audit may be offered to evaluate the long-term corrective actions required by the robot, and to recommend routine maintenance programs complete with a suggested list of spare parts to keep on hand.
FANUC's Scott Burgess amplifies on this point: ''A robot may be using a lot of motion on one axis, which may cause the reducer to go more often. We'll give them a procedure on how to replace it.''
Among the plans you may find are ones that offer preventive maintenance where the supplier's technicians handle repairs and routine maintenance. Predictive maintenance contracts call for scheduled operational audits on a regular basis, while the final and most common service category, corrective maintenance, sends a technician to fix a specific problem.
Along these lines, Burgess has structured his technician force into three categories: on call service for corrective maintenance, primary site service engineers (PSSE) that are strategically located around the world in areas with high concentrations of large customers that require maintenance and engineering assistance, and resident service engineers (RSSE) that stay full time at the largest clients' facilities.
''We're finding more and more customers are seeing the value of having a service engineer there. As you go from PSSE to RSSE, it shortens mean time to repair significantly. For a large robot purchaser, where down time costs $1000 a minute, it doesn't take long to pay for the RSSE,'' Burgess said.
From Intermittent Errors to Smooth Operation
After several years of use, robots – like other tooling – will start to generate intermittent errors. Rather than buying new, end users are turning to re-certification. Compared to used equipment, many robot vendors offer to take their systems back for a complete overhaul. Technicians remove everything from bearings to old grease, returning the system to better than new (many times the systems get upgraded software and firmware as part of re-certification.)
A good strategy for a customer that needs to start rebuilding robots is to buy a recertified robot as the ultimate spare. Cycle staged upgrades can be planned to replace one robot with the recertified robot, take another off the line and send that back for re-certification, and so on until the entire line is rebuilt. This helps avoid unnecessary engineering projects or budget-heavy capital investment for a new line.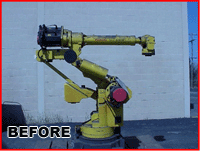 You may find your supplier offers an exchange program version of the cycle-staged upgrade where the company provides a re-certified robot immediately. ''We swap the units and charge a fee based on the shape of the robot and the damage. Then we re-certify it and put it on the shelf as an exchange for the next customer,'' Burgess said.
The customer can find many valuable time- and money-savers by working with the supplier on MRO.
''Let us [the suppliers] do the robots, [the customer] can do everything else. Robots are a highly technical piece of equipment, and mistakes [in MRO] can be very expensive. If we do the redress wrong, we'll pay for it, but we have the skills to make sure that doesn't happen,'' comments Burgess.
It all comes down to balance. Old robots may need never die, but new and improved models are always in the game. One major user announced a vigorous plan to reuse as many robotic systems as possible with a goal of 100 percent reuse. Recently it scaled back it's target percentage to 50 percent, according to Burgess, because of the enhancements offered by new models, ''especially software,'' he said.