Machine Vision Unwraps Faster, More Robust Options for Packaging Applications
POSTED 06/04/2020
 | By: Dan McCarthy, Contributing Editor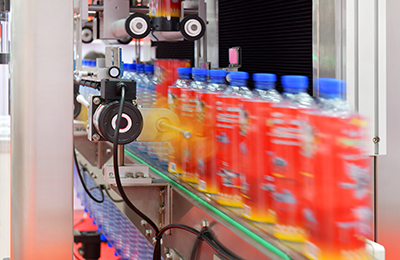 Machine vision technology was helping to maintain the quality, safety, and traceability of consumer packaged goods long before the COVID-19 pandemic emerged. But packaging inspection and track and trace applications have become even more critical lately as homebound consumers -- driven by economic uncertainty, the need for dine-in options with longer shelf lives, and perhaps nostalgia for happier times -- are increasingly returning to familiar prepackaged standbys such as canned ravioli, frozen pizza, and macaroni dinner mixes. Processed-food companies that were seeing sales flag before the pandemic have reported significant upticks in sales. Campbell Soup Company, for example, has seen sales of its canned soups soar 59 percent over last year, and Kraft Heinz Company and Conagra Brands are reporting impressive increases as well.
Similar growth trends are unfolding in other packaging segments for personal hygiene, pharmaceutical, and, more recently, personal protective equipment products. As a result, consumer packaged goods (CPG) suppliers and their packaging partners have been trying to ramp up production to meet higher demand. Some of that new demand will likely trickle down to vision suppliers and integrators that offer solutions targeting the packaging market. But the trickle could be sluggish until supply chains settle down enough to focus on the bigger picture.
Citing the surge in global demand for N95 face masks as an example, Steve Zhu, Director of Sales for Asia, Teledyne DALSA notes, "Right now demand for face masks is so high that suppliers in China have no time to change or improve the inspection process or retrofit their production lines. They're focused on producing as many as they can as quickly as possible, which is why we haven't seen much demand for new vision technology yet. But after things slow down, we expect to see greater emphasis and investment on new quality assurance and track and trace systems for this application area."
As the chaos in global supply chains subsides, Zhu also expects to see packaging companies and OEMs hedge against future global disruptions by seeking suppliers closer to home. That could prompt additional investment in vision technology as local suppliers install or upgrade quality assurance and track and trace systems to serve customers closer to home.
Assuming future investments correlate with the packaging applications most in demand today, that could spell opportunities for vision suppliers targeting packaging inspection and barcode reading applications.
Barcode Readers Everywhere
Recent mandates to shelter at home helped further fuel the already notable momentum that's driven e-commerce growth over the past few years. Salesforce's recent "Global Shopping Index" report noted a 40 percent year-over-year rise in the number of unique digital shoppers in the first quarter of 2020, and a 15 percent increase in overall demand for e-commerce, a significant jump in just a few months.
As e-commerce grows, so grows demand for image-based barcode scanning systems able to read the more data-dense 2D barcodes that are streamlining increasingly complex logistical operations. The 2D code readers are also increasingly being used on food and pharmaceutical packaging, where they help track and trace products from the manufacturing line to point of sale.
Unlike laser scanners, image-based readers use area array sensors to capture image data and then apply algorithms to locate and read a barcode within the frame, regardless of the code's size or orientation. Captured images can also include optical character recognition (OCR) data and store visual details of a package or label to allow post-analysis of issues contributing to "no-read" or "misread" results.
While capturing data in two dimensions instead of one arguably translates into greater system complexity, many 2D barcode readers have significantly streamlined logistics operations. Handheld mobile computers from Zebra, Honeywell, Datalogic, and Cognex's series, for example, integrate lights, lenses, and imager in compact mobile devices to scan barcodes everywhere from pallets at the loading dock to packages delivered to the doorstep.
Lenses, Cameras, Action
When applied to high-speed packaging lines or busy distribution centers, however, vision systems require a higher degree of sophistication and control to ensure higher read rates, throughput, and accuracy. But greater sophistication can actually reduce system complexity.
Autofocus technologies based on liquid lenses, for example, dynamically shift a camera's focal point based on digital controls, allowing it to refocus within a few milliseconds to capture package or barcode data from rapidly changing distances. Unlike conventional autofocus systems, liquid lenses have no moving parts and consume less power. More importantly, they can reduce the number of cameras and lens systems required on a line.
Advances in imagers, interfaces, and software are also pushing the boundaries in package inspection. For cameras, speed is determined by how quickly a sensor's pixels can gather data and then transfer that data through the camera interface for processing. Teledyne DALSA's latest addition to its Genie Nano 5GigE series takes high-speed data capture and transfer a step further by combining it with improved resolution. The new models deliver resolutions between 3.2 and 45 megapixels, and leverage the company's TurboDrive data-encoding technology to increase readout speed to rates comparable to 10GigE cameras but at a much lower cost.
While Teledyne DALSA is focusing on hardware and software solutions to optimize automated inspection, Zhu sees more software solutions such as TurboDrive fueling advances more quickly than hardware — the most notable example being deep-learning software (more on this next month).
Deep-learning algorithms have significantly expanded the options for automating inspections beyond what traditional rule-based vision systems could achieve. When applied to package inspection or OCR, deep learning can enable vision systems to better handle variations in the imaged object. This can be useful for countering environmental interference, variable printing quality, or other uncontrollable variations in the application. "By applying a deep-learning algorithm for OCR, for example, we can improve readability even if the label is damaged or partly hidden," Zhu says.
LEDs Accelerate Lighting
Machine vision lighting is also evolving to accommodate high-speed packaging applications. With today's high-speed camera interfaces, a vision system's ability to freeze motion is increasingly determined by how precisely and quickly the light source can put photons to pixels. Xenon flashlamps are brighter than LEDs in terms of absolute photon output and, when strobed, can typically emit pulses between 15 and 30 microseconds (μs) long. Some can deliver pulses as short as 250 nanoseconds (ns).
However, absolute intensity and pulse length are not as critical to high-speed package inspection or barcode reading as flux density, which is the number of photons projected within a camera's field of view (FOV) during a specified period. In this context, LED light sources have the advantage over xenon sources.
As solid-state light sources, LEDs can be strobed at higher currents for brief periods to deliver 3–8 times their rated output and sometimes even more. An LED's comparatively compact form factor also enables it to be positioned closer to the target, which in practice, allows similar or even better illumination compared to xenon sources.
More importantly, strobed LEDs provide more control than xenon sources over how quickly they reach full intensity before switching off. The short, square pulses they enable ensure a target is illuminated at full intensity when a camera shutter opens.
"Maintaining this clearly defined pulse shape has traditionally become more challenging as you reduce LED pulse width due to the intrinsic latency introduced by the cabling required for external LED controllers," says Steve Kinney, Director of Engineering at Smart Vision Lights. "Even a 2-foot cable can contribute substantially to system jitter and extend the rise to full intensity into to the microsecond range."
In response, Smart Vision Lights innovated a way to integrate the driver on the LED motherboard, enabling its new NanoDrive technology to minimize latency issues and allow LED lights to achieve full power in 500 ns or less with comparable off time. In practical terms, NanoDrive-enabled lights configured to a 1 μs pulse width and a 10 percent duty cycle could be capable of 100,000 strobes per second.
Wrapping Up
Products, packaging, supply routes, and consumer tastes may change over time. But there will always be greater demand for automated package inspection and tracking systems that deliver higher throughput, superior accuracy, and more robust data. As long as suppliers of camera sensors, vision software, lenses, and lighting continue to keep pace with these demands, there will always be a market for their products.