Machine Vision Rides LED Performance Improvements
POSTED 05/26/2011
 | By: Winn Hardin, Contributing Editor
Light emitting diodes (LEDs) are the future of architectural lighting thanks to their high efficiencies, variety of colors, and longer lifetimes. Machine vision companies are making the best of these solid-state light sources, including recent advances in brightness, efficiency, thermal stability, and optics.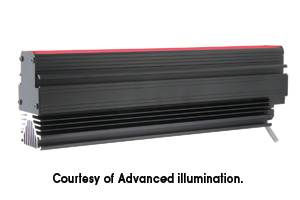 Bright Light
Traditionally, gas-discharge lamps have dominated the machine vision illumination market because of their high-output and relatively flat visible spectrum. Today, the increasing brightness of LED light sources combined with longer lifetimes is prompting many customers to move to solid-state illumination sources.
According to John Merva, Executive Vice President Sales and Marketing at Advanced illumination (Rochester, Vermont), the standard LED die has increased in brightness from about 3W to 9W in continuous mode operation. A big part of the improvement, according to Merva, is increases in electron to photon conversion efficiencies. Output wavelength consistency has also improved with the newer generation of LED die, which is also critical to a successful machine vision implantation.
"The newer LEDs we're using in our coaxial lights run at a lower forward current than our previous generation lights and have higher outputs," adds Jason Baechler, Manager of Sales & Marketing for Lighting and Imaging North America at MORITEX U.S.A., Inc. (San Jose, California). "We run them at lower forward current, so there's better efficiency, which allows us to package them more densely together. We're replacing the classic halogen lighting with multi-chip light engines. We're testing a pretty huge array of 6x6, a 9x9…but the challenge comes focusing the light on the surface or end of a fiber."
LED die manufacturers are mainly focused on achieving the maximum output from their products, but for machine vision, the goal is not just intensity, but focus and uniformity. "At MORITEX, our goal is uniformity first, and intensity second. If a machine vision light doesn't provide uniform illumination, that can be a serious problem," adds Baechler. "Luckily, we have the in-house expertise in optics to design specific packages that user layered optics – starting with the hermetic pages that contain the LEDs to diffusers and polarizes that our designers add to make sure the final illumination is uniform and meets the customer's needs. Optics manufacturers haven't kept up with LEDs as much as the electronic suppliers have. It's a challenge, but we're lucky to have the resources we need to overcome those challenges."
Driving Towards Thermal Control
By moving from voltage to current control drivers, LED suppliers are able to provide more precise control of the light. "The only way to guarantee a stable light output is to drive at a specific currently level no matter what changes in resistance occur due to temperature changes," explains Advanced illumination's Merva. "If the semiconductor junctions get too hot, the forward resistance drops, so if you drive it with voltage instead of current, you can get into a thermal runaway situation that lowers the life of the light. The good news is that current drivers are falling in price. Many of our new devices have the current drivers right on the board with the LED, so there's no external driver required."
In addition to miniaturizing the LED driver, the electronics industry has introduced new semiconductor chips, thermal sensors, voltage and current products that have all been developed specifically for LED lighting, according to Matt Pinter, Design Engineer and Co-Founder of Smart Vision Lights (Muskegon, Michigan). "All these components have helped lighting manufacturers in the machine vision market. LED chip drivers are smaller, faster and offer higher currents. Drivers are more intelligent or smarter by monitoring heat, current and duty cycle. High power LED drivers are now common in the electronics industry."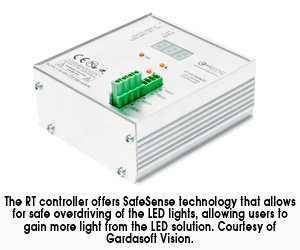 Gardasoft Vision (Cambridge, UK) specializes in current drivers for LEDs. "Current drivers give you more precise control over intensity, but they also allow you to overdrive the light for strobe applications," explains David Richards, International Business Development Manager for Gardasoft Vision. "Drivers operate at 20A, but our RT line allows you to overdrive the light while maintaining long life by limiting pulse width time and duty cycle based on how far you overdrive the LED to make sure the device isn't damaged. We incorporate SafeSense overdrive sensing technology into all our new driver designs, but the latest simply require a standard 24V supply for virtually any light. In the past, if you wanted to overdrive the light, the system integrator had to designate a 30V or 44V power supply. This now makes it easier for designers."
Light output levels also impact how the LED module is cooled. Passive systems using a passive metal heat sink can achieve double-digit Wattages, but for higher output systems, forced cooling or water-cooling is preferred. Gardasoft Vision's VLX1 and VLX2 products, for example, use forced air and water-cooling, respectively to generate up to 2 million and 2.3 million lux.
While today's LED drivers can drive multiple die in a single module/package, new applications such as LCD and web inspection often require very long line lights. The addition of Ethernet control to these LED drivers allows the lights to be and accessed remotely, while insuring uniform output from separate modules.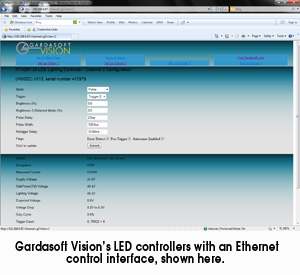 A Growing Pallet of Colors
New CMOS imagers are more sensitive to the shorter wavelengths than previous CCD's, which is leading to more demand LEDs that emit around 470 nm (blue), and 505 nm (cyan) lights, according to Smart Vision Light's Pinter. LED's still struggle to generate sufficient output as wavelengths drop below the blue spectrum and in to the ultraviolet, but new applications are helping to support development of LED devices in this area. "We see more UV applications for fluorescence of labels, inks, cloth and plastics," adds Pinter. "We see increasing sales in 395nm and 365nm lights. UV LED's are more common due to the use of UV LED's by the adhesive curing industry."
"You're barely into the UV at 405 nm and 395 nm, and lights at 365 nm still have very low output and the prices go up significantly while lifetimes decrease, so you should operate in strobe mode to do everything you can to manage lifetime and output levels," adds Advanced illumination's Merva.
While IR LEDs are not seeing multiple increases in brightness, machine vision customers are buying them in increasing numbers. Part of it may be customers doing multiple inspections at a single node, and combining visible with IR in the same optical path, while other drivers include the need to keep high-intensity light pollution from disturbing nearby production line workers. There's also a new class of IR-cured adhesives that are seeing greater usage.
In addition to ongoing developments in the areas discussed above, increased strobe speeds may be an important area for development to meet new machine vision applications. "We see 1,000 fps cameras becoming the standard," concludes Smart Vision Light's Pinter. "We see cameras taking hundreds or thousands of inspections on a part looking for a pass condition vs. a single image or a few images. As inspection software becomes more powerful adding intelligence with the ability to adapt to changes, lights will need to be faster, brighter and smarter too."