Machine Vision Market Speeds Ahead of Overall Economy
POSTED 01/03/2011
 | By: Winn Hardin, Contributing Editor
The good news for the Machine Vision Industry has been rolling in all year, but can 50% growth rates continue into 2011?



The likelihood of any market posting back-to-back 50% CAGR is low, but experts say the machine vision industry can expect very healthy growth in 2011 thanks to pent-up demand, new installations, and new markets - mainly in government, security, medical and consumer applications.

AIA Market Snapshot: More for Your Money

In addition to a return to economic growth, 2010 also marked the first year that AIA began issuing quarterly market analysis reports in addition to annual studies, explains Paul Kellett, Director of Market Analysis. "We've sent out the data request for Q3, but it will take a while to compile. But, that aside, I believe the economic data we saw in the first half of 2010 will be indicative of the rest of the year."

"In 2009, when the recession hit the machine vision industry with an iron fist, the worldwide and U.S. markets dropped by about a third," Kellett continues. "Now, we see the opposite pattern. We're making up for the tremendous loss. If you look at total machine vision financial transactions, the cumulative growth rate for North America is about 47% for 2010." Kellett created the concept of financial transactions to make it easier to talk about machine vision markets by combining component and system sales rather than trying to separate the two.

"This year, the imaging industry saw a positive come back from the ugliness that was 2009," adds Rusty Ponce de Leon, AIA Chairman and President of Phase 1 Technology Corp. (Deer Park, New York). "Based on what we've seen, the trend will continue because of two main reasons. The first reason is that many manufacturers - not all - are bringing back manufacturing operations to the U.S. For instance, automotive batteries were built in Japan because they had the technology. But the shipping costs are astounding. To be cost competitive, the U.S. has to automated manufacturing, and machine vision is a beneficiary of that."

"Secondly," continues Ponce de Leon, "is that vision is going into markets that we haven't entertained before. It's not pure machine vision, but it is machine vision. For example, we're selling a lot of cameras into homeland security applications. These applications require surveillance, not just security, so you can't use a $100 camera to identify a person from a long distance."

AIA Vice Chairman and Director, Machine Vision Solutions at Edmund Optics (Barrington, New Jersey), Greg Hollows, believes that high unemployment in the U.S. and abroad will continue to pressure some markets, particularly large government installations that depend on public financing, but adds that biomedical and consumer imaging applications will continue to grow.

"There certainly has been a lot of inventory replacement, but we're starting to see new systems as well," says Hollows. "That's the key point for me. That will carry us through. We're seeing a lot of new products for biomedical handheld devices, many of which are going to third-world countries…[Also,] both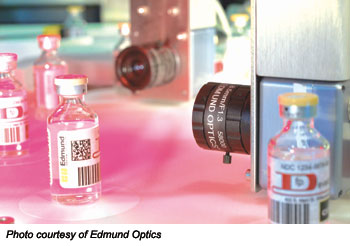 America and Japan have aging populations, and people are going to spend a lot of money to stay healthy. At the other end of the spectrum, populations in Africa need portable, inexpensive medical diagnostic systems. [The imaging industry] will be heavily involved in both ends."
Hollows also points to the growth of imaging in consumer and handheld electronics. "There's a camera in everything now: phones, appliances. It's crazy where [sensors] are going. Look at Microsoft's Kinect system, for example, which was presented at the AIA conference a few years ago." (See, "Machine Vision Makes the Leap to Consumer Gaming").
As cameras find their way into more and more devices and systems, it is creating a challenge for optics manufacturers, who can't follow the semiconductor volume/price model. "The imaging industry continues to make sensors that work 4-times better than a previous model for the same cost, and customers think that optics should follow the same cost structure. Unfortunately, it doesn't work that way. An optic that performs 4 times better needs additional glass, and more complex manufacturing with tighter tolerances; they don't get cheaper, they get more expensive."
"Everyone would love a car that went 1000 mpg safely, but at what cost?" asks Hollows. "We just need to continue to educate the marketplace."
Sidebar: Market report focused on machine vision opportunities in service robotics debuts at AIA Business Conference
The service robot market has exceeded the $5 billion mark in revenues already. The machine vision market within service robotics is counted in the tens of millions of dollars, and will grow to hundreds of millions of dollars in less than five years, and more than a billion dollars in less than 10 years according to Adil Shafi.
He predicts that this growth in market size and proliferation in new solutions will change the world just as the personal computer did 30 years ago. Machine vision trade publication, Vision Systems Design, recently commissioned Shafi, vision-guided robotics expert and President of ADVENOVATION (Brighton, Michigan) to write the first in-depth report on service robots with a specific focus on machine vision applications and opportunities. An overview with twenty market categories will be presented for the first time at the AIA Business Conference in Orlando this month. Service robots are generally considered to include robots that are not installed in industrial settings. They are often mobile in nature, versus mounted to fixed structures in industrial settings, and often require machine vision that can handle variable outdoor environments rather that controlled industrial environments.
"The suppliers in the Robotics Industry Association (RIA) and the Automated Imaging Association (AIA) have extensive experience with industrial robots; however, service robotic applications are different and they bring about new challenges," contends Shafi. "RIA and AIA members have many years of experience in supplying robots with kinematic models, motion control, grippers, vision, force and full turnkey solutions, and that experience will help those companies that want to make the leap into service robots. Some RIA and AIA members have already made the leap and are accruing financial benefit."
"Defense and security represents the largest market segment today, including everything from space and satellite support, to unmanned drones, and land-based robots that protect soldiers from crude Improvised Explosive Devices or (IED)s," Shafi says. "Another market segment that is growing rapidly includes medical robots for surgery which have been approved by the Food and Drug Administration (FDA) in the US and by equivalent organizations in other countries. We are also seeing a growth of service robots in domestic applications such as cleaning."
"Machine vision will play an integral role in the growth of the service robotics market. As such vision companies will need to work with uncontrolled environments, and robot companies will need to deal with safety and behavioral control in unpredictable environments", Shafi says. Balancing these additional requirements, service robot applications often do not require the same high precision as industrial robots.
Looking Ahead to 2011
In 2010, the machine vision recovery far outpaced the overall economic recovery, notes Kellett, who added "In the U.S., the economy is about three-fourths consumer, and one-quarter business, and it's really the business growth that's driving the U.S. economic recovery. Machine vision and sellers of automated manufacturing equipment are riding that wave, much of which has been driven by inventory replenishment."
At the 2011 Annual AIA Business Conference, January 19-21, in Orlando, Kellett will share in-depth predictions for 2011, but in the meantime, he has been kind enough to share some early insights with Machine Vision Online readers.
"I expect the North American machine vision market to do very well in 2011, but not to repeat the same red-hot rate of increase we're seeing in 2010. Much of the pent-up demand will have been satisfied, but we'll still see solid growth. Europe should also do well because the European machine vision industry is driven mainly by German machine vision companies, and Germany as a whole is seeing strong export growth."
"I'll have a better handle on U.S. growth for 2011 after we compile the Q3 numbers from 2010, which we'll do in January just before the conference," Kellett concludes.