Machine-Vision Inspection
POSTED 11/14/2004
 | By: Brian Kreifels, Industrial Engineer, IBM
Reprinted by permission from Robotics World Magazine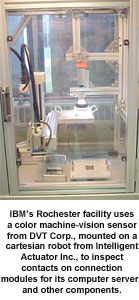 IBM Corp. recently installed a new quality assurance system, using machine-vision hardware and software that not only detects and removes nonconforming parts, but also provided a return on investment just over a month after installation. Among IBM's products are high-end servers, a key component of which are connection modules (interposers), flexible array interconnect sockets used to mount single-chip module components to a multi-layer printed circuit board. These high-dollar modules measure 36 mm by 36 mm, with contacts 1 mm apart, and up to four are installed in each server.
Previously, inspecting the modules was a time-consuming manual process that gave inconsistent results between operators. With little capital available to improve the process, IBM turned to DVT Corp.'s machine-vision sensors (SmartImage Sensors) for a possible inexpensive improvement. The challenge was the sheer complexity of the multiple types of interconnect modules, some consisting of more than 4,000 contacts less than 1 mm in diameter and 1 mm apart. Time was also an issue, as IBM's goal was to inspect an entire module for defects in less than 5 minutes. Also, the new system needed to detect a variety of potential defects, such as wire shorts, raised loops and contamination.
The new system is made up of a Model 542C Color SmartImage Sensor camera from DVT and a cartesian robot and Super SEL controller from Intelligent Actuator Inc. With DVT's free machine-vision software, Framework, the components create an integrated system with seamless communications to ensure that every IBM interposer module has the necessary contacts and that each one meets stringent quality requirements. Since the interposer modules had a non-uniform background and there was a large variation of part size, shape, and color between models, a high-performance, color machine-vision solution was required. DVT's 542C features a color-matching tool that was used to distinguish gold wire from black background. With traditional black-and-white cameras, contrast between wire and background was not high enough to pick up single wire defects. Also, the DVT SmartImage Sensors feature a built-in, high-speed microprocessor that allowed for increased image processing rates, which cut inspection time to acceptable limits.
Beyond performing the complex inspection, other advanced features of the DVT SmartImage Sensor proved to be invaluable to IBM. Armed with free training and support provided by DVT's local distributor, Automation Inc., IBM was able to use some advanced features found in DVT's Windows-based Framework, with ActiveX controls that allow for integration with Visual Basic. With this tool, IBM developed a custom user interface to view and record inspection images, create password protection for process control and security and log inspection data to a spreadsheet. Now, using a simple spreadsheet, IBM is able to archive the inspection data for future analysis and for a record to reference specific part serial numbers.
The new inspection system at IBM-Rochester has delivered many manufacturing advantages while incurring little cost. IBM now benefits from a fully automated inspection under 5 minutes, higher quality and more consistent inspection. With an identical system now online at its facility in Dublin, Ireland, IBM believes the success at the Rochester facility is a model for everyone in the company to get behind.